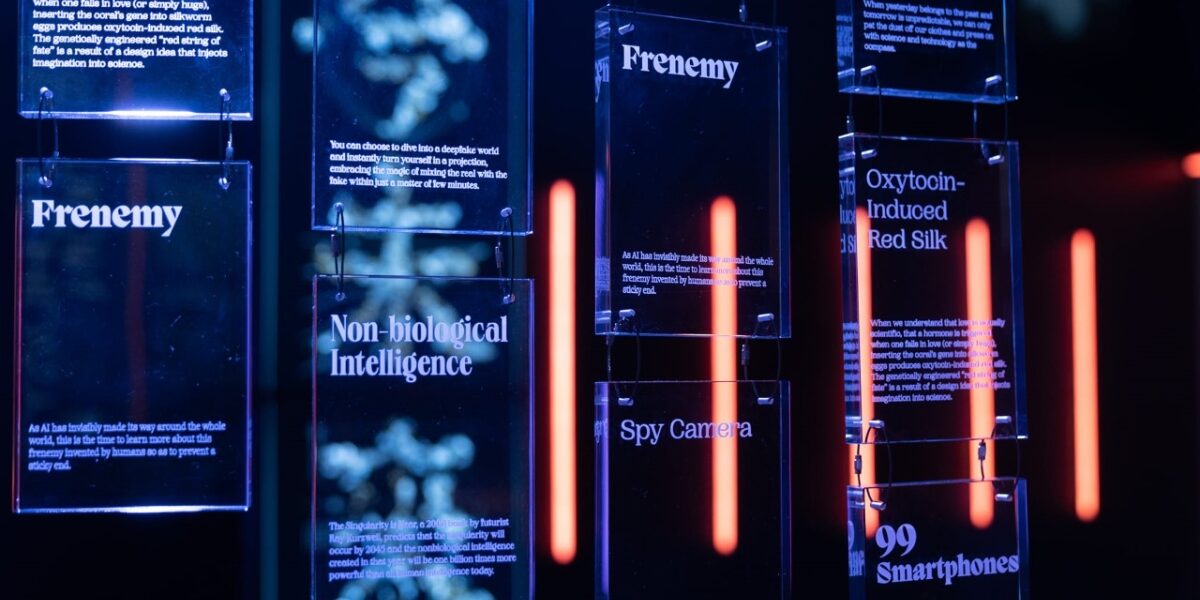 Digital Waves
With Joel Kwong, Henry Middleton, Chris Cheung and Denise Tsui
Hanging jpegs on the blockchain has become the norm and creating through digital tech the common wave, not just new. Pass the NFT revolution, how has technology changed the way we perceive art? Digital art has given power to new levels of expression outside the physical into physics defying worlds. This focused conversation between an artist
Chris Cheun
g, curator
Joel Kwong
, former MTV Asia executive
Henry Middleton
, and journalist
Denise Tsui
is a 360 look into how creative platforms, expressions and technology have changed from Baby Boomers to Zoomers.
This is event is part of Gok Dou LIVE by Asia Society Hong Kong Center, held onsite at Art Central in the Asia Society Theatre and broadcast to
Facebook Live
.
Joel Kwong
Joel Kwong is an international media art curator, writer, producer and educator based in Hong Kong. She is currently the Programme Director for Microwave International New Media Arts Festival, as well as the founder of SIBYLS – a creative Arts x Tech consultation and production agency. Joel has a strong belief in the power of art and technology, and her curated projects have been shown in many different cities around the globe.
Henry Middleton
Motivated more by tackling the challenge not faced before than pursuing promotion, Henry has compiled a body of work emphasising creation, change, crisis/chaos, complexity, spanning most sectors and crossing most continents.Military, corporate, entrepreneurial roles are combined with taking time out to invest in personal projects, culminating in a career he describes as"consisting of many pieces of Jigsaw, but not from the same puzzle". A large part of his work has been in TV& Media, navigating organisations including MTV, Discovery, BBC, Animal Planet, Mediacorp, through cable-satellite, multichannel, digital, streaming developments. A graduate of Imperial College, London, recognition of his achievements include appointment in the UK National Honours aged 26, and winning a national business award. His personal projects range from designing and building a house and several renovations, to researching and studying child development, youth sub-cultures, and dementia. Henry lives in Hong Kong, currently building financing for a new venture.
Chris Cheung
Chris Cheung Hon Him is best known for installation art and audiovisual performance, whose artistic expression depends upon electronic, sound, image and creative technology in new media. Cheung's reverence for Eastern and Western philosophy are central to his oeuvre, which he blends traditional ideology and futuristic imagination to create immersive soundscape, generative art and data art.The RadianceScape project he initiated in 2014 has garnered critical acclaim and was featured in Ars Electronica, FILE Festival, EMAF and other festivals. The live performance were toured in Sónar Festival and WRO Art Biennale in 2017. The project won ZKM –Giga Hertz Awards in 2020. And his calligraphy and ink installation (No Longer Write –Mochiji / InkFlux) are collected in Taoyuan Museum of Fine Arts and UOB Art collection respectively. Lately, InkFlux is selected in 24th Japan Media Arts Festival.h0nh1m is always eager to explore new mediums and look for aesthetics in technological intervention. He established artist collective, XCEPT and XCEED in 2008. The collective works are showcased worldwide and have won prestigious international awards in the Reddot, TDC, Frame, A' Design, Golden Pin, GDC 11, Design for Asia awards, Lumen Prize and New York Art Director Club Young Guns 11. He received the Young Artist Award from HKADC and the Young Design Talent Awards from HKDC in 2010 and 2011 respectively. In recent years, he established innovation lab XPLOR and create a platform called FutureTense, devoted hisfocus in future living aesthetic and education.
Denise Tsui
Denise Tsui is the Managing Editor of CoBo Social. A Hong Kong-born Aussie, Denise's research interests are primarily in the dynamics of the art market, post-war art history and the study of exhibition models. Denise holds a BA in Fine Arts from the Victorian College of the Arts and a MA in Art Curatorship from the University of Melbourne. Previously she has worked as an editor for ArtAsiaPacific and the curator for a private collection of Australian and New Zealand art.
Joel Kwong (2021), Yesterdays Fiction