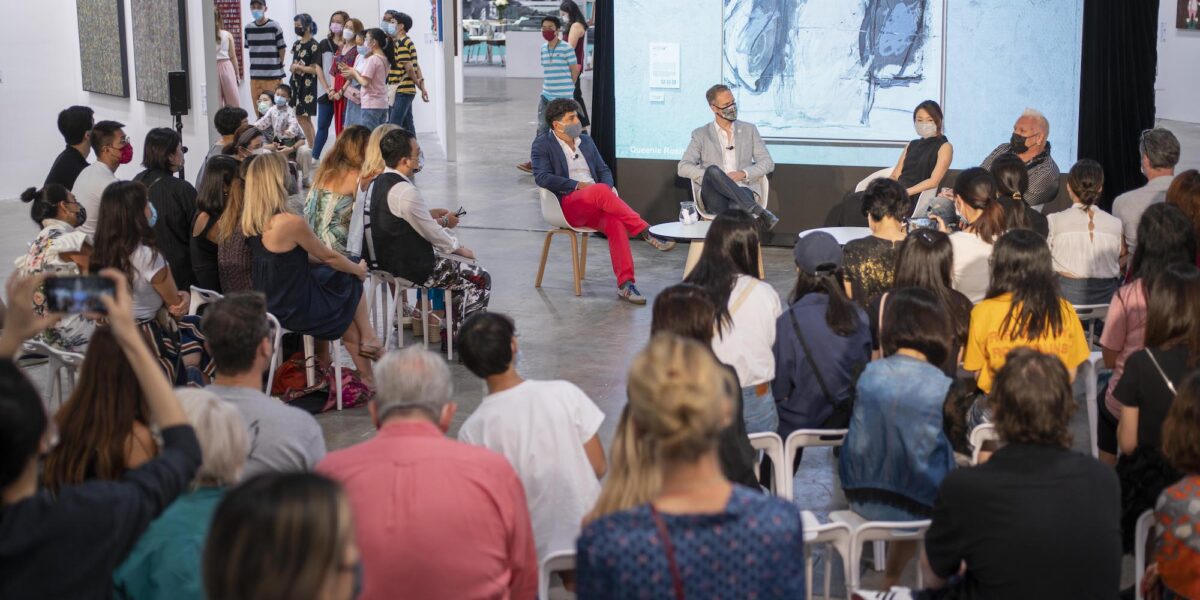 Hong Kong Cultural Heritage and Artistic Creation
With Hao Lap Yan Benjamin, Ho Rui An, Lau Chi Chung, moderated by Wang Weiwei
The exploration of Hong Kong's cultural heritage has been one of CHAT's fundamental artistic practices. From rediscovering and interpreting the history to bringing cohesion to community, Hong Kong's cultural heritage is increasingly inspiring many artists' creations. In this public talk hosted by CHAT, we invite artists Hao Lap Yan Benjamin, Ho Rui An and Lau Chi Chung to share how they integrate the tangible and intangible cultural heritage of Hong Kong into their artistic creations.
Moderator: Wang Weiwei, Curator of CHAT
Speakers: Hao Lap Yan Benjamin, Ho Rui An, Lau Chi Chung
Language: English and Cantonese (with consecutive interpretation into English by Bruce Li, Assistant Curator of CHAT)
This is event is presented by the Centre for Heritage Arts & Textile (CHAT), held onsite at Art Central in the Asia Society Theatre and broadcast to
Facebook Live
.
Wang Weiwei
Wang Weiwei is currently the Curator of Exhibitions and Collections at CHAT. From 2010 to 2017, Wang was the curator at the Museum of Contemporary Art, Shanghai (MoCA Shanghai). In 2017, Wang participated at the Curator-in-Residence Programme at the Kuandu Museum of Fine Arts in Taiwan, and the International Researcher Programme at the National Museum of Modern and Contemporary Art in Seoul, South Korea. Wang was then appointed as the co-curator at the 12th Shanghai Biennale and awarded an Individual Fellowship by Asian Cultural Council Hong Kong in 2018. She has conducted on a series of researches on East Asian Contemporary Arts since 2017.
Hao Lap Yan Benjamin
Hao Lap Yan Benjamin was born and is currently based in Hong Kong. He considers himself as an interdisciplinary artist who spends half of his time in urban Hong Kong and half in rural. Hao received his BFA from RMIT and Hong Kong Art School in 2011 and gained his interdisciplinary art MFA from University of Hartford in 2018. His practice examines the relationships between human beings, nature and society, prompting reflections and reimagination to allow for diverse narratives and understanding of the world. His works and projects have been exhibited and taken place in gallery spaces, communities and outdoors in Hong Kong, Mainland China, Macedonia, Iceland and USA.
Ho Rui An
Based in Singapore, Ho Rui An is an artist and writer working in the intersections of contemporary art, cinema, performance and theory. Working primarily across the mediums of lectures, essays and film, he probes the ways by which images are produced, circulated and disappear within the contexts of globalism and governance. He has presented projects at the Kunsthalle Wien (2021), Bangkok Art Biennale (2020), Asian Art Biennial (2019), Gwangju Biennale (2018), Van Abbemuseum, Eindhoven (2018), Jakarta Biennale (2017), Sharjah Biennial (2017), Haus de Kulturen der Welt, Berlin (2017), NTU Centre for Contemporary Art Singapore (2017), Para Site, Hong Kong (2021 & 2015) and Kochi-Muziris Biennale (2014). In 2019, he was awarded the International Film Critics' (FIPRESCI) Prize at the International Short Film Festival Oberhausen, Germany. In 2018, he was a fellow of the DAAD Artists-in-Berlin Program.
Lau Chi Chung
Lau Chi Chung graduated from The Surrey Institute of Art & Design University College (BFA on Interior Design) in 1999, and worked in the television commercial industry as an art director before becoming a full-time artist. Although he started out on short films, Lau has mostly worked in photography and has exhibited in various international photo festivals. His photography series Landscaped Artifacts in 2013 brought him the title of New Photography Artist from Lianzhoufoto Festival 2013. Lau has also received third prize at the Hong Kong 1st Photobook Dummy Award 2021 at Hong Kong Photobook Festival for his latest work The Dayspring of Eternity.