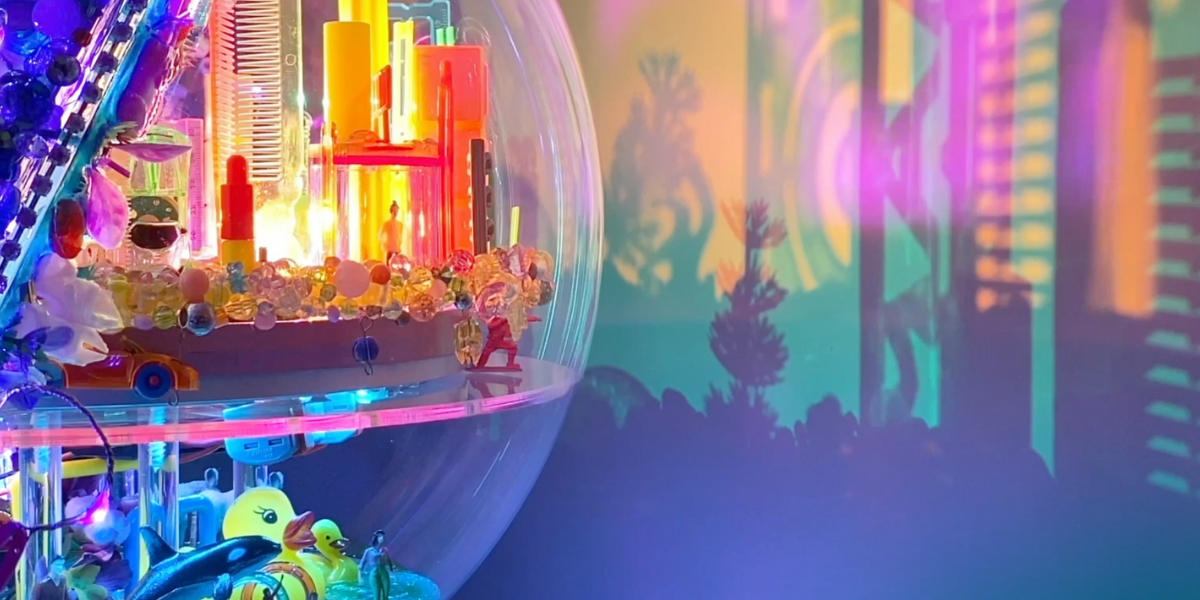 Practices of Cultural Identity
With Mark Chung, Angela Yuen and Elaine Chiu. Moderated by Amanda Lee.
From installation to exhibition, how do gallery artists tap into Hong Kong's cultural identity? Back dropped by a hyper-dense population, urban and natural sprawl Mark Chung, Angela Yuen and Elaine Chiu create installation, painting and digital works that peel back an ever-changing landscape. They take us through their individual practices and mediums affected by the metropolis that is Hong Kong. Moderated by Amanda Lee.
This is event is part of Gok Dou LIVE by Asia Society Hong Kong Center, held onsite at Art Central in the Asia Society Theatre and broadcast to
Facebook Live
.
Mark Chung
A kaleidoscope of colors, stinging and aggravating the eyes; prosperity begets itself ceaselessly and rapidly like an epileptic. To course through systems and beliefs constituted through aggregates of different emotions and artificial objects in a life flooded with sensation inane to the point of suffocation. Composing experiences with indefinite mediums, scrutinizing different power structures, maneuvering disparate stratums of system and belief clumsily and tactlessly, reflecting the havoc of everyday experience. Mark Chung (b. 1990, Auckland) currently live and work in Hong Kong.
Angela Yuen
Born in 1991, Based in Hong Kong, Angela Yuen graduated from the Academy of Visual Arts, Hong Kong Baptist University in 2014. She went to Linfield University in the U.S. for an exchange program in 2013 to develop her installation art and received the Dean's List Honours. In 2016, she had her artist in residency at Red Gate Gallery, Beijing. In 2019, she had her artist in residency at HART Haus, Hong Kong.  In 2019, she was the finalist at Sovereign Asian Art Prize. In 2021, she was the finalist at the 26th Ifva awards (Media Art Category). Yuen's art practice focuses on urban culture and the theme "Neighbourhood". Yuen highlights the symbolic meaning of her selected found objects and transforms them into her own artistic language. Under rapid urban development, Hong Kong people experience ever-evolving physical and social environment. Through collecting manufactured objects, Yuen rediscovers the human warmth she was once used to as a child growing up in this city. "Neighbourhood" is not only a theme of her practice, but also deeply embedded in her creative process. Her works have been exhibiting worldwide, most notably "The Lost Time Travel Machine", Contemporary by Angela Li, Hong Kong (2020), "Plasticology", The Goods Shed by Form, Perth Australia (2020), "City Rhapsody - Project Roseate", Art Central, Hong Kong (2019), "HK6", Niagara Galleries, Melbourne Australia (2018), "Young Talent - Weighty Light", Affordable Art Fair, Hong Kong (2018) and "Next +, Art Next", Hong Kong (2017).
Elaine Chiu
Elaine Chiu explores architectural forms, memories, and identities of urban environments with paintings, on-location sketching, and performances. Elaine attained a Bachelor's degree in art history at the University of Hong Kong in 2018, where she received the Talent Development Scholarship (2015) and Out Reaching Award (2016) from the Hong Kong SAR Government. Her work communicates the multi-dimensionality of urban planning and identity displacement under rapid urban redevelopment. Recent solo exhibitions include "Before Memories Expire" and "The Memory Library" at JPS Gallery in Hong Kong (2021); Recent projects include Vivid Sydney Light Festival in Chatswood (2018), Hong Kong UNESCO Global Geopark project (2020). Recent artist presentations include the Hong Kong Art Gallery Association (2021), Hong Kong Economic and Trade Office (New York) (2020), The University of Hong Kong (2021), and The Lingnan University (2019). Elaine's artworks are in the permanent collections of The University Museum and Art Gallery (UMAG), HKU; K11 Art Foundation.
Amanda Lee
Fumes of Fancy IV (detail), 2022, Angela Yuen, Dia 48 x H 52 cm