Glows in the Night by Yang Yongliang
Art Central 2023 prominently featured internationally acclaimed Chinese artist Yang Yongliang's Glows in the Night, a video artwork presented on an impressively scaled LED installation of 18 metres, the largest-ever presentation of the artwork and largest presentation by the artist in Hong Kong.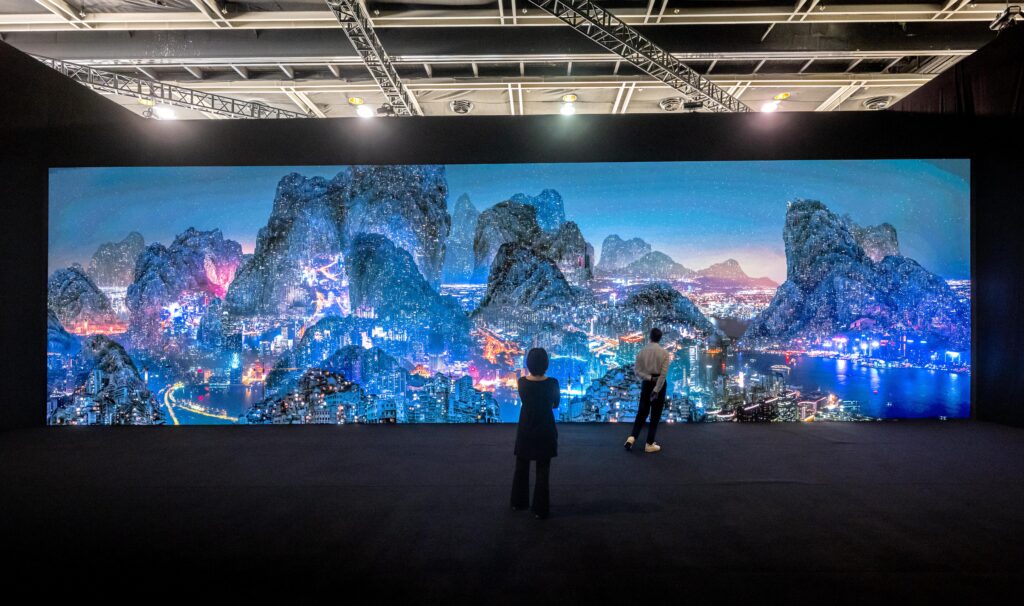 Yang Yongliang, Glows in the Night, 2019. Installation View, Art Central 2023. ©Yang Yongliang. Credit Kennevia Photography.
Yang Yongliang grew up in the 1980s in Jiading, an old, water town south of the Yangtze River where stone bridges connect to canal-side streets. For more than a decade as a child, Yongliang studied traditional Chinese painting and calligraphy at the home studio of master artist Yang Yang. After Yongliang left home in the late 1990s, Jiading became a new district as part of the Shanghai development zone; the city administration decided to modernize Jiading. By the time he returned home after college, the old water town had been demolished.
Yongliang studied digital art at the Shanghai Institute of Design/China Academy of Art. He took countless pictures of Shanghai in the early 2000s while the city was rapidly changing. As much as he admired the new high-rise buildings, Yongliang also wanted to capture traces of the broken houses and construction sites before they disappeared like his hometown. On a small CRT monitor, he deconstructed the pictures using photo editing software, and rearranged them to compose his first digital Chinese landscape 'painting'. When Yongliang saw a printed copy of the digital hand-scroll for the first time, in 2005, his childhood memories finally reappeared.
After more than a decade of practice, digital landscape has become Yongliang's iconic language – his skill maturing as digital imaging techniques progress. The worlds he creates are contemporary yet timeless milestones, constantly responding to the surrealistic, natural scenery of Northern Song Chinese landscape paintings.
Glows in the Night is a colour video made in 2019, featuring alarming fireworks and skyglow in the splendor of the Greater Bay Area of Guangdong–Hong Kong–Macau. The year 2019 is one Chinese people will remember, for the good and the bad. When cities celebrate modern achievements, light pollution creates an auspicious delusion. Glows in the Night elevates ecological concerns caused by urbanization, commercialization and consumerism. It asks the audience to take a moment and rethink the past before moving on to the future.

Yang Yongliang, Glows in the Night, 2019, 2-channel 4K Video, 9'30''. Courtesy of the artist. © Yang Yongliang.
About the Artist
Born in 1980 in Old Town Jiading, Shanghai, Yang Yongliang studied Chinese painting since childhood. In the early 2000s, he graduated from Shanghai Institute of Design of China Academy of Art and started his experiments in multidisciplinary art. Yang currently lives and works in New York and Shanghai.
Yang's digital Chinese landscapes have redefined traditional landscape paintings, featuring a massive amount of urban images reconstructed and recomposed. Poetic and quaint as it appears to be when seen from a distance, it unfolds a fable of modern civilization if one takes a closer look. His works have been exhibited internationally and collected by public institutions worldwide, including Ullens Center for Contemporary Art in Beijing, Metropolitan Museum of Art in New York, Museum of Fine Arts in Boston, the British Museum in London, Paris Museum of Modern Art and National Gallery of Victoria in Melbourne. Represented by Whitestone Gallery.