UOB Art Space 2022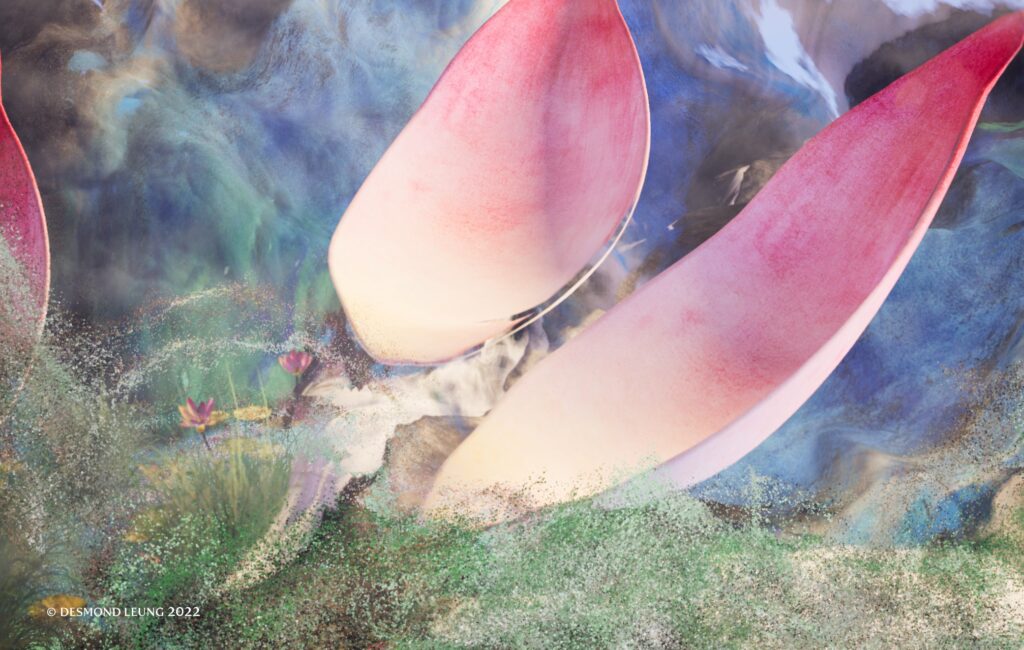 The Bloom of Water Lilies is a newly commissioned interactive ink art installation by Hong Kong based artist Desmond Leung. The presentation interweaves traditional ink with contemporary digital technology, inviting the public to interact and create a continuum of shared mindful experiences.
Even as we are engulfed in the flux of the modern world, an era of shifts and changes, Leung reconsiders the spirit of ink art and the purpose of digital art in today's society. The artist believes in the ability of art to transcend boundaries and reconnect people through the beauty and magic of the natural world.
The water lily is a symbol of inner peace, enlightenment, self-regeneration, rebirth and compassion in the midst of impermanence. Drawing on this motif, the installation consists of 12 digital display screens, arranged in the shape of the bloom. Set against a backdrop of a water lily pond, the installation enables the public to experience the life force and the rhyme of ink through virtual interactive art. 
Their interactions will transform the on-screen imagery from bud to blossoming flower, developed from detailed drawings of water lilies by Leung and Carolyn Yim, student winner of the 2021 UOB Art in Ink Awards, who further refined her brush skills under Leung's mentorship. The Bloom of Water Lilies enables mindful presence and observations of light and shadow over time.
Creating points of connection, the work represents the interconnectedness of all life forms, reminding us that in our essence, we humans are inextricably linked to each other and to Mother Nature. The Bloom of Water Lilies spreads messages of positivity and sustainability through a cultural lens, a reminder to bring beauty and kindness to every encounter.  
Samsung The Frame, Official Digital Display Canvas sponsored by Samsung.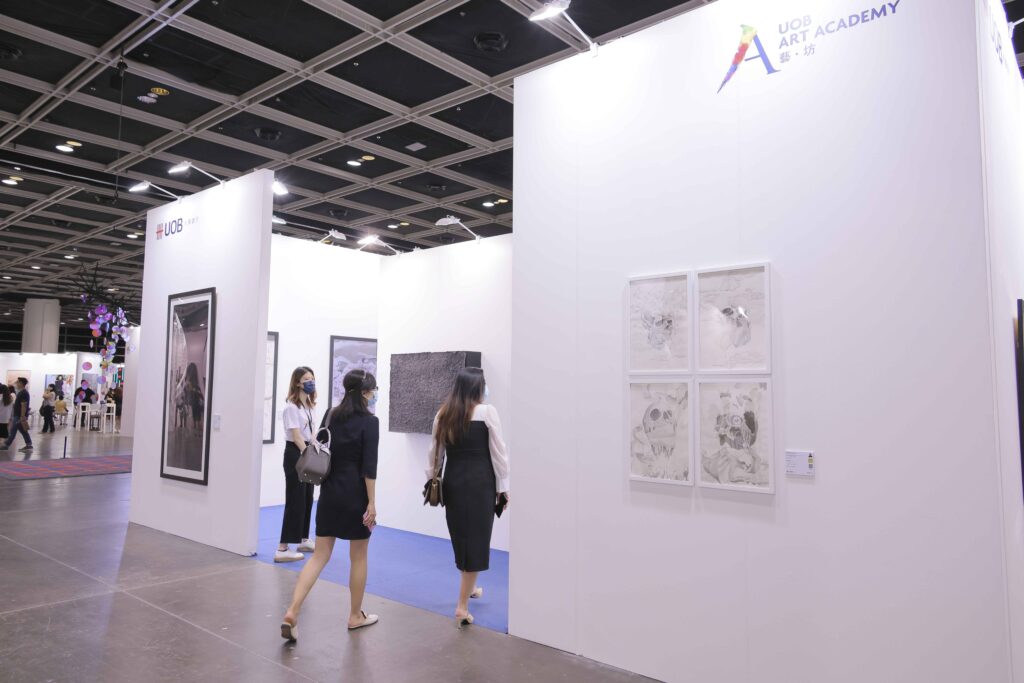 UOB presents 18 winning artworks drawn from the 2021 UOB Art in Ink Awards at the UOB Art Space.
UOB x Art Central Panel Discussion
Saturday 28th May 2022, 3 – 4pm
This event will be held on-site at Art Central, and broadcast live to Facebook.
How will art and technology craft our future?
[Language: Cantonese]
Speakers:
Choi Sai-Ho, multimedia artist and composer
Professor Johnny Poon, Associate Vice-President (Interdisciplinary Research), Dr Hung Hin Shiu Endowed Professor in Music and Head, Department of Music, Hong Kong Baptist University
Helen So, Lead, Arts & Culture, Our Hong Kong Foundation
Moderated by Zabrina Lo, Associate Features Editor, Tatler Hong Kong
About UOB
United Overseas Bank Limited (UOB) is a leading bank in Asia with a global network of around 500 offices in 19 countries and territories in Asia Pacific, Europe and North America. Since its incorporation in 1935, UOB has grown organically and through a series of strategic acquisitions. UOB is rated among the world's top banks: Aa1 by Moody's Investors Service and AA- by both S&P Global Ratings and Fitch Ratings. In Asia, UOB operates through its head office in Singapore and banking subsidiaries in China, Indonesia, Malaysia, Thailand and Vietnam, as well as branches and representative offices across the region.
Over more than eight decades, generations of UOB employees have carried through the entrepreneurial spirit, the focus on long-term value creation and an unwavering commitment to do what is right for our customers and our colleagues.
We believe in being a responsible financial services provider and we are committed to making a difference in the lives of our stakeholders and in the communities in which we operate. Just as we are dedicated to helping our customers manage their finances wisely and grow their businesses, UOB is steadfast in our support of social development, particularly in the areas of art, children and education.