2021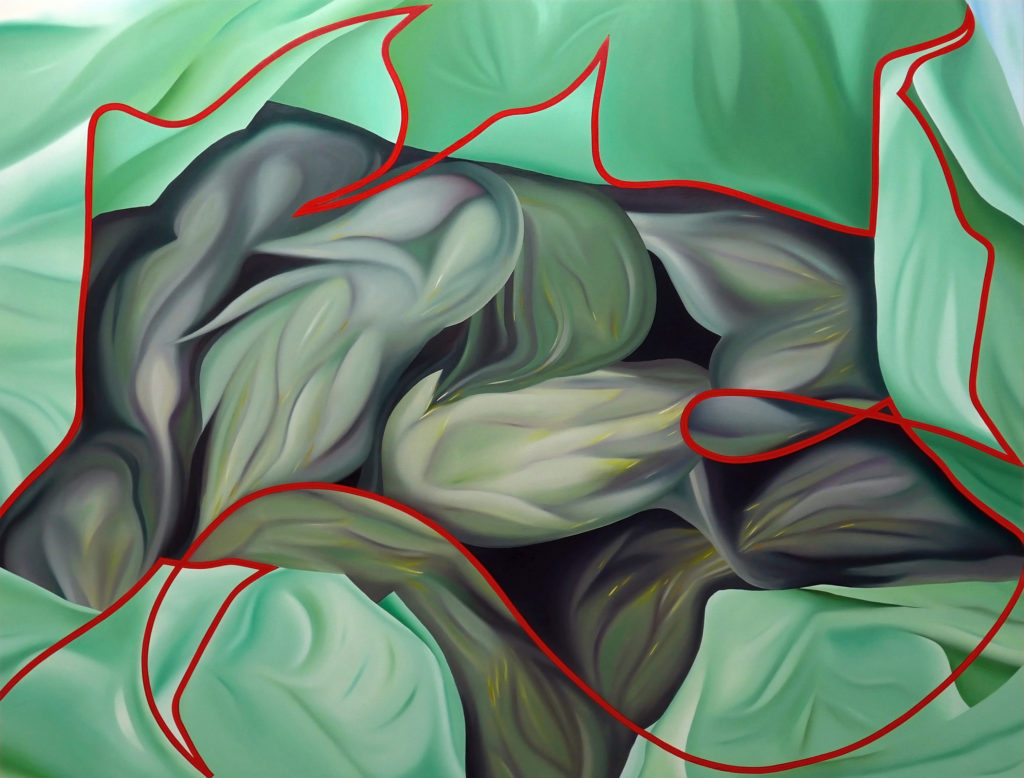 Stefano Perrone
b. 1985. Monza, Italy
Presented by Jason Shin
Perrone concentrates his imagery on figures, still lifes, and calligraphy; his work lies on the border between abstraction and figuration, investigating contemporary society and everyday life through the use of metaphor and allegory. Perrone's most recent paintings developed from a process of saving digital images, often appropriated from others, and recreating them later from memory. According to the artist, this process of forgetting/remembering affects the final painting, which is more a representation of the memory of the image rather than a faithful reproduction of the image itself. Perrone's work has been included in group and solo exhibitions internationally including in Japan, the United States and throughout Europe.
Stefano Perrone, Invasione di campo, 2020, oil on canvas, 130 x 128 cm.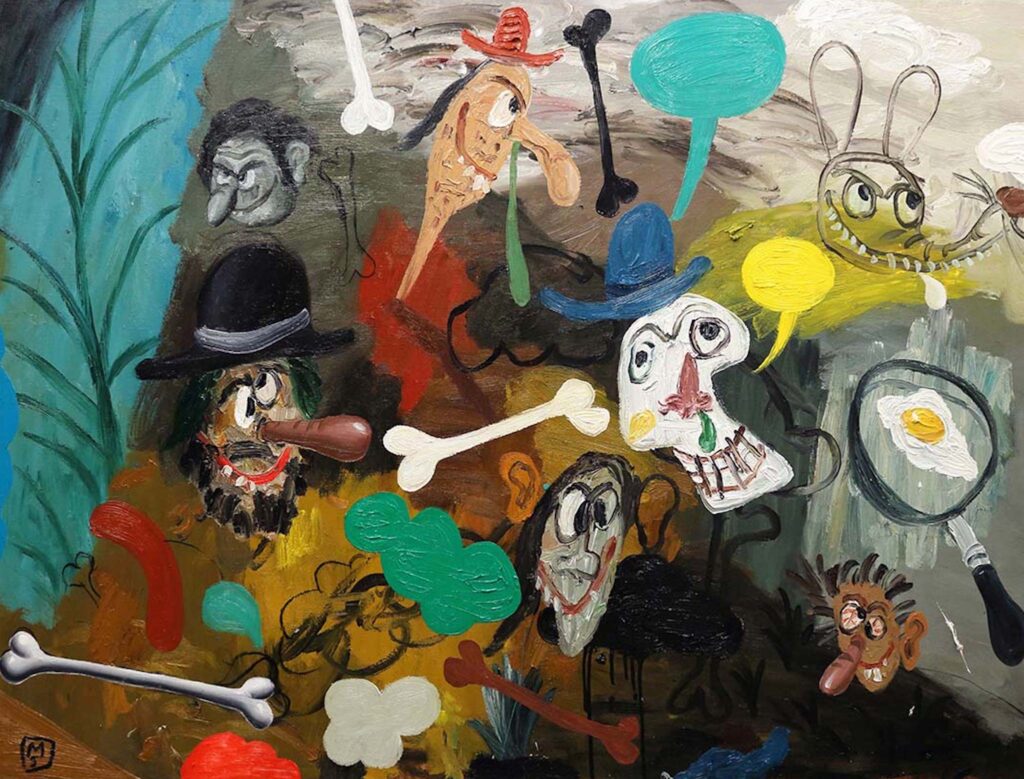 Matías Sánchez
b. 1972. Tübingen, Germany
Presented by Galerie Zink
Matías Sánchez is a self taught artist currently living and working in Seville, Spain. He developed a signature style of vivid painterly surfaces as a backdrop against spirited characters and objects. His aesthetic and subject often pay homage to element of cultural history such as Impressionist masters and literary icons. At times smoothly rendered, at times crudely abstract, the artist uses recurring images including sausages, bones, rats, people with menacing expressions, to form grotesque dreamscapes, exploding with energy.
Matias Sanchez, Acampados Pequeno Circo Ambulante, 2020, oil on canvas, 97 x 130 cm.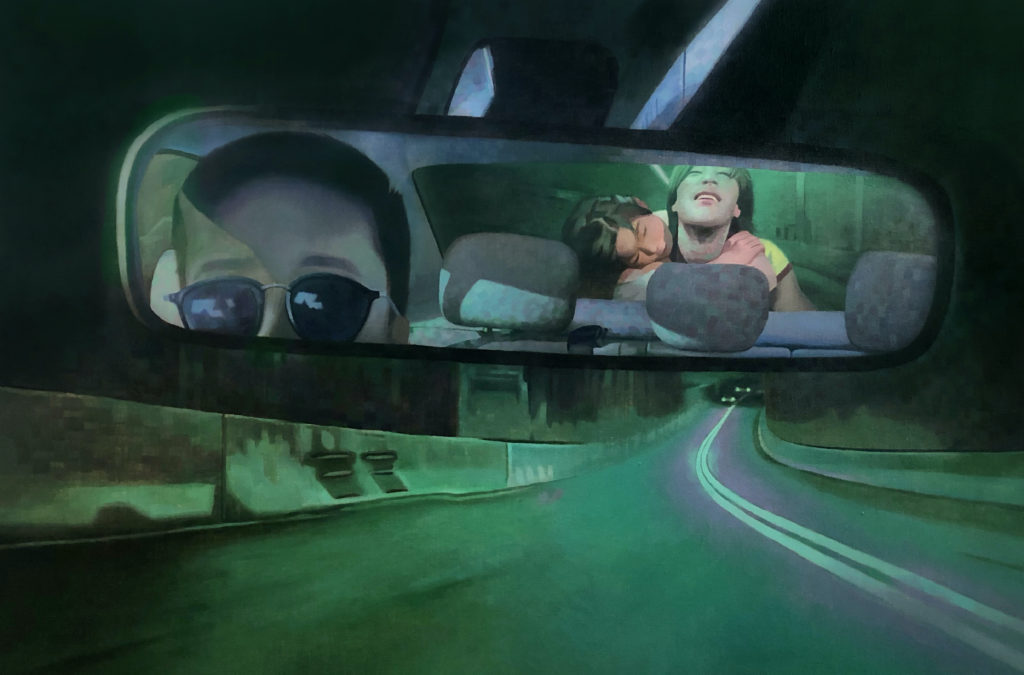 Peter Chan
b. 1985. Hong Kong, China
Presented by Gallery HZ
Born in Hong Kong, Peter Chan is a Canadian artist working in Toronto. Chan received his BAA from Sheridan College in 2008. His paintings have been exhibited in solo and group exhibitions around the world. Chan is currently an instructor at OCAD University, Sheridan College, and Seneca College. In his ongoing series "Ideals and Traditions", Chan explores themes of superstition, identity, popular culture, traditions, and gender ideologies inspired by his visits to Beijing, Shanghai, Hong Kong, Singapore, and Taiwan. Through the autobiographical documentation of imagery around him, he distorts and recomposes these to form compositions that allow for new narratives and meaning.
Peter Chan, The Jade Butterflies, 2021, oil on linen, 65 x 95 cm.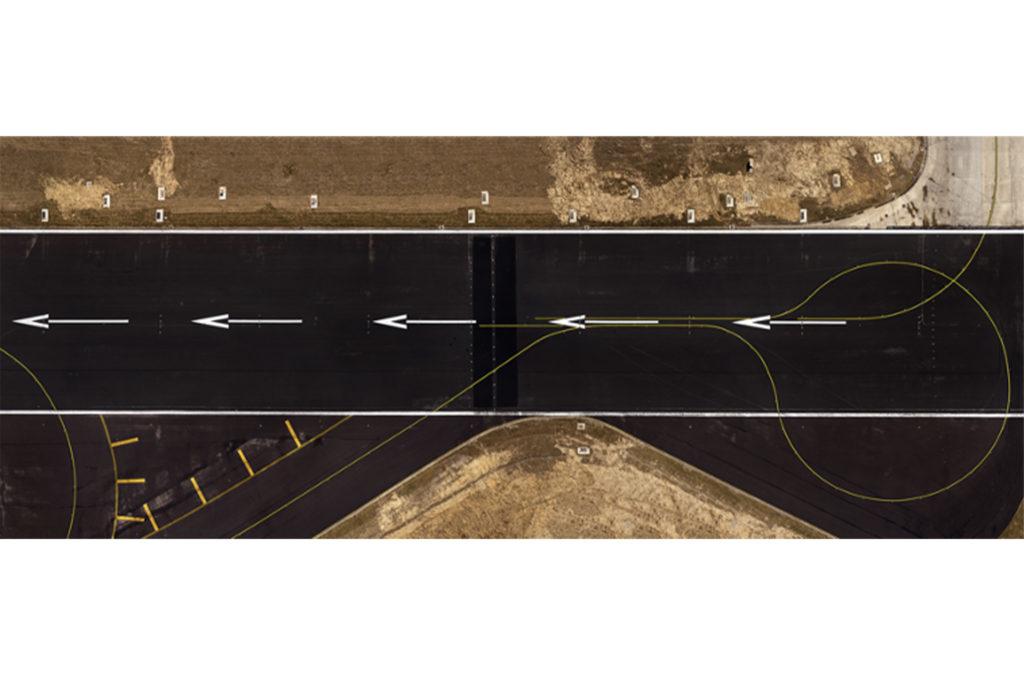 Antoine Gaussin
b. 1979. Belgium
Presented by The Spectacle Group
A French journalist-turned-photographer living in Belgium, Antoine Gaussin is best known for his meditative 'Rivages' collection and his latest aviation photography series, 'Uncharted'. Set in three Belgian airports, the artist's 'Uncharted' project is of a rare subject matter – a place many would frequent, yet, hardly pay notice to – portrayed in bird's eye view perspective and taken within restricted airspace. Gaussin views these airport runways as the places where cultures cross paths and individual lives leave their marks, observations made during his time as a constantly-travelling journalist.
Antoine Gaussin, 2019, gold ultrachrome print on plexiglas, 180 x 70 cm.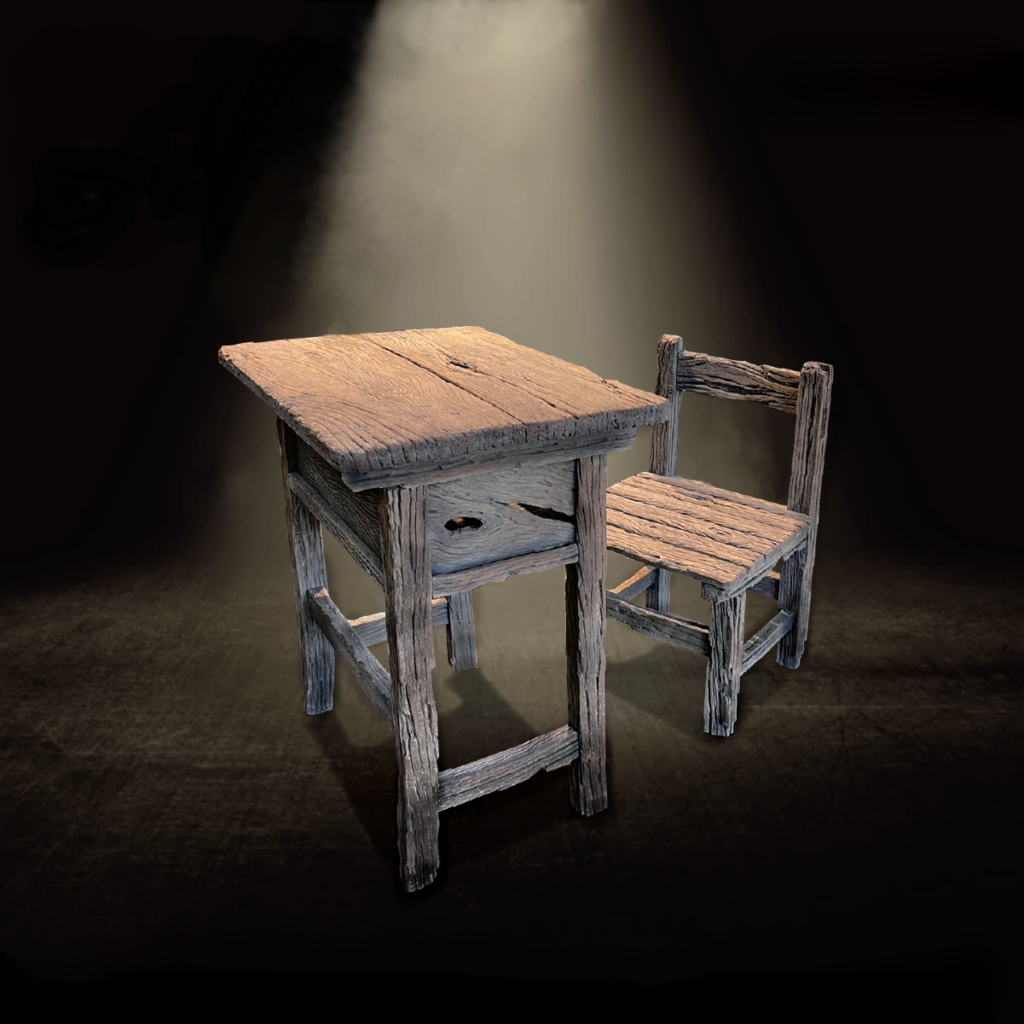 Chen Ching-Liang (Ah Leon)
b. 1953. Pingtung, Taiwan
Presented by Artspace K
Chen Ching-Liang (Ah Leon) is one of Taiwan's most renowned ceramic artists, having exhibited extensively in Asia, Europe and America since 1985. Chen's work employs trompe l'oeil, or deception of the eyes, as he indulges in the manipulation of clay to mimic the silken, softness of bean curd, or the sturdiness of wood. Viewers are engaged in a rare, sensory experience as the delicate touch of the ceramic lies contradictory to the visual enticement of the impersonating 'wood' or 'tofu', eliciting humorous responses, as one vacillates between realism and fabrication.
Chen Ching-Liang (Ah Leon), The Memory of the Elementary School, 2000, ceramic, table 60 cm x 44 cm x 66 cm, chair 36 x 39 x 62 cm.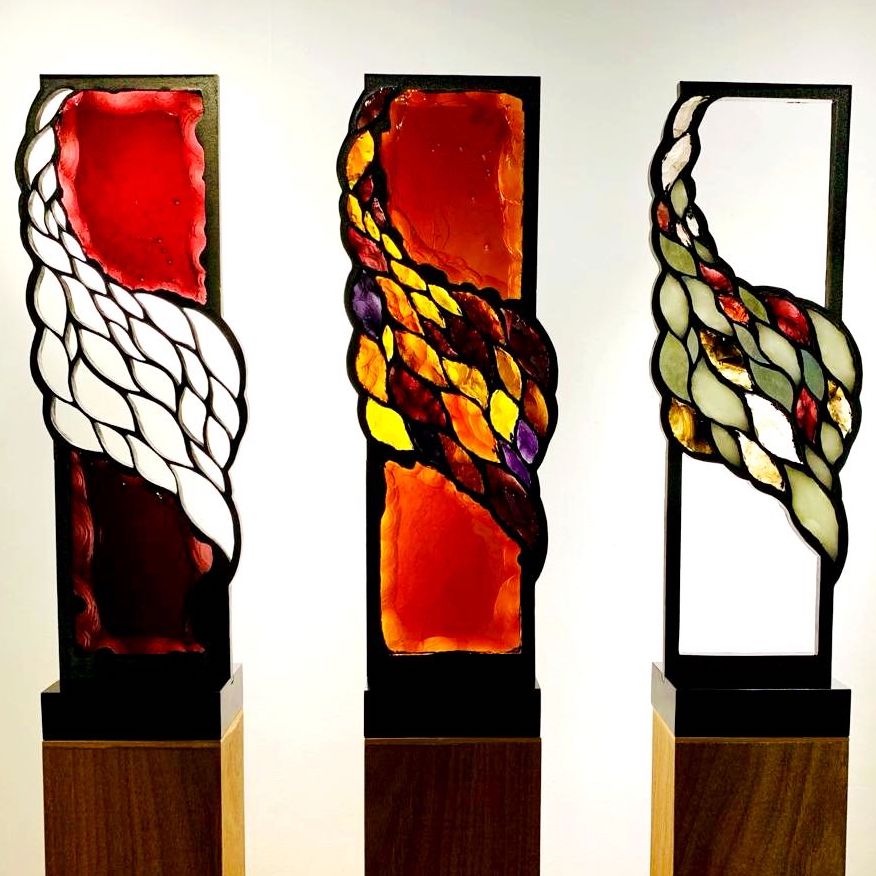 Christophe Denoux
b. 1960, France
Presented by CWC Art Gallery
Since the inception of his career, Christophe Dénoux has focused his artistic creations on the balance between colour and shape. By combining these natural elements with centuries of craftsmanship, he infuses his works with a contemporary edge. Sculpting slab glass into unique designs, he uses dimensionality and colour to touch the viewer's deepest emotions, with a view to transporting them in time and through a journey of light.
Christophe Denoux, Just a wingspan away, 2019, glass.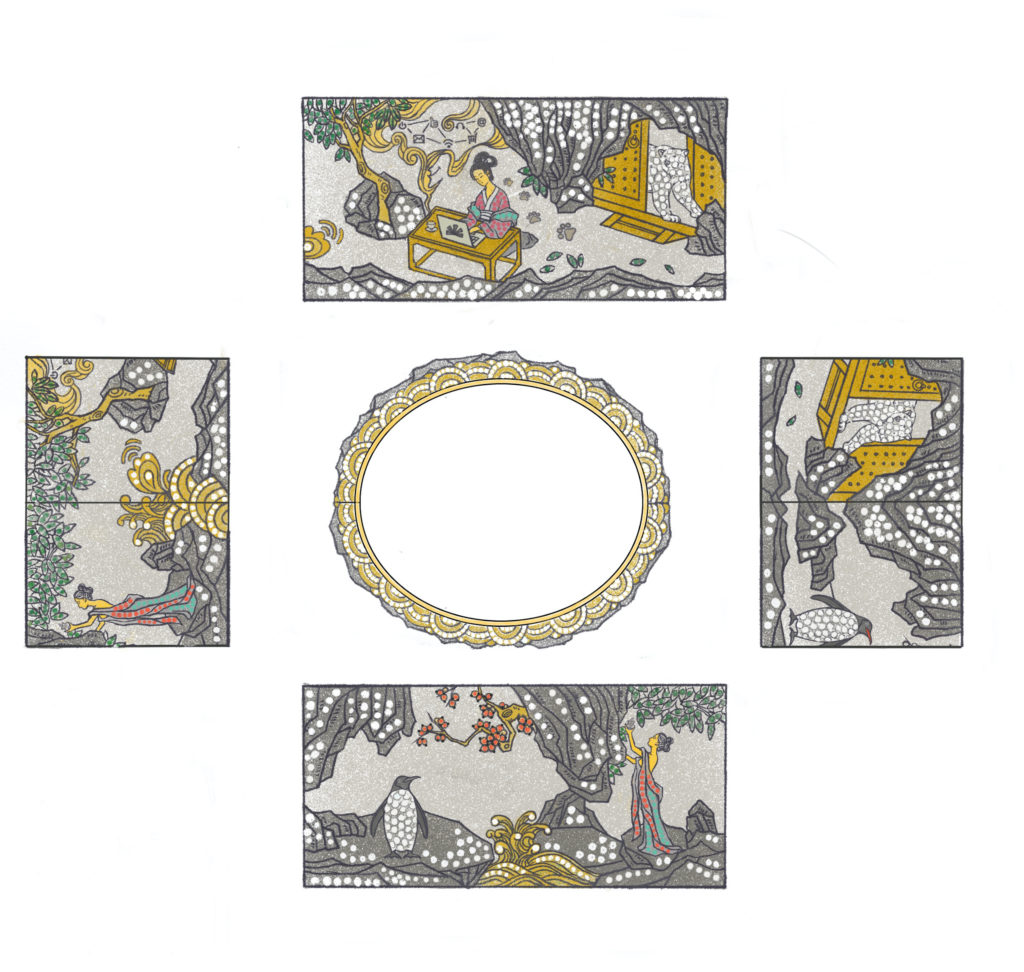 Dickson Yewn
b. 1970. Hong Kong, China
Presented by Literati Artspace
Dickson Yewn is a Hong Kong-born artist educated in Paris, Ottawa and New York. His conceptual fine jewellery collections draw inspiration from Eastern philosophy, mysticism and Chinese culture. Yewn spent his childhood on roaming through the lights and shadows drenched in diasporic ambiance, in the mood of bohemian Chungking Mansions – a cosmopolitan melting pot overwhelmed with polyglot hordes, where his artistic fantasy was wrought and delights of youth were relished. Yewn stepped on a journey in mediating his own cultural identity after he became fascinated in Taoism.
Dickson Yewn, Our World in 2049.