2023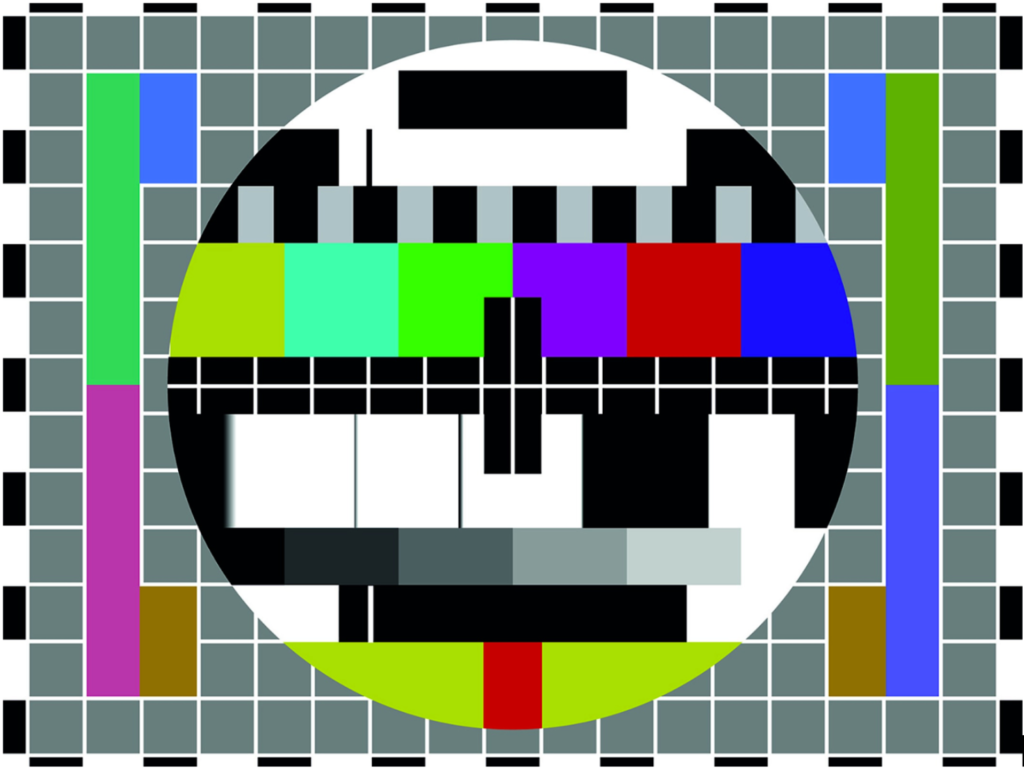 Damon Tong
b. 1979, Hong Kong
Presented by Art Projects Gallery
Hong Kong artist Damon Tong trades paint on canvas for "place-of-origin" stickers, inspired by Made in China labels found on manufactured goods, layering multitudes on a surface embedded with striking messages and hidden meanings. In a new series titled "Screen Test", Tong constructs double entendres by combining images of television test cards (the often colourful patterns that appear in broadcast television with a transmitter active but no program broadcast) with text on stickers, questioning the state of reality by creating a test that is contradictory by nature. Tong's recent works explore new methods of production that transpire the oxymoronic, furthering his investigation of complex issues faced by the people of Hong Kong, such as the city's identity, culture, and values.
Damon Tong, Philips PM5544-1 (work in progress), 2023, adhesive labels and acrylic on panel, 135 x 153 x 2 cm. Courtesy of the artist and Art Projects Gallery.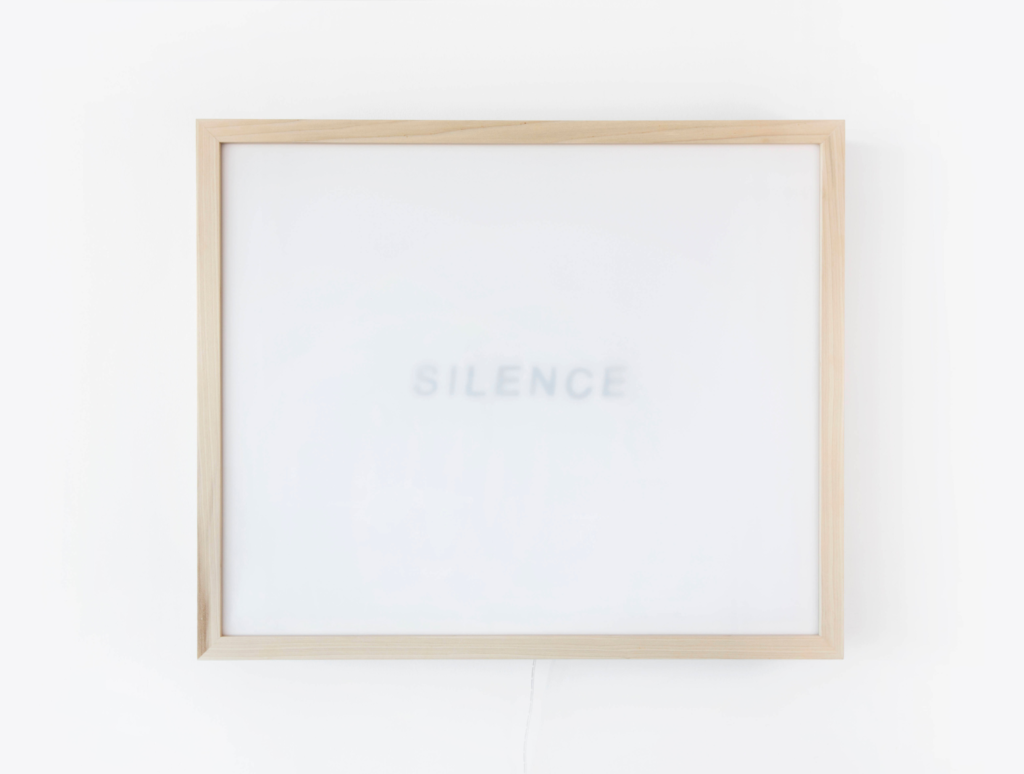 Javier Martin
b. 1985, Spain
Presented by Arta
Spanish artist Javier Martin is a multidisciplinary artist who bases his creative exploration on the careful observation of his surroundings, detecting semiotic relationships that might otherwise pass by unnoticed. Based on investigations of early 21st-century literature and conceptual poetry, Martin's most recent series of works, Conceptual Poetry (2022–), offers a direct contrast to his previous collection of works, Blindness (2007–). The new series eschews the neon glare of technology and advertising, finding form in concrete poetry on canvas, clay, glass, and traditional Chinese paper.
Javier Martin, AIRE SILENCE 2, 2023, mixed media, 78 x 66 x 12 cm. Courtesy of the artist and Arta.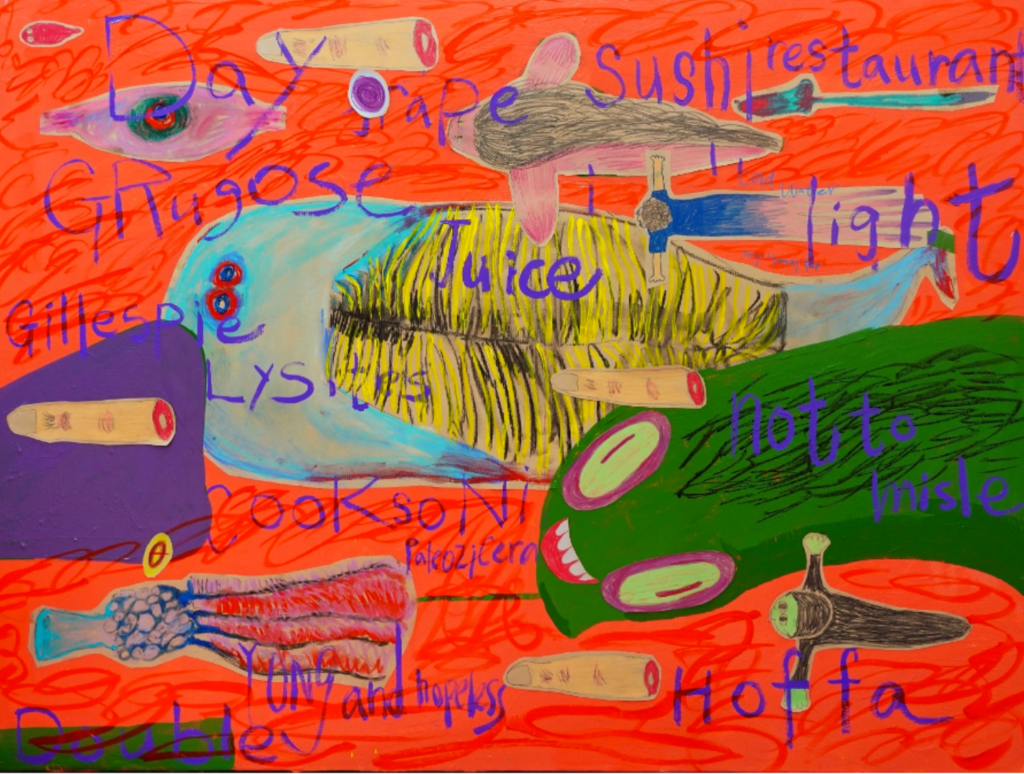 Leung Po Ying, Agnes
b. 1997, Hong Kong
Presented by Contemporary by Angela Li
Leung Po Ying, Agnes received a Bachelor of Arts (Fine Art) degree from the joint programme by RMIT University and Hong Kong Art School in 2020. Her works present an abstract and imaginative world filled with mystifying creatures and distorted shapes. Leung's artistic practice merges her study of peculiar figures, both real and imaginary, with a unique exploration of layering paint on canvas to produce a collage-like effect.
Leung Po Ying, Agnes, Cambrian Period, 2022, acrylic, charcoal, soft pastel and paper on canvas, 76 x 101 cm. Courtesy of the artist and Contemporary by Angela Li.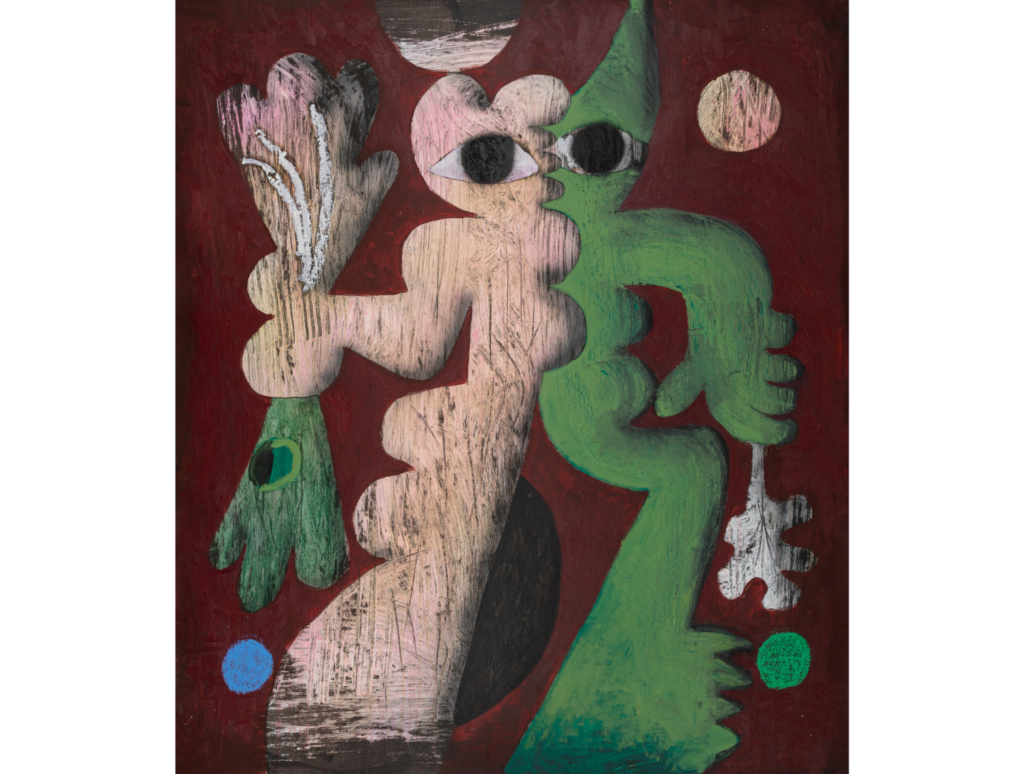 József Csató
b. 1980, Budapest, Hungary
Presented by Double Q Gallery
Hungarian artist József Csató offers a new perspective on still life, landscape, portrait, narrative, and abstract painting. Assimilating art historical references with a contemporary visual language – from fairy tales to pop icons – Csató's works feature elements of surrealism, figurativism, and abstraction. Each painting unveils a fictional world open to the viewer's imaginative interpretation. His works can be found in many private and institutional collections, including Ludwig Museum, Hungarian National Bank and Beth Rudin DeWoody.
József Csató, Guard II, 2022, Oil and acrylic on canvas, 160 x 140 cm. Courtesy of the artist and Double Q Gallery.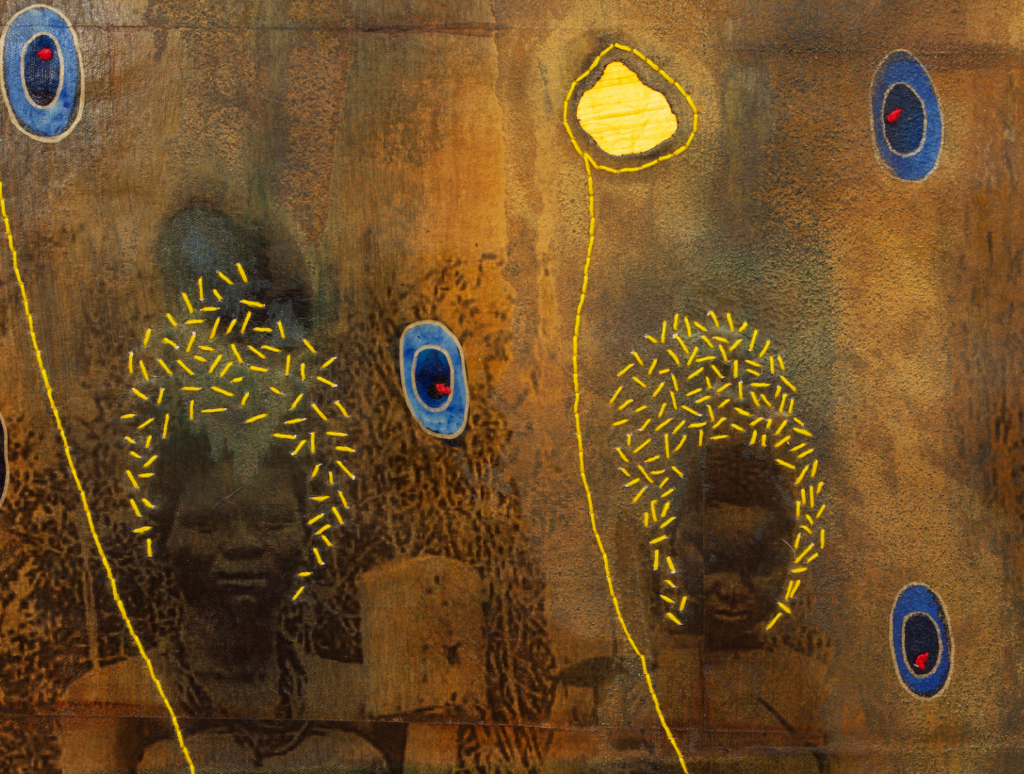 Tuli Mekondjo
b. 1982, Angola
Presented by Guns & Rain
South Africa-based gallery Guns & Rain mounts a solo presentation of female African artist Tuli Mekondjo. The artist uses textile techniques to interrogate the construction of female identity, particularly in Southern African contexts where colonial and apartheid legacies continue to shape cultural dynamics. The themes of inheritance, labour, and gendered struggle connect with her respective artistic practices, bringing forth her approach to representation and abstraction, iconography, and materiality. Mekondjo works with archival imagery from Namibia's colonial past, transforming this material with hand embroidery, paint, photo transfer, resin and mahangu (millet) grain, a staple food in Namibia. Mekondjo's work stitches together the past and the present, surfacing the voices of her ancestors through intergenerational communion. This is the first time the artist is exhibiting in Asia.
Tuli Mekondjo Nayitsuwe, Let the grains be pounded (detail), 2022, collage mahangu resin acrylic ink paint wild silk fabric cotton embroidery threads on canvas, 216 x 155 cm. Courtesy of the artist and Guns & Rain.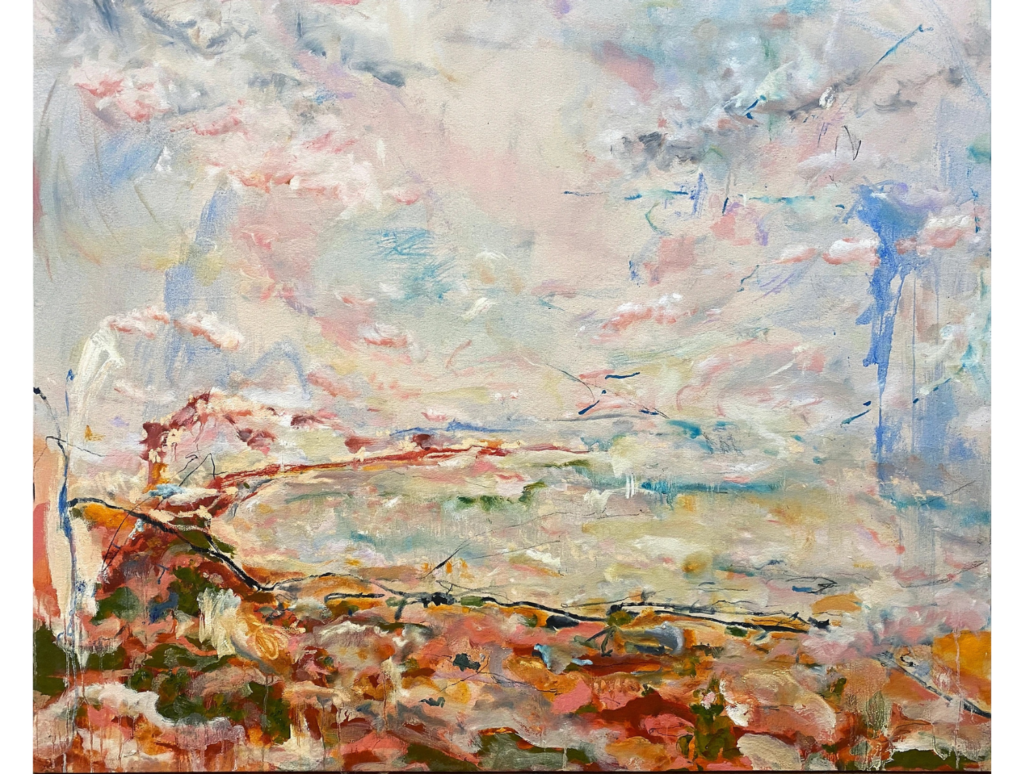 Sammi Mak
b. 1996, Hong Kong
Presented by Odds and Ends

Illustrating tenderness and fluidity through abstract landscapes, London-based, Hong Kong artist Sammi Mak explores her relationship with the world through the language of painting. Her works often exude romance, femininity, and vulnerability, a visual lexicon that continuously draws connections between nature and women. Her Duk Dak Solo Presentation at Art Central 2023 invites guests to actively engage with the intimate space she has constructed with her brushwork, examining their own connection to nature and language. 
Sammi Mak, We Are Only An Ocean Apart, 2022, oil and watercolor on canvas, 120 x 155 cm. Courtesy of the artist and Odds and Ends.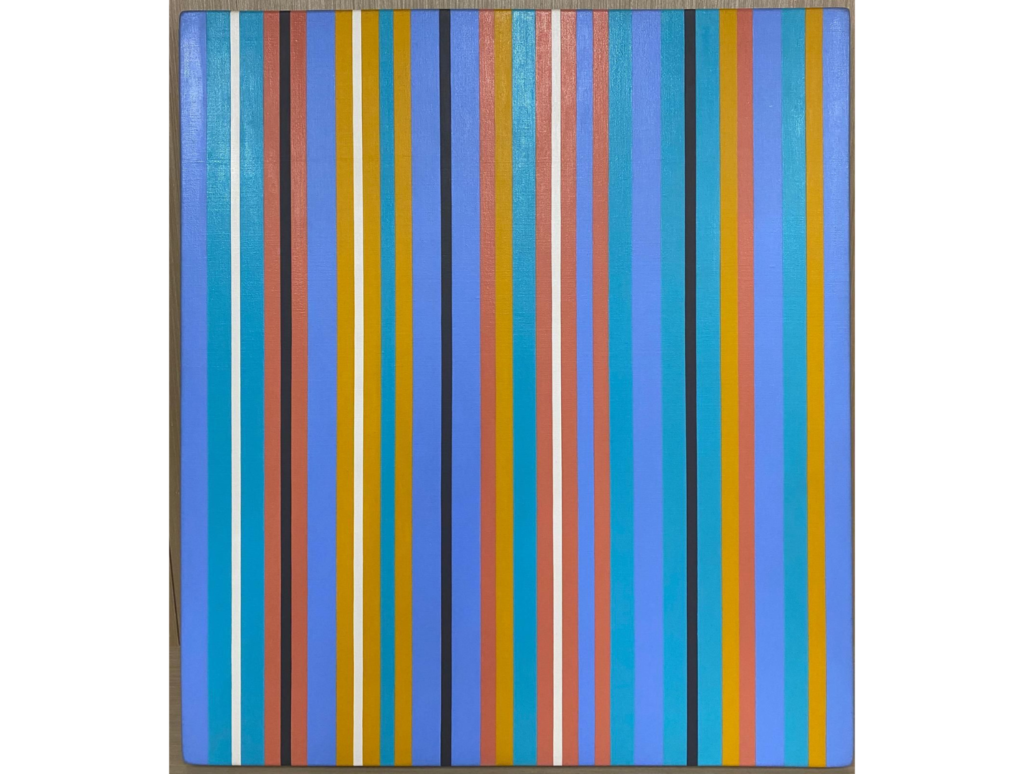 Bridget Riley
b. 1931, London
Presented by Tanya Baxter Contemporary 
British artist Bridget Riley is an icon of British art – known for her singular Op Art paintings that explore optical phenomena to evoke compelling, vibrant sensations of movement, colour and three-dimensionality. Exploiting optical phenomena to evoke compelling sensations of movement, color, and three-dimensionality, Riley's paintings interrogate not only how we see, but the phenomenological experience of seeing. Today, her investigations into the physical, psychological and social aspects of visual sensation and perception continue unabated.
Bridget Riley, KA-IV, 1980, oil on linen, 30 x 26.5 inches. Courtesy of the artist and Tanya Baxter Contemporary.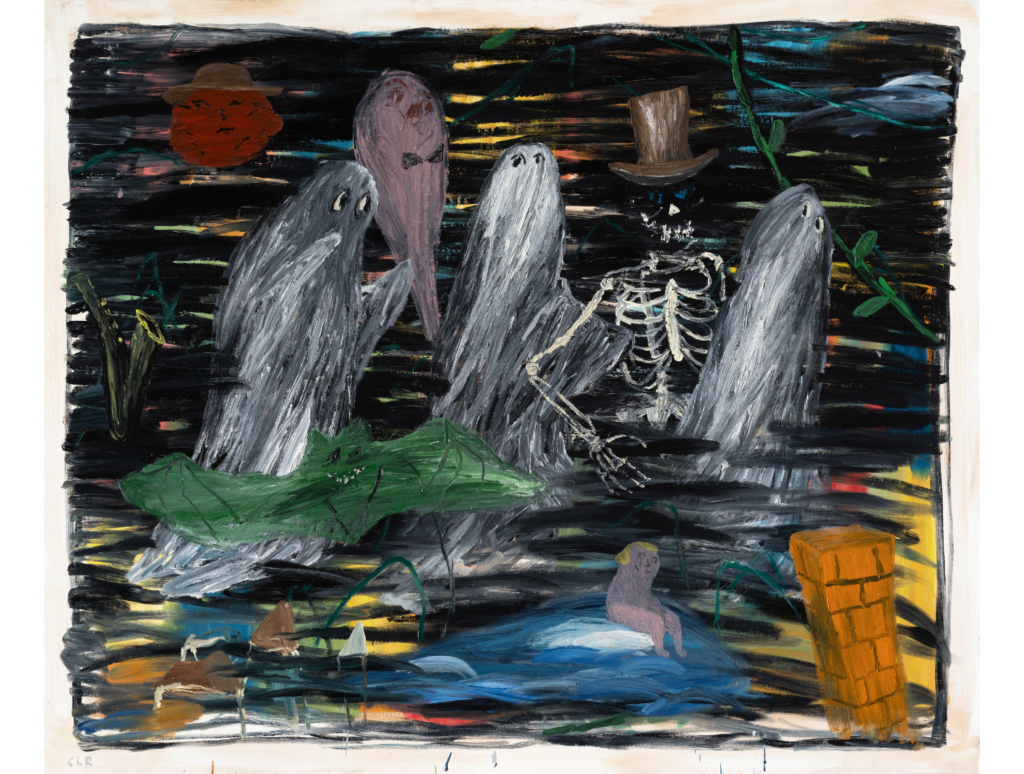 Cristina Lama
b. 1977, Seville, Spain
Lives and works in Hong Kong
Presented by Delimbo Gallery
Cristina Lama has a singular artistic world that turns between figurative and abstract paintings. In the former, she generates scenographic compositions; her abstract works are populated with shapes of various colours. Lama's artwork is characterised by its expressiveness and speed of gesture. She works with fresh oil, applying high amounts in every brushstroke. The paintings reveal no order or even perspective – figures are displayed at the same level as the background, or they have no background at all. Thus objects are subordinated to the real intention of the work, which is the painting process above all.
Christina Lama,  COMITIVA, 2022, oil on linen, 150 x 180 cm. Courtesy of the artist and Delimbo Gallery.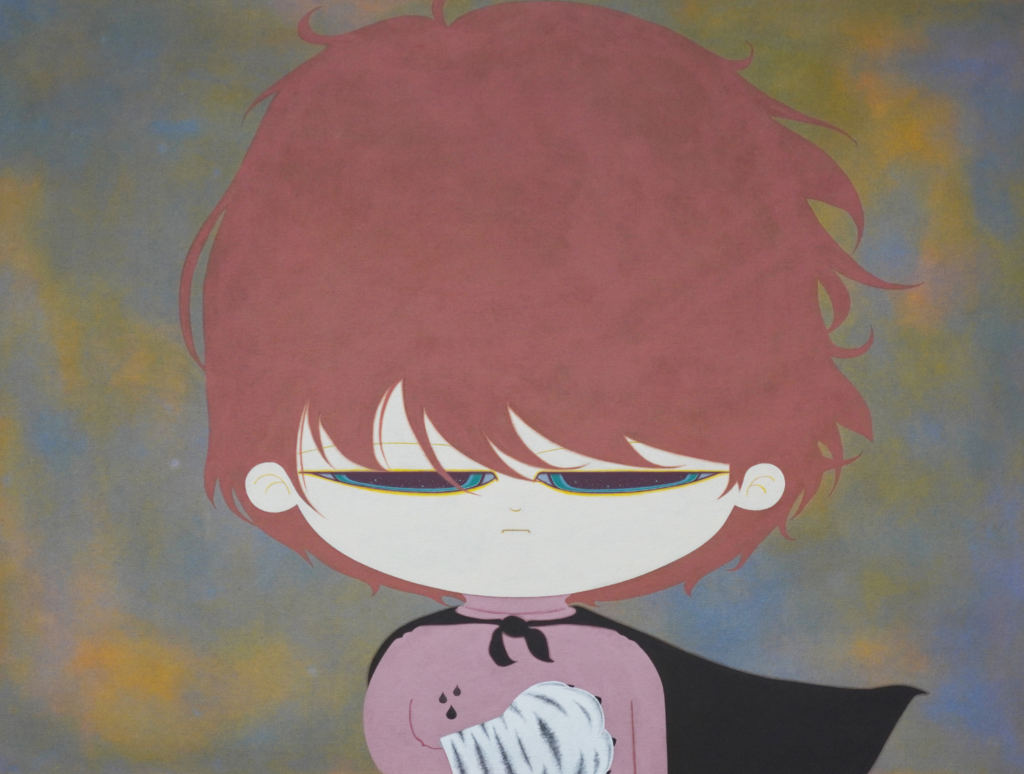 Han Choong-seok 
b. 1981, Busan, South Korea
Lives and works in Hong Kong
Presented by Gallery Woo
Korean artist Han Choong Seok seeks to examine the intricacies of human relationships and the challenges of human intimacy. For Han, the white owl is emblematic of everyday human interactions. The artist's distinctive figures, characterised by their animal traits, all have gently closed eyes, suggesting a desire for intimacy and a simultaneous need for distance. Han incorporates acrylic paint with Korean cotton Gwangmok and a traditional ink-wash technique, infusing his Western-style painting with Eastern influences. The resulting gentle and unique palette offers a healing space for his melancholic characters.
Han Choong-seok, The Boy Self Defense, 2023, acrylic on Korean cotton, 130.3 x 97 cm. Courtesy of the artist and Gallery Woo.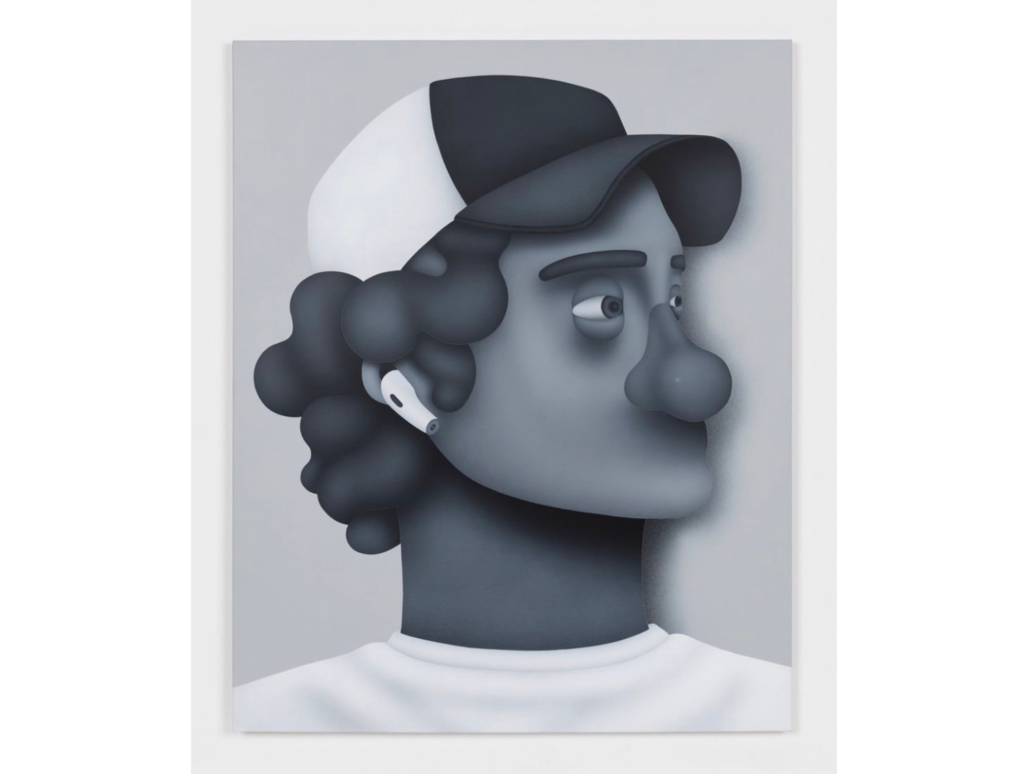 NKSIN
b. 1994, Fukushima, Japan
Lives and works in Hong Kong
Presented by Katsumi Yamato Gallery
Combining spray painting from the 1990s, the fuzzy sfumato technique popular in the Renaissance, and influences of Japanese subculture, Japanese-Filipino artist NKSIN's hybrid style reflects a multifaceted society and his place within it. The artist's monochromatic portraits, all rendered in a flat grey colour evoking a sense of helplessness, suggest both a longing for and rejection of the past and the present. Distinguishable icons such as craftsmen, musicians, and painters are displaced within the ambiguous settings of his works, allowing the artist to not only remove the historical, racial, and cultural barriers that separate us, but also to reflect on his own experiences of discrimination due to his multicultural background.
NKSIN, BORING THINGS, 2022, acrylic on canvas, 162 x 130 cm. Courtesy of the artist and Katsumi Tamato Gallery.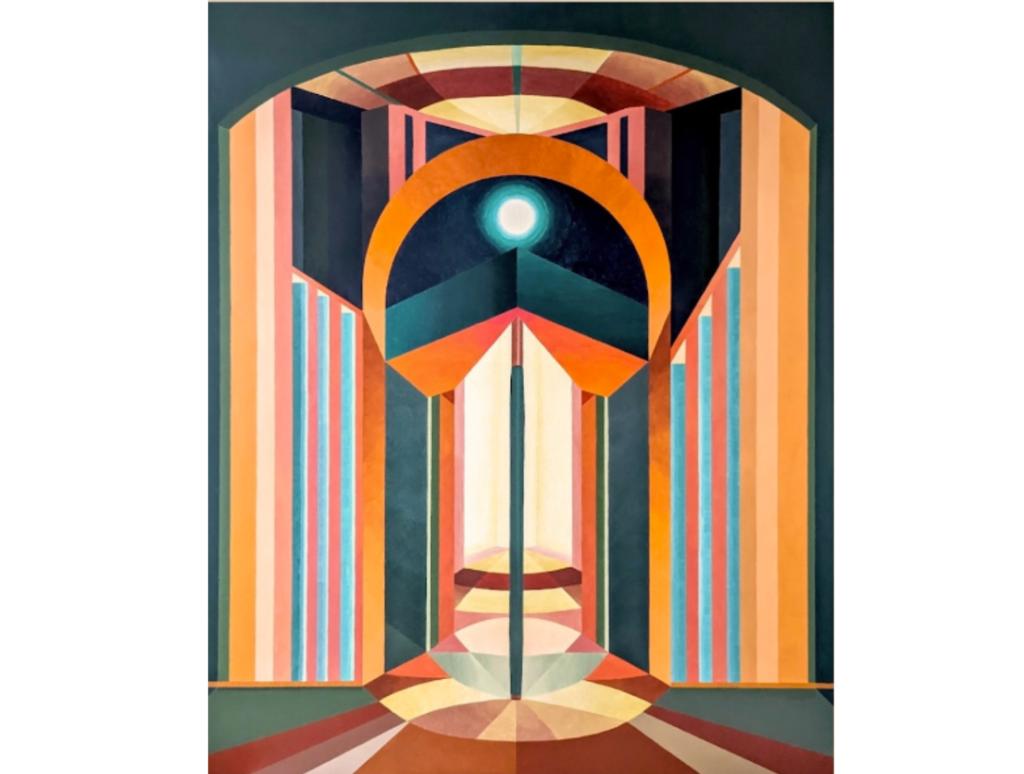 Jason Ho
b. 1993, London
Presented by Seefood Room
Filled with detailing and dynamism, Jason Ho's "art-chitecture" is bursting with color and life, offering its viewers a glimpse into his narrative-inspired fantastical worlds. Trained at Cambridge University and University College London, British-Chinese architect Jason Ho designs evocative architectural space that exceeds the definition of science, anchoring his subjects in the essence of abstractionism.
Jason Ho, Pivot, 2022. Acrylic on canvas, 110 x 90 x 3 cm. Courtesy of the artist and Seefood Room.