Performance
Art Central's Performance Programme is held in Partnership with 4A Centre for Contemporary Asian Art, interrupting the hum of the art fair with performances by internationally acclaimed artists.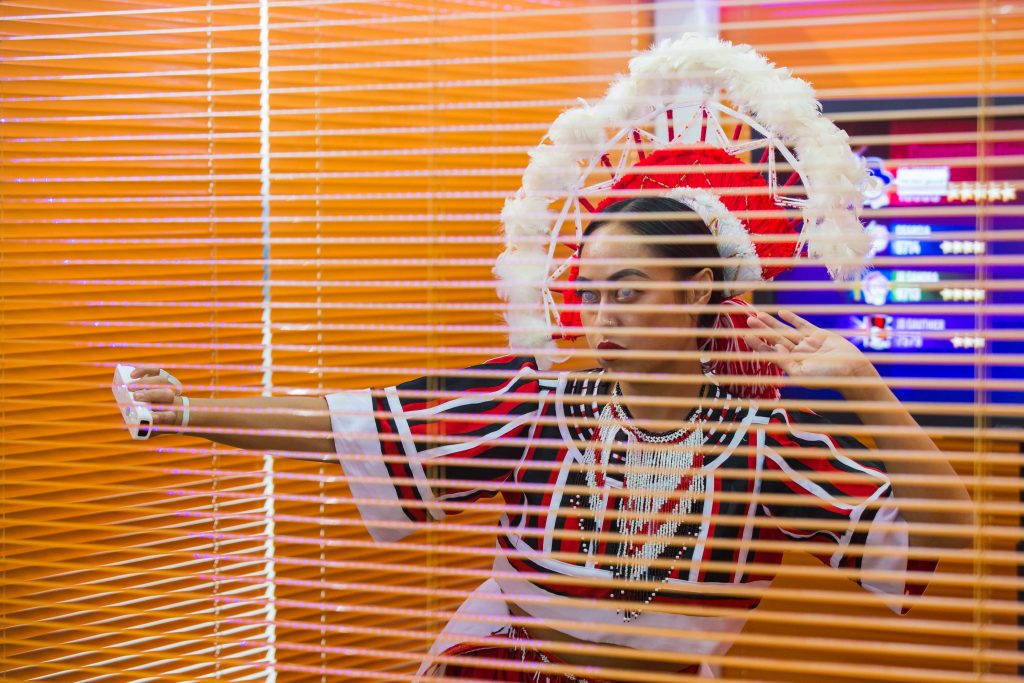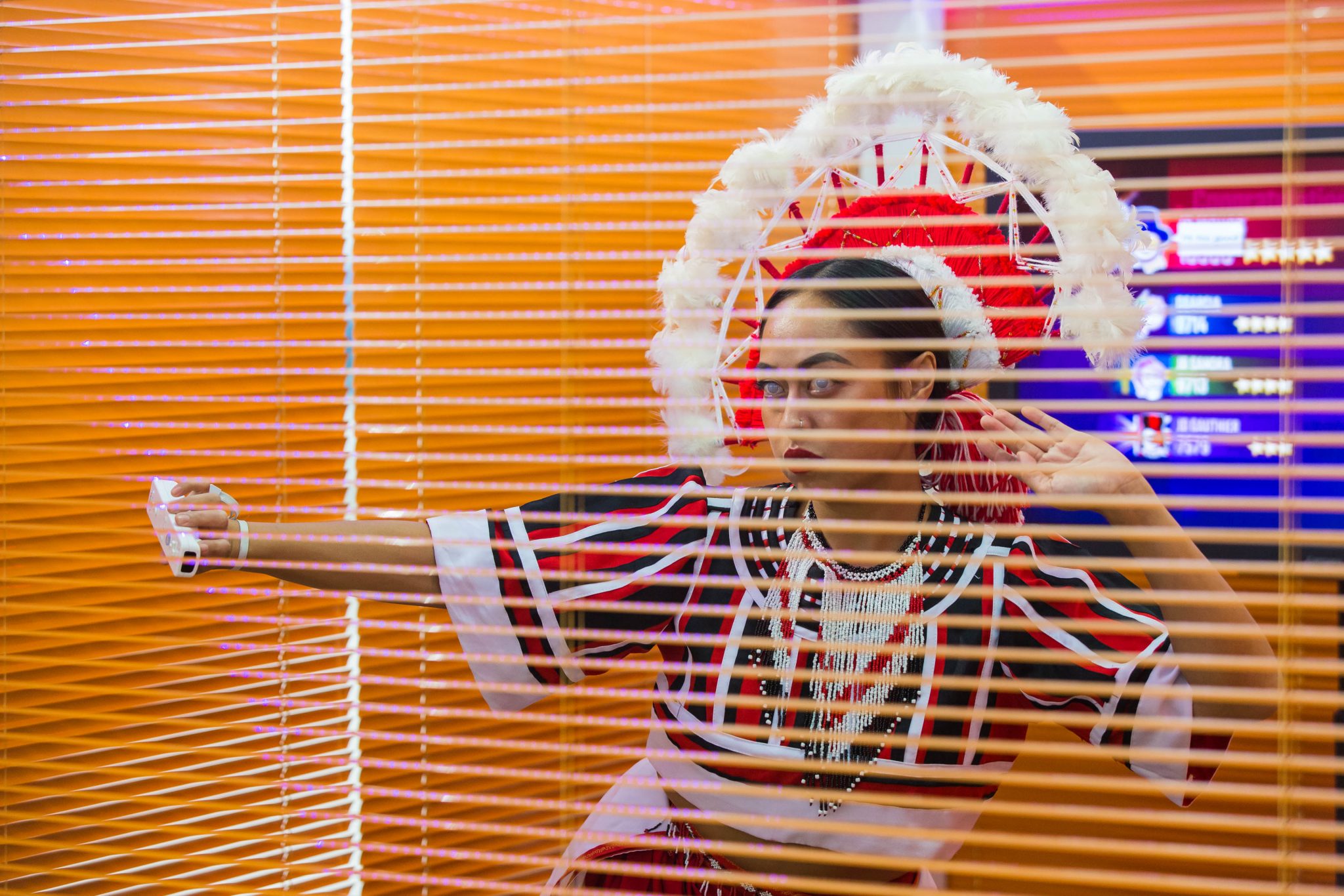 Caroline Garcia, The Vitrine of Dancing Cultures, Art Central 2018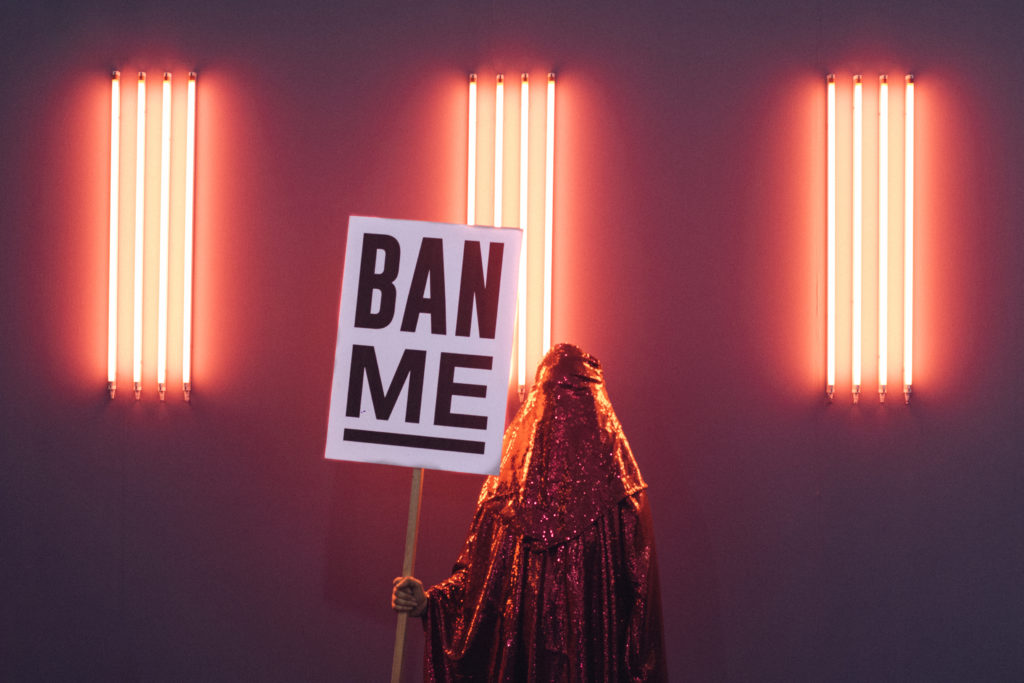 Anida Yoeu Ali, The Red Chador: Ban Me!, Art Central 2017
About 4A Centre for Contemporary Asian Art
4A Centre for Contemporary Asian Art fosters excellence and innovation in contemporary Asian and Australian culture through research, documentation, development, discussion and presentation of contemporary visual art. Operating since 1996 from a base in Sydney, Australia, 4A's aim is to ensure contemporary visual art plays a central role in understanding the dynamic relationship between Australia and the Asia-Pacific region.
4A has a distinctive approach to addressing Australia's cultural diversity through a dynamic program including local and international exhibitions, public programs, workshops, seminars, symposiums and community activities. These have been recognised locally and internationally as having raised awareness of Asian-Australian art and culture and Australia's place in the Asia-Pacific region.
Ideas of time and duration, questioning the futility and fruits of human endeavour were addressed by leading contemporary artists through a series of daily on-site performances with challenging examination of the exhaustive state of perpetual busy-ness and the act of counting down.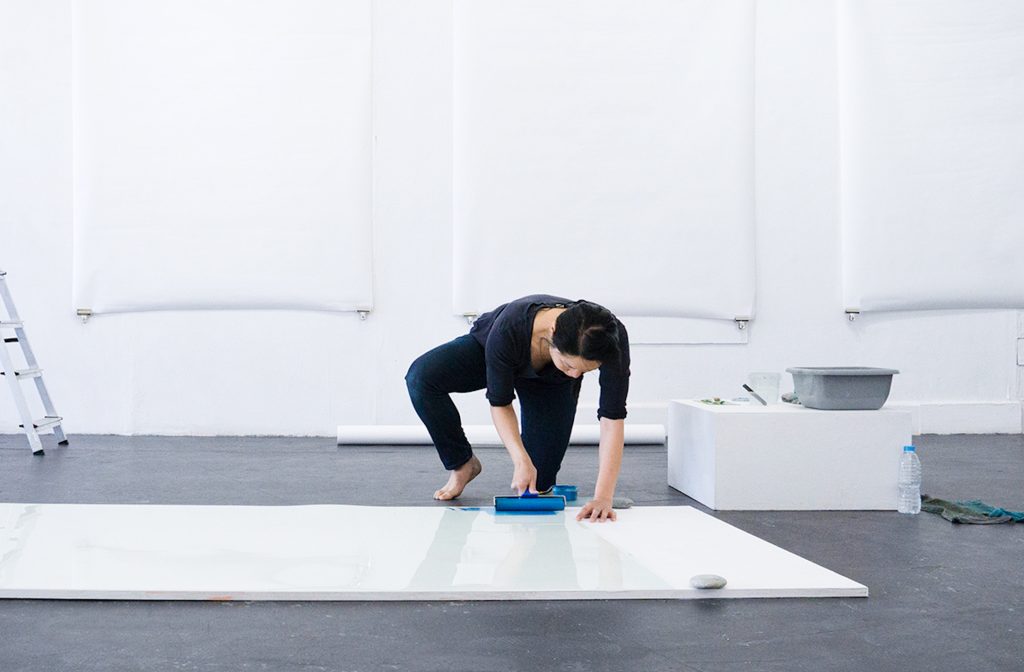 I am tired with you
Best known for her performative drawing practice that invites collaboration from the audience, Hong Kong born British-Chinese artist Bettina Fung will present I am tired with you – a piece that is fundamentally anchored in the traditions of print-making. The artist opens the performance with a plate filled with heavy-duty pigment before layering a piece of paper on top. As the paper adheres to the paint, members of the audience are invited to play the role of the printing press by writing, walking and conversing about a contemporary culture of busyness, sharing their reflections on fatigue and labour relations, while simultaneously contemplating possibilities of "non-doing". Each of these audience interventions forms a palimpsest of mark making on the painted surface, creating a collective mind map of the audiences' thoughts on the subject.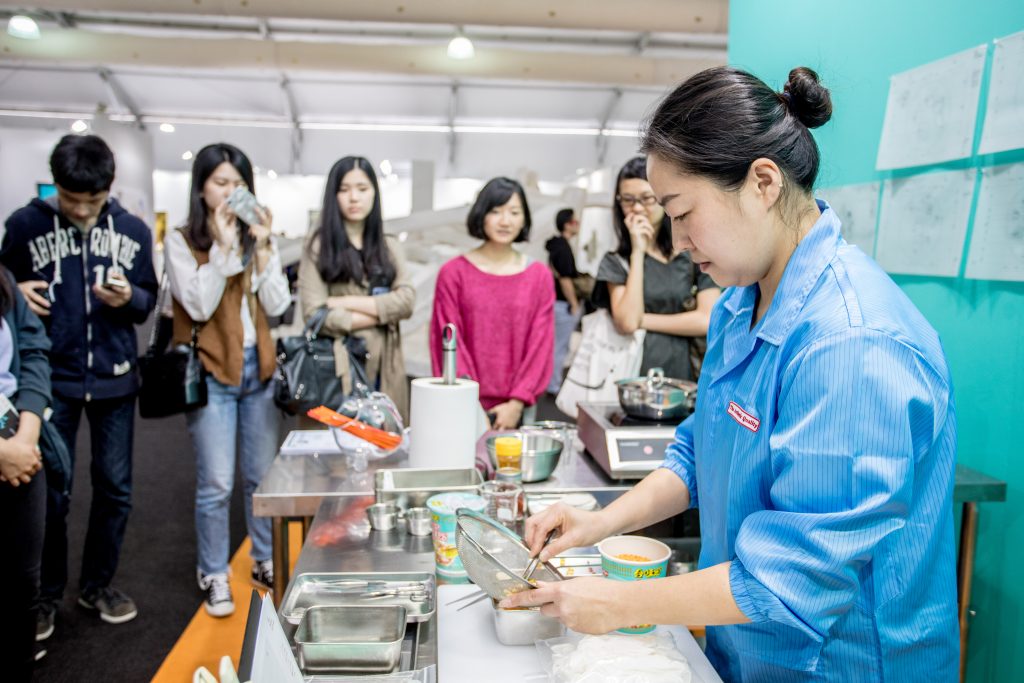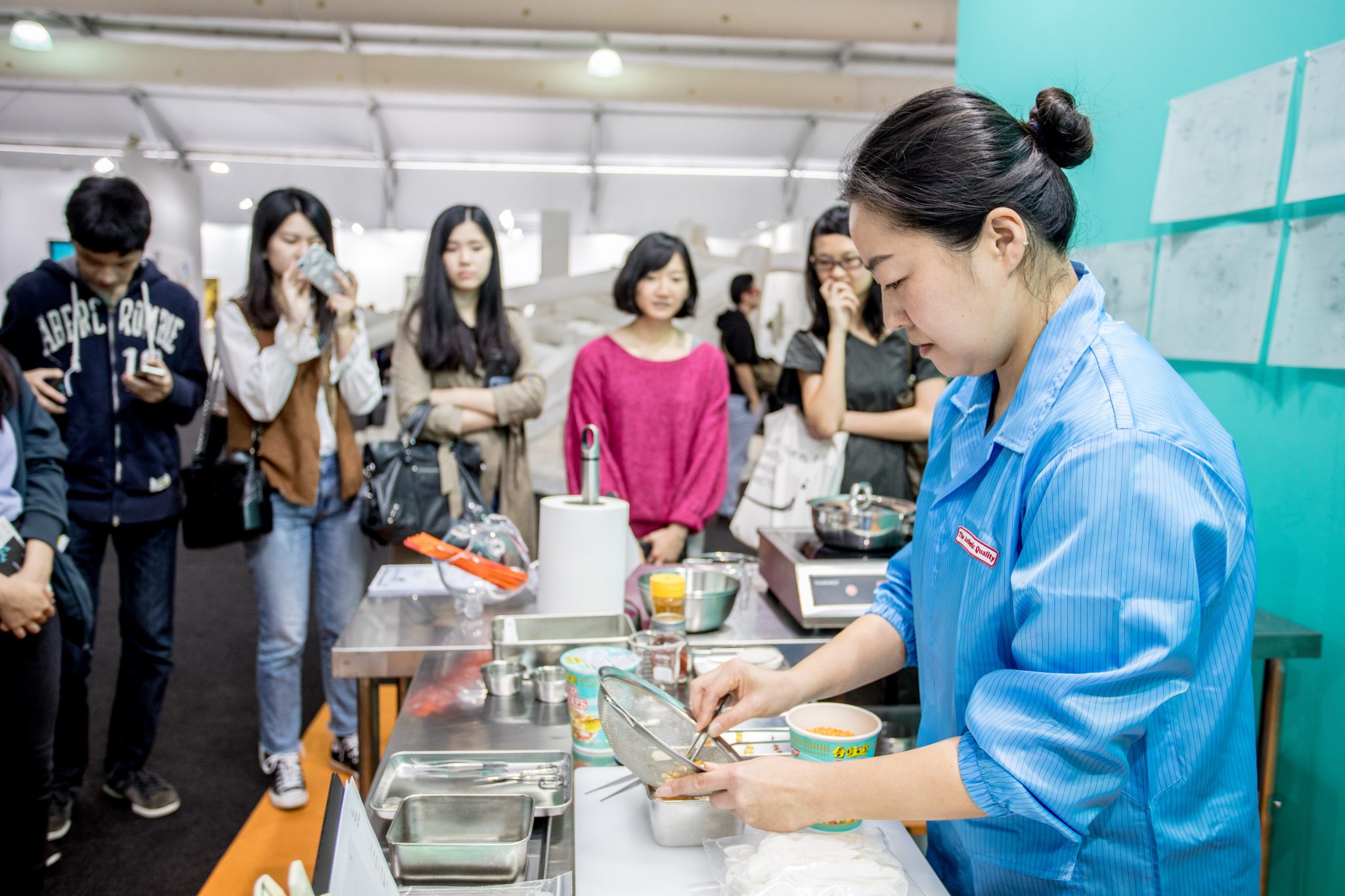 The Authentic Quality : HK
Expanding on a previous project, Korean artist Minja Gu has been commissioned to set up a restaurant-cum-exhibition-cum-relational aesthetics project in an art fair setting, where she adopts the persona of a cooking infomercial personality, using the ubiquitous two-minute noodle packet as a tool to prompt conversational exchange about food culture and societal pressure to conform. Through the performance, the artist seeks to mimic contorted media and commercial imagery in a pursuit of perfection – an act that takes much longer than the prescribed two minutes. Having never travelled to Hong Kong, Gu will use this cooking platform to understand the unfamiliar ingredients, politics and processes of the city – something which she hopes fellow sympathisers at the fair will help her navigate.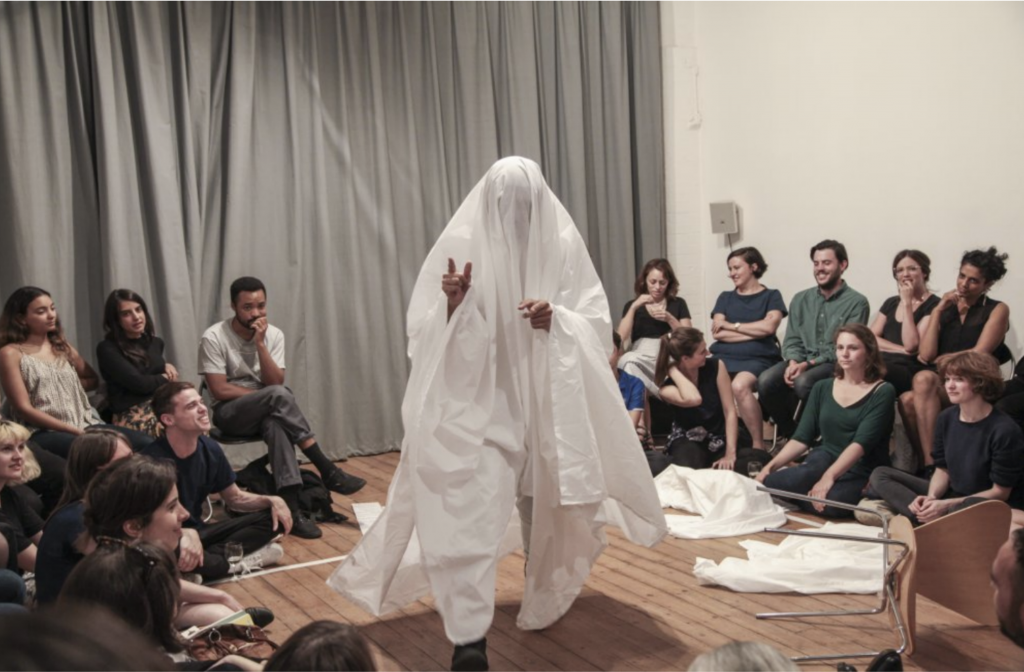 Care Disfigurements (flowers)
Sydney-based Samoan, writer and performer Brian Fuata has been commissioned to present his signature 'ghost' performance – a living series that considers the images of ghosts through a durational performance. Both an actor and artist, Fuata infuses dead pan humour with performance routines, combining bed sheets and mineral water in a clever cocktail that travels through the entire emotional, artistic and entertainment spectrum. This performance will traverse the fair, engaging with works from booth to booth, providing visual stimuli for his evolving poetry.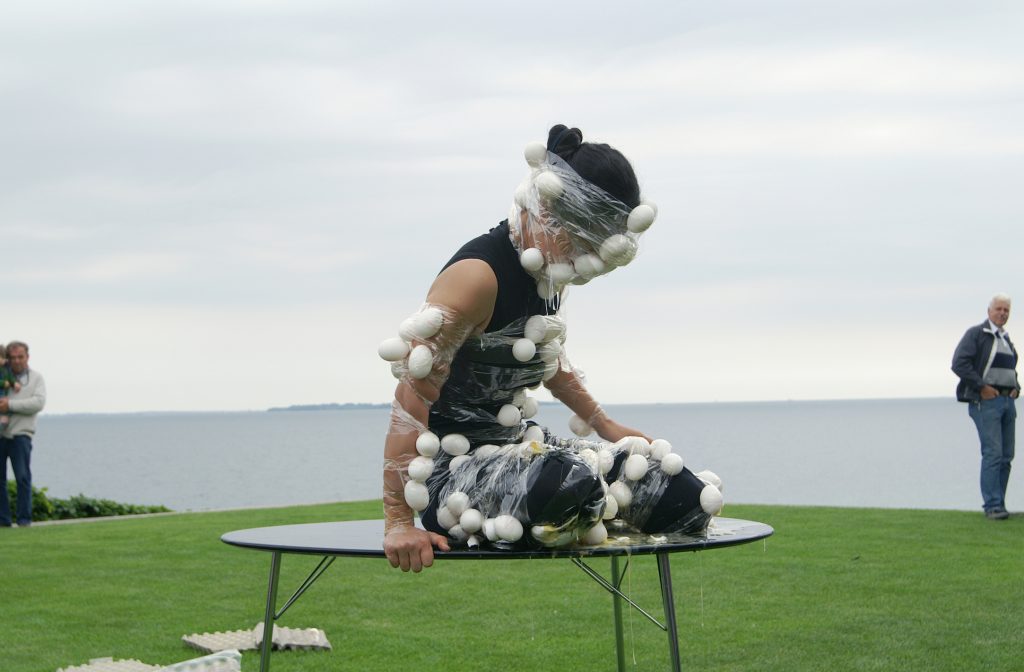 New Territories Old Territories
Canadian-based Hong Kong artist Siu Lan Ko creates text-based installations and durational performances that examine ideas of space, geography and nationhood. Drawing inspiration from cylindrical prayer wheels found in temples, the work, both a performance piece and an interactive sculpture, takes the format of three large spindles, each printed with words that describe the political trajectory of Hong Kong. As audiences interact with them, they form evolving sentences that reflect the continuously developing relationship between Hong Kong and China; "Hong Kong is Hong Kong", "Hong Kong is China", "Hong Kong isn't China", "China is Hong Kong". Reflecting on Hong Kong's 50-year period of transition, Siu Lan Ko invites Hong Kong performance artists to activate the installation with her in innovative ways that test the boundaries of duration, politics and performance. Visitors will also be invited to turn the spindles and consider their ideas of Hong Kong, now and into the future.
In an era of extraordinary times, we are faced with the growing disparity between the haves and the have-nots. This disparity informed the thematic curated performances at Art Central 2018.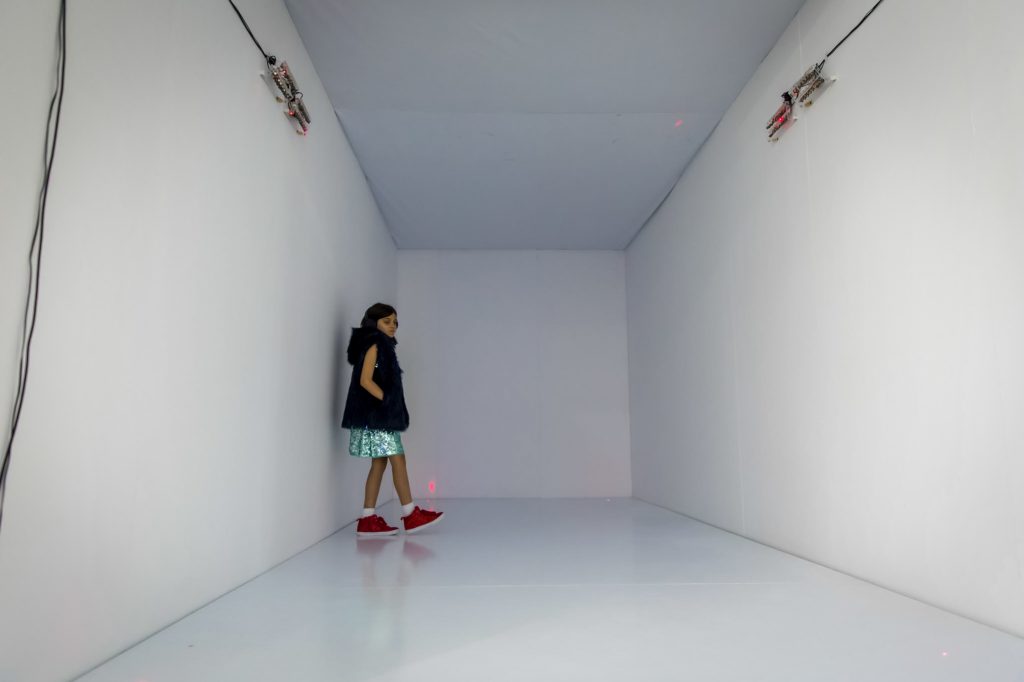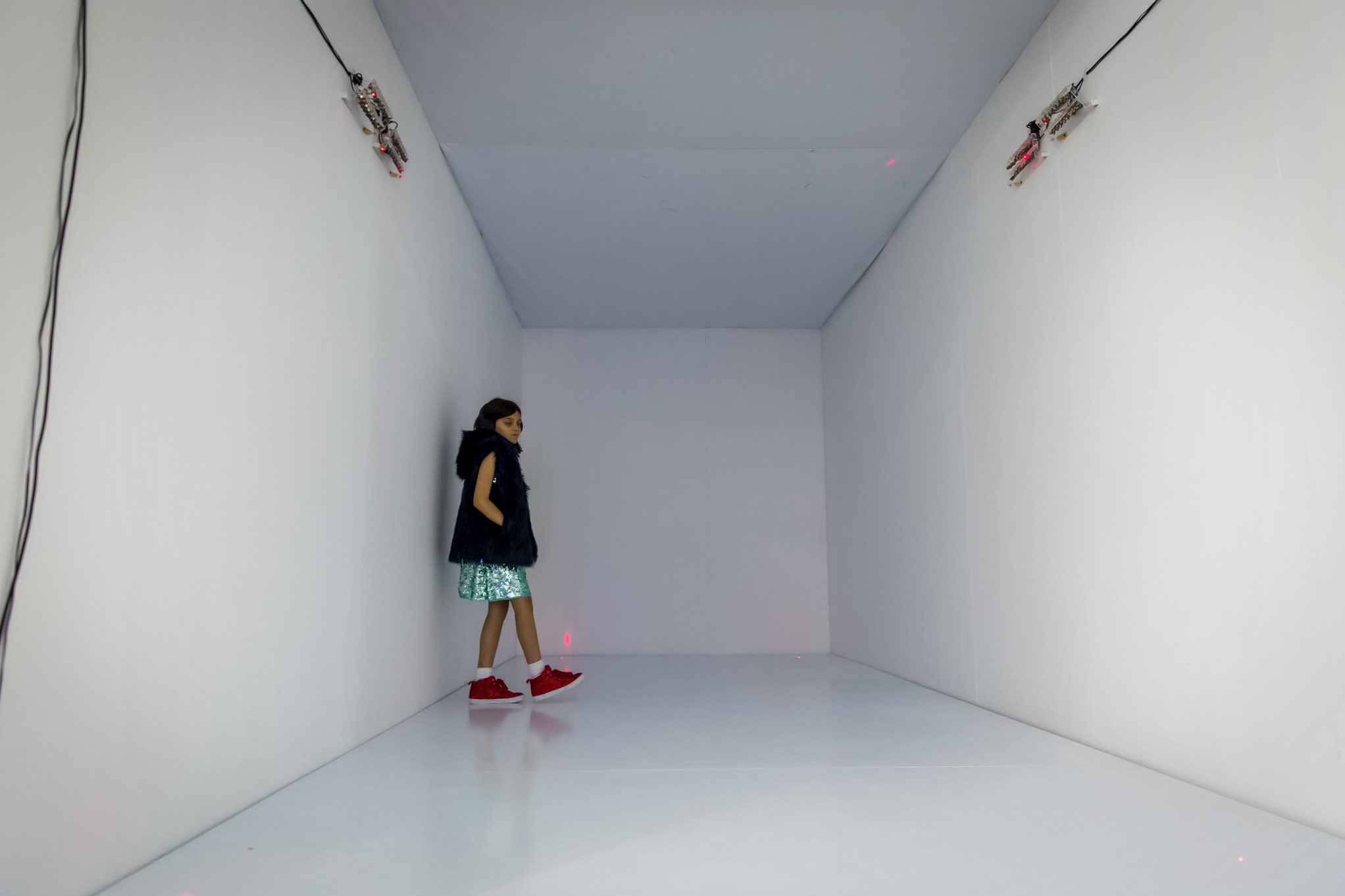 Sampson Wong & Lam Chi Fai
Pavilion for our living
Sampson Wong and Lam Chi Fai are Hong Kong based artists who have collaborated in art-making since 2010. Their collaborative works received the First Prize in Freedom Flower Awards, the Gold Award and Silver Award of ifva and were exhibited in the Hong Kong Museum of Art andthe Slought Foundation.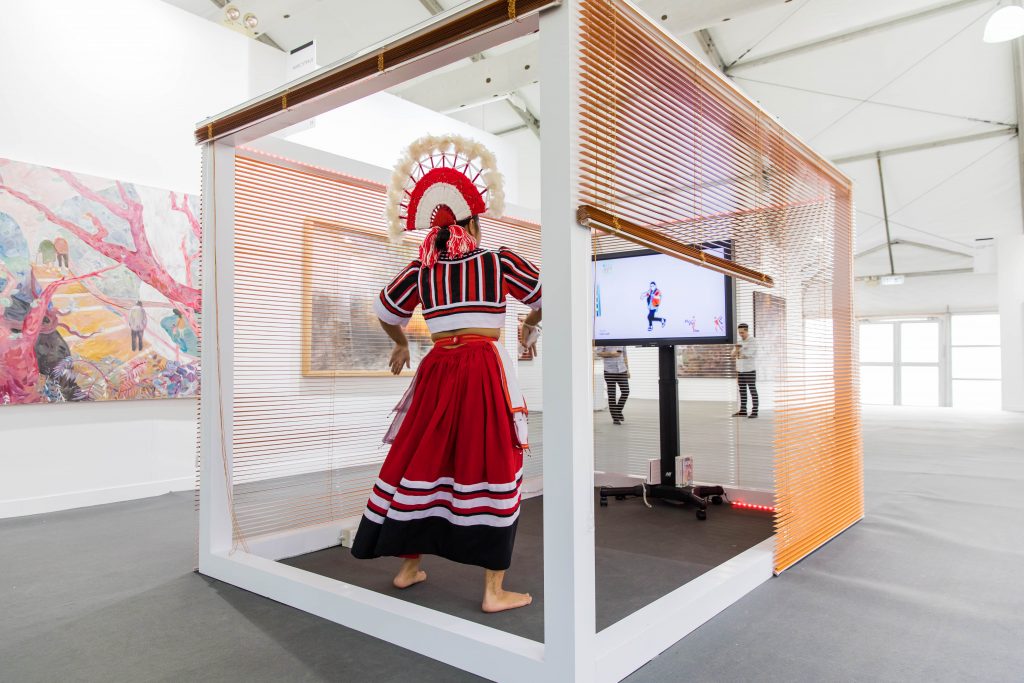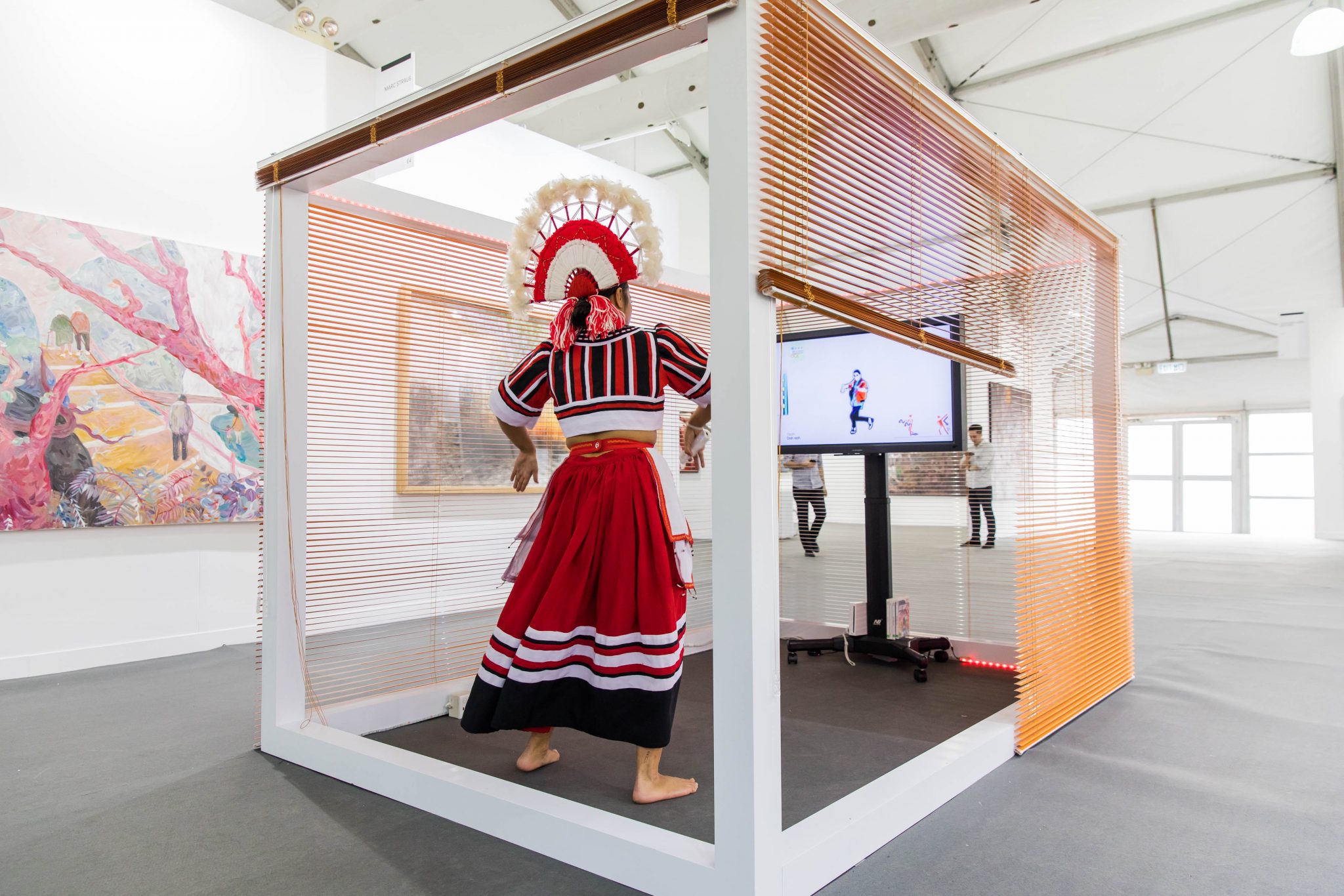 The Vitrine of Dancing Cultures
Caroline Garcia is a culturally promiscuous, performance maker. She works across live performance and video through a hybridised aesthetic of cross-cultural dance, ritual practice, new media, and the sampling of popular culture and colonial imagery. Caroline's practice is shaped by alterity. In her work, she centres peripheral bodies by adopting the role of shape shifter – sliding into the gaps between cultures, experiences of otherness, and timeless clichés of exotic femininity. Caroline has presented at Manila Biennale:OPENCITY2018 (Manila, Philippines), The Art Gallery of New South Wales (Sydney, Australia), Channels: The Australian Video Art Festival (Melbourne, Australia).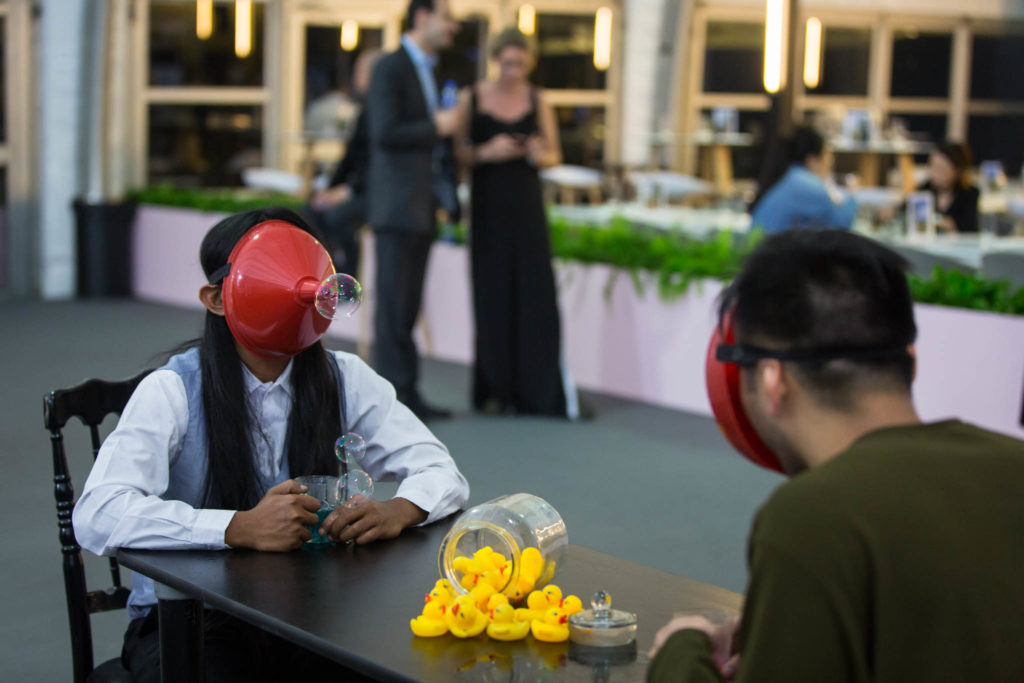 Talk and Goal: Strong Relationship, but first, talk!
FJ Kunting is a Yogyakarta, Indonesian based artist who has been developing a performance practice since 2012. Fundamentally interested in an examination of human relations and engagement his live performances are durational and hypnotic. Widely regarded as one of Indonesia's most exciting performers his work as recently been presented at Performance Art Resource Orchestrator (Singapore), KIPAF#17 (Calcutta, India), Jogja National Museum (Yogyakarta, Indonesia), Performance Art Jakarta (Jakarta, Indonesia).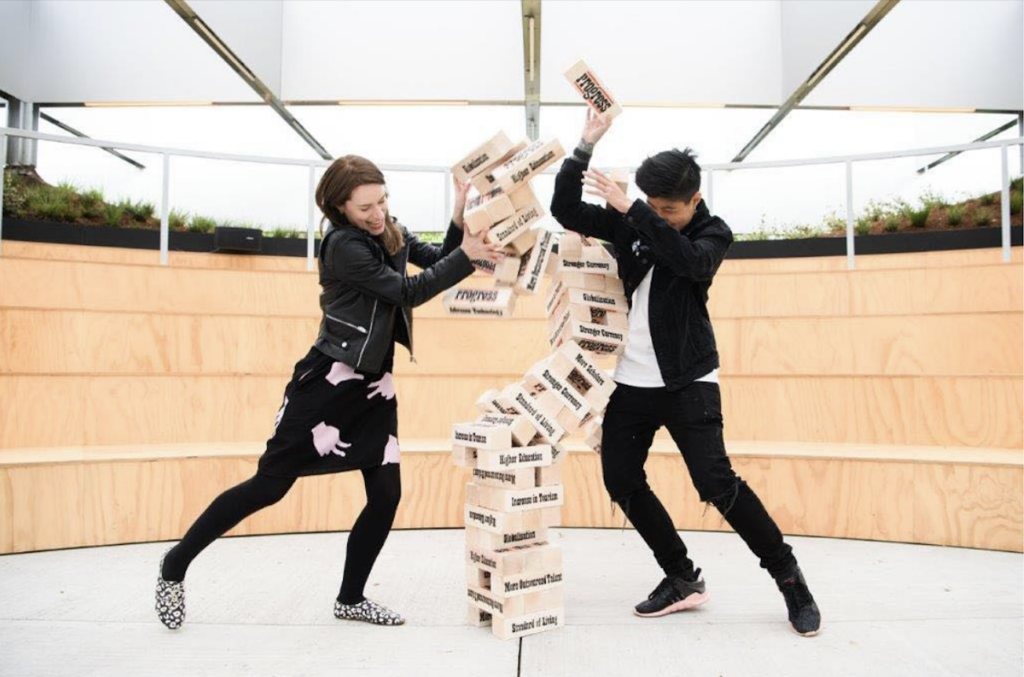 Progress: The Game of Leaders
Sam Lo, also known by the moniker SKL0, is a Singaporean contemporary artist whose work is heavily inspired by daily observations and research on the sociopolitical climate from which she executes through visual commentary comprising of text and imagery. The end results birth new meanings lent to existing situations by incorporating ideas, messages and emotions with familiar visual codes into urban situations in hopes of creating experiences to invoke critical thought on the viewer's everyday life. Recent exhibitions include Melbourne Festival (Melbourne, Australia) One East Asia Gallery (Singapore), Georgetown Festival (Penang, Malaysia).
Art Central 2017 presented present site-specific works by leading international artists, all working to question and challenge the conventional canon of art, encouraging the audience to reconsider familiar objects and situations, challenging the viewer to rethink their expectations and inviting them to speculate on a spectacle.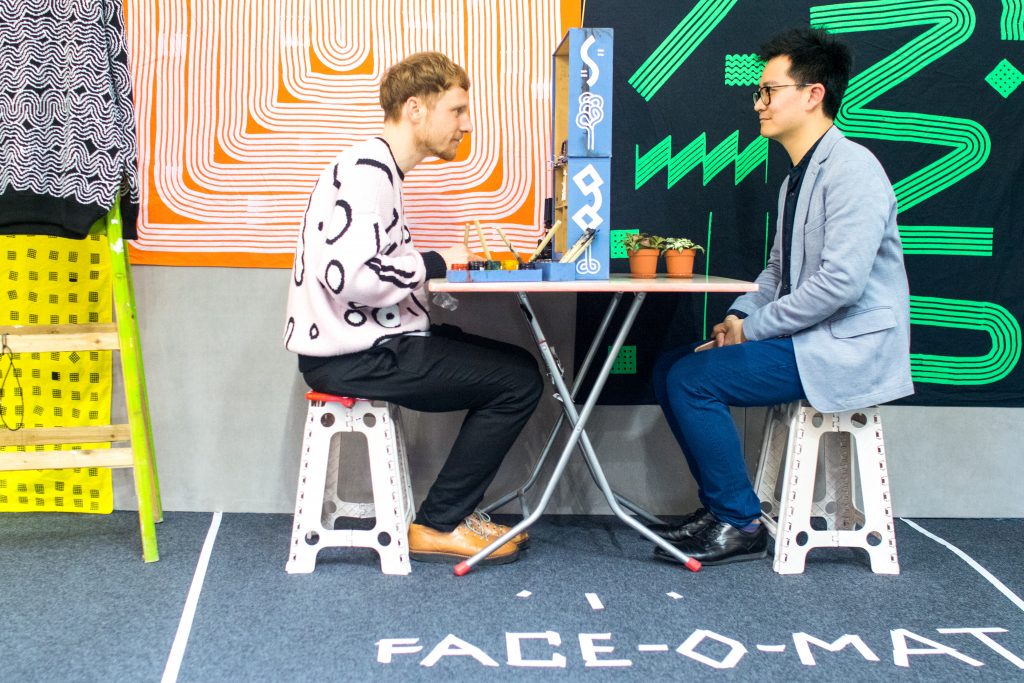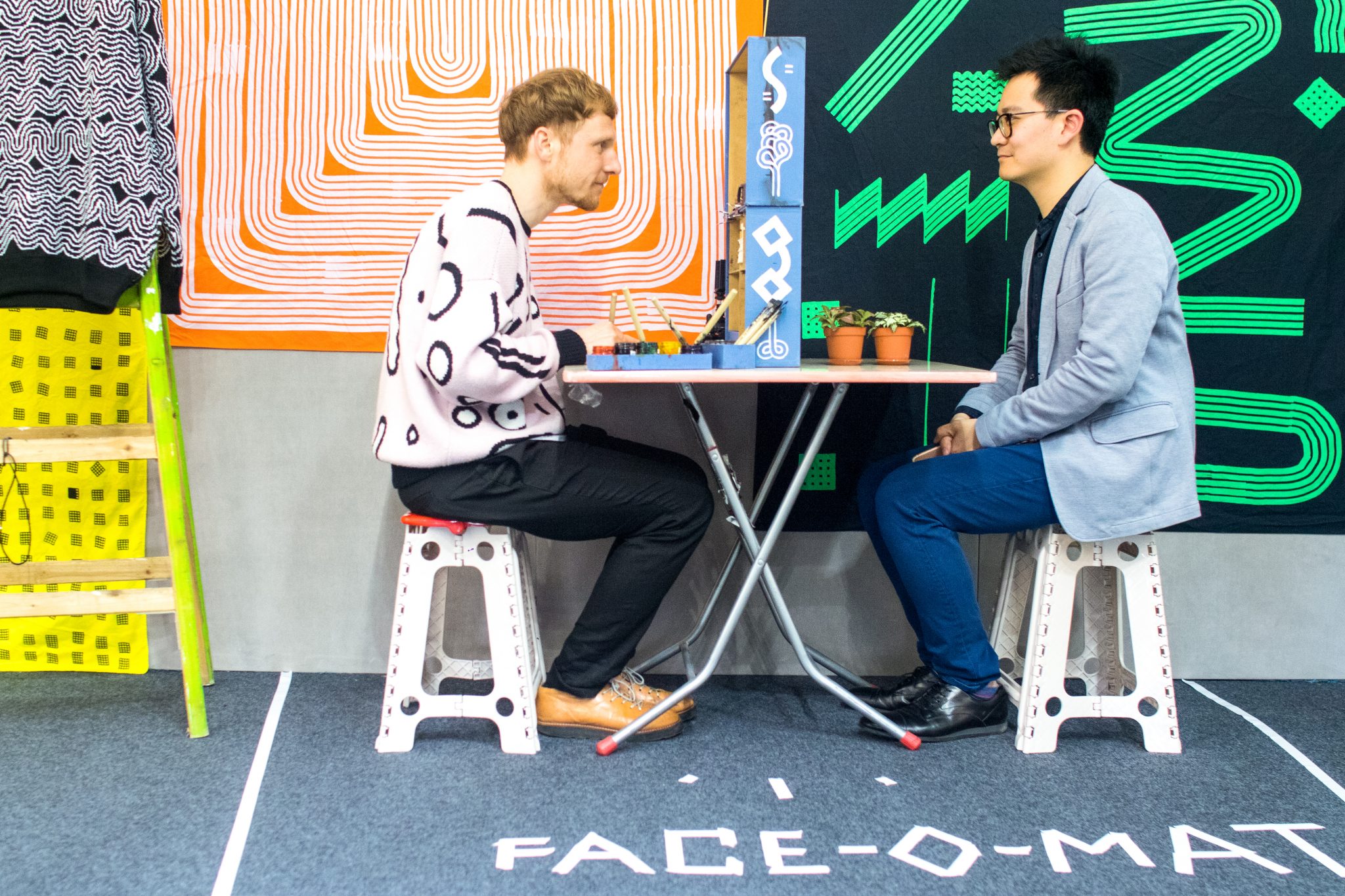 Face-o-Mat
At the heart of Tobias Gutmann's artistic practice lies the creation and investigation of encounters –between people, cultures, and environments, but also between what we perceive on the outside and what we feel on the inside. The Swiss artist aims to setup situations where such a dialogue can happen. His works morph between performance, installation, and workshops, and often have relational and participatory aspects to them. His Face-O-Mat, analogue portrait machine, has been traveling the world since 2012and will feature at Art Central 2017. It can be viewed as a quiet critique of how technology has made us obsessed with assembling and portraying an identity that puts us in the best light. Previous Face-O-Mat projects include Museum Haus Konstrktiv, Zurich, Switzerland, Supergraph, Melbourne, Australia and Mudam, Luxembourg City, Luxembourg.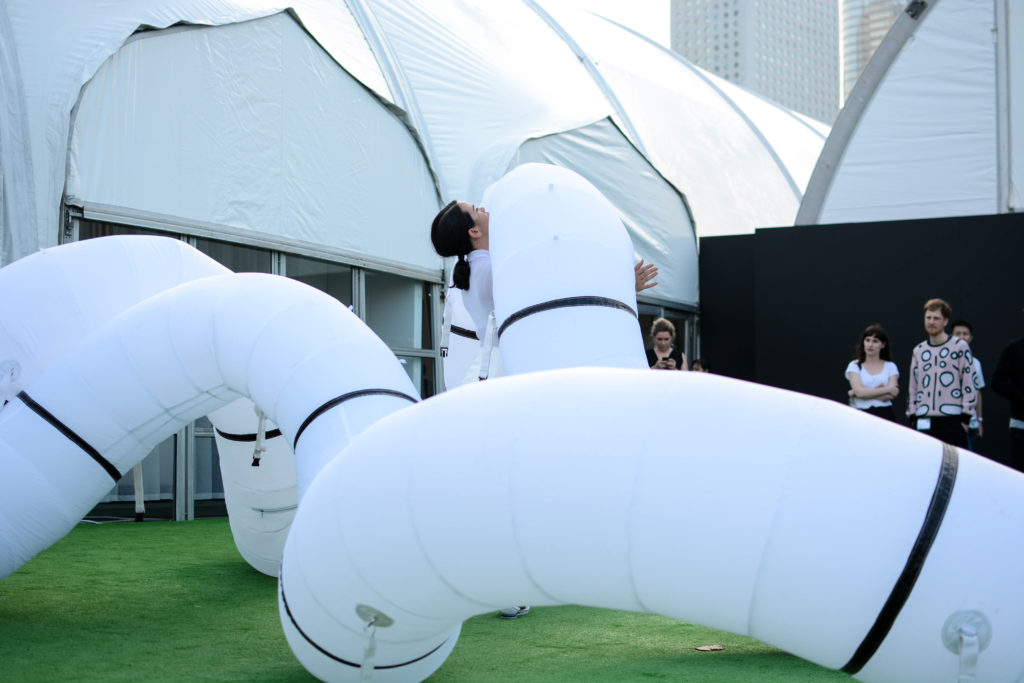 This___may not protect you but at time It's enough to know it exists
Amrita Hepi is a Bundjulung and Ngapuhi dancer and choreographer working in the field of experimental dance. Her choreography is rooted in creating movement in transitional spaces, interweaving her urgent cultural heritage and contemporary dance training. The barriers of intersectionality, cultural memory and pop cultural references also feature in her work. Amrita has trained at the National Aboriginal Islander Skills Development Association (NAISDA) dance college, New South Wales, Australia and Alvin Ailey American Dance School, New York. She has exhibited and performed at Sydney Opera House, Sydney, Next Wave Festival, Melbourne, the Museum of Contemporary Art, Australia, the Australian Centre for Contemporary art, Melbourne, Carriage works, Sydney, TEDX, Sydney and Banff Centre, Alberta, Canada.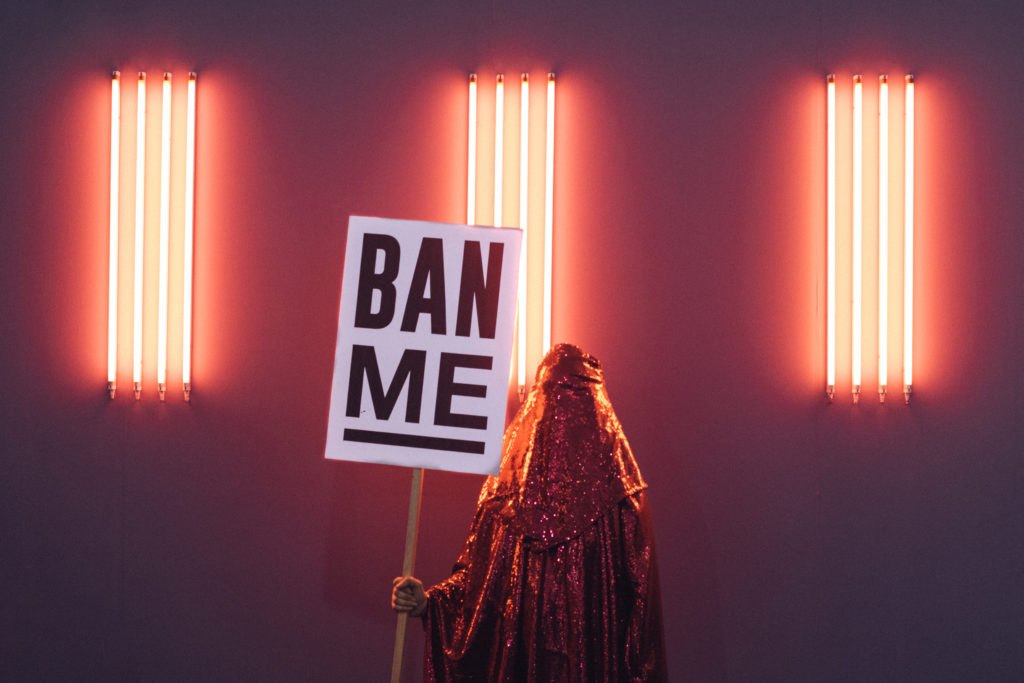 The Red Chador: Ban Me!
Anida Yoeu Ali is an artist, educator and global agitator. Ali's multi-disciplinary practices include performance, installation, videos, images, public encounters, and political agitation. She is a first generation Muslim Khmer woman born in Cambodia and raised in Chicago. Utilizing an interdisciplinary approach to art-making, her installation and performance works investigate the artistic, spiritual and political collisions of a hybrid transnational identity. Ali's works have been exhibited widely in including installations and performances at the Smithsonian Asian Pacific American Center, 5th Fukuoka Asian Art Triennial, Lyon Museum of Contemporary Art, Palais de Tokyo, and the Asia Pacific Triennial 8.In 2014, Ali won the top prize of the Sovereign Art Prize, Hong Kong. Ali earned her B.F.A. from University of Illinois (Urbana-Champaign) and an M.F.A. in from School of the Art Institute Chicago. She is currently the Artist-in-Residence at the University of Washington Bothell where she teaches art, performance and global studies courses. Ali resides in Tacoma, Washington and spends much of her time traveling and working between the Asia-Pacific region and the US.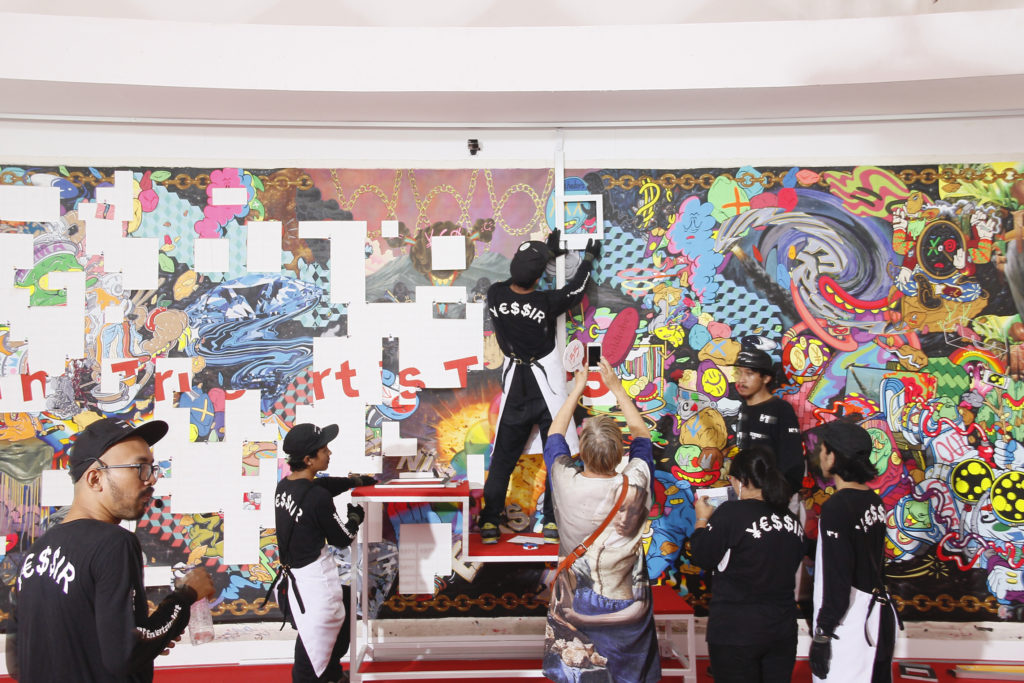 Uji Handoko Eko Saputro aka Hahan
Speculative Entertainment No.1 Hong Kong Edition
Hahan's art making is concerned with the tussle between 'high art' and 'low art', blurring realism with decoration. Hahan incorporates film, music and street culture into a distinct visual language, creating a sense of movement and spontaneity in what can be described as a topsy-turvy reality steeped in satirical humor. In recent years, he attempts to display an art with the concept that emphasizes on the interaction with the visitors and relate it with the development of art in global as well as its society. He also one of the founders of Ace House Collective, a young artists' collective and initiative space based in Yogyakarta which trying to capture the culture of Indonesian contemporary society through multidiscipline work process, collaboration, and research.His works have been collected by several art museum including Queensland Art Gallery of Modern Art (QAGOMA) Brisbane, Australia and National Gallery of Victoria (NGV) Melbourne, Australia.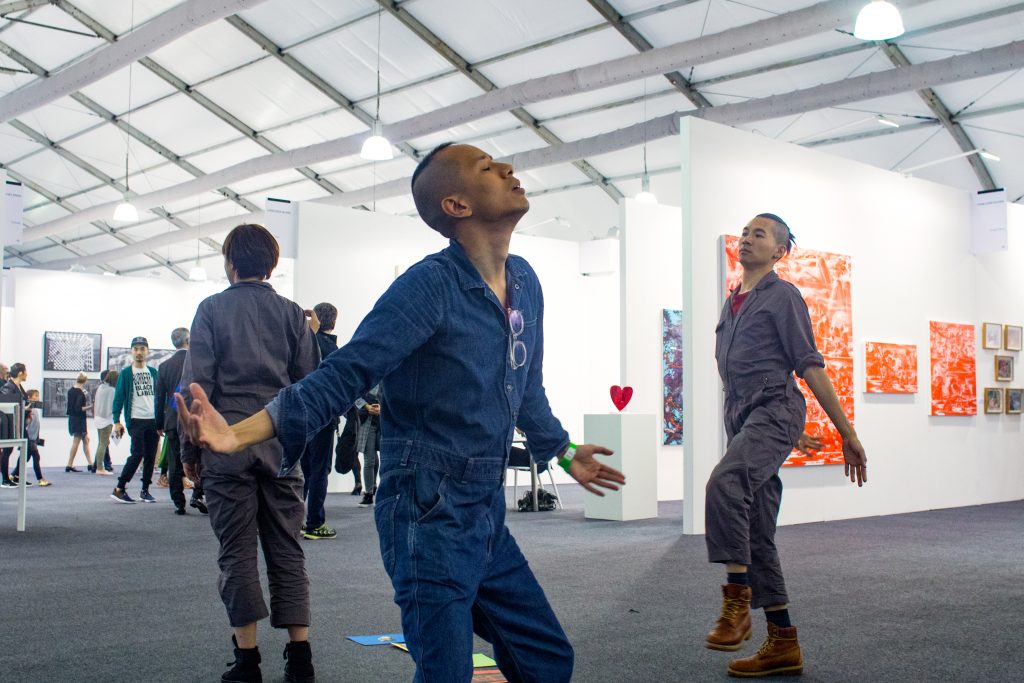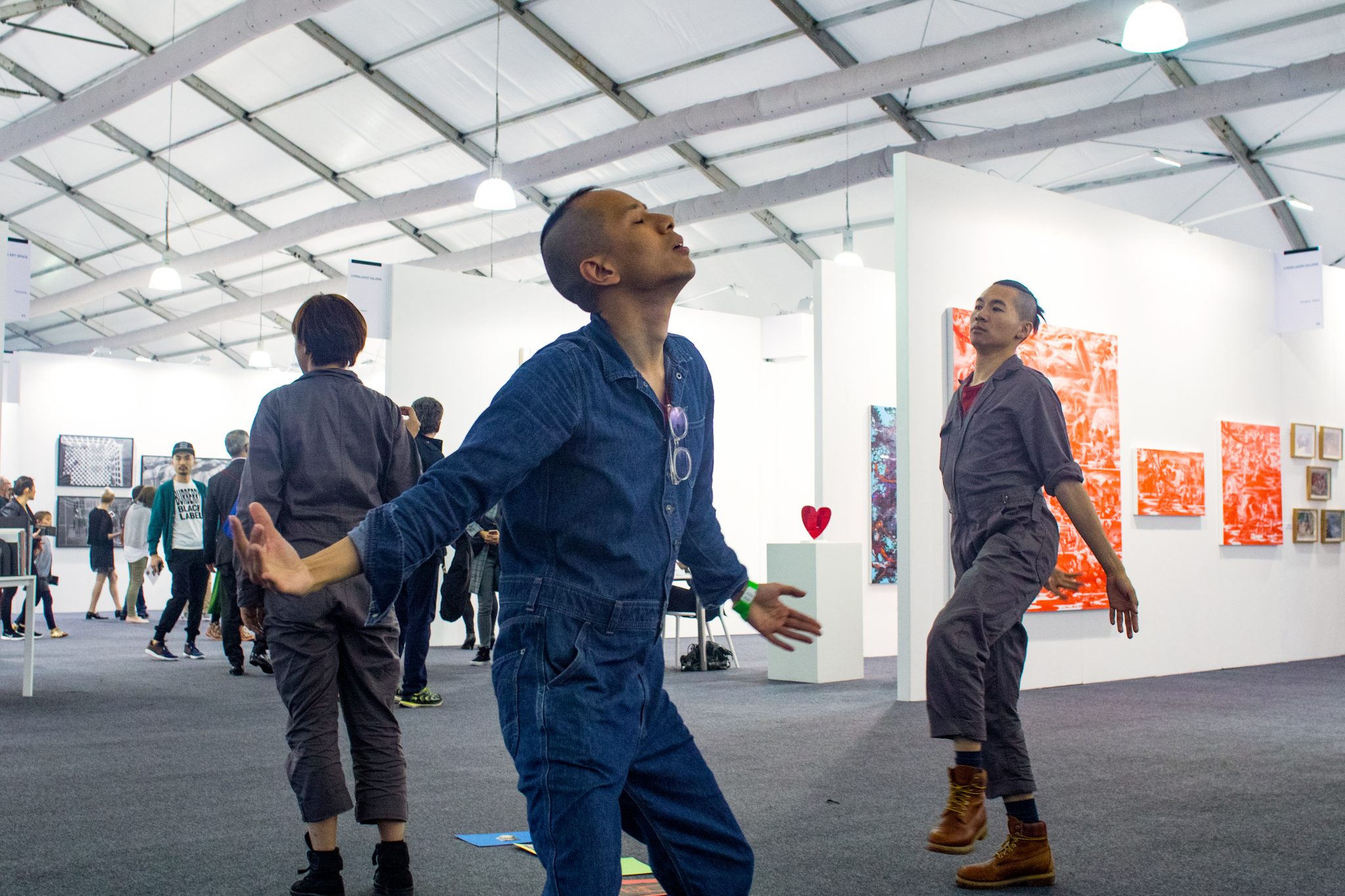 Fair Gestures
Enoch Cheng is an artist, director, performer, writer, independent curator, and founder of art collective Interlocutor. His practice involves the moving image, installation, curating, dance, music events, theatre and performance. Concerned with the everyday subtleties in contemporary urban lives, his works explore recurrent themes of place, travel, fiction, memory, time and destination.He received his MA in Creative Writing from Goldsmiths, London and BA in English Literature and Art History at the University of Hong Kong. His most recent shows in Hong Kong include You Are Not Alone at Oi!Oil Street Art Space and The Memory of Proximityat Hong Kong Museum of Art.