2022
2022 Yi Tai Sculpture & Installation Projects
Curatorial Director: Qu Chang
From Marton Nemes's techno light field to Afa Annfa's mysterious portal connecting various worlds; from Louis To Wun's bamboo sculpture of a mythological being to Bing Lee's painted, encoded scripts; from Sueyong Yang's landscape of eternity to Batten and Kamp's anthropogenic field of fantasy, the large-scale installations at Yi Tai 2022 emit a magical charm that isn't completely removed from reality, but deeply entangled with the memories, beliefs, affects, conventions and crises of our time.
The past few years have been an onslaught of lost and grief, isolation and struggle. At a time of trauma, thinking magic is perhaps a quixotic way to suspend reality, manage grief, then seek strength and inspiration. The 'magic' here refers not to a self-indulged escapism, or a childish fantasy, or the commodified 'mindfulness' culture as a part of the emotional capitalism. It is the 'magic hour' in cinematography, a transient moment in dawn and/or dusk where the sunlight is powerfully enchanting, before or after the 'blue hour' of nautical twilight. It is the 'magical thinking' in which writer Joan Didion travels across time, space and memories to resist the death of her husband[1]. At Yi Tai, it is the writing that defies comprehension, the revelry that investigates oppression, the laundromat where people wait for hope, the ethereal creature that transcends cultures, and the landscape that leads to immortality and post-human coexistence.
Like the duration of an art fair, magic can only persist for a short period of time. However fleeting, thinking magic could be a haunting ritual that honours what's lost, and portals abundant memories and a multitude of futures, where we remember, and reawaken.
[1] The Year of Magical Thinking, Joan Didion, 2005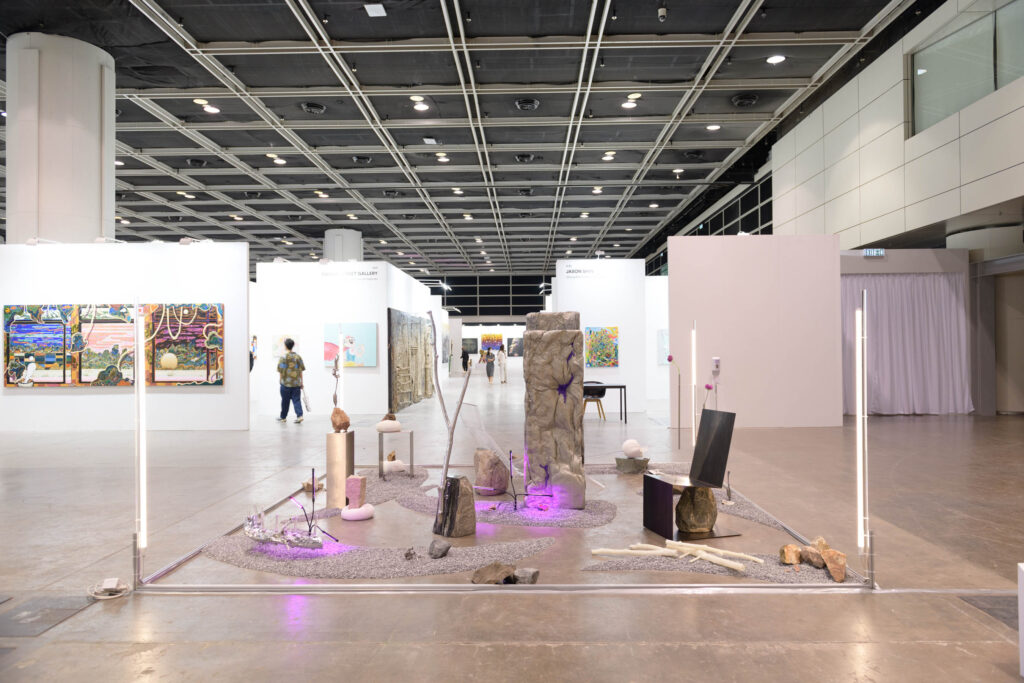 Batten and Kamp
Terra Incognita, 2022
Presented by Jeeum Gallery, Hong Kong
Using granite, aluminium, glass, cement, together with grow lights and plants made of plastic and metal, Hong Kong-based design duo Batten and Kamp presents a fictional field of the anthropocene. The landscape renders an archaeological site of the future in which 3D-printed objects become fossils, while an aluminium tree grows out from rock. Putting together existing sculptural works, work-in-progress materials, and consumer products, the duo rejoices in an ambiguous realm between synthetic and natural materials, artificial and living, process and result.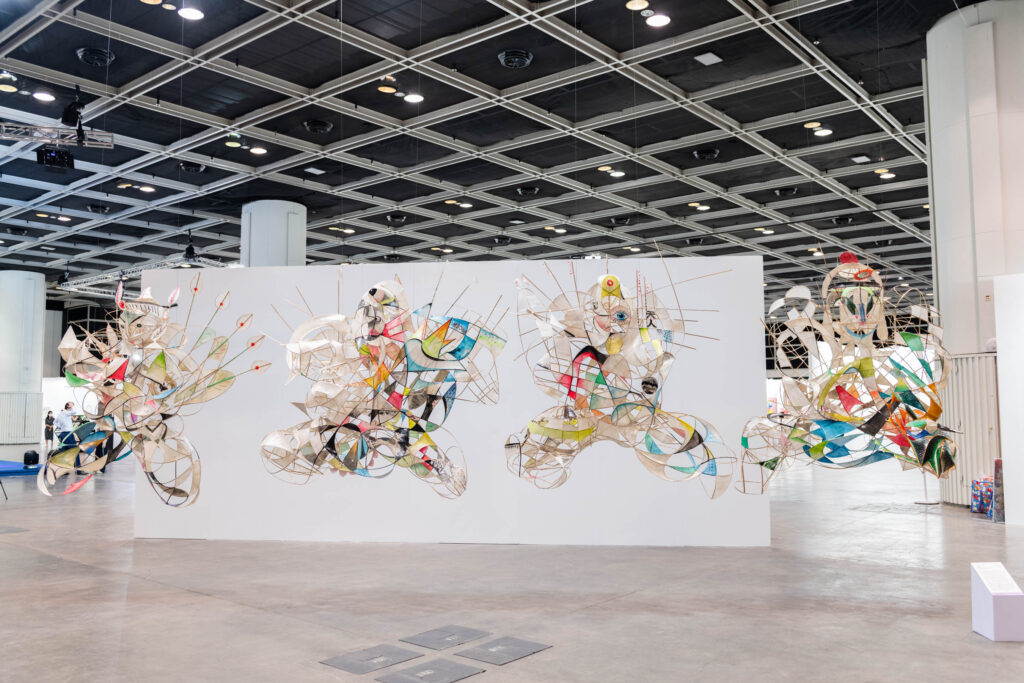 Louis To Wun
神荼鬱壘不在塲 San Syu Wat Leot Are Not Here, 2022
Presented by CWC Art Gallery, Hong Kong
Hong Kong-based artist Louis To's fantastical bamboo sculpture brings to mind the traditional Hong Kong craftsmanship of giant god statues, the geometrical abstraction of the European modernist movements, and the imaginations of gods and mystical animals.  Supported by intricate bamboo structures and fleshed by paper in various shapes, colours and patterns, San Syu Wat Leot Are Not Here presents a whimsical assemblage of cosmic abstraction resembling an ethereal creature. It interacts organically with its surroundings, responding to light and wind with oscillations and changing hues. Through its composition of abundant visual elements, San Syu Wat Leot Are Not Here connects cultures from different time-space while opening a portal to wild imaginations.  Throughout his art career spanning over 30 years, To practised traditional art using contemporary methods, breaking through traditional techniques. To's magical creation reflects his multiple sources of influence, and in this way, queers contemporary sculpture, painterly cannons and religious beliefs with a delicate combination of lightness and liveliness.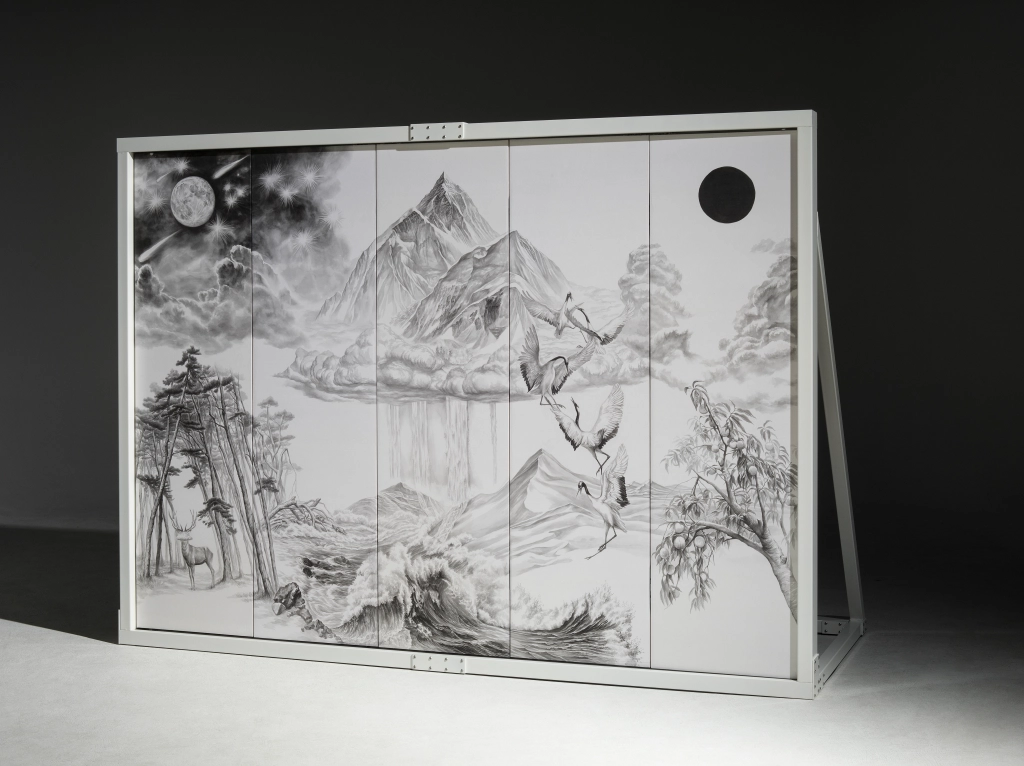 Sueyon Yang

The Journey to the Infinite Circle, 2021
Presented by Art Projects Gallery, Hong Kong
Referencing Ship-jangsaeng (ten symbols of longevity), one of the classic motifs in traditional Korean painting, Sueyon Yang creates a surreal landscape joined by the symbols of longevity, including the sun, the moon, clouds, rocks, mountains, pine trees, bamboo, water, peaches, deer, cranes, tortoise and lingzhi mushrooms. Trained in traditional Korean painting, Yang's artworks present fantastical scenes in fine, exquisite ink lines on delicate silk or hanji (Korean paper). The themes of her paintings centre on the mythological and philosophical imagination of immortality in East Asian cultures, and the futility and stoic beauty behind the contemplation of life and death. In The Journey to the Infinite Cycle, the artist invokes a looped landscape, in which the sea is connected to the trees, the mountains to the clouds, and the beginning to the end – in her quest for a glimpse at eternity.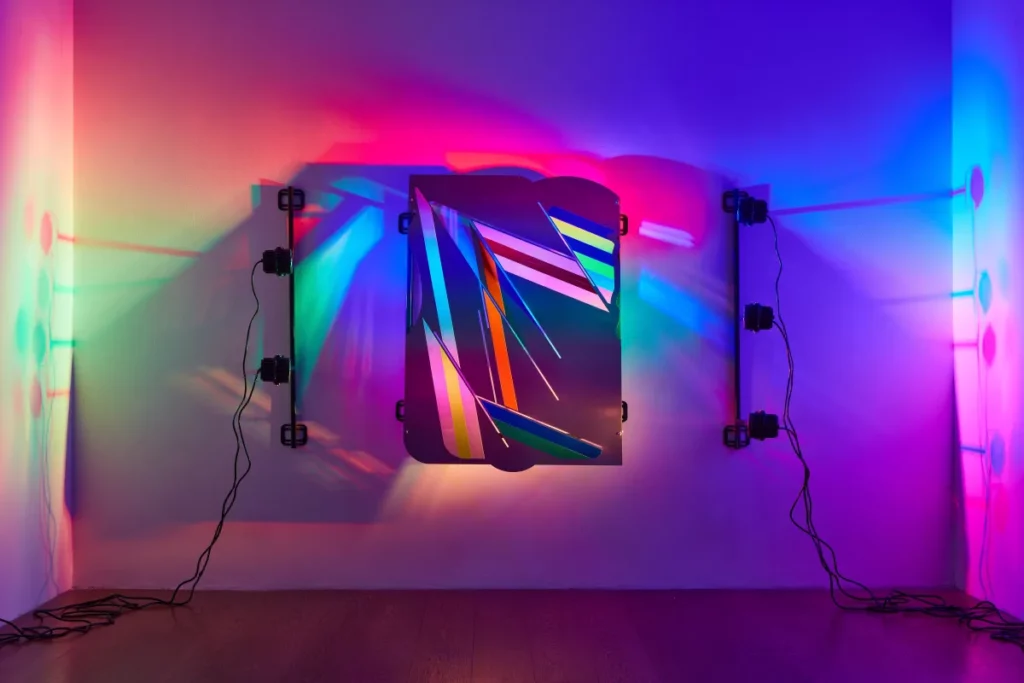 Marton Nemes
Police Party 22, 2022
Presented by Double Q Gallery, Hong Kong
In London-based artist Marton Nemes's new work, Police Party 22, a large panel of stainless steel with rainbow-like vinyl stripes reflects the multicoloured hue from surrounding stage lights, composing a flashy and almost psychedelic colour-field of expansion that is at once reminiscent of the dazzling nightclub scene and of dizzying emergency vehicle lights. Lurking below the panel, a set of loudspeakers intermittently trumpets musical beats, mixing electronic tunes with rhythmic sirens. Police Party 22 plays guilefully with the ambiguity between emancipation and control, revelry and violence. Inspired by techno culture, Nemes applies bright and bold colour abstraction on mirror, wood and metal planes. By employing industrial techniques such as PVC coating and laser cutting, and materials such as cargo straps and metal wires, the artist visualises the unlikely co-existence of sleekness and coarseness, hardness and fragility in a globalised, urban culture.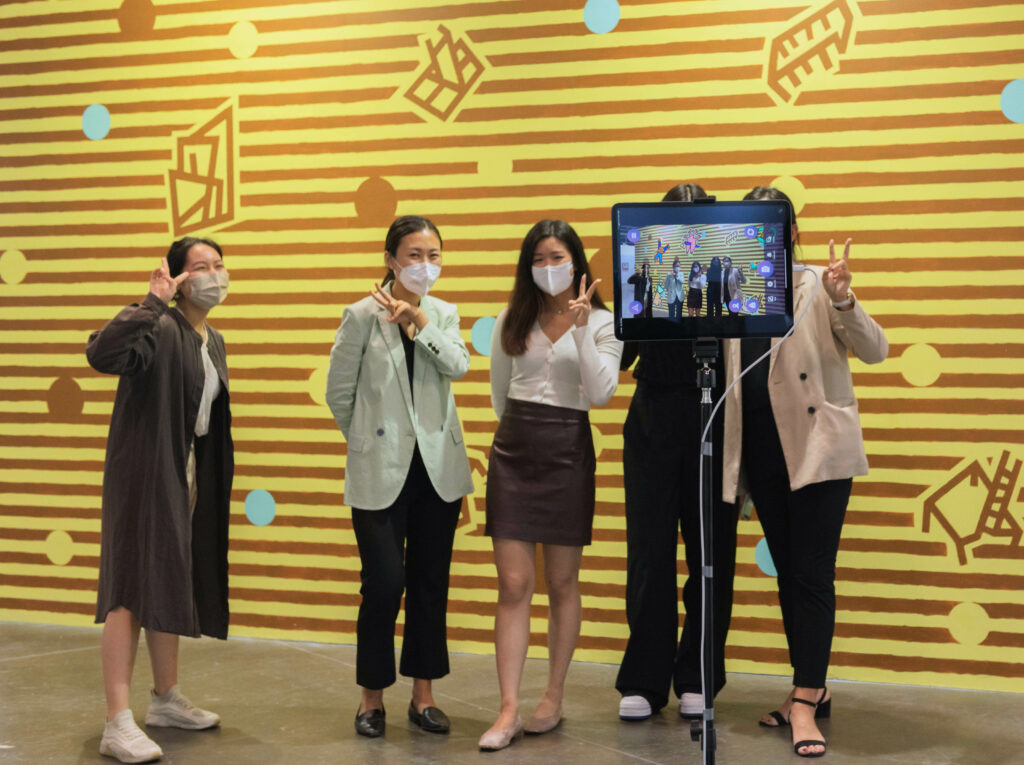 Bing Lee
Travel Log, 2022
Presented by Soluna Fine Art, Hong Kong
Since 1983, Bing Lee has been creating an on-going set of changing visual vocabularies in his Picto Diary series. Via the invention and appropriation of signs, lines, and colours, Lee composes his personal diary in a reservoir of pictorial codes. The hidden scripts created by the artist are full of changeability and flexibility, while the content presented is at once secretive and expressive, possessing the privacy of personal writings and the openness of public graffiti. Not unlike the early histories recorded on cave paintings, or the encrypted language in computer coding, Lee's Picto Diary is described by art critic Eleanor Hartney as "calligraphic automatism", which points to an intuitive release of feelings and memories based on the hieroglyph of Chinese language. The Picto Diary presented here are specific to Hong Kong and were created from 2013 to 2017.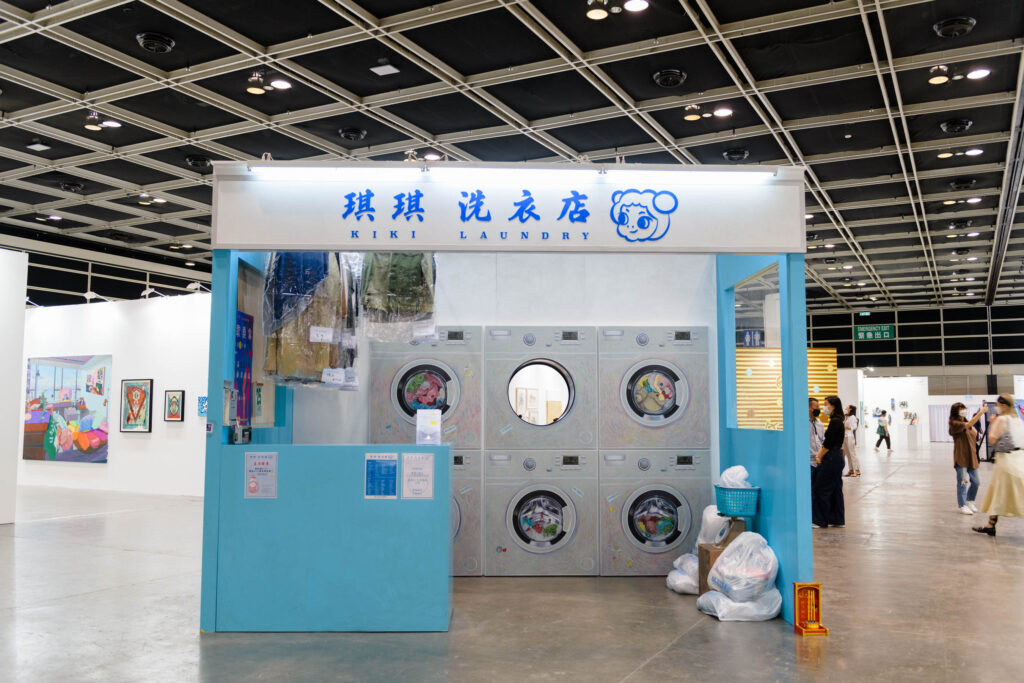 Afa Annfa

The Magical Hoop, 2022
Presented by JPS Art Gallery, Hong Kong

Through a magical porthole, a street-front laundromat in Hong Kong and a living room in Britain become connected and transpassable. Hong Kong-based artist Afa Annfa creates an imaginary scene in which the continuous waiting at the laundromat vibrates with Hong Kong emigrats' sense of longing and fatigue in a foreign land. Under the pressure of high housing prices and unsettling social transformation, both the laundromat and the emigrant's home embody Hong Kong people's longing for glimmers of hope and one day returning home. Within the spatial installation, the artist presents also a series of surreal drawings in which a group of young girls travel across different time-spaces through mysterious circular portals, searching for the hope of a new beginning.
About the Curator, Qu Chang
Qu Chang is an independent curator and writer based in Hong Kong.  Her curatorial projects include Sea Breeze (2019, Jogja Biennale, co-curated with Cosmin Costinas), Cafe do Brasil (2019, Para Site), Doreen Chan: Hard Cream (2019, HB Station), Crush (2018, Para Site), Law Yuk Mui: From whence the waves came (2018, Art Basel Hong Kong),  Adrift (2016, OCAT Shenzhen), among others. Meanwhile, Qu is also a contributing writer to Artforum, Ocula, Spike and other art journals. She is currently a PhD candidate at the Cultural Studies department, Lingnan University. Previously, she served as a curator at Para Site art space, Hong Kong.