2023
2023 Yi Tai Sculpture & Installation Projects
Curatorial Director: Chris Wan
Drifting in (Art) Spectacle
Contemporary art produces spectacle. But unlike spectacle in the Guy Debord-sense of the word (the displacement of reality with images fueled by capitalism), art spectacle is more fluid and, at times, elusive; it can bring intense visual richness and pleasure, but it can also remind us of the dangers of social values being subliminally pushed to the surface.
Art spectacle comes from everyday life, at times extending in grand ascent, as in Bev Butkow's Reflective Connections, which weaves together everyday objects into reflective monuments; at others pausing and reversing into mundane re-enactments, as in Clara Wong's Prelude in A minor Trauma, which reconstructs a domestic theatre full of dark humour. Art spectacle also comes from history and wanders to the present, changing shape and offering new opportunities for intervention between tradition and present-day reality, materiality and emotion, as in BAHK's geometric perspective illusions drawn in space with charcoal in An Aggregation-Space 2023, or the inverted feeling of tradition in Huo Yun's sculptures made of paper in a reimagined form. Finally, art spectacle, while man-made, is not just a combination of images, it also reflects social relationships between people mediated by images. 
But let us not be passive viewers, not submit to the logical principles of observing spectacle. Instead, like the "dérive/drift" initiative1 advocated by the Situationist International in the 1960s, let's make this a non-traditional, improvisational, transitory, sensory experience of drifting through the art spectacle of the fair. And perhaps in this drifting, subverted reality and the apparent will meet again.
[1] "A method or technique of rapid travel through a variety of surroundings", in "The Society of Spectacle" by Guy Debord.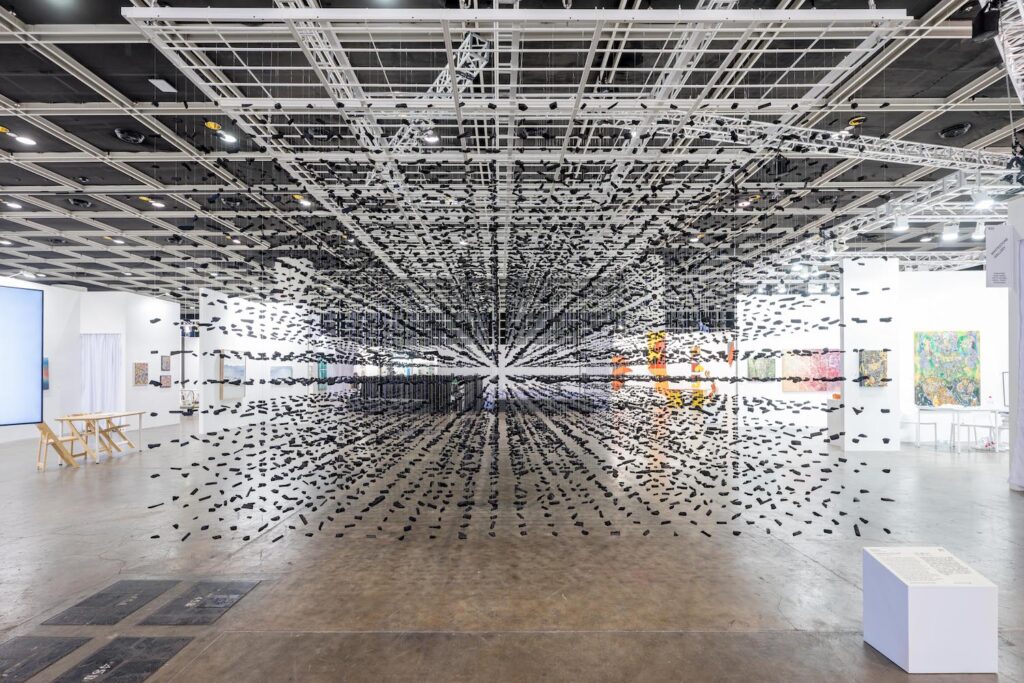 BAHK
An Aggregation-Space 2023
Charcoal, nylon threads, frame
8000 x 5000 x 3500 mm
Presented by 021gallery
Korean artist BAHK Seon-Ghi is renowned for his suspended installations that create three-dimensional illusions in space. Whether taking form in giant architectural arches or oversized clay pots floating in the air and fading away, BAHK's art is a reflection of modern human civilisation. The artist is fascinated by charcoal, the final physical form left behind after the burning of trees, as alternative evidence of the relationship between humans and nature. Specially made for Art Central, the large installation "An Aggregation-Space 2023″ doubles as a maze that welcomes the audience to walk through it. Its black charcoal parts float precisely in space to form geometric perspectives at unexpected angles, suggesting an examination of human rationality.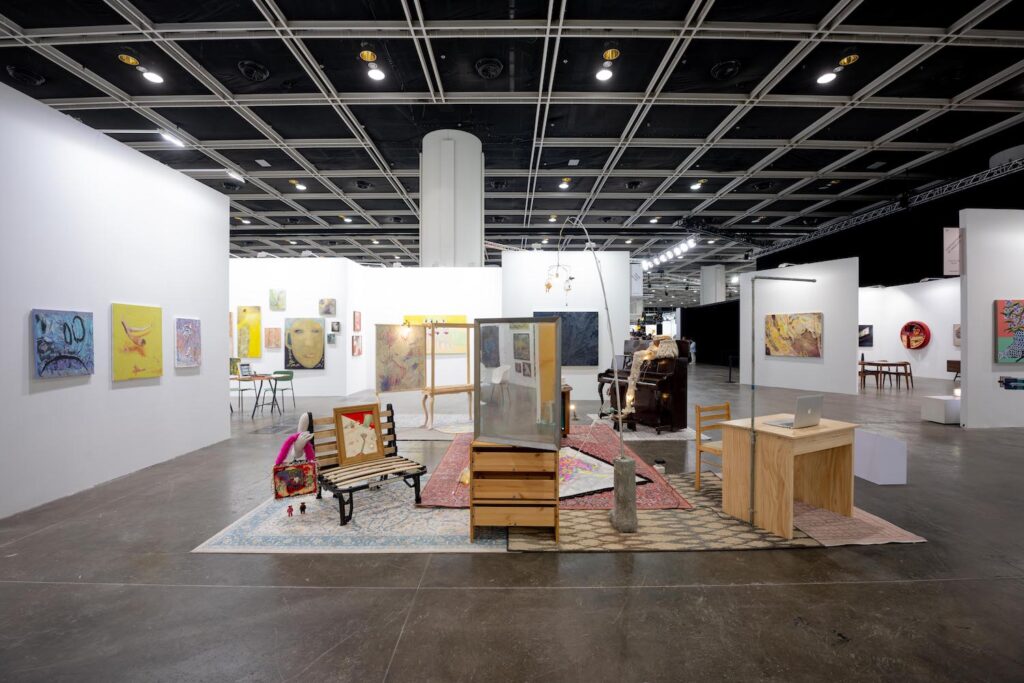 Clara Wong
Prelude in A minor Trauma, 2020–23
Household furnitures, lights, upright piano, clay, pvc pipes, hardwares, bee wax, seashells, fabric, yarn, canvas, fish hooks, wire, water, acrylic
5 x 5 x 3.5 metres
Presented by Square Street Gallery
Hong Kong artist Clara Wong uses comedic language and dark humour to discuss frustrations with daily life. Wong's artistic practice breaks the limits of paint on canvas, merging ready-made objects and forming a new symbolic scenery that spans from wearable art to edible objects. "Prelude in A minor Trauma" constructs a fictional living space with an unfortunate leaky water pipe and a computer that inevitably gets wet. Will it still work? Just as cramped interior spaces may be a metaphor for the oppressive reality of life in Hong Kong, the artist employs subversive ways of discussing personal traumas – and raises questions about their consequences.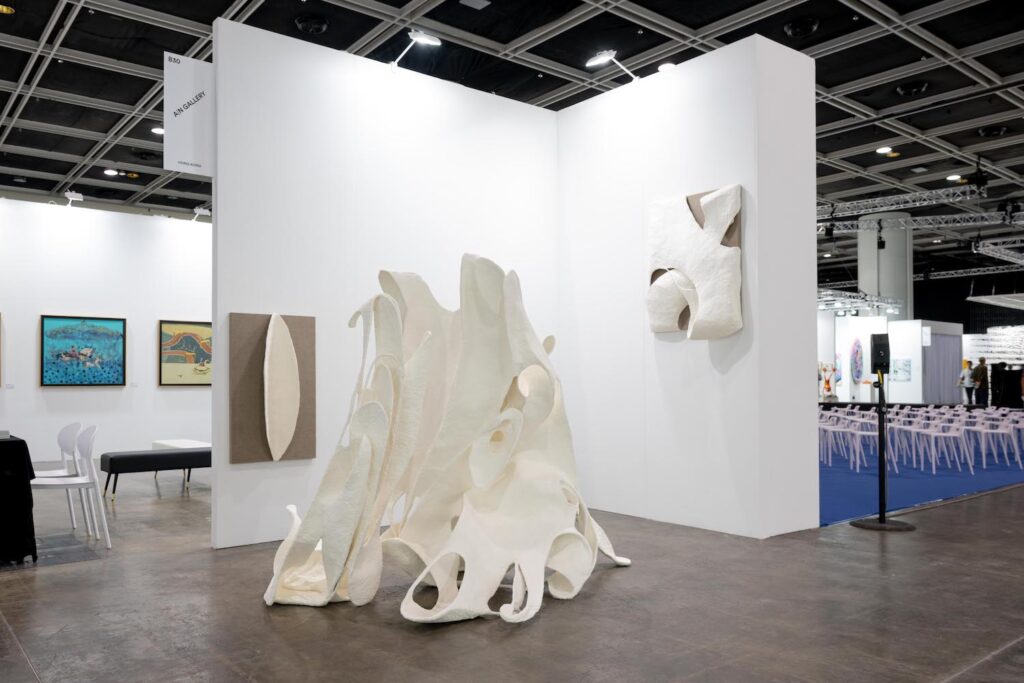 Huo Yun

When Memories Metamorphose into What You Imagined, 2023
Paper, mixed media
In three parts: 130 x 135 x 190 cm; 115 x 80 x 155 cm; 80 x 100 cm
Presented by a|n Gallery
This sculptural installation challenges the perception and imagination of paper as a traditional material: demolishing its smooth surfaces and giving way to vascular organic growths, their abstract forms coexisting with intertwining lines and spaces. Born in Beijing and based in Hong Kong, Huo Yun graduated from the Academy of Fine Arts in Bologna, Italy, an experience that inspired him to search for a shared, material-based artistic expression in Eastern and Western art. Huo's sculptural forms evoke a deep sense of history and tradition, as if from a viewer's long-lost memories.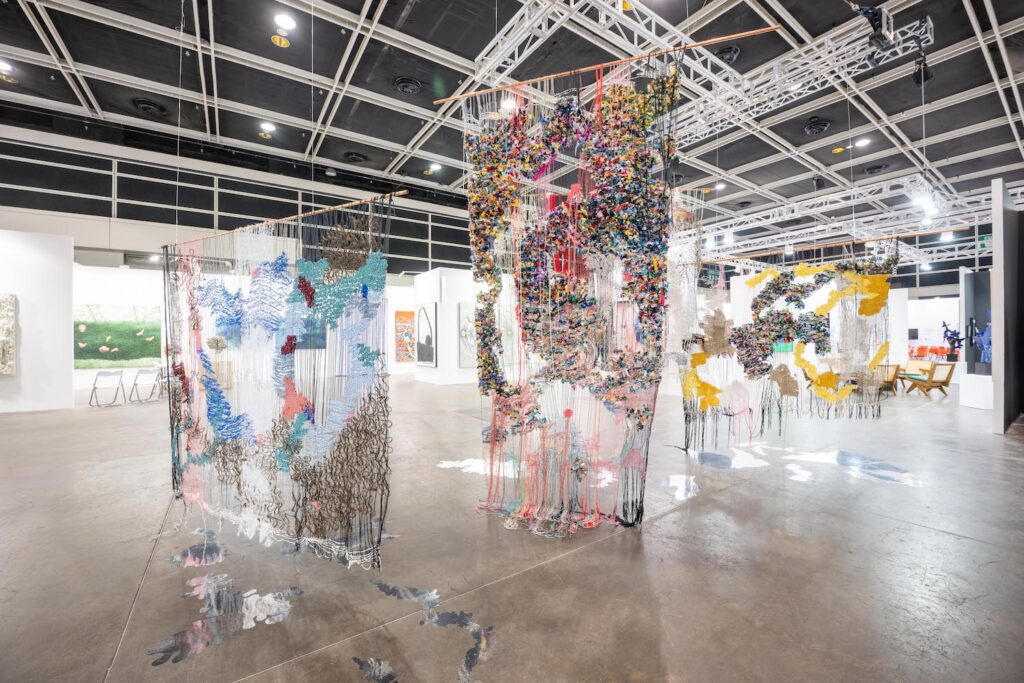 Bev Butkow
reflective connections, 2023
Thread, wool, string, twine, dressmaking scraps, glass and plastic beads, copper rods, time and labour. Produced with the assistance of Thandiswa Maxinyane, Cynthia Maxinyane and Danily Hunga.
Dimensions variable
Presented by Guns & Rain
In her reflective connections, the Johannesburg-based Butkow constructs a dancing installation of locally-sourced materials. How many of which may have originated in Asia? Four large, fabric-net forms of various shapes are suspended, their hand-woven construction suggesting a certain rhythm of use, like a set of giant fishing nets just pulled up from the sea – a salvage trip between Hong Kong and South Africa! Thinking beyond a world connected by capital, information, and labour, we are drawn to the interplay of Butkow's abstract soft sculptures, reflective materials and use of light, which invites viewers to explore their myriad details.
About the Curator, Chris Wan
Chris Wan Feng is a Hong Kong-based writer and independent curator with a research focus on locality and art ecosystem. His recent curated exhibitions include A Collection in Two Acts (2022, Rossi&Rossi), The Dust of a Long Journey (2022, Whitestone), Residual Heat (2021, Axel Vervoordt), among others. In 2023, he initialised "Blue Throat", an ongoing curatorial programme on Chinese diaspora and displacement. Chris has been contributing to many art journals and mass media, e.g., Artforum and Initium Media. He is also the founder and editor of Daoju (www.daoju.art), a not-for-profit art writing project with a focus of Hong Kong contemporary art scene.