2018
In 2018, PROJECTS featured two important facets of contemporary art practice: progressive mediums such as technology, augmented reality and kinetic art, alongside insightful historical and cultural narratives. Curated by Ying Kwok.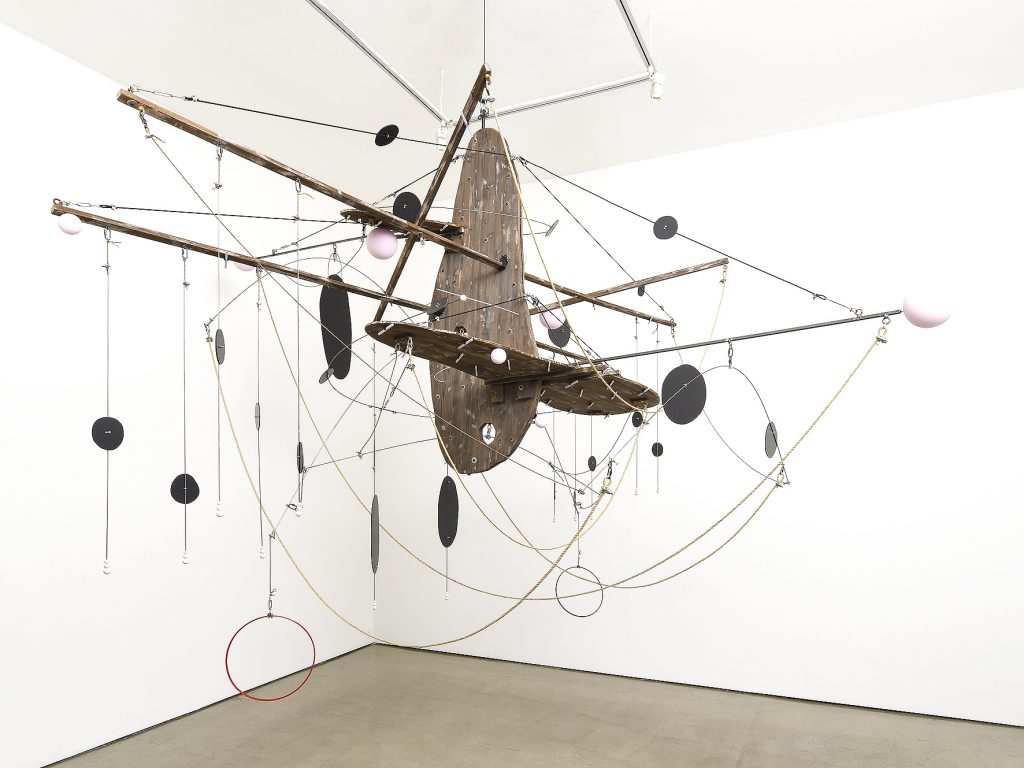 Yang Jung Uk (South Korea)
Scenery of Dialogue, presented by Gallery Hyundai
Yang Jung Uk is primarily recognised for his kinetic sculptures, that seeks to formatively unravel the rhythms and sequences of daily life. Yang's work consists of lyrical texts derived from his personal experiences, which are transformed into kinetic sculptures made of wood, thread and other materials. Repetitive kinetic elements — from motors and LED lights within the sculptures — realise and reflect the narrative texts that accompany each of his works.  Scenery of Dialogue – a special commission for Art Central – is the artist's first ever mobile work, creating kinetic movement without the use of electrical power.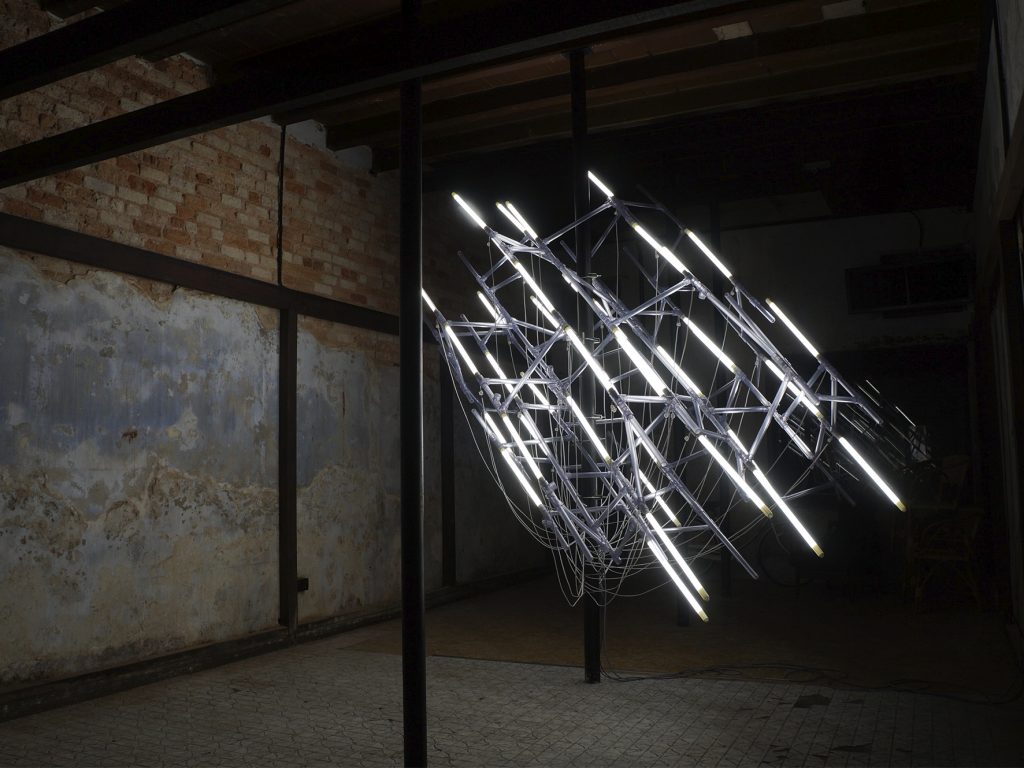 Wong Jun On (Malaysia)
Shanzhai Chandelier, presented by Richard Koh Fine Art
Wong Jun On is an architect and artist, his cross disciplinary practice explores the boundaries of light art. Straddling applied and fine art, he is known for producing large-scale structural light installations that explores the relationships between mass production and human interactions. In this work LED light components come together to echo the classical form of an European chandelier. Where precious stones were once used to reflect candle light, LED pixels now create artificial illumination, a metaphor of the blurring boundaries between luxury and the mass produced.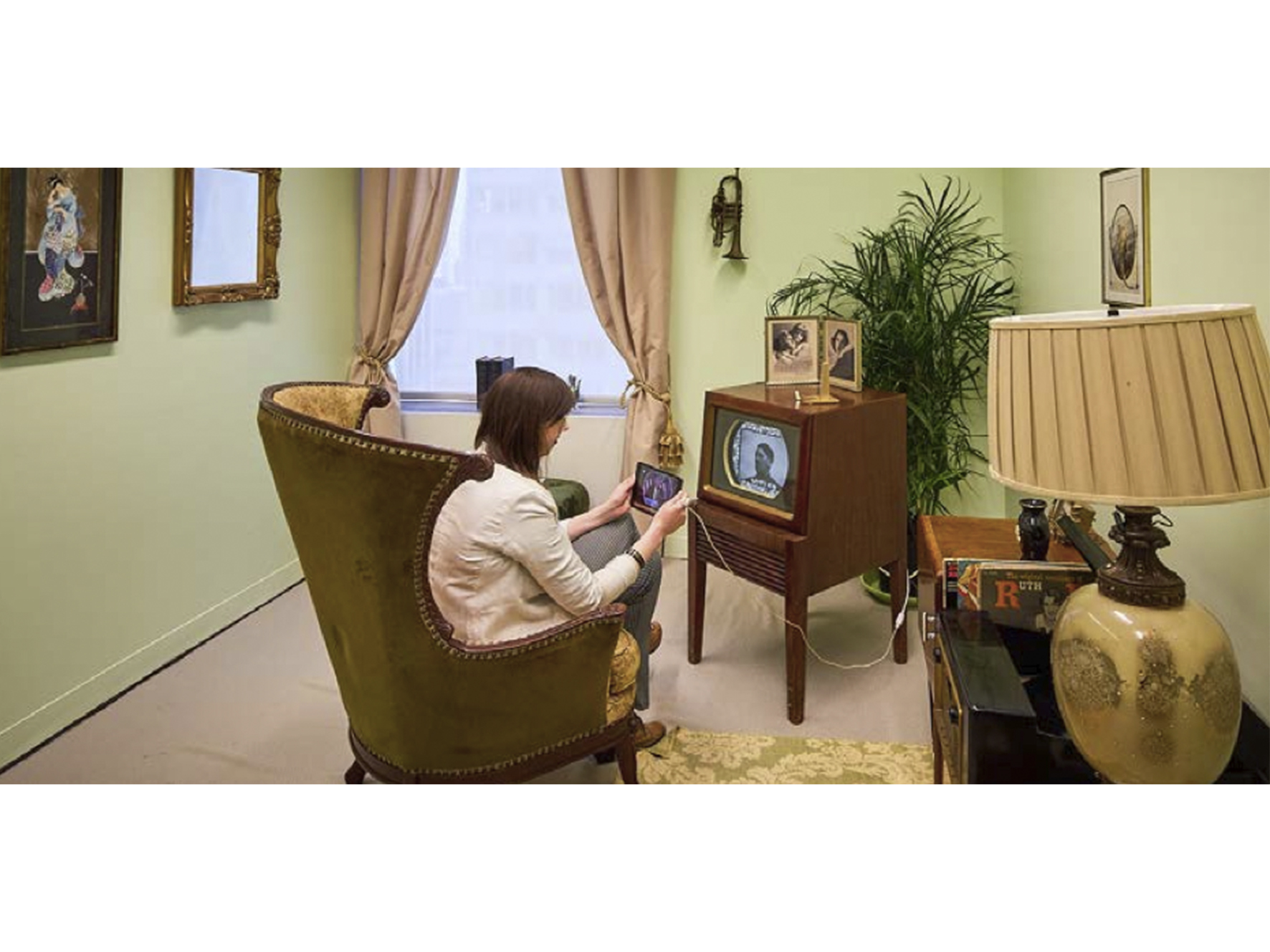 Andrea Wolf (Chilie) and Karolina Ziulkoski (Brazil)
Future Past News, presented by Isabel Croxatto Galerie
This work is a collaborative project by Andrea Wolf and Karolina Ziulkoski, employing augmented reality technology, the work seeks to expose the disturbing parallels between current global affairs and the pre-war turmoil of 1937. The installation situates the viewer in a 1937 living room, where the focal point is a television set playing archive news footage from the period. The newsreel ends with an ominous message of reading "in the hands of these five men rested the destiny of the world: Mikado, Stalin, Hitler, Mussolini and Franklin Delano Roosevelt." Viewers are invited to review the newsreel through an iPad, programmed with an augmented reality app. The news of 1937 is eerily layered and juxtaposed with present day news, striking a disconcerting parallel.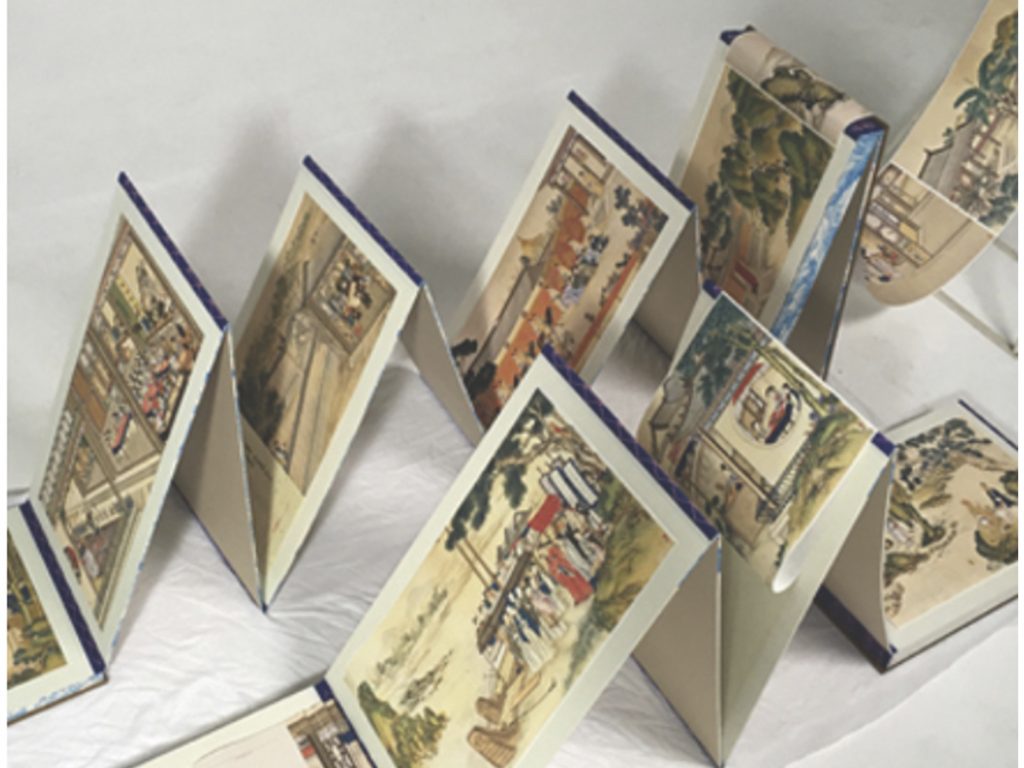 Zhang Xiaodong (China)
Dream of The Red Chamber, presented by Sin Sin Fine Art
Zhang Xiaodong is known for reviving the lost and ancient Chinese technique of Dragon-Scale binding. Zhang is the first individual to revive this intricate method, and will present an exemplary artwork in PROJECTS. Taking over four years to complete the process, Zhang employs his innovative accordion-dragon scale binding technique to present Dream of the Red Chamber, widely recognised as one of the four great novels of classical Chinese literature. Audiences of Art Central are invited to rediscover the cornerstone of Chinese culture, reinterpreted through the contemporary lens.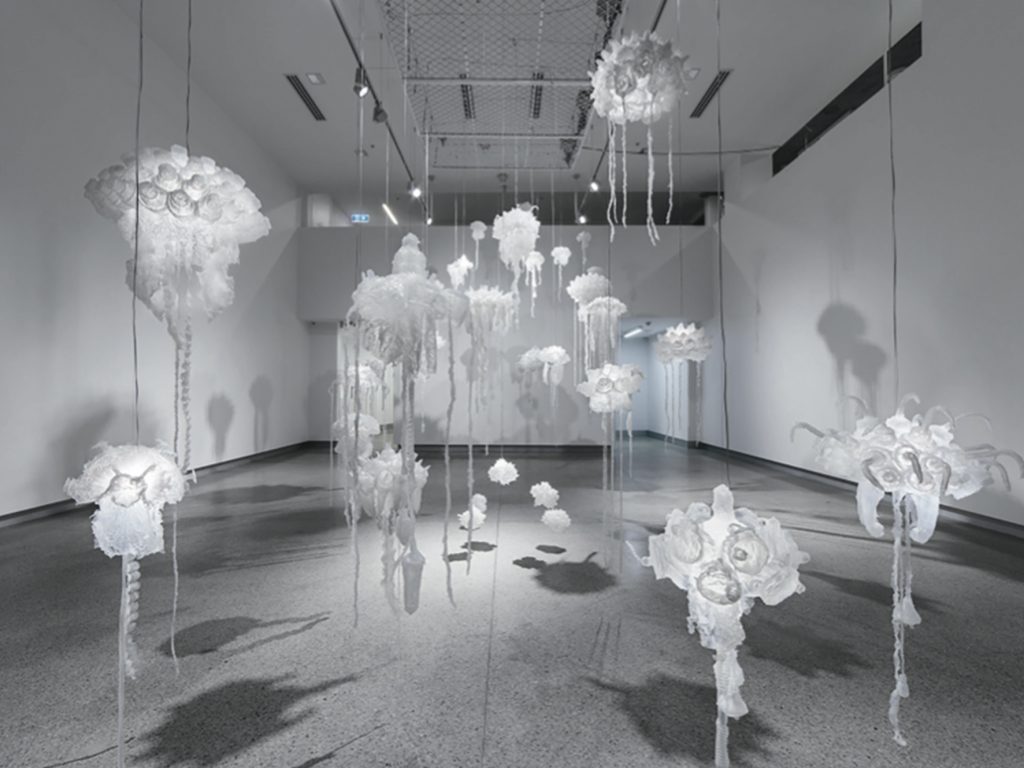 Penelope Davis (Australia)
Sea-Change, presented by MARS Gallery
Penelope Davis uses the detritus of contemporary technologies – including electrical cords, computer parts, packaging scraps, plastic bottles and other waste – combined with organic source materials such as leaves and seaweed to create hybrid forms that resemble plausible but mutant jellyfish. Davis directly entwines references to human consumption in an urban world to natural forms to envision a delicate balance. The work reflects on, and embodies, an intimate attempt to recuperate and draw appreciation for the natural world and our symbiotic relationship to its future.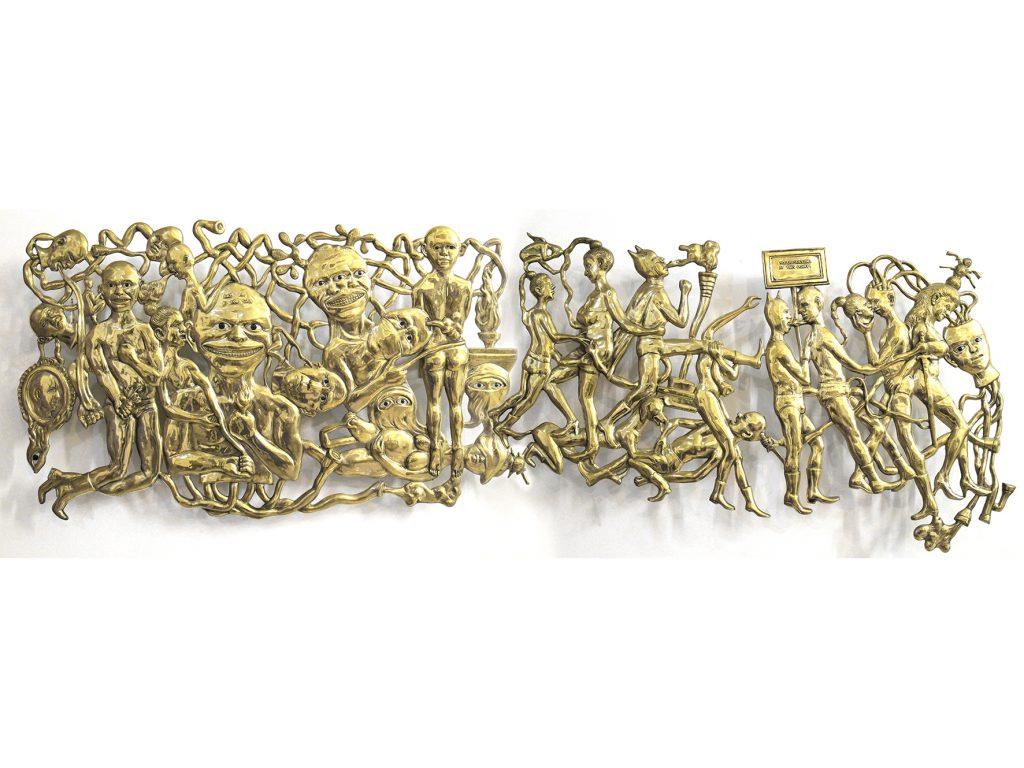 Entang Wiharso (Indonesia)
I want to Live 100 Hundred Years: After Agreement, presented by Marc Straus
I Want to Live 100 Hundred Years: After Agreement is the expressions of Entang Wiharso's dream to create a better and more peaceful future for children. The artist's project is an emotional, personal reflection on mass-shootings in schools, and is a memorial for those innocent children and for all people facing violence. The figures are bound together through an intersecting network, showing the essential but vulnerable connections that exist between parents and children. 
About the Curator, Ying Kwok
Ying Kwok is an independent curator based in Hong Kong. She works independently with a diverse range of art and cultural institutions nationally and internationally, from artist's initiatives, art festivals, to public museums and the commercial sector. Her research-based curating often synthesizes different art forms in contemporary visual art, from site specific commissions, performances, to film and video. Kwok has been the curator for Contagious Cities: Far Away, too Close for Tai Kwun Contemporary and Wellcome Trust, the lead curator of LOOK International Photography Festival 2017, and guest curator at M+ for Samson Young: Songs for Disaster Relief as Hong Kong presentation at the 57th Venice Biennale. Before embarking on her independent career, Kwok was the curator at the Centre for Chinese Contemporary Art in Manchester UK, between 2006 and 2012.
Apart from curating, Kwok also founded Art Appraisal Club with a group of local art professionals in 2014, in order to encourage critical thinking and initiating effective art discussions in Hong Kong. The group provides regular exhibition reviews and their articles are published in magazines, various cultural networks and their own bilingual journal, Art Review Hong Kong.