2021
2021 Yi Tai Sculpture & Installation Projects
Curatorial Director: Andre Chan
Traditional Western aesthetics is a sort of reflective contemplation with a set of objective values attached; the idea of beauty is related to the ability to give pleasure to the viewer. Since the beginning of Modernism, artists have moved away from making works that cater to the idea of beauty for the public and have rejected conservative values. Contemporary artists go even further, abandoning the idea of objective beauty to concentrate on expressing their own views – with scepticism and critique of universal truths and objective reality.
Immediate Aesthetics is an oxymoron that suggests we need to rethink the meaning of aesthetics in the 21st century, a time when artists use their own experiences as starting points to explore our collective understanding of the world as part of the human race. Chan Wai Lap turned his own personal habit into his artistic research and pursuit. Street art is the epitome of self-expression and Lousy has been tagging his signature 'Lovefaces' around the city for many years. Cindy Ng utilizes technology to reminisce about her hometown while Park Yoon Kyung presents contemporary painting from an Eastern perspective. Michael John Hunter shows us the way technology and the movie industry fool our eyes as a way to remind us to question what we see in the media. Michael Whittle exposes the hidden information in his own DNA as a way to explore the history of migration since the beginning of human history.
Moving away from a singular and utopic vision of modernist thought, Immediate Aesthetics, a survey on contemporary art today, observes the world we are in as better with a diversity of voices.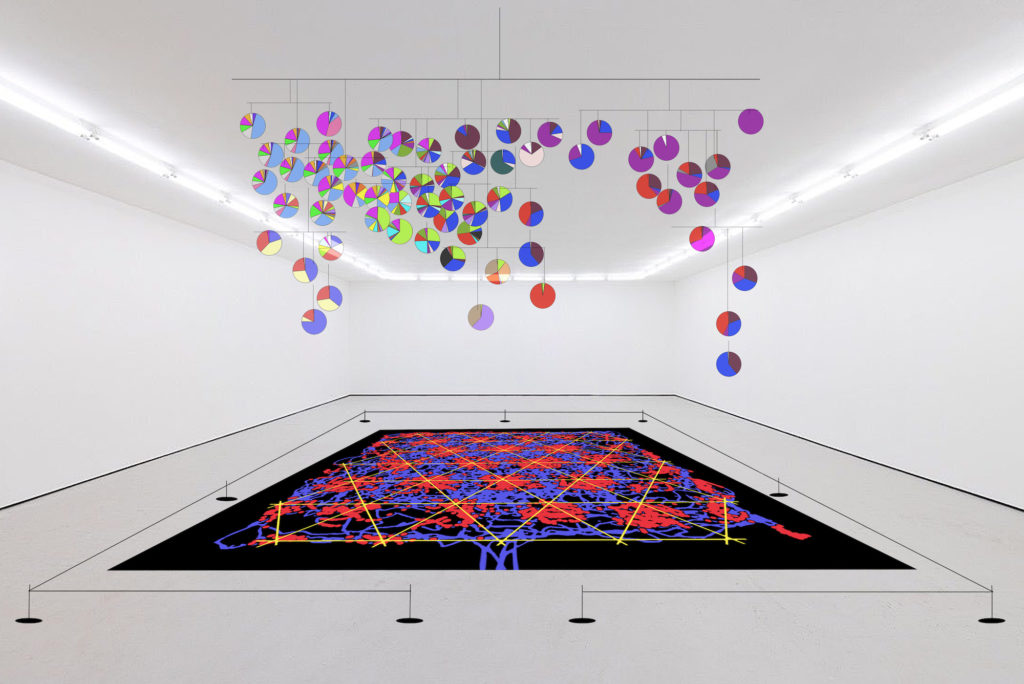 Michael Whittle
Perpetual Motion, presented by Gallery LEE & BAE
Mitochondrial DNA is passed down from a mother to her offspring. Through the process of tracing the lineage of DNA by its subtle mutations, and comparing it to fossil records, scientists can determine the migration of our human ancestors in prehistoric times. Juxtaposing with the glass discs overhead, the installation's carpet graphically shows how the brain works when a person navigates in space. Perpetual Motion reminds us that human migration is inherent in the development of humans as a species and is vital to the success of human survival, even in the present time.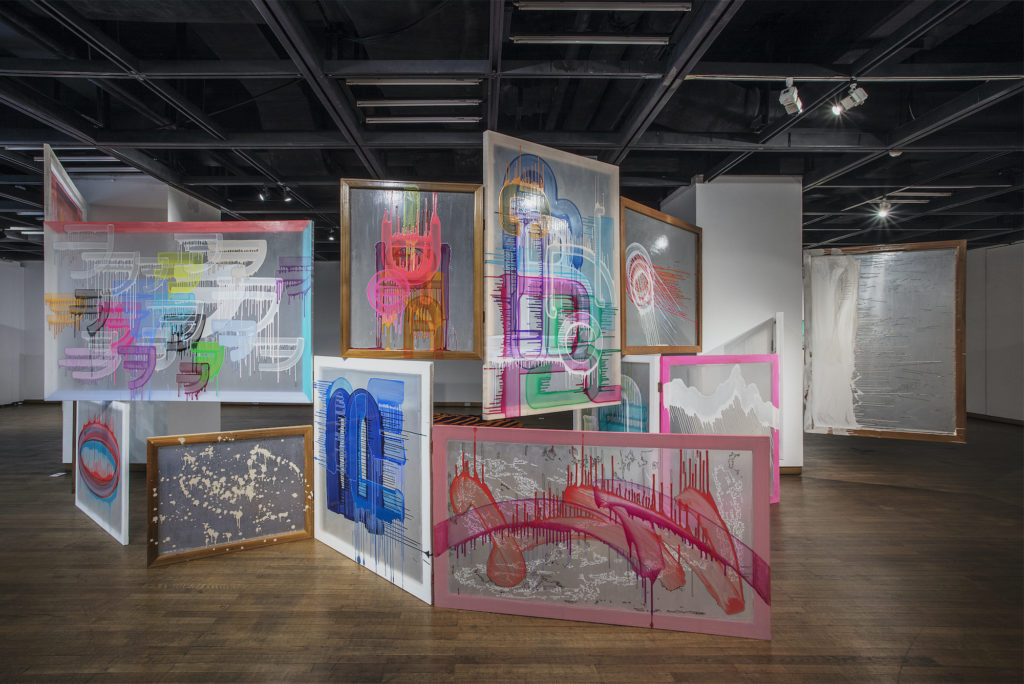 Park Yoon-Kyung
Painting Tower, presented by Soluna Fine Art
Painting Tower is a collection of abstract paintings on stretched chiffon in which the see-through quality of the fabric offsets the weight of the towering installation. Park's technique traces her Eastern cultural lineage, where painting has traditionally been made on lighter fabrics compared to western painting on canvas. Her images draw on grapheme from different languages and the resulting drips of the paint on a vertical surface provide a more fluid sensibility. Park's recent works reference her interest in the environment, human relationships and her position as a female Asian artist.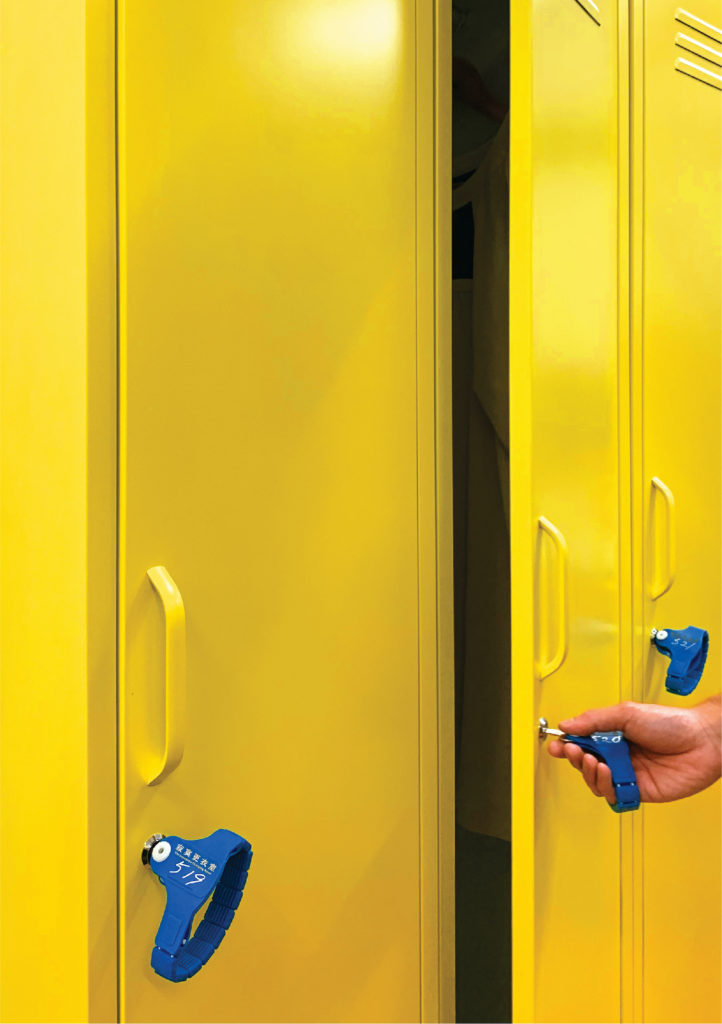 Chan Wai Lap
The Lonesome Changing Room, presented by Contemporary by Angela Li
Chan Wai Lap frequently swims in swimming pools, even when he is travelling. His observation and research focus on these experiences and his relationship with the space itself. The Lonesome Changing Room recreates a swimming pool changing room within the fair to reveal a normally-deemed private space in an utmost public fashion. Dotting the installation are meticulous drawings of various swimming spaces the artist has visited, documenting his experiences with careful observation.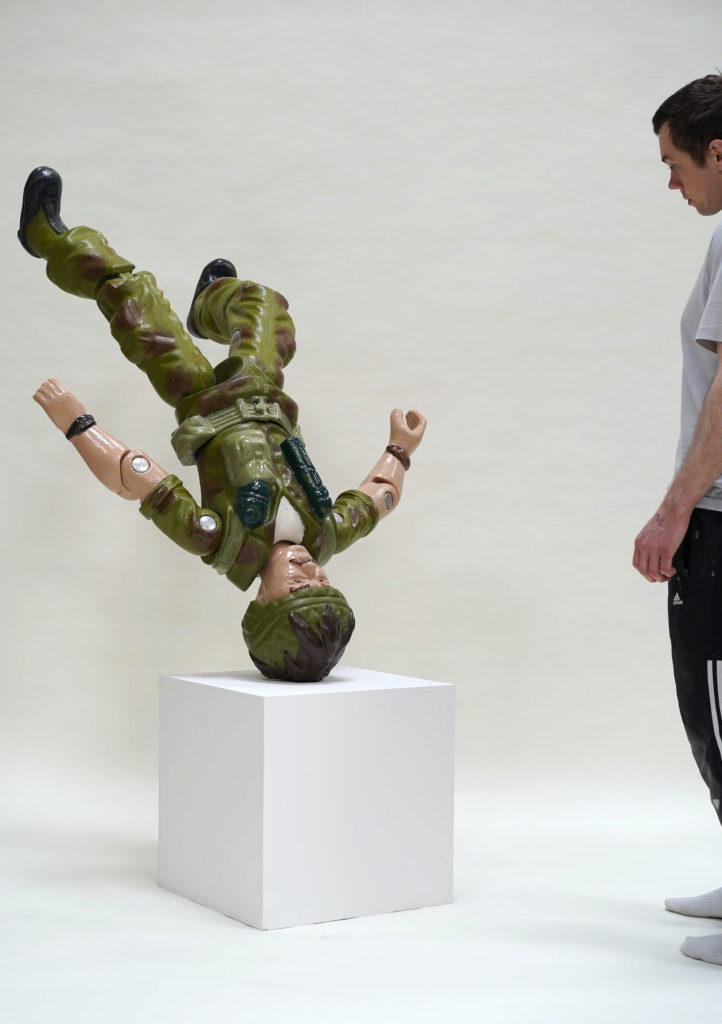 Michael John Hunter
Falling Army Man, presented by JPS Gallery
Michael John Hunter works in the film industry, giving him insight into the ways cameras and practical effects can manipulate the audience. His work often involves making hyperrealistic sculptures of toys, installing them in real-life locations, and photographing them as a way to explore the manipulation process. Falling Army Man Toy successfully creates the illusion of weightlessness and movement by simply tipping the sculpture upside down, supported only by its head.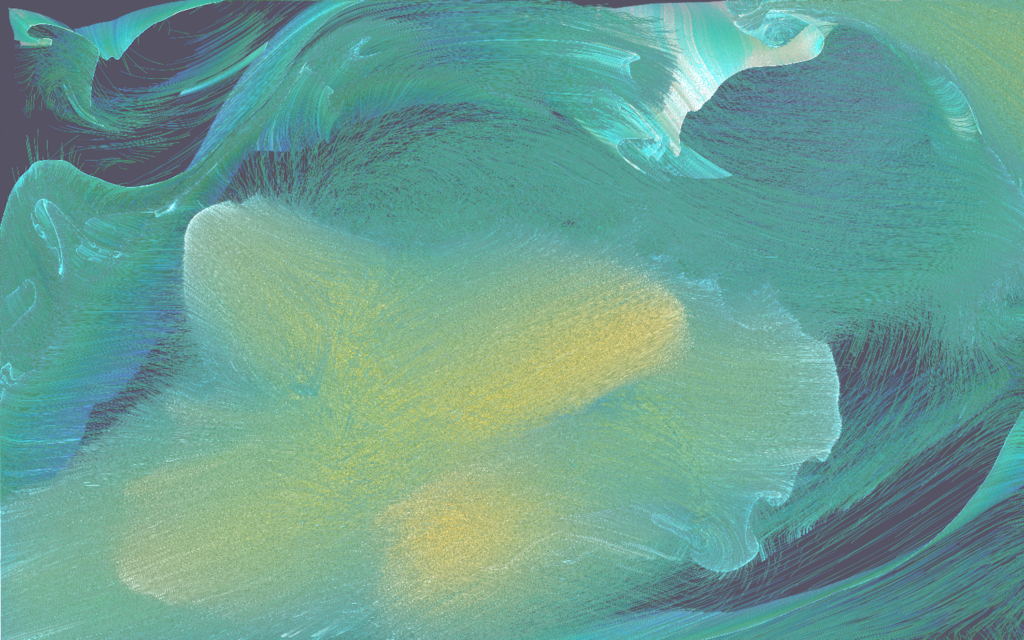 Cindy Ng
Rhythm #2, presented by A Gallery
To create Rhythm #2, the artist converts live weather data of her hometown Hong Kong into an abstract moving image that is akin to her own works in ink. The transformation, using the various software programming, can be seen as a novel way to achieve the same result as traditional painting practice – where the environment is distilled into a graphic realm by the imagination of the artist.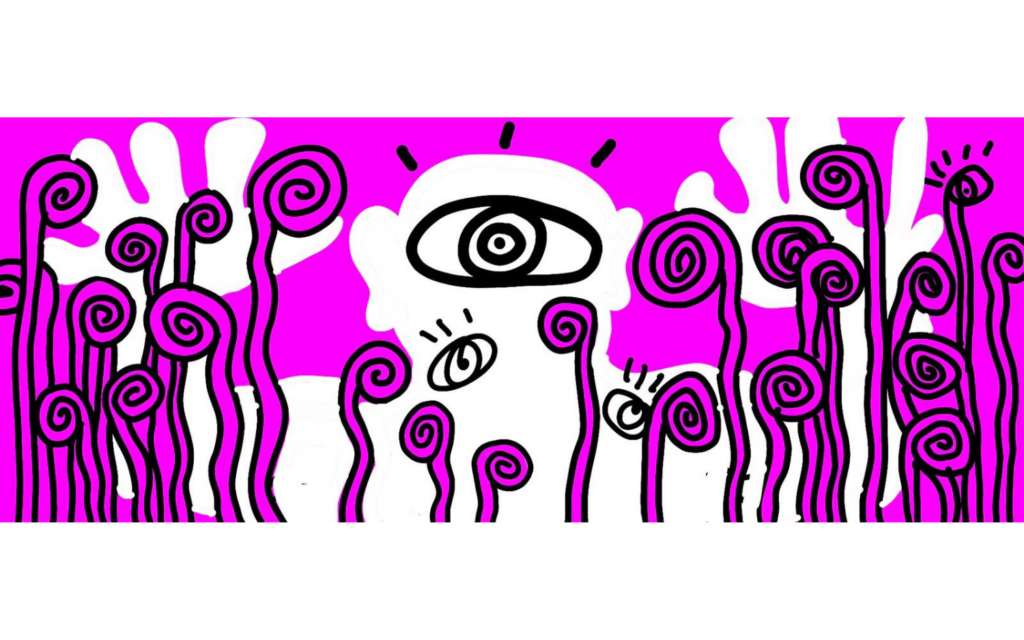 Lousy
Come Together, presented by Gallery HZ
Inspired by the Lucerne cave paintings and Jean Cocteau's line style, Hong Kong artist Lousy stripped down his visual language to simplified, wavy, rhythmic lines with a bright neon palette, forming the basis of his distinctive style. In two large-format panel works the artist reflects on personal experiences of the past year which have prioritised human connections and time in nature.
About the Curator, Andre Chan
André Chan is a Hong Kong-based independent curator and writer. Chan has worked with a number of international galleries and produced exhibitions around the world. He is the co-founder of Arts Collective in Hong Kong; his curatorial work currently focuses on artists' practices and contemporary urban issues.
Chan, together with Chong Chin-yin of Arts Collective, curated Æthereal at the National Taiwan Museum of Arts, Taipei (17 April – 11 July 2021). He served as co-curator, with Erica Yu-Wen Huang, of Post-Anthropocene, a recent exhibition at the 2020 Taiwan Biennial (Zit-Dim Art Space, Tainan). Chan was selected for the Emerging Curator Program 2018 by Shanghai Powerstation of Art and Emerging Curator by Para Site. Other recent exhibitions and performance include Borrowed Scenery (Cattle Depot, Hong Kong, 2019), Flanêur (Tsim Sha Tsui,Hong Kong, 2019), Very Natural Actions (Tai Kwun Contemporary, Hong Kong, 2019), A Tree Fell in the Forest, and No One's There (Power Station of Art, Shanghai, 2018), and Kotodama (Para Site, Hong Kong, 2018).