UOB Art Space
Ink Reveries, a special commission by UOB, is an interactive and immersive installation by Hong Kong new media artist and UOB Art in Ink Awards' winner, Chris Cheung (h0nh1m).
Featuring a forest of 63 bamboo canes, the work takes inspiration from carbon emissions data made available by scientists from 1958 to today, representing 63 years of climate change. This critical period saw the annual rate of increase in atmospheric carbon dioxide (CO2) rise an alarming 100 times, as compared to what the Earth experienced during the transition from the last Ice Age. Composed of stainless steel bamboo tubes encased in thermochromic ink, each tube contains heating modules that translate data from the National Oceanic and Atmospheric Administration (NOAA) into temperature changes.
As visitors breeze through the bamboo grove, ink ebbs and flows according to thermodynamic changes. Human touch defines the changing scenery, symbolising the cause and effect of human activities on our environment. Upon thermal transfer from visitors' palms, the ink gently disappears from the bamboo canes. The higher the mean CO2 levels measured, the longer the heating modules will stay on, aesthetically translating to a slower reappearance of the ink. Utilising data visualisation, Ink Reveries poetically empowers visitors to experience, and rethink, our relationship with nature, and the possibility of human-nature coexistence in the future.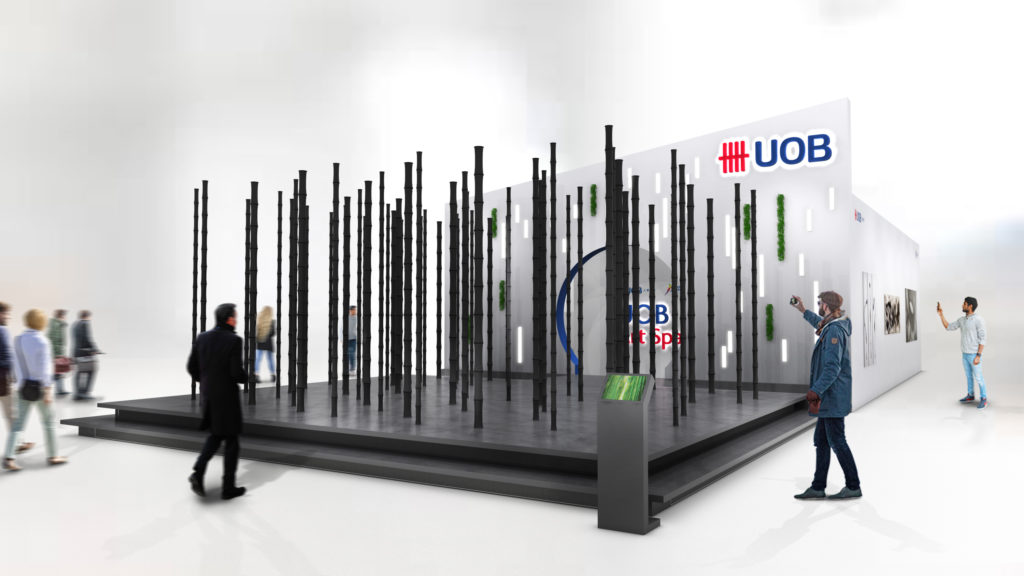 Chris Cheung, Ink Reveries, 2021. Courtesy of the artist and UOB.
Talk: Forging a Sustainable Future Through a Cultural Lens (in Cantonese)
Saturday 22 May 2021,  2 pm – 3 pm
Asia Society Theatre
Speakers: Kay Chan (Product designer); Chris Cheung (New media artist and a winner of the 2019 UOB Art in Ink Awards), Eric Ho (He Jilan) (Contemporary Chinese Ink artist) and Penelope Luk (Creative Director of Crafts on Peel). Moderated by Stephanie Poon.
About UOB
United Overseas Bank Limited (UOB) is a leading bank in Asia with a global network of more than 500 offices in 19 countries and territories in Asia Pacific, Europe and North America. Since its incorporation in 1935, UOB has grown organically and through a series of strategic acquisitions. UOB is rated among the world's top banks: Aa1 by Moody's Investors Service and AA- by both S&P Global Ratings and Fitch Ratings. In Asia, UOB operates through its head office in Singapore and banking subsidiaries in China, Indonesia, Malaysia, Thailand and Vietnam, as well as branches and representative offices across the region.
Over more than eight decades, generations of UOB employees have carried through the entrepreneurial spirit, the focus on long-term value creation and an unwavering commitment to do what is right for our customers and our colleagues.
We believe in being a responsible financial services provider and we are committed to making a difference in the lives of our stakeholders and in the communities in which we operate. Just as we are dedicated to helping our customers manage their finances wisely and grow their businesses, UOB is steadfast in our support of social development, particularly in the areas of art, children and education.