UOB Art Space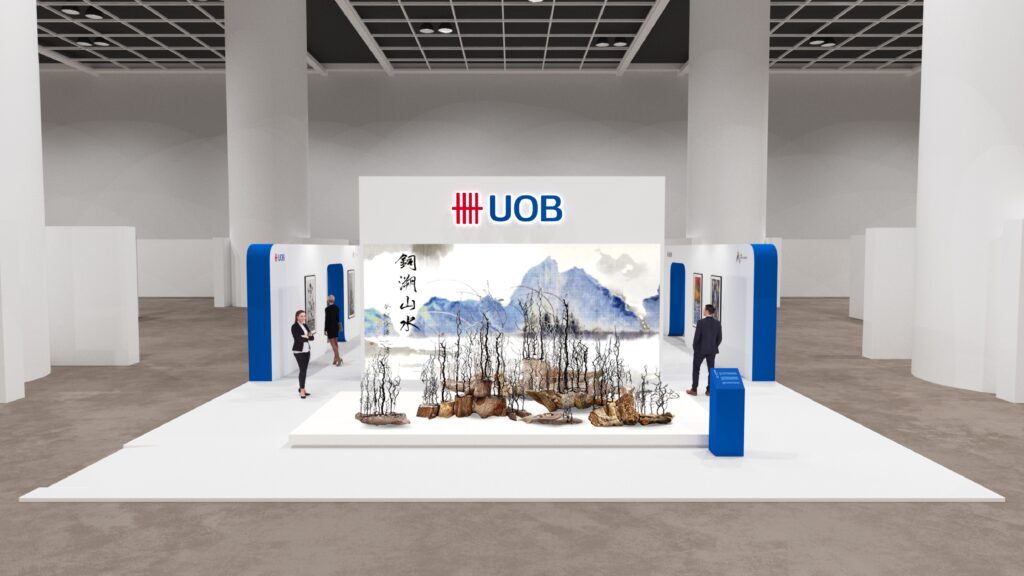 Artist rendering. Courtesy of UOB Hong Kong.
Interwoven: Wired Shanshui is a newly commissioned interactive ink art installation by Hong Kong-based artist Margaret Yeung Kwok Fan. The presentation transforms the conventional viewing experience of a two-dimensional landscape painting into a three-dimensional contemporary shanshui sculpture, using recycled copper wires sourced from industrial waste, and natural waste wood discarded from storms.
Interwoven: Wired Shanshui is a large-scale installation commissioned by UOB. Hong Kong-based artist Margaret Yeung Kwok Fan transforms the conventional viewing experience of a two-dimensional landscape painting into a three-dimensional contemporary shanshui sculpture, using recycled copper wires sourced from industrial waste, and natural waste wood discarded from storms.
Having spent months collecting her raw materials, the artist dedicated hours upon hours to delicately twist and bend the oxidised copper wires, exuding the same effect as painting lines with a brush dipped in Chinese ink. The upcycling of wood, remnants of typhoons past, resemble hills and mountains from a distance, as if drawn from a classical shanshui literati painting. The myriad colours of the copper wires are a result of variations in oxidation and humidity, emblematic of the wonderful landscapes of the four seasons.
Yeung reinterprets traditional Chinese landscape painting by embracing contemporary materials and technology of our times. Copper wires and Chinese painting are two seemingly disparate elements. By interweaving them the artist seeks to deliver 'hybridity', a peaceful coexistence of the natural and the man-made, of the traditional and the contemporary.  The contrasting materials are interwoven in harmony, connecting the past, present, and future of traditional Chinese aesthetics, whilst highlighting the hopeful progress of sustainability and environmental protection.
Through UOB's mentorship initiatives, Yeung collaborated with and guided Guo Yin Kam, a student winner of the UOB Art in Ink Awards, to create an interactive digital installation. Featuring drawings from Guo as well as animated elements from Yeung's digital ink paintings, the artwork will flux and change in response to visitors' movements. Together, Interwoven: Wired Shanshui invites audiences to interact with the installation, pause, and contemplate the harmony between man, nature and art.
2022 UOB Art in Ink Awards Winners' Showcase
UOB presents 18 winning artworks drawn from the 2022 UOB Art in Ink Awards, from calligraphy and painting, to mixed-media works across the categories of Abstract and Landscape or Figurative painting.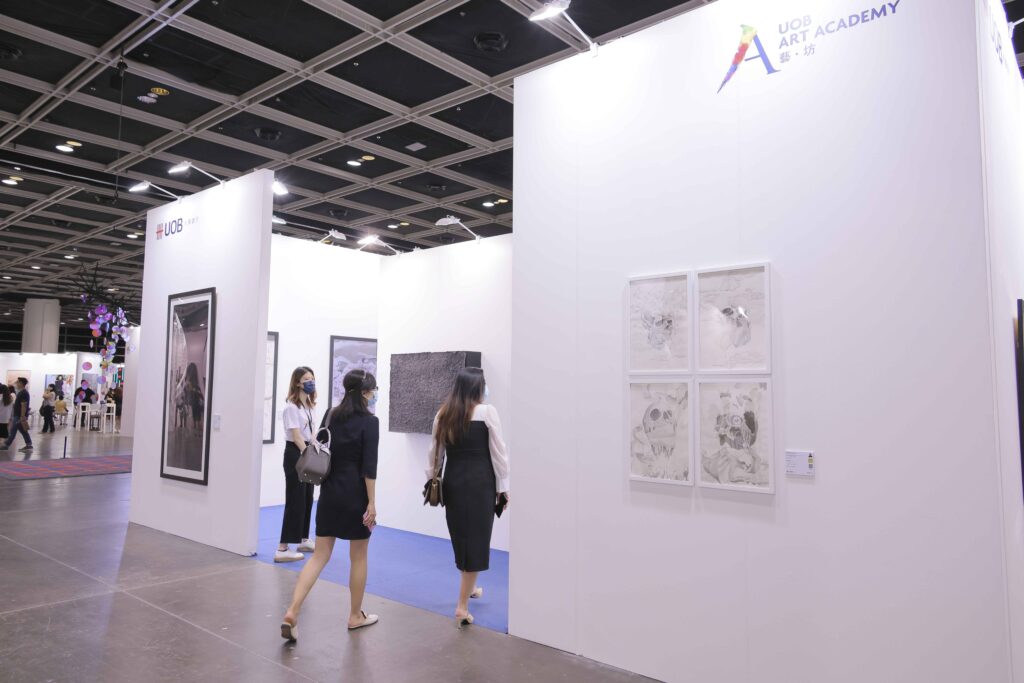 UOB x Art Central Panel Discussion
Inner Reflections: New Interpretations of Traditional Ink
Saturday 25th March, 3 to 4pm
The artistic transformation of classical approaches in Chinese ink art is a theme readily explored by many artists, many of whom draw from the historical canon of traditional ink paintings to create unique aesthetics that honour the past while also evolving from it. Despite the plethora of varied approaches, therein lies a common thread that weaves through many creative practices: that ink art does not pursue physical resemblance of objects, but rather embodies the subtleties of stillness and tranquillity. From the rhythmic beauty of ink's movement, to the spiritual and philosophical explorations of ink as an art form, four artists share their personal journeys and quiet reflections with Chinese ink art. Working across calligraphic lines, grandiose brushstrokes, shades of colour, and sculpted shanshui landscapes, the panellists offer insight into the breadth and depth of ink art as it stands today, highlighting the concurrent development of forward-thinking innovations as well as the humanistic values that the art form continues to adhere to.
Speakers: Mr Calvin Hui, Co-founder and Chairman of 3812 Gallery and Founder of Ink Now; Dr Sarah Ng, Curator of the Hong Kong University Museum and Art Gallery; Dr Chloe Suen, Chair of Simon Suen Foundation, Founder of Sun Museum; Dr Margaret Yeung, New Ink artist
Moderator: Zabrina Lo, Feature Editor, Tatler Hong Kong
This talk will be conducted in Cantonese.
About UOB
UOB is a leading bank in Asia. Operating through its head office in Singapore and banking subsidiaries in China, Indonesia, Malaysia, Thailand and Vietnam, UOB has a global network of around 500 offices in 19 countries and territories in Asia Pacific, Europe and North America. Since its incorporation in 1935, UOB has grown organically and through a series of strategic acquisitions. Today, UOB is rated among the world's top banks: Aa1 by Moody's Investors Service and AA- by both S&P Global Ratings and Fitch Ratings.
For nearly nine decades, UOB has adopted a customer-centric approach to create long-term value by staying relevant through its enterprising spirit and doing right by its customers. UOB is focused on building the future of ASEAN – for the people and businesses within, and connecting with ASEAN.
The Bank connects businesses to opportunities in the region with its unparalleled regional footprint and leverages data and insights to innovate and create personalised banking experiences and solutions catering to each customer's unique needs and evolving preferences. UOB is also committed to helping businesses forge a sustainable future, by fostering social inclusiveness, creating positive environmental impact and pursuing economic progress. UOB believes in being a responsible financial services provider and is steadfast in its support of art, social development of children and education, doing right by its communities and stakeholders.