Duk Dak Solo Presentations
Duk Dak, a common Cantonese phrase meaning "individually special", is a sector launched in 2021 featuring emerging and established talent through solo artist projects, presented by their representing galleries.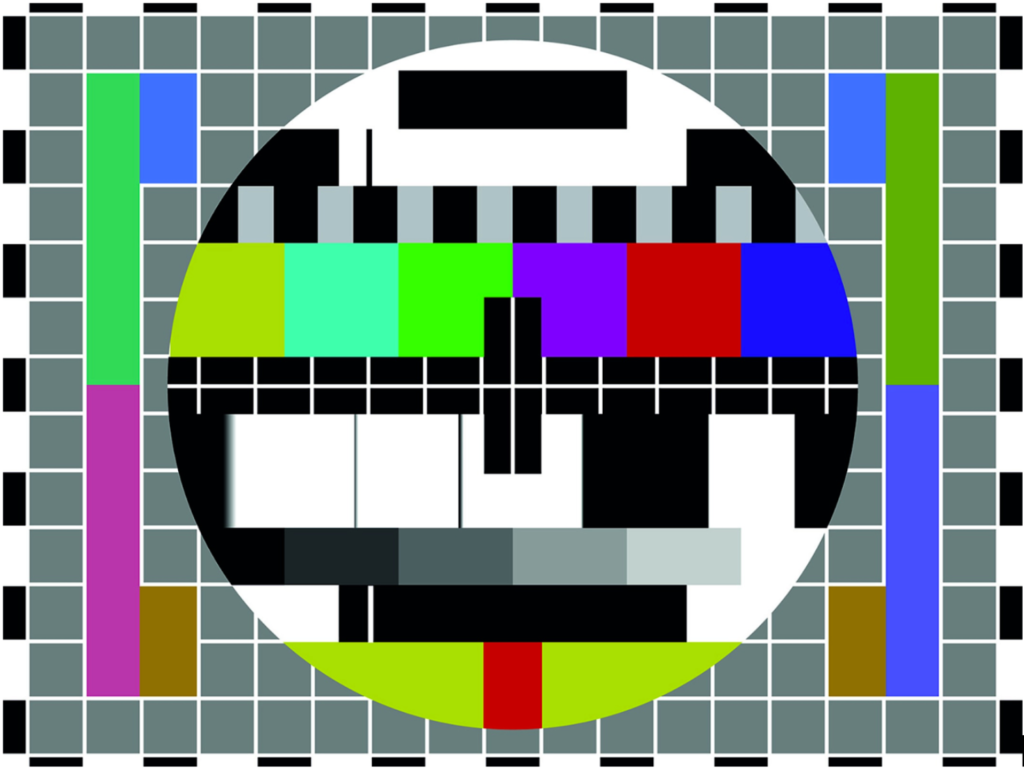 Damon Tong
b. 1979, Hong Kong
Presented by Art Projects Gallery
Hong Kong artist Damon Tong trades paint on canvas for "place-of-origin" stickers, inspired by Made in China labels found on manufactured goods, layering multitudes on a surface embedded with striking messages and hidden meanings. In a new series titled "Screen Test", Tong constructs double entendres by combining images of television test cards (the often colourful patterns that appear in broadcast television with a transmitter active but no program broadcast) with text on stickers, questioning the state of reality by creating a test that is contradictory by nature. Tong's recent works explore new methods of production that transpire the oxymoronic, furthering his investigation of complex issues faced by the people of Hong Kong, such as the city's identity, culture, and values.
Damon Tong, Philips PM5544-1 (work in progress), 2023, adhesive labels and acrylic on panel, 135 x 153 x 2 cm. Courtesy of the artist and Art Projects Gallery.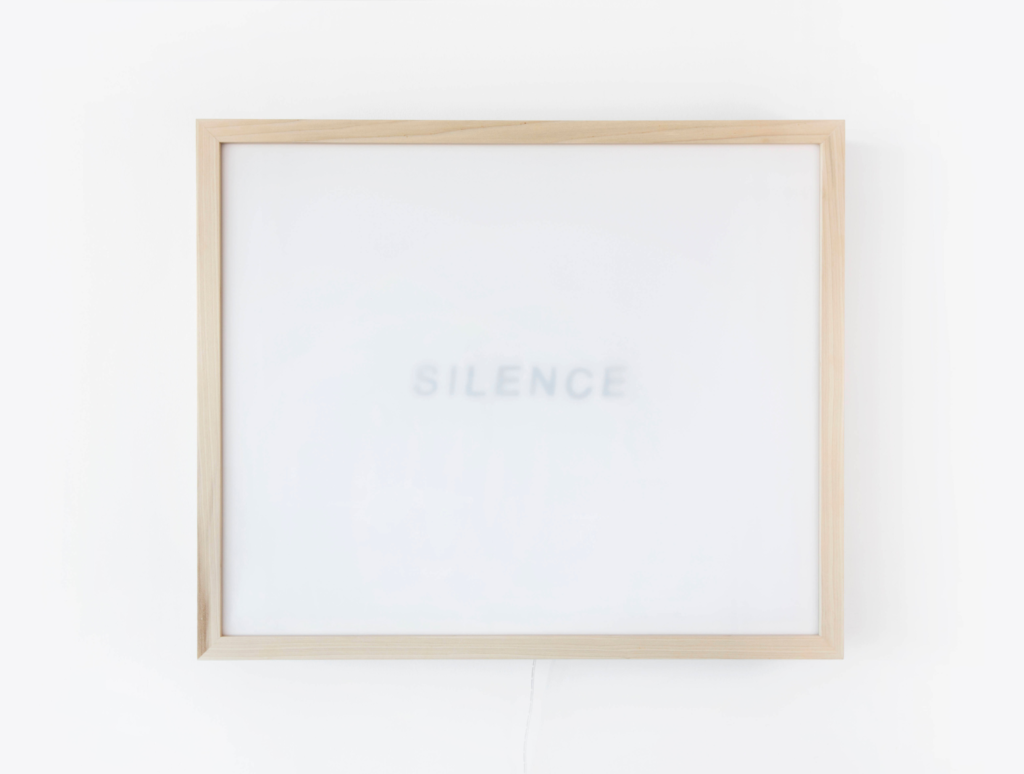 Javier Martin
b. 1985, Spain
Presented by Arta
Spanish artist Javier Martin is a multidisciplinary artist who bases his creative exploration on the careful observation of his surroundings, detecting semiotic relationships that might otherwise pass by unnoticed. Based on investigations of early 21st-century literature and conceptual poetry, Martin's most recent series of works, Conceptual Poetry (2022–), offers a direct contrast to his previous collection of works, Blindness (2007–). The new series eschews the neon glare of technology and advertising, finding form in concrete poetry on canvas, clay, glass, and traditional Chinese paper.
Javier Martin, AIRE SILENCE 2, 2023, mixed media, 78 x 66 x 12 cm. Courtesy of the artist and Arta.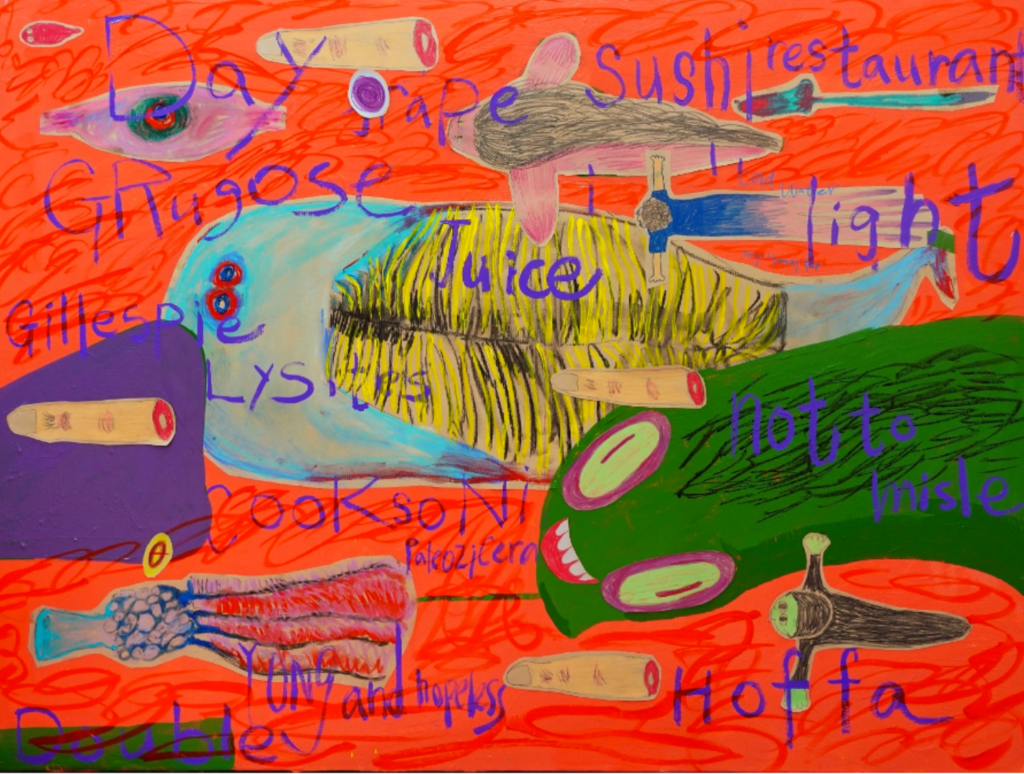 Leung Po Ying, Agnes
b. 1997, Hong Kong
Presented by Contemporary by Angela Li
Leung Po Ying, Agnes received a Bachelor of Arts (Fine Art) degree from the joint programme by RMIT University and Hong Kong Art School in 2020. Her works present an abstract and imaginative world filled with mystifying creatures and distorted shapes. Leung's artistic practice merges her study of peculiar figures, both real and imaginary, with a unique exploration of layering paint on canvas to produce a collage-like effect.
Leung Po Ying, Agnes, Cambrian Period, 2022, acrylic, charcoal, soft pastel and paper on canvas, 76 x 101 cm. Courtesy of the artist and Contemporary by Angela Li.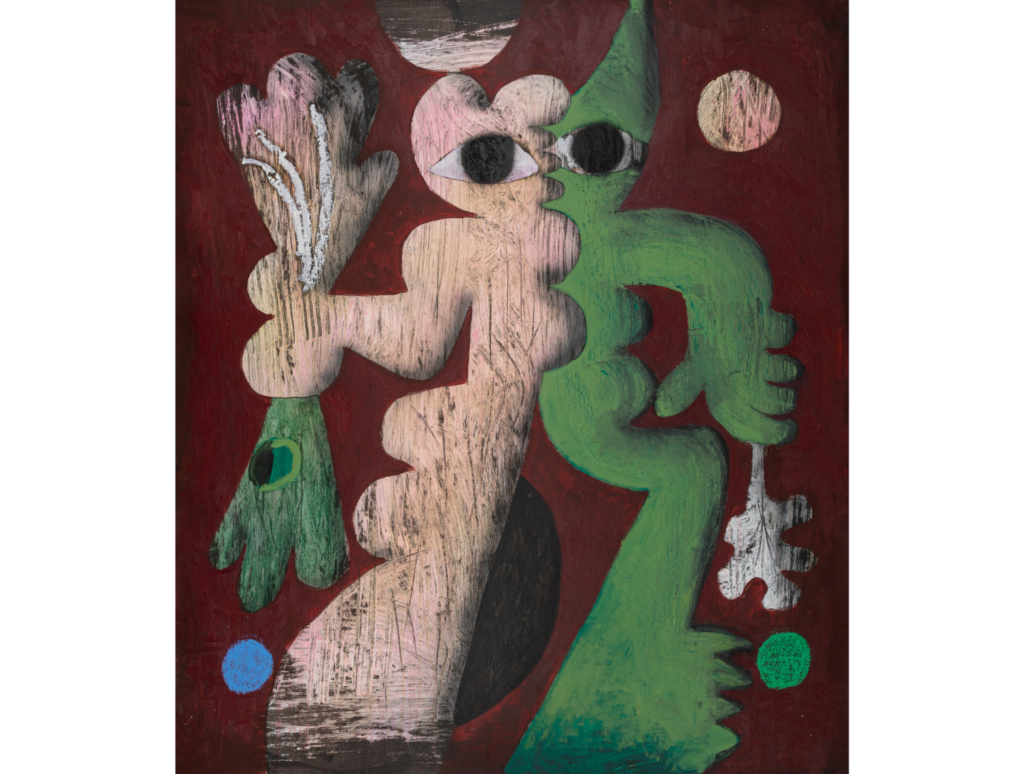 József Csató
b. 1980, Budapest, Hungary
Presented by Double Q Gallery
Hungarian artist József Csató offers a new perspective on still life, landscape, portrait, narrative, and abstract painting. Assimilating art historical references with a contemporary visual language – from fairy tales to pop icons – Csató's works feature elements of surrealism, figurativism, and abstraction. Each painting unveils a fictional world open to the viewer's imaginative interpretation. His works can be found in many private and institutional collections, including Ludwig Museum, Hungarian National Bank and Beth Rudin DeWoody.
József Csató, Guard II, 2022, Oil and acrylic on canvas, 160 x 140 cm. Courtesy of the artist and Double Q Gallery.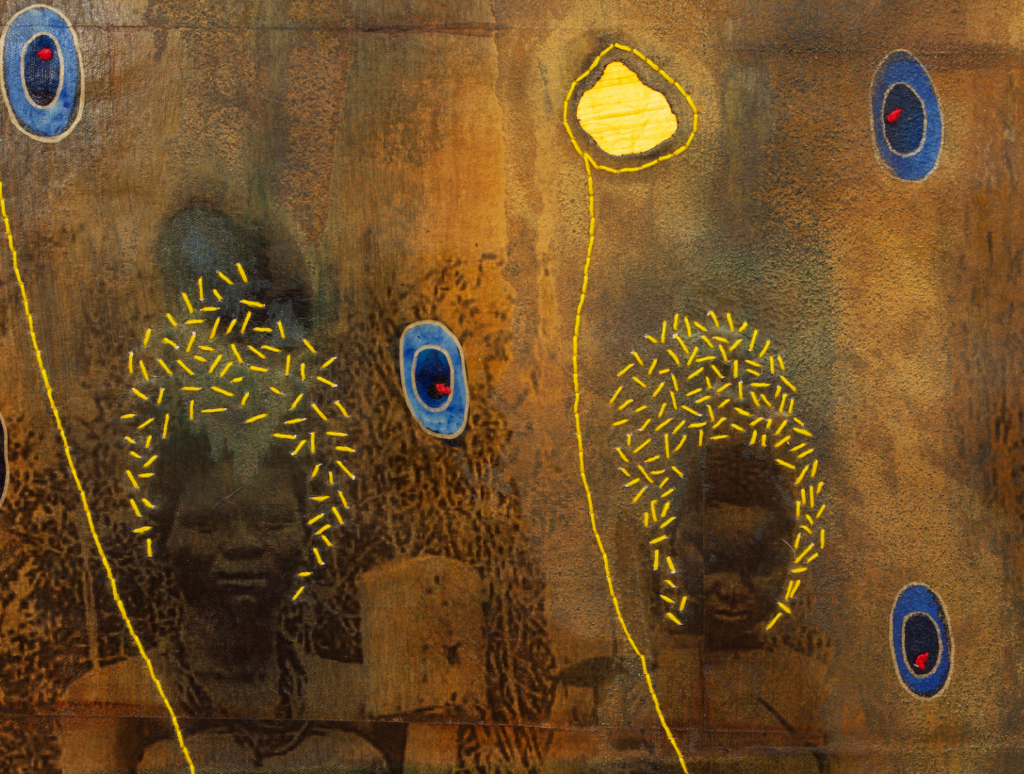 Tuli Mekondjo
b. 1982, Angola
Presented by Guns & Rain
South Africa-based gallery Guns & Rain mounts a solo presentation of female African artist Tuli Mekondjo. The artist uses textile techniques to interrogate the construction of female identity, particularly in Southern African contexts where colonial and apartheid legacies continue to shape cultural dynamics. The themes of inheritance, labour, and gendered struggle connect with her respective artistic practices, bringing forth her approach to representation and abstraction, iconography, and materiality. Mekondjo works with archival imagery from Namibia's colonial past, transforming this material with hand embroidery, paint, photo transfer, resin and mahangu (millet) grain, a staple food in Namibia. Mekondjo's work stitches together the past and the present, surfacing the voices of her ancestors through intergenerational communion. This is the first time the artist is exhibiting in Asia.
Tuli Mekondjo Nayitsuwe, Let the grains be pounded (detail), 2022, collage mahangu resin acrylic ink paint wild silk fabric cotton embroidery threads on canvas, 216 x 155 cm. Courtesy of the artist and Guns & Rain.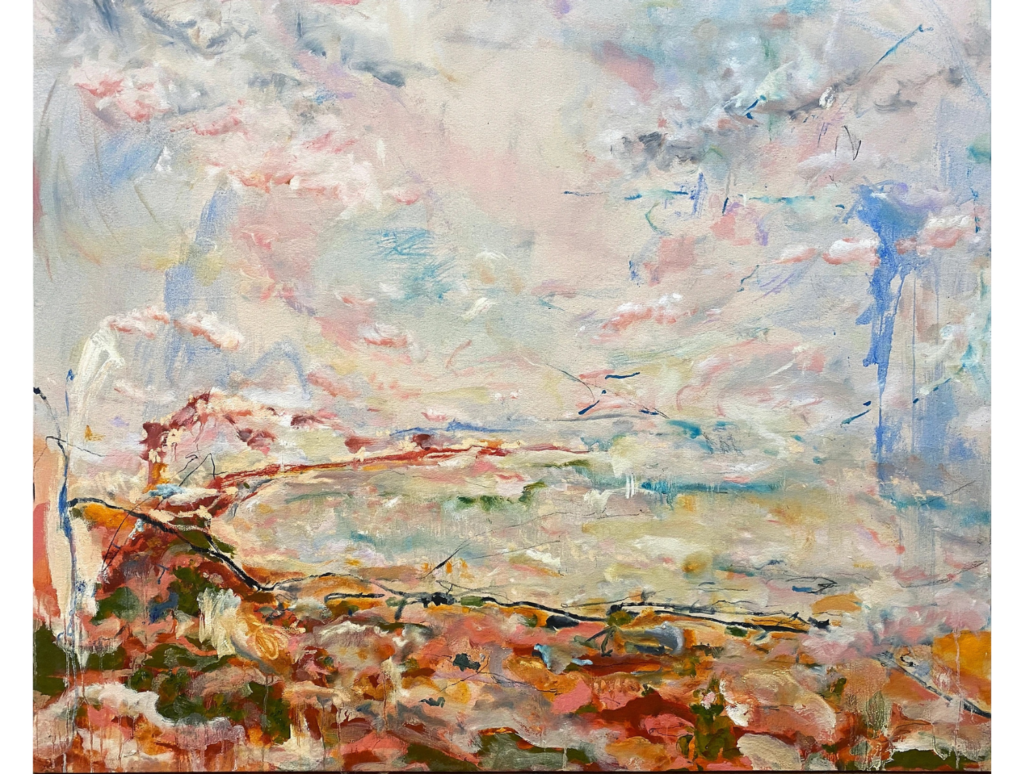 Sammi Mak
b. 1996, Hong Kong
Presented by Odds and Ends

Illustrating tenderness and fluidity through abstract landscapes, London-based, Hong Kong artist Sammi Mak explores her relationship with the world through the language of painting. Her works often exude romance, femininity, and vulnerability, a visual lexicon that continuously draws connections between nature and women. Her Duk Dak Solo Presentation at Art Central 2023 invites guests to actively engage with the intimate space she has constructed with her brushwork, examining their own connection to nature and language. 
Sammi Mak, We Are Only An Ocean Apart, 2022, oil and watercolor on canvas, 120 x 155 cm. Courtesy of the artist and Odds and Ends.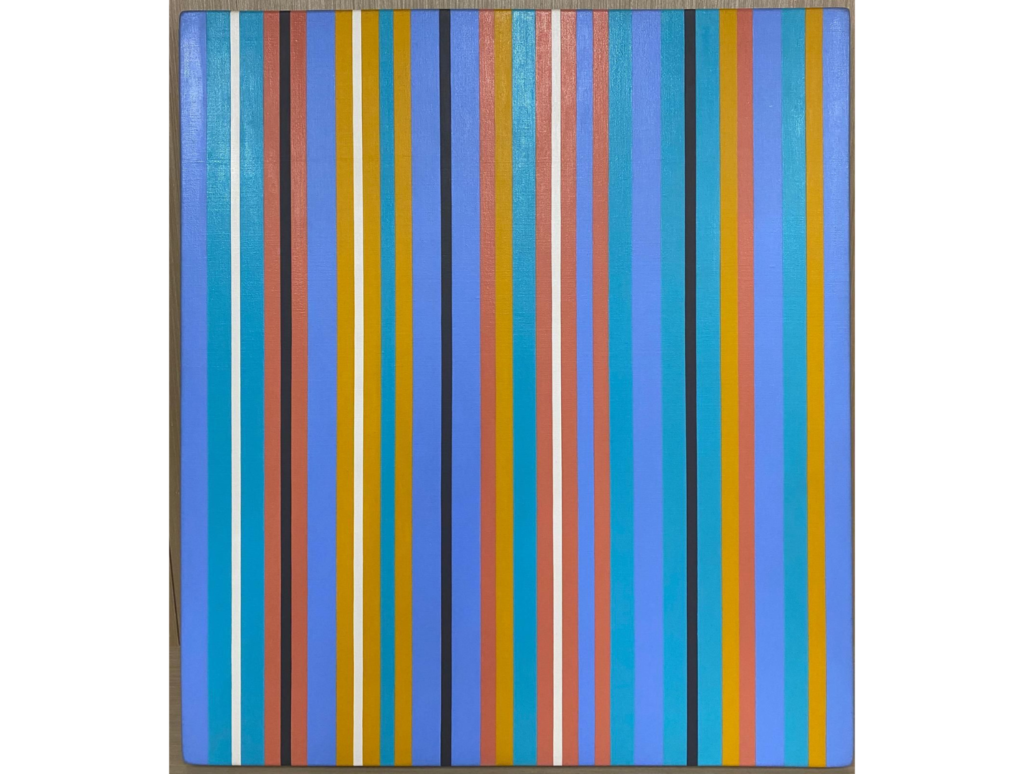 Bridget Riley
b. 1931, London
Presented by Tanya Baxter Contemporary 
British artist Bridget Riley is an icon of British art – known for her singular Op Art paintings that explore optical phenomena to evoke compelling, vibrant sensations of movement, colour and three-dimensionality. Exploiting optical phenomena to evoke compelling sensations of movement, color, and three-dimensionality, Riley's paintings interrogate not only how we see, but the phenomenological experience of seeing. Today, her investigations into the physical, psychological and social aspects of visual sensation and perception continue unabated.
Bridget Riley, KA-IV, 1980, oil on linen, 30 x 26.5 inches. Courtesy of the artist and Tanya Baxter Contemporary.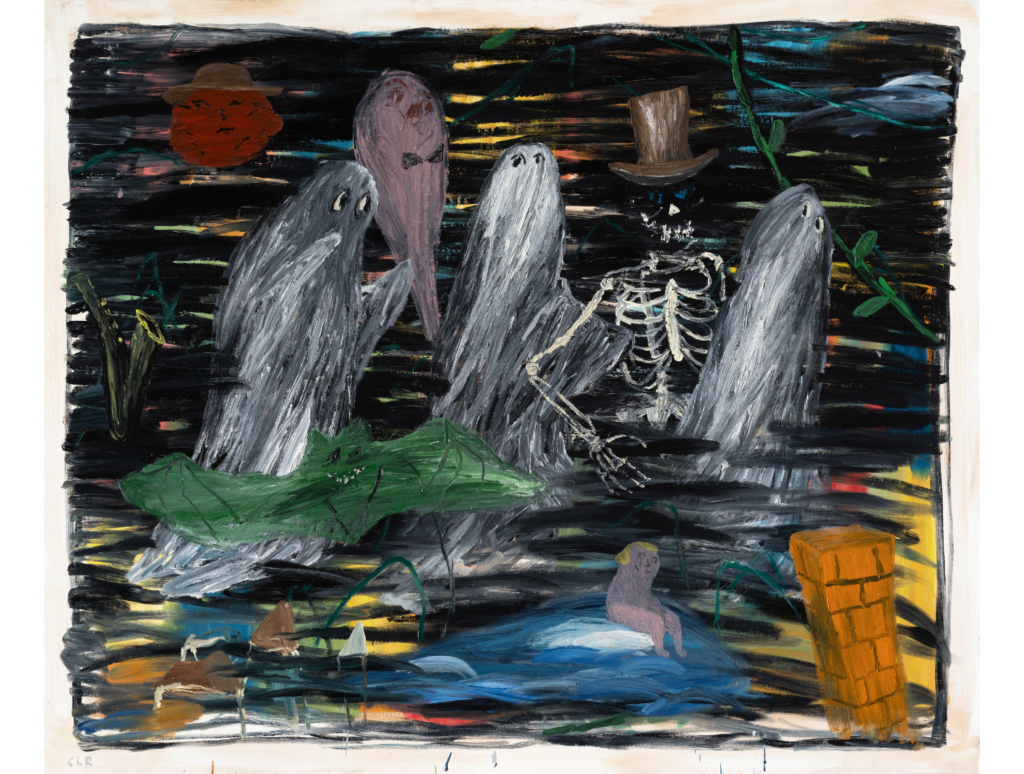 Cristina Lama
b. 1977, Seville, Spain
Lives and works in Hong Kong
Presented by Delimbo Gallery
Cristina Lama has a singular artistic world that turns between figurative and abstract paintings. In the former, she generates scenographic compositions; her abstract works are populated with shapes of various colours. Lama's artwork is characterised by its expressiveness and speed of gesture. She works with fresh oil, applying high amounts in every brushstroke. The paintings reveal no order or even perspective – figures are displayed at the same level as the background, or they have no background at all. Thus objects are subordinated to the real intention of the work, which is the painting process above all.
Christina Lama,  COMITIVA, 2022, oil on linen, 150 x 180 cm. Courtesy of the artist and Delimbo Gallery.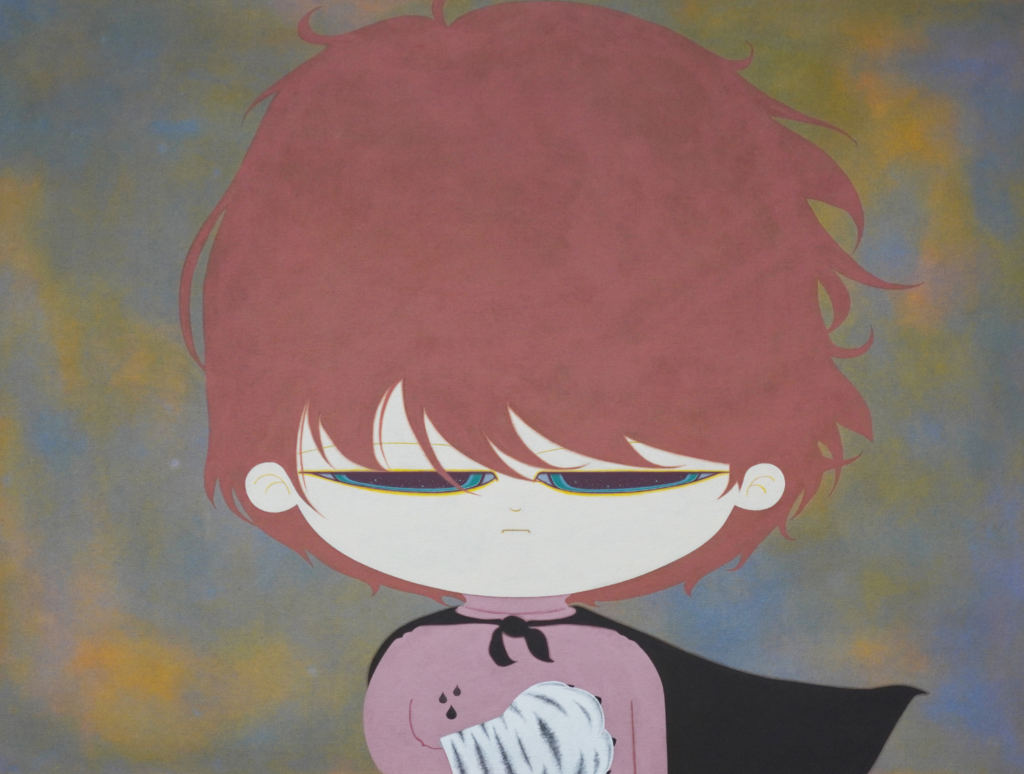 Han Choong-seok 
b. 1981, Busan, South Korea
Lives and works in Hong Kong
Presented by Gallery Woo
Korean artist Han Choong Seok seeks to examine the intricacies of human relationships and the challenges of human intimacy. For Han, the white owl is emblematic of everyday human interactions. The artist's distinctive figures, characterised by their animal traits, all have gently closed eyes, suggesting a desire for intimacy and a simultaneous need for distance. Han incorporates acrylic paint with Korean cotton Gwangmok and a traditional ink-wash technique, infusing his Western-style painting with Eastern influences. The resulting gentle and unique palette offers a healing space for his melancholic characters.
Han Choong-seok, The Boy Self Defense, 2023, acrylic on Korean cotton, 130.3 x 97 cm. Courtesy of the artist and Gallery Woo.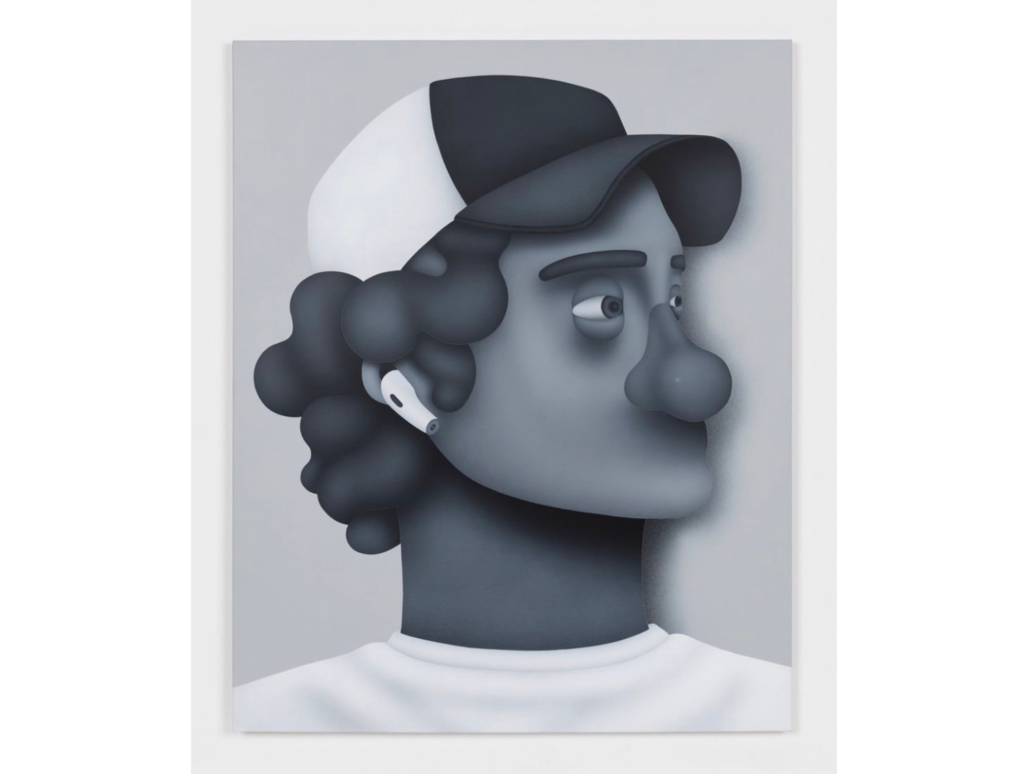 NKSIN
b. 1994, Fukushima, Japan
Lives and works in Hong Kong
Presented by Katsumi Yamato Gallery
Combining spray painting from the 1990s, the fuzzy sfumato technique popular in the Renaissance, and influences of Japanese subculture, Japanese-Filipino artist NKSIN's hybrid style reflects a multifaceted society and his place within it. The artist's monochromatic portraits, all rendered in a flat grey colour evoking a sense of helplessness, suggest both a longing for and rejection of the past and the present. Distinguishable icons such as craftsmen, musicians, and painters are displaced within the ambiguous settings of his works, allowing the artist to not only remove the historical, racial, and cultural barriers that separate us, but also to reflect on his own experiences of discrimination due to his multicultural background.
NKSIN, BORING THINGS, 2022, acrylic on canvas, 162 x 130 cm. Courtesy of the artist and Katsumi Tamato Gallery.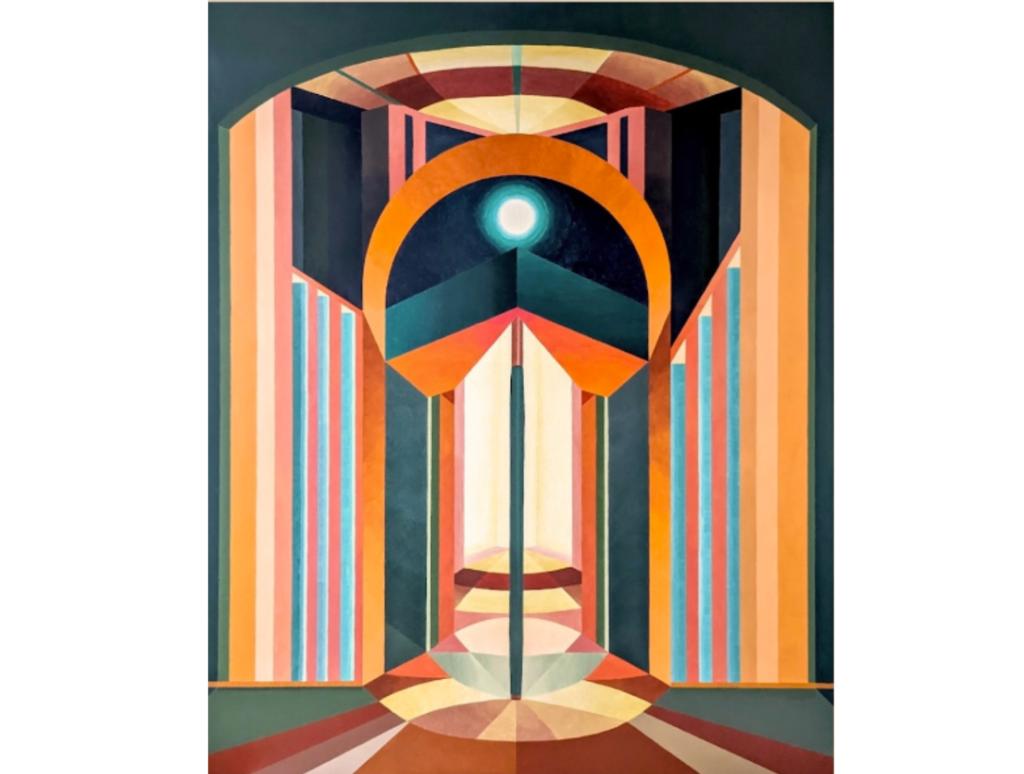 Jason Ho
b. 1993, London
Presented by Seefood Room
Filled with detailing and dynamism, Jason Ho's "art-chitecture" is bursting with color and life, offering its viewers a glimpse into his narrative-inspired fantastical worlds. Trained at Cambridge University and University College London, British-Chinese architect Jason Ho designs evocative architectural space that exceeds the definition of science, anchoring his subjects in the essence of abstractionism.
Jason Ho, Pivot, 2022. Acrylic on canvas, 110 x 90 x 3 cm. Courtesy of the artist and Seefood Room.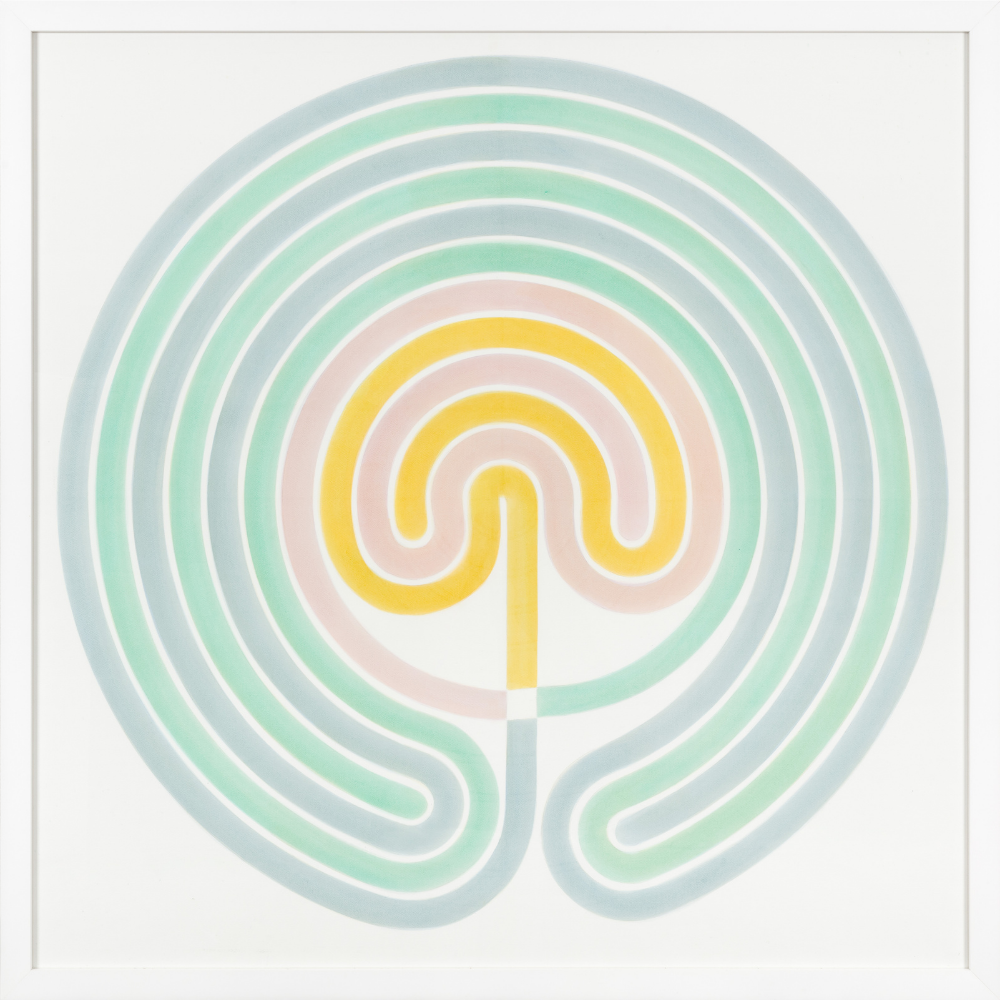 Gizella Rákóczy
1947–2015, Budapest
presented by Double Q Gallery, Hong Kong
Gizella Rákóczy studied painting at the Hungarian Academy of Fine Arts, and then worked in the mosaic workshop of artistic pioneer Miklós Erdély. He is good at ghosting, superimposing and mirroring images, forming clear multiple watercolor effects, and establishing his own unique aesthetic language. Double Q Gallery introduced Rákóczy's works to Asia for the first time, bringing everyone to know his precise watercolor techniques and tempera experiments. The stand is curated by Mónika Zsikla, who has curated the Hungarian Pavilion at the 59th Venice Biennale in 2022.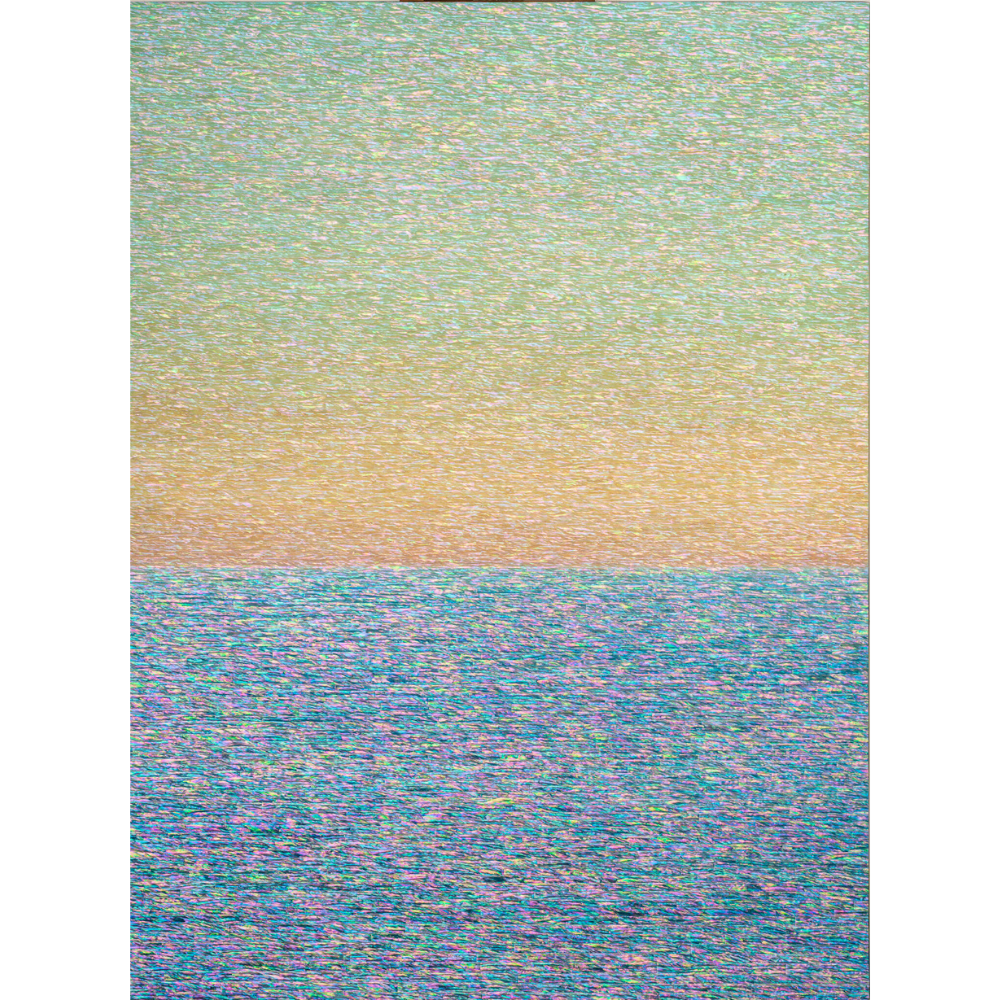 Kim De-ryong
Born 1961, Korea Presented
by Soluna Fine Art , Hong Kong
Artist Kim De-ryong is from South Korea. He completed his bachelor's and master's courses at the Painting Department of Seoul National University. Since Kim De-ryong's works are collected by key national art institutions, he is recognized by the local art circle and has a certain reputation. This year Art Central 2022 will exhibit his new works – "Ocean Rhapsody" and "Scholar's Accourtrement" two series. Mixing Korean culture and modern techniques, the work uses traditional media such as ancient wood and mother-of-pearl to outline the ocean, and sometimes it seems to be a landscape glimpsed from the gaps in the doors and bookshelves.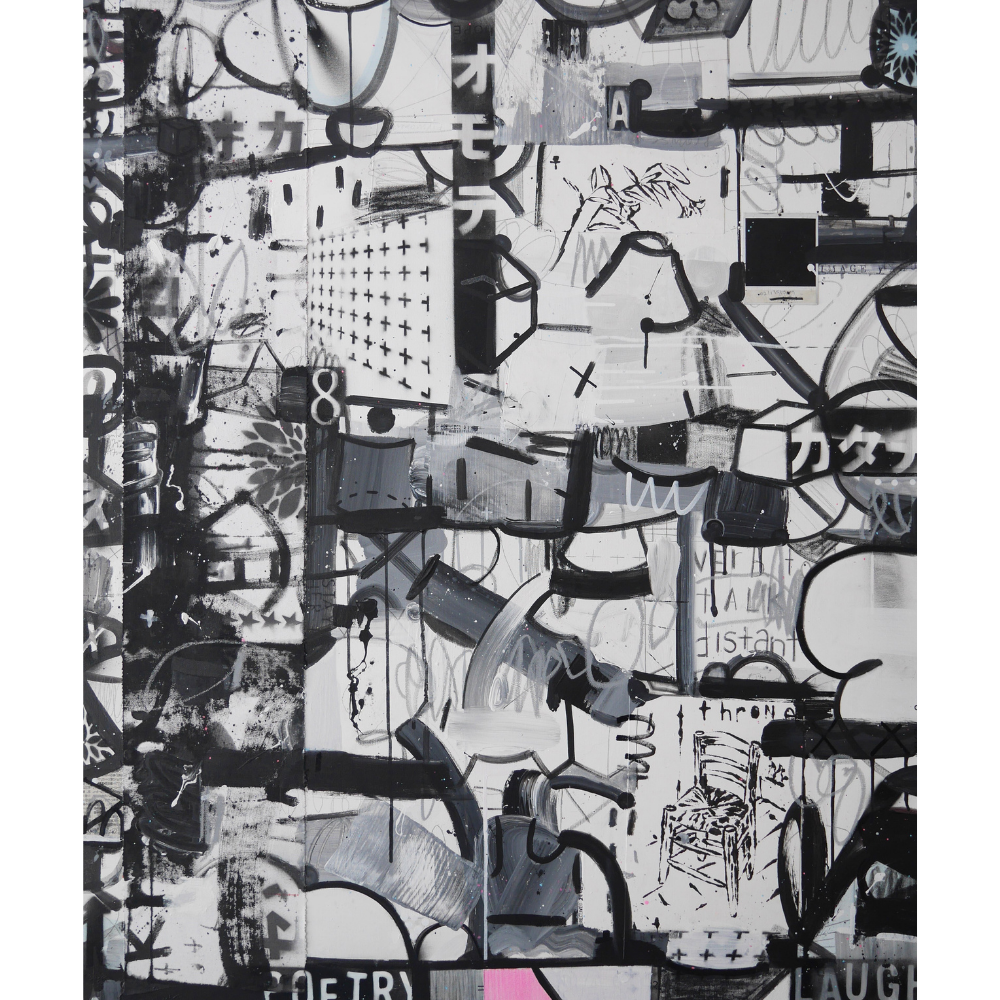 Andrew Weir
Born 1979 in Scotland, United Kingdom
Lives and works in Regensburg, Germany
Presented by Gallery Twostones, Seoul
Andrew Weir, from Scotland, studied at the local Gray School of Art and the Maastricht Academy of Fine Arts in the Netherlands, and then moved to Japan for about ten years, and then moved to Germany where he lives now. His cross-cultural experience forms the basis of his work, using the symbols of language and mythological symbolism to create richly layered paintings. Obsessed with symbols, their meanings, and the ephemeral nature of the communication systems we create, improve, and discard, he explores these relationships in his work.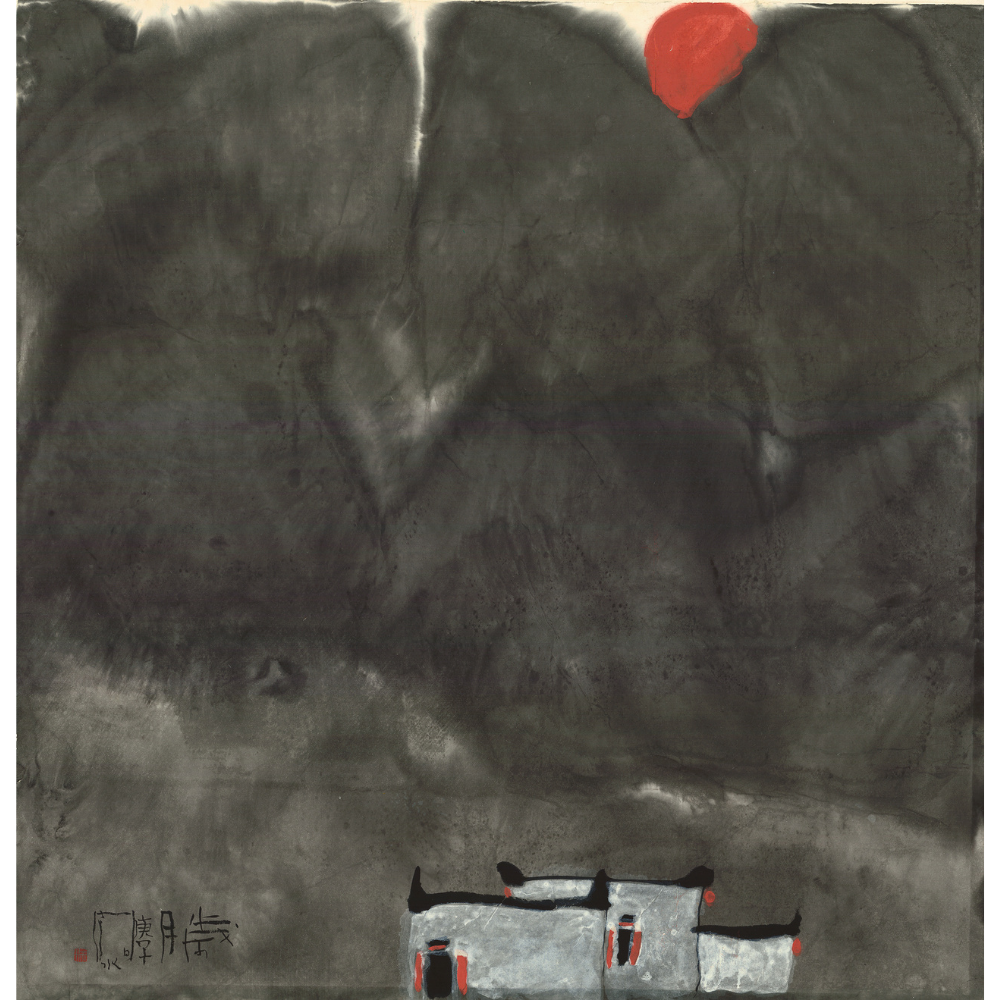 Water Poon
Born 1948, Guangdong, China
Lives and works in Guangzhou, Hong Kong and Toronto
Presented by Blink Gallery, Hong Kong
After graduating from the Hong Kong Polytechnic in the 1960s, Water Poon has been engaged in art design and photography in Guangzhou, Hong Kong and Toronto for a long time. He participated in Art Central 2022's "Unique" solo exhibition with his recent Chinese ink paintings of the "Tranquility" and "Zen" series, revealing the tranquility of the years.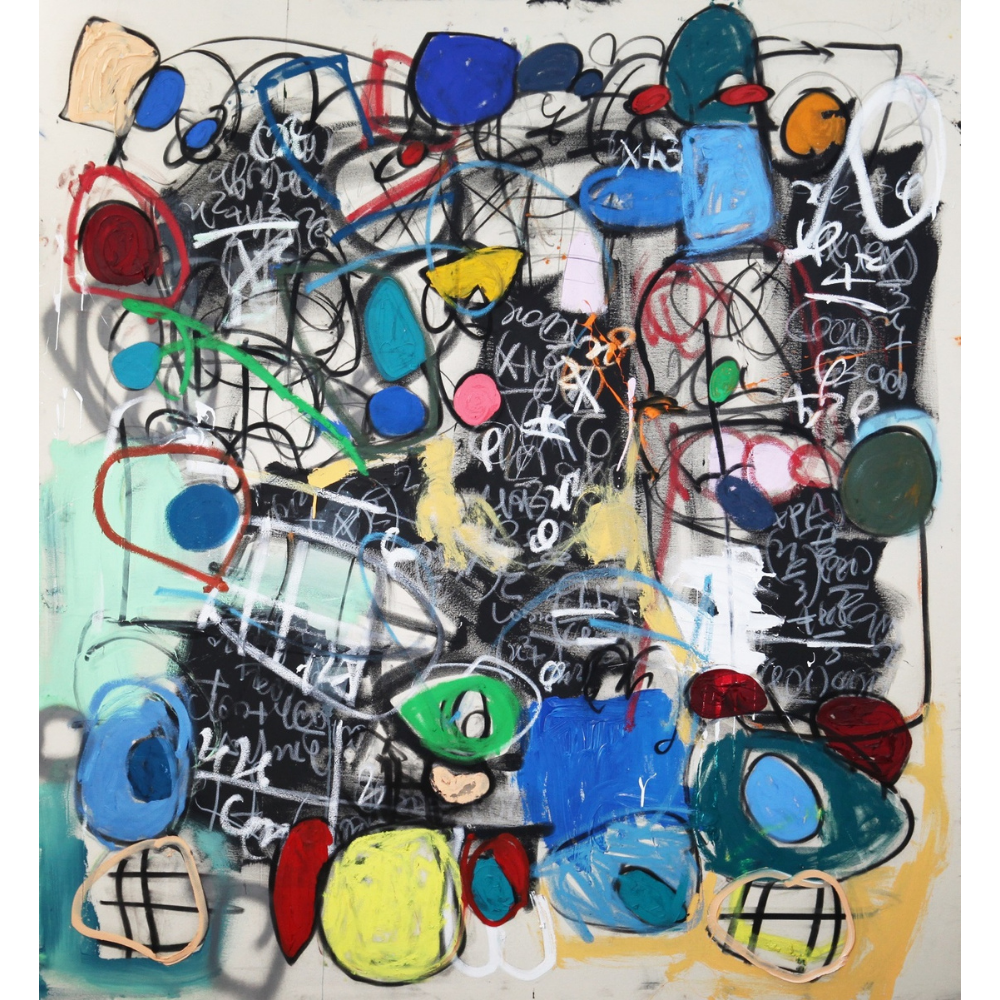 Taher Jaoui
Born 1978, Tunisia
Lives and works in Madrid, Spain
Presented by Jinsan Gallery, Seoul
Taher Jaoui's painting style is deeply influenced by African primitive art, graffiti, glitch art, Gobua movement and abstract expressionism. With overlapping forms, bright colors, vivid expressions, plus mathematical symbols and formulas, the composition is lively and rich s work. He creates on the canvas with flowing brushstrokes and his body leaning forward and backward from time to time, causing the vision and direction to change from time to time until all elements achieve a harmonious blending effect.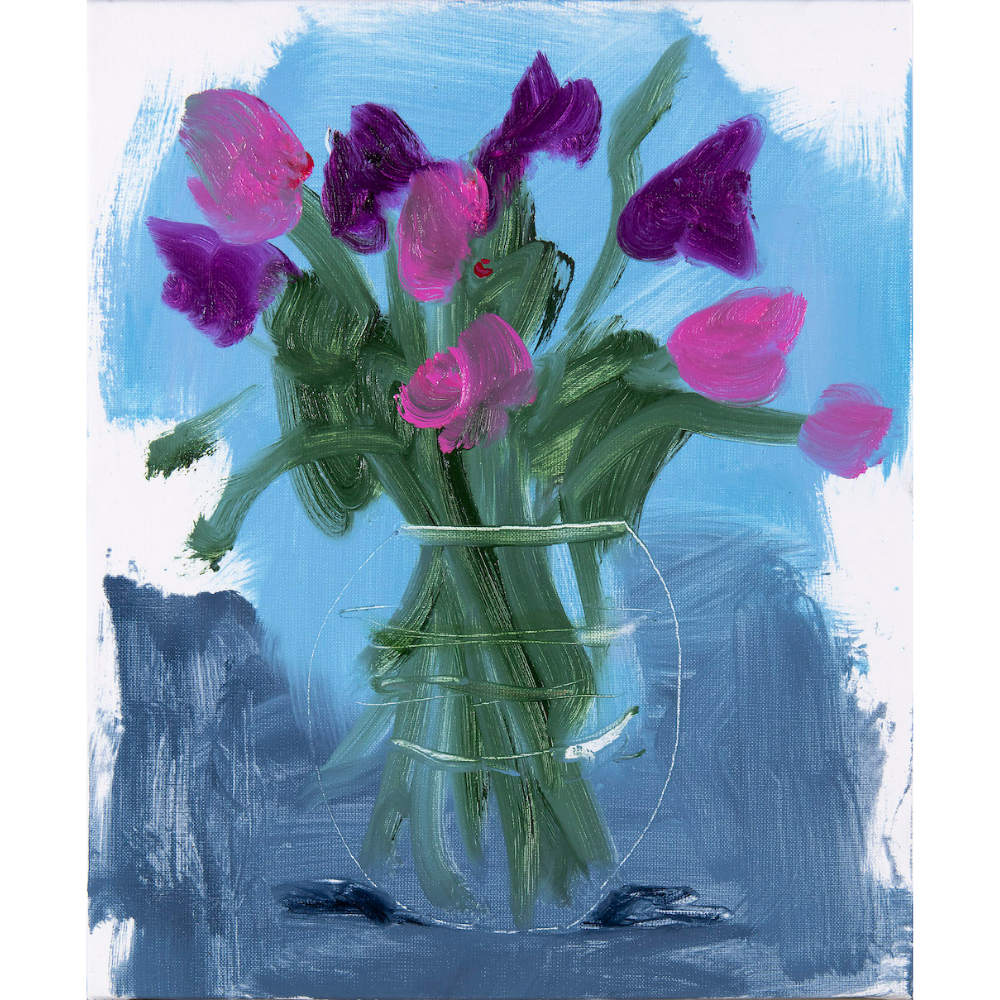 Gregory Forstner
Born 1975, Cameroon
Lives and works in Montpellier, France
Presented by Galerie Zink, Waldkirchen
Gregory Forstner graduated from the Vienna Academy of Applied Arts in 1994 and studied for several years at the Villa Arson National School of Fine Arts in Nice. He captures humanity with strong brushstrokes and bright colors in a distinctive style. Art Central 2022's "Unique" solo exhibition marks his debut in Asia, presenting oil and charcoal drawings from his latest series "Flowers For The Bold".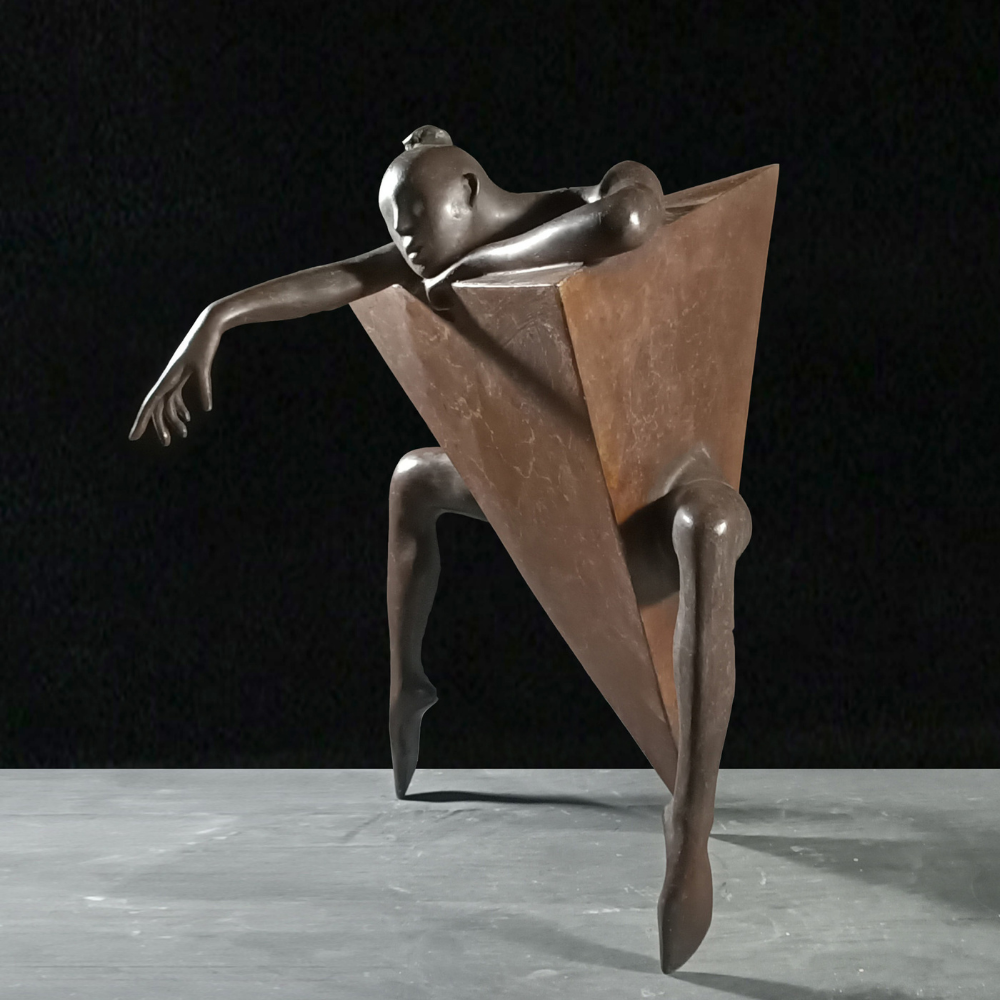 Liu Yang
Born 1972, Harbin, China
Lives and works in Beijing
Presented by Artspace K, Hong Kong
Liu Yang is accustomed to exploring the relationship between different materials, such as metal and stone, in order to enhance the mutual influence between color and form. The bronze sculptures in his "Unique" solo exhibition at Art Central 2022 are from his "Biology and Geometry" series, which focuses on depicting human interaction and emotional connection.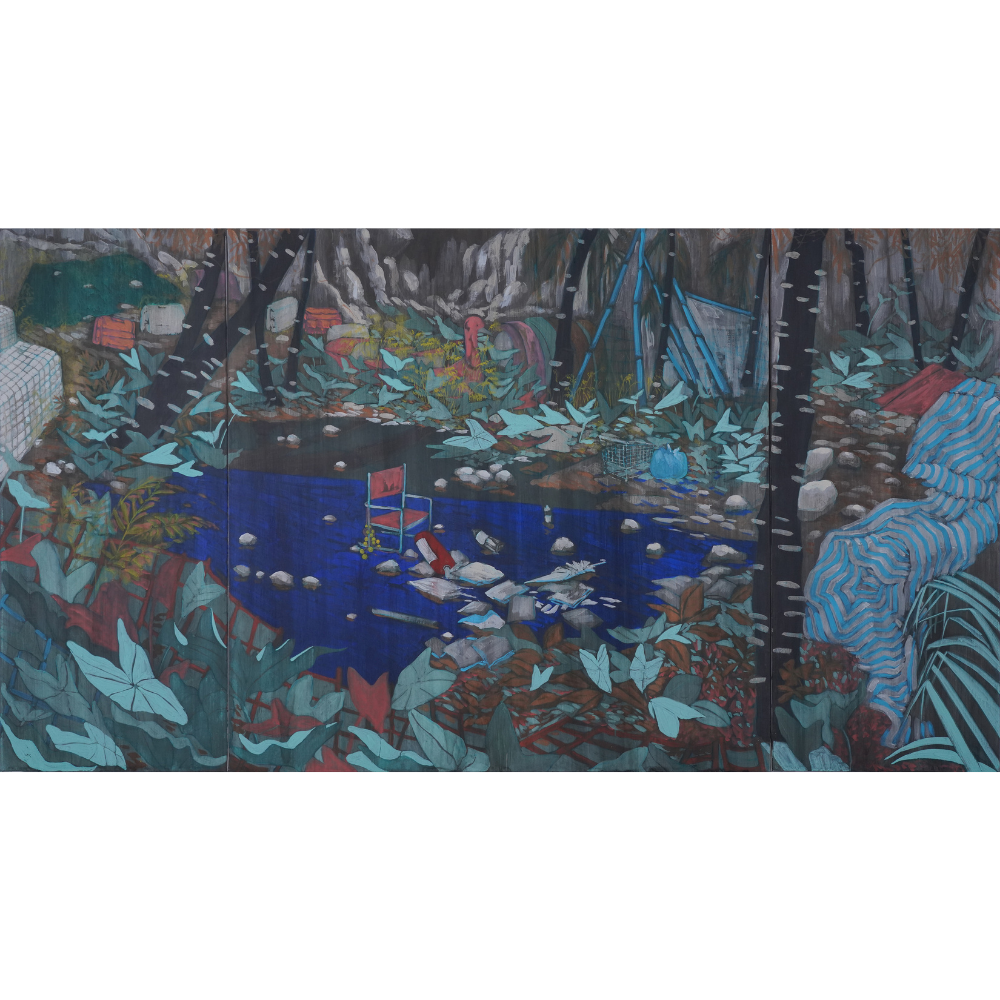 Wong Sze Wai
Born in 1990, Hong Kong
Lives and works in Hong Kong
Presented by Contemporary by Angela Li, Hong Kong
Wong Sze Wai received her Bachelor of Arts and Master of Arts degrees from the Department of Fine Arts, The Chinese University of Hong Kong in 2013 and 2020, respectively. She is obsessed with the ruins in the city, and through her works, she constructs a unique dream world in her imagination, which can even transcend time and space. Inspired by the ancient Chinese murals of the Mogao Grottoes in Dunhuang and the medieval murals of Eastern Europe, her painting technique uses mineral pigments and delicate daub brushstrokes to outline a nostalgic mood and evoke nostalgia for the past.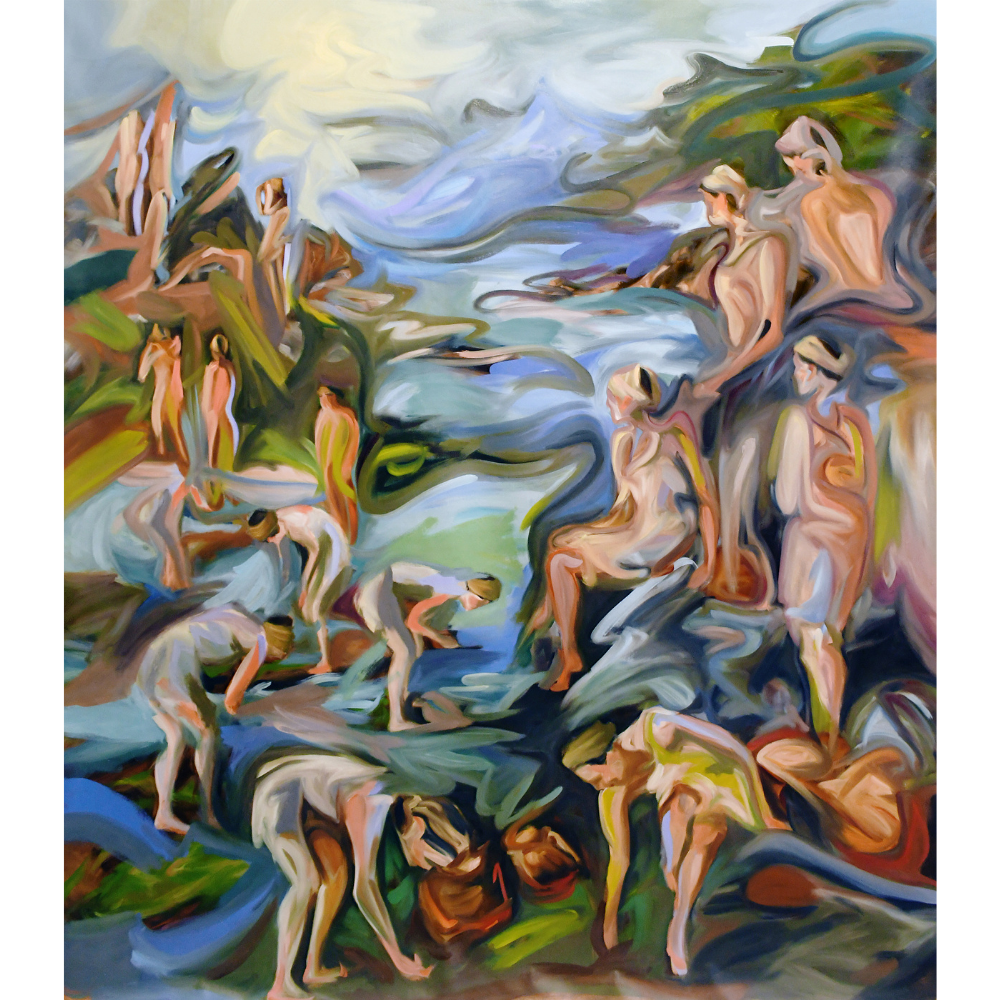 Dami Kim
Born 1989, Los Angeles
Lives and works in Hong Kong
Presented by Odds and Ends, Hong Kong
Los Angeles-born Korean-American emerging artist Dami Kim has been living in Hong Kong since 2015. He is proficient in painting oil and acrylic paintings on canvas, paper and wood. Drawing inspiration from Old Master paintings, contemporary art, and photographic images, she explores themes of memory and dreams with an abstract and expressive twist.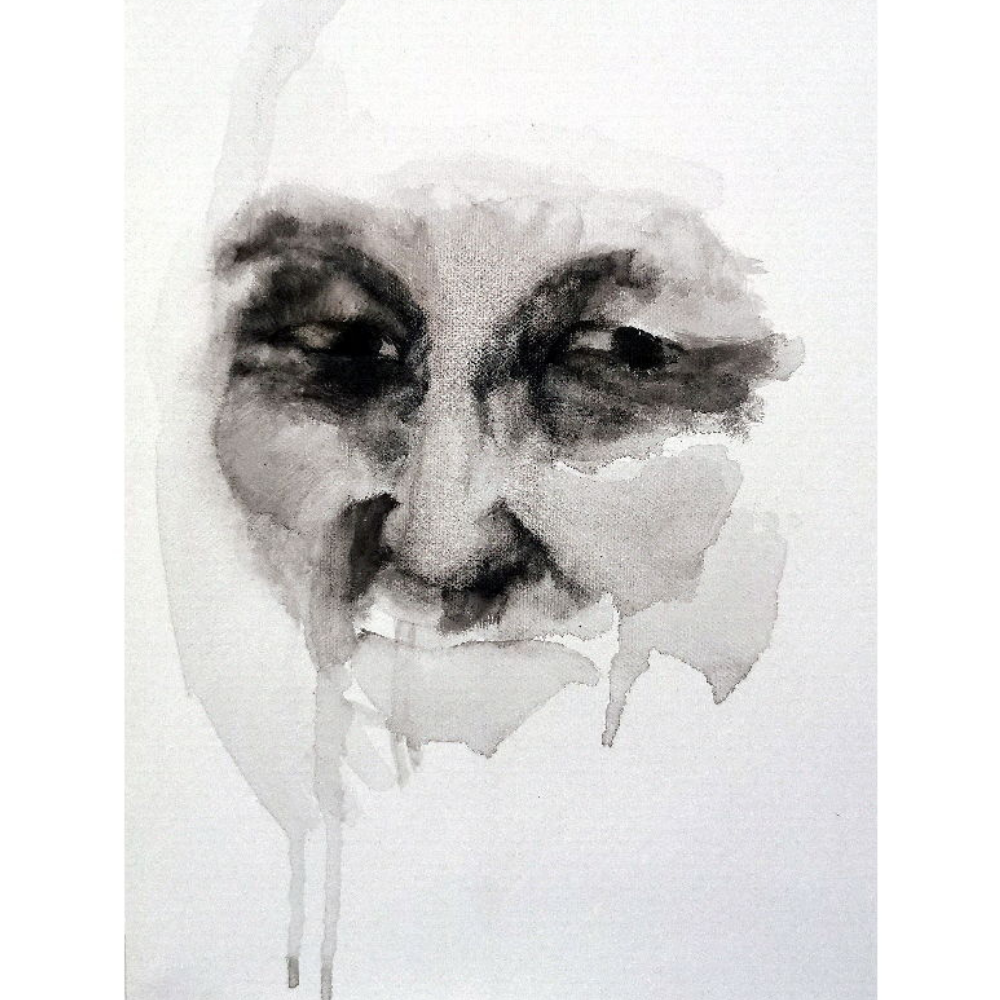 Edna Cha
Born 1963, Hong Kong
Lives and works in Hong Kong
Presented by Museum of Site (MOST), Hong Kong
Hong Kong artist Edna Cha is self-taught and his works focus on combining the essence of Chinese and Western cultures with contemporary art concepts. Inspired by the writings of Jin Yong, the master of Chinese martial arts novels, her portrait paintings show the different personalities and characteristics of martial arts characters.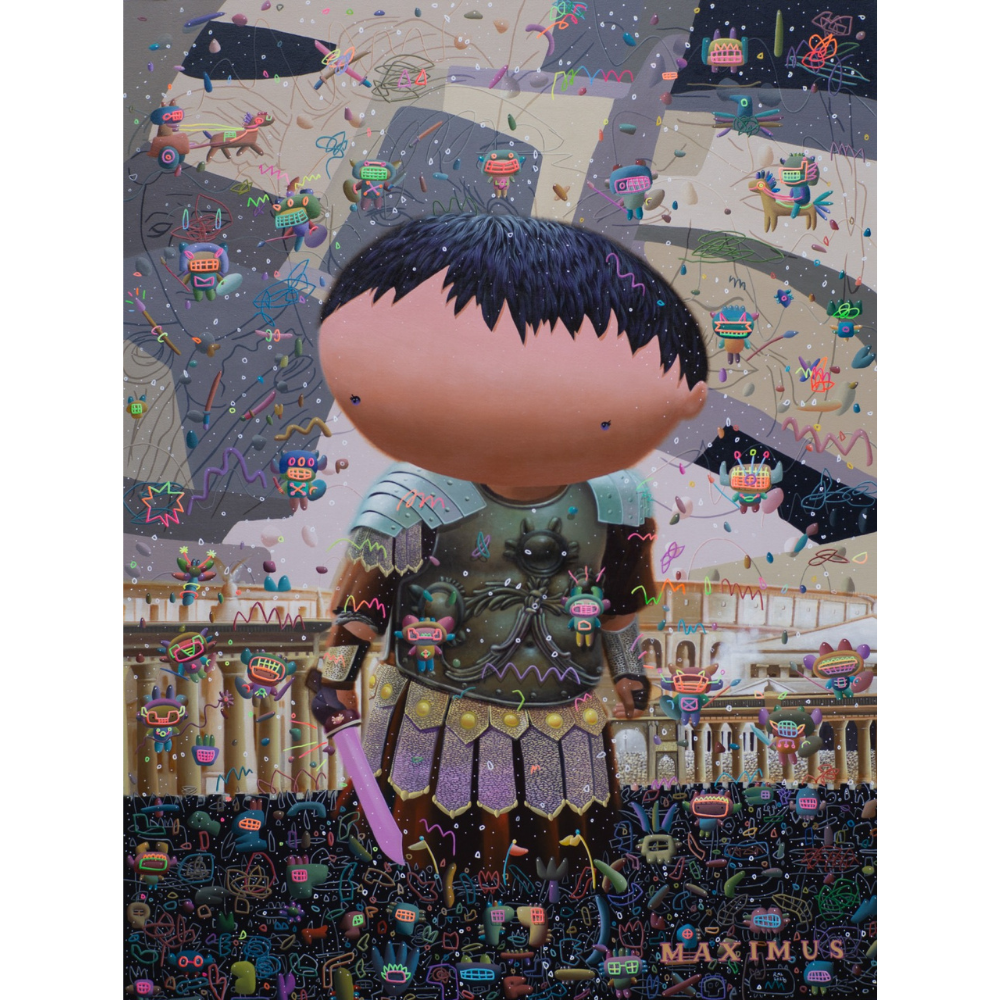 Ronald Apriyan
Born 1979 in Prabumulli, Indonesia Lives and works
in
Indonesia Presented by White Space Art Asia, Singapore
Ronald Apriyan's observations and experiences from his native Indonesia form the basis of his creations. He uses contemporary pop culture icons as themes to express various social events and the inner world of urbanites in rapidly developing countries. He is good at using marginal spaces to drive the audience, and observing the personal history and cultural paradigms of these spaces has established a newly established hybrid worldview.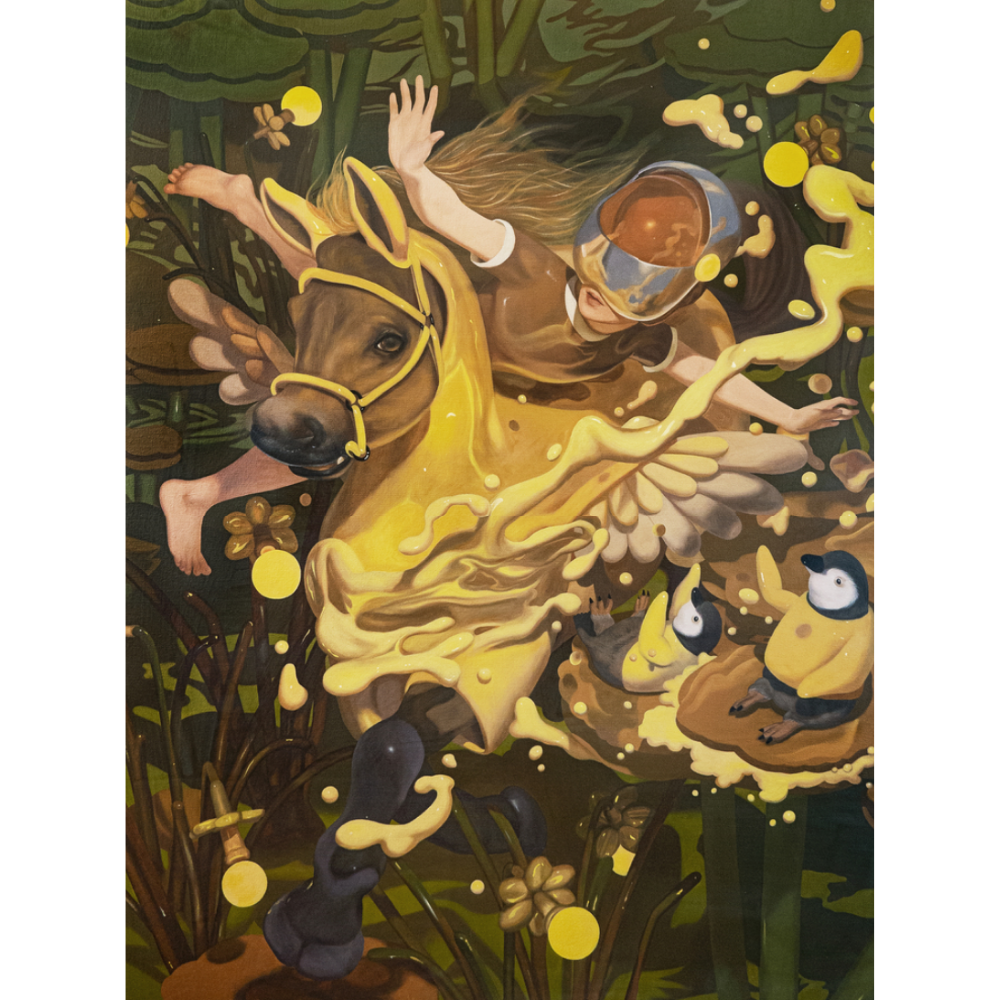 Yang Du
Born in 1993, Beijing, China
Lives and works in New York, USA
Presented by Gallery Ascend, Hong Kong
Yang Du's paintings explore the evolution of the relationship between humans and nature in a world centered on science and philosophy. Influenced by Eastern and Western cultures, she creates weird but real worlds that reflect the contradiction between optimism and absurd society in today's world. Each frame of painting is the author's questioning of the viewer, aiming to challenge everyone's perception of the past and expectations of the future.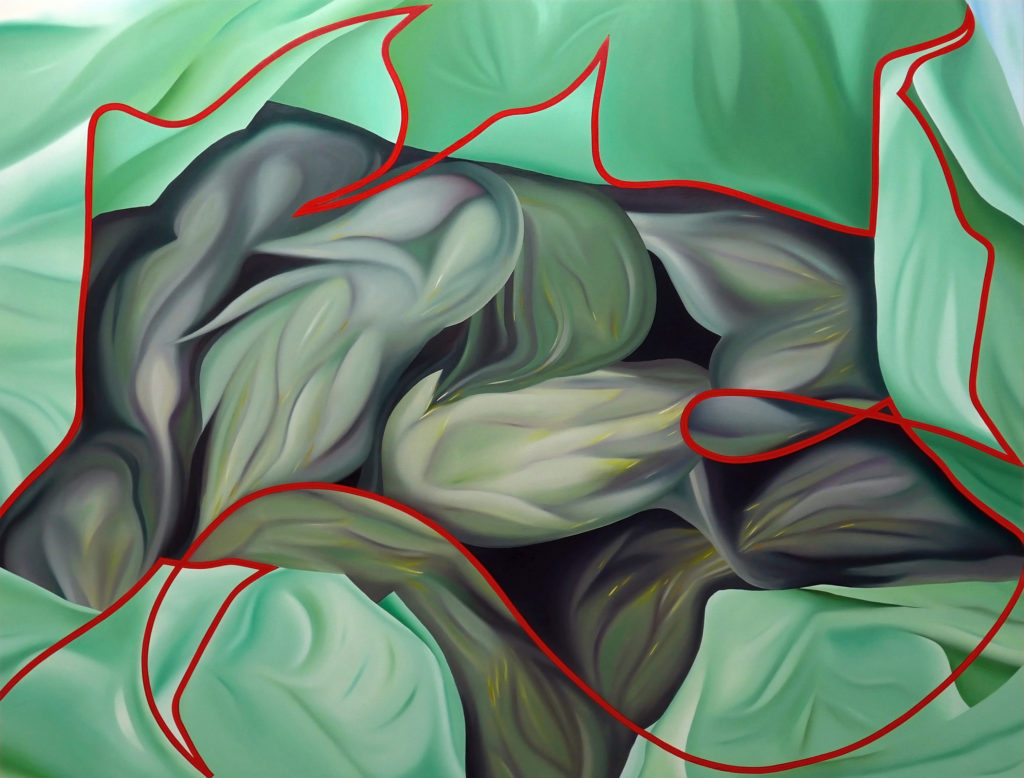 Stefano Perrone
b. 1985. Monza, Italy
Presented by Jason Shin
Perrone concentrates his imagery on figures, still lifes, and calligraphy; his work lies on the border between abstraction and figuration, investigating contemporary society and everyday life through the use of metaphor and allegory. Perrone's most recent paintings developed from a process of saving digital images, often appropriated from others, and recreating them later from memory. According to the artist, this process of forgetting/remembering affects the final painting, which is more a representation of the memory of the image rather than a faithful reproduction of the image itself. Perrone's work has been included in group and solo exhibitions internationally including in Japan, the United States and throughout Europe.
Stefano Perrone, Invasione di campo, 2020, oil on canvas, 130 x 128 cm.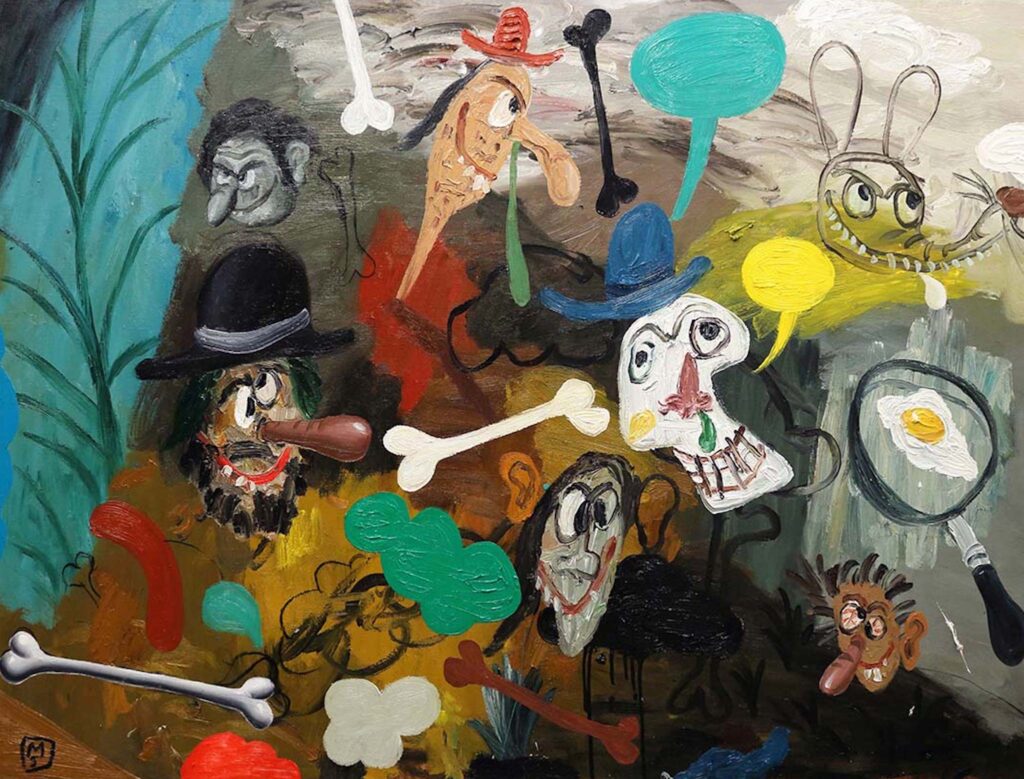 Matías Sánchez
b. 1972. Tübingen, Germany
Presented by Galerie Zink
Matías Sánchez is a self taught artist currently living and working in Seville, Spain. He developed a signature style of vivid painterly surfaces as a backdrop against spirited characters and objects. His aesthetic and subject often pay homage to element of cultural history such as Impressionist masters and literary icons. At times smoothly rendered, at times crudely abstract, the artist uses recurring images including sausages, bones, rats, people with menacing expressions, to form grotesque dreamscapes, exploding with energy.
Matias Sanchez, Acampados Pequeno Circo Ambulante, 2020, oil on canvas, 97 x 130 cm.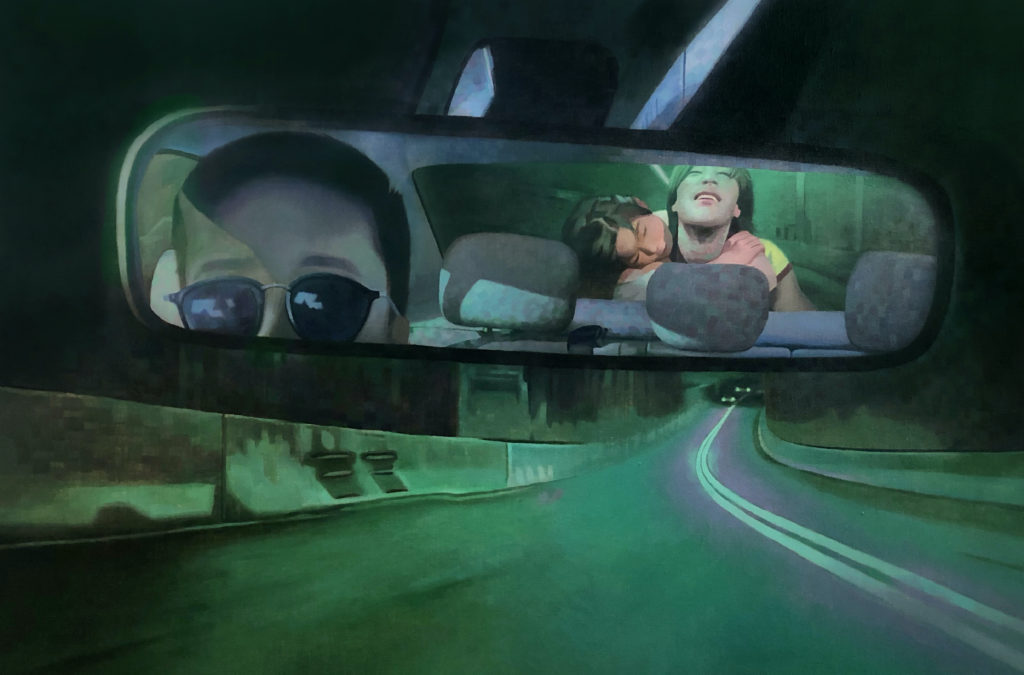 Peter Chan
b. 1985. Hong Kong, China
Presented by Gallery HZ
Born in Hong Kong, Peter Chan is a Canadian artist working in Toronto. Chan received his BAA from Sheridan College in 2008. His paintings have been exhibited in solo and group exhibitions around the world. Chan is currently an instructor at OCAD University, Sheridan College, and Seneca College. In his ongoing series "Ideals and Traditions", Chan explores themes of superstition, identity, popular culture, traditions, and gender ideologies inspired by his visits to Beijing, Shanghai, Hong Kong, Singapore, and Taiwan. Through the autobiographical documentation of imagery around him, he distorts and recomposes these to form compositions that allow for new narratives and meaning.
Peter Chan, The Jade Butterflies, 2021, oil on linen, 65 x 95 cm.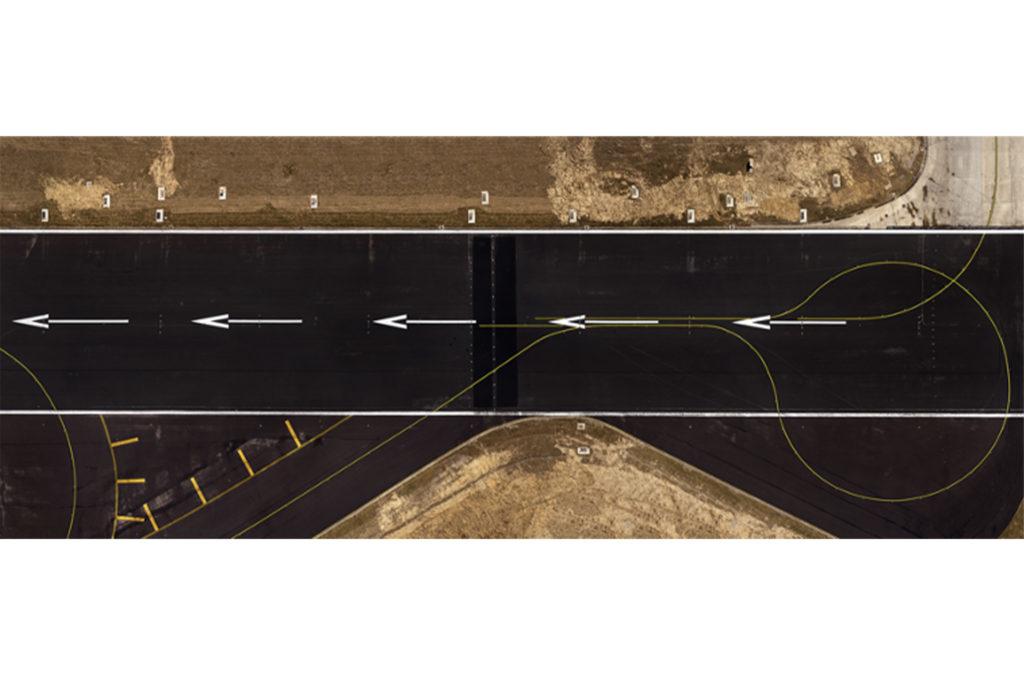 Antoine Gaussin
b. 1979. Belgium
Presented by The Spectacle Group
A French journalist-turned-photographer living in Belgium, Antoine Gaussin is best known for his meditative 'Rivages' collection and his latest aviation photography series, 'Uncharted'. Set in three Belgian airports, the artist's 'Uncharted' project is of a rare subject matter – a place many would frequent, yet, hardly pay notice to – portrayed in bird's eye view perspective and taken within restricted airspace. Gaussin views these airport runways as the places where cultures cross paths and individual lives leave their marks, observations made during his time as a constantly-travelling journalist.
Antoine Gaussin, 2019, gold ultrachrome print on plexiglas, 180 x 70 cm.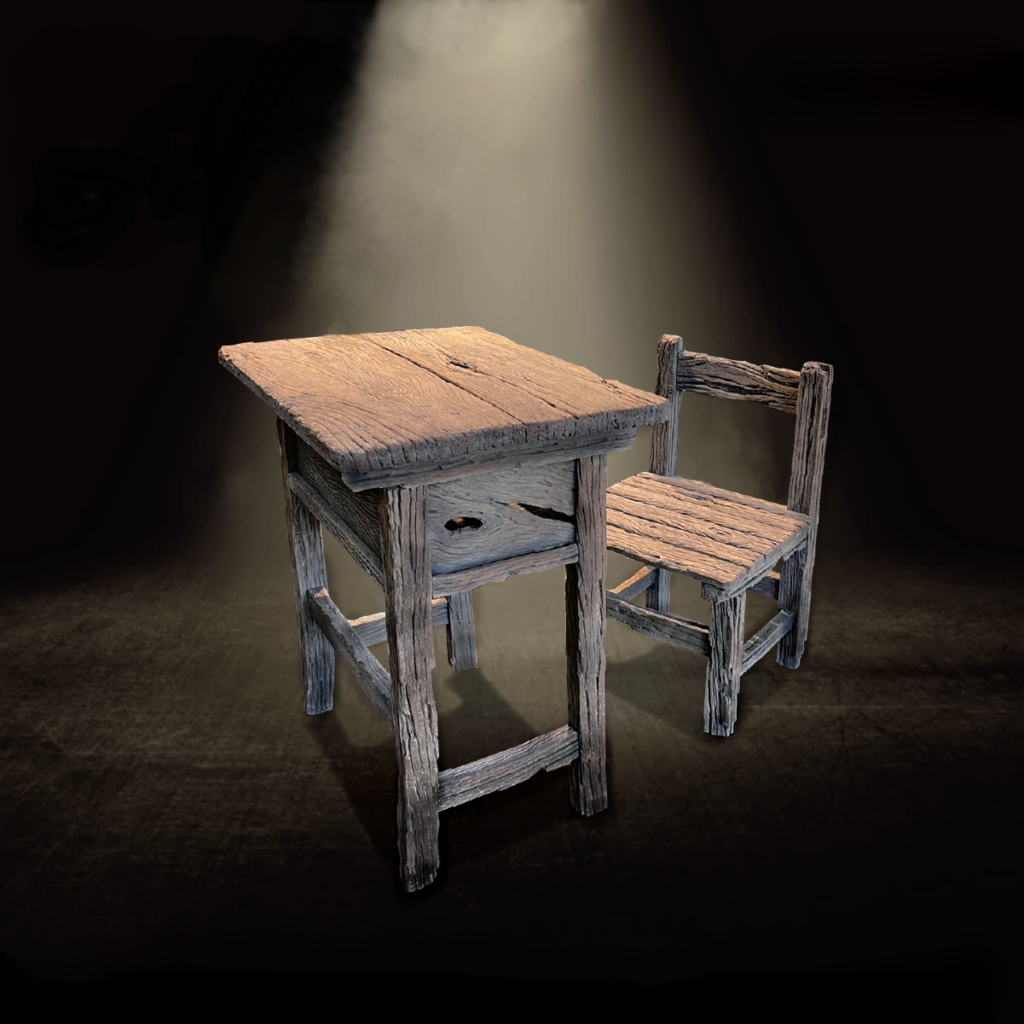 Chen Ching-Liang (Ah Leon)
b. 1953. Pingtung, Taiwan
Presented by Artspace K
Chen Ching-Liang (Ah Leon) is one of Taiwan's most renowned ceramic artists, having exhibited extensively in Asia, Europe and America since 1985. Chen's work employs trompe l'oeil, or deception of the eyes, as he indulges in the manipulation of clay to mimic the silken, softness of bean curd, or the sturdiness of wood. Viewers are engaged in a rare, sensory experience as the delicate touch of the ceramic lies contradictory to the visual enticement of the impersonating 'wood' or 'tofu', eliciting humorous responses, as one vacillates between realism and fabrication.
Chen Ching-Liang (Ah Leon), The Memory of the Elementary School, 2000, ceramic, table 60 cm x 44 cm x 66 cm, chair 36 x 39 x 62 cm.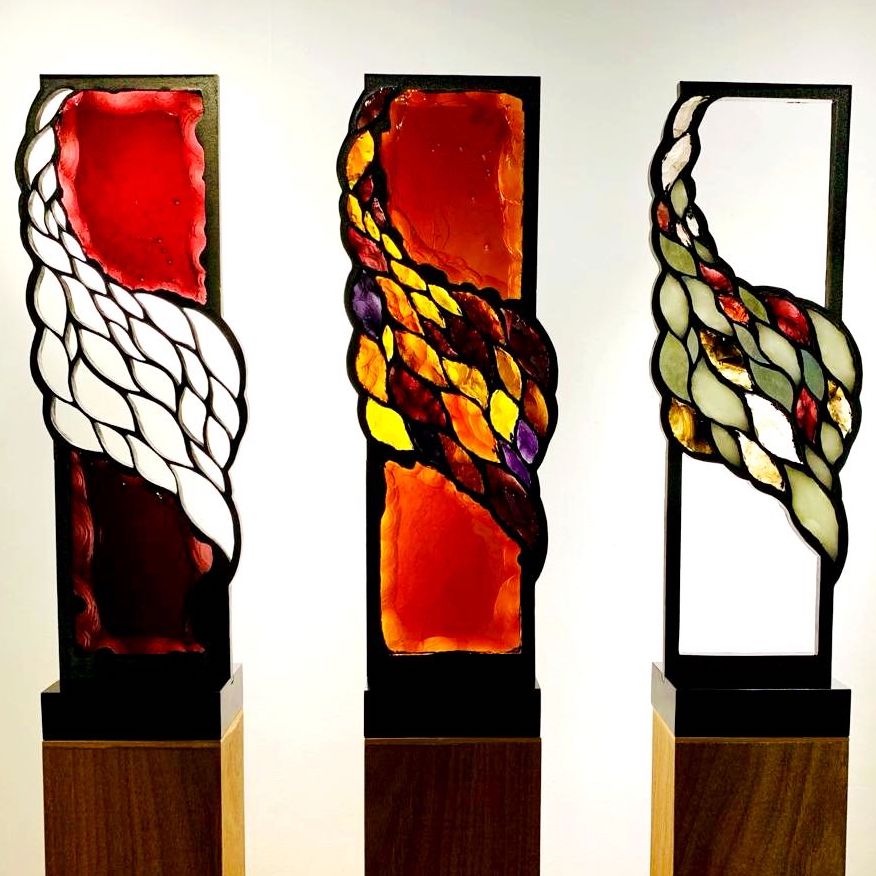 Christophe Denoux
b. 1960, France
Presented by CWC Art Gallery
Since the inception of his career, Christophe Dénoux has focused his artistic creations on the balance between colour and shape. By combining these natural elements with centuries of craftsmanship, he infuses his works with a contemporary edge. Sculpting slab glass into unique designs, he uses dimensionality and colour to touch the viewer's deepest emotions, with a view to transporting them in time and through a journey of light.
Christophe Denoux, Just a wingspan away, 2019, glass.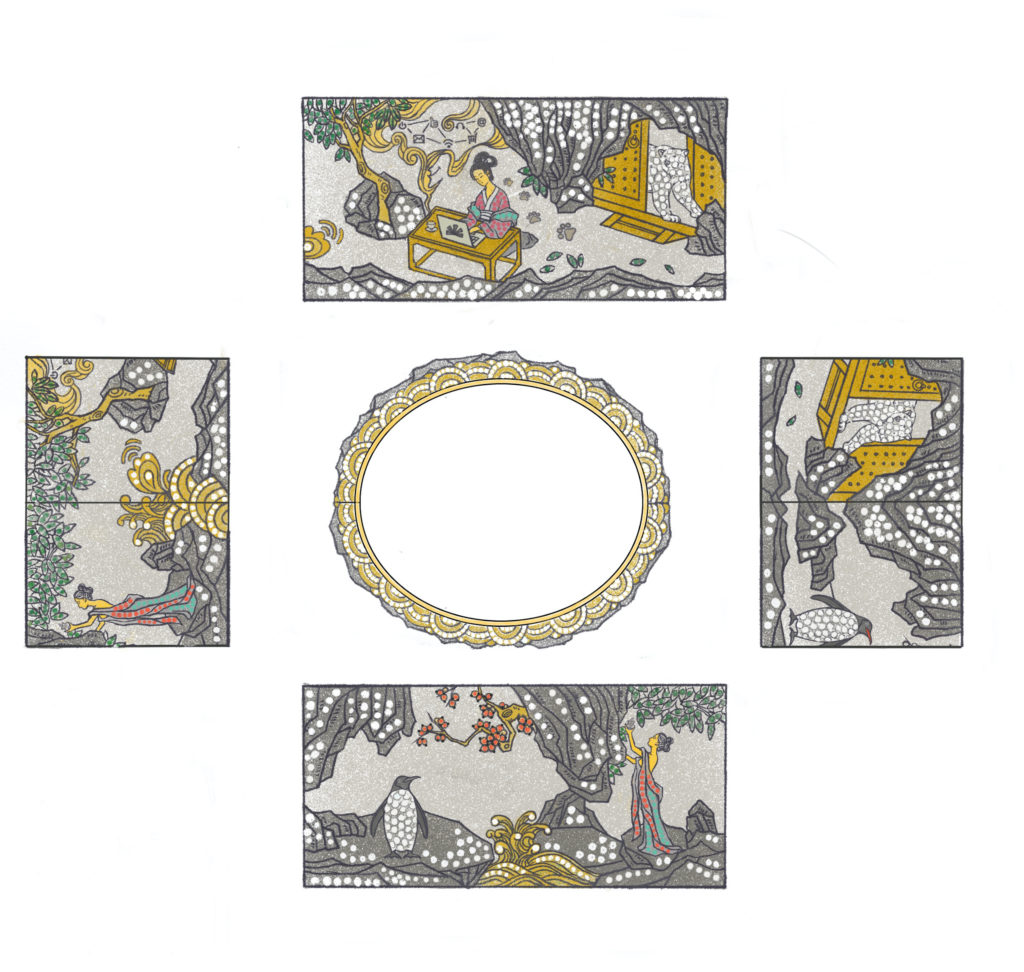 Dickson Yewn
b. 1970. Hong Kong, China
Presented by Literati Artspace
Dickson Yewn is a Hong Kong-born artist educated in Paris, Ottawa and New York. His conceptual fine jewellery collections draw inspiration from Eastern philosophy, mysticism and Chinese culture. Yewn spent his childhood on roaming through the lights and shadows drenched in diasporic ambiance, in the mood of bohemian Chungking Mansions – a cosmopolitan melting pot overwhelmed with polyglot hordes, where his artistic fantasy was wrought and delights of youth were relished. Yewn stepped on a journey in mediating his own cultural identity after he became fascinated in Taoism.
Dickson Yewn, Our World in 2049.