Yi Tai Sculpture & Installation Projects
Yi Tai, Art Central's platform for ambitious, large-scale installations and spatial interventions, derives its name from an age-old term meaning "variations of expressing the same Chinese characters", in reference to the adaptation of Chinese written language over many centuries. In modern usage, Yi Tai connotes something out of the ordinary, unusual or surprising. Yi Tai at Art Central presents an opportunity for galleries to present site-specific installations and sculpture in a prominent, curated space within the Fair. Selection for Yi Tai Sculpture & Installation Projects is led by Art Central's Curatorial Director in consultation with the participating artists and galleries.
2023 Yi Tai Sculpture & Installation Projects
Curatorial Director: Chris Wan
Drifting in (Art) Spectacle
Contemporary art produces spectacle. But unlike spectacle in the Guy Debord-sense of the word (the displacement of reality with images fueled by capitalism), art spectacle is more fluid and, at times, elusive; it can bring intense visual richness and pleasure, but it can also remind us of the dangers of social values being subliminally pushed to the surface.
Art spectacle comes from everyday life, at times extending in grand ascent, as in Bev Butkow's Reflective Connections, which weaves together everyday objects into reflective monuments; at others pausing and reversing into mundane re-enactments, as in Clara Wong's Prelude in A minor Trauma, which reconstructs a domestic theatre full of dark humour. Art spectacle also comes from history and wanders to the present, changing shape and offering new opportunities for intervention between tradition and present-day reality, materiality and emotion, as in BAHK's geometric perspective illusions drawn in space with charcoal in An Aggregation-Space 2023, or the inverted feeling of tradition in Huo Yun's sculptures made of paper in a reimagined form. Finally, art spectacle, while man-made, is not just a combination of images, it also reflects social relationships between people mediated by images. 
But let us not be passive viewers, not submit to the logical principles of observing spectacle. Instead, like the "dérive/drift" initiative1 advocated by the Situationist International in the 1960s, let's make this a non-traditional, improvisational, transitory, sensory experience of drifting through the art spectacle of the fair. And perhaps in this drifting, subverted reality and the apparent will meet again.
[1] "A method or technique of rapid travel through a variety of surroundings", in "The Society of Spectacle" by Guy Debord.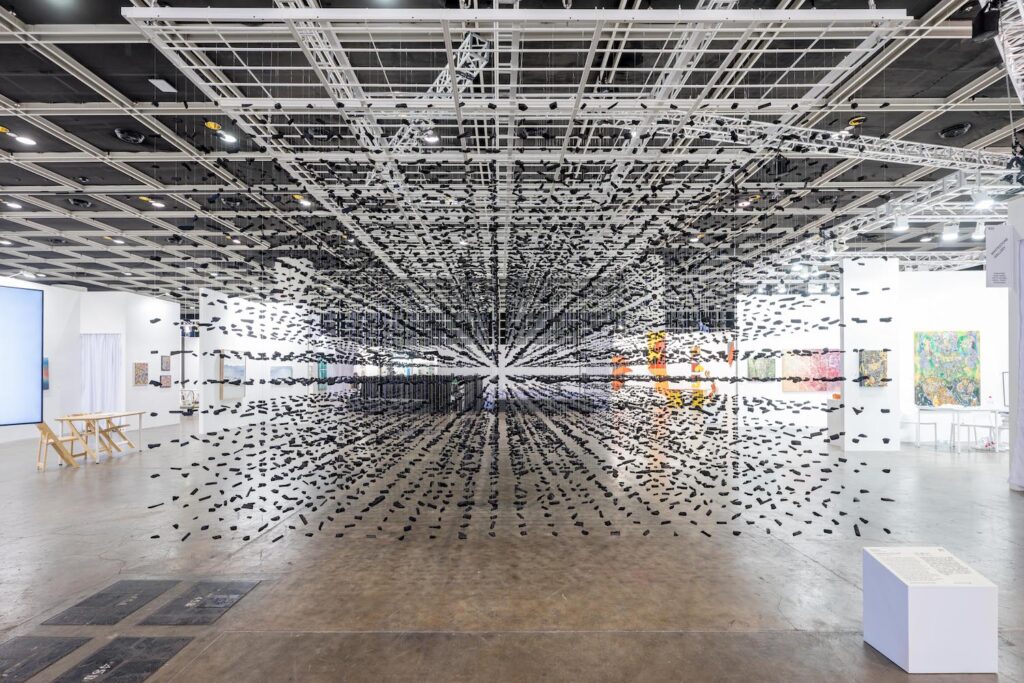 BAHK
An Aggregation-Space 2023
Charcoal, nylon threads, frame
8000 x 5000 x 3500 mm
Presented by 021gallery
Korean artist BAHK Seon-Ghi is renowned for his suspended installations that create three-dimensional illusions in space. Whether taking form in giant architectural arches or oversized clay pots floating in the air and fading away, BAHK's art is a reflection of modern human civilisation. The artist is fascinated by charcoal, the final physical form left behind after the burning of trees, as alternative evidence of the relationship between humans and nature. Specially made for Art Central, the large installation "An Aggregation-Space 2023″ doubles as a maze that welcomes the audience to walk through it. Its black charcoal parts float precisely in space to form geometric perspectives at unexpected angles, suggesting an examination of human rationality.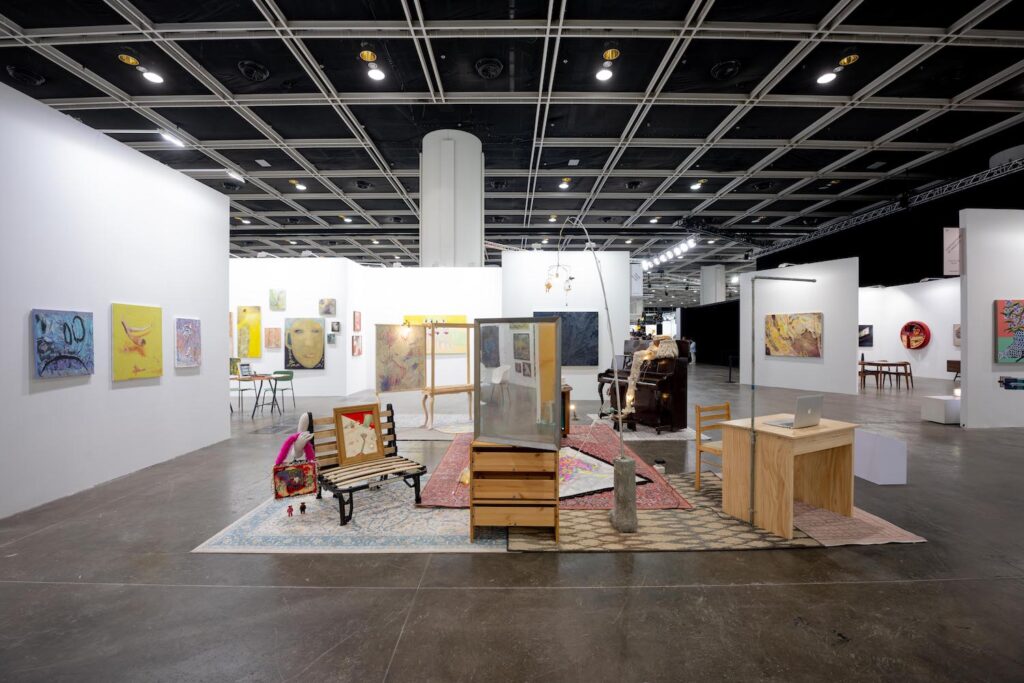 Clara Wong
Prelude in A minor Trauma, 2020–23
Household furnitures, lights, upright piano, clay, pvc pipes, hardwares, bee wax, seashells, fabric, yarn, canvas, fish hooks, wire, water, acrylic
5 x 5 x 3.5 metres
Presented by Square Street Gallery
Hong Kong artist Clara Wong uses comedic language and dark humour to discuss frustrations with daily life. Wong's artistic practice breaks the limits of paint on canvas, merging ready-made objects and forming a new symbolic scenery that spans from wearable art to edible objects. "Prelude in A minor Trauma" constructs a fictional living space with an unfortunate leaky water pipe and a computer that inevitably gets wet. Will it still work? Just as cramped interior spaces may be a metaphor for the oppressive reality of life in Hong Kong, the artist employs subversive ways of discussing personal traumas – and raises questions about their consequences.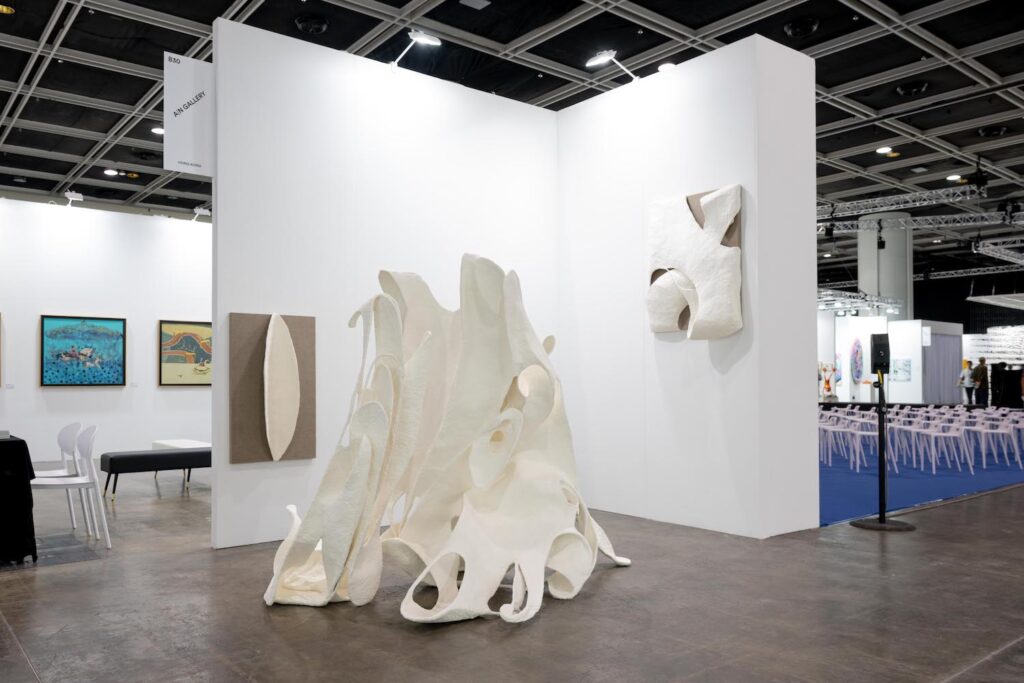 Huo Yun

When Memories Metamorphose into What You Imagined, 2023
Paper, mixed media
In three parts: 130 x 135 x 190 cm; 115 x 80 x 155 cm; 80 x 100 cm
Presented by a|n Gallery
This sculptural installation challenges the perception and imagination of paper as a traditional material: demolishing its smooth surfaces and giving way to vascular organic growths, their abstract forms coexisting with intertwining lines and spaces. Born in Beijing and based in Hong Kong, Huo Yun graduated from the Academy of Fine Arts in Bologna, Italy, an experience that inspired him to search for a shared, material-based artistic expression in Eastern and Western art. Huo's sculptural forms evoke a deep sense of history and tradition, as if from a viewer's long-lost memories.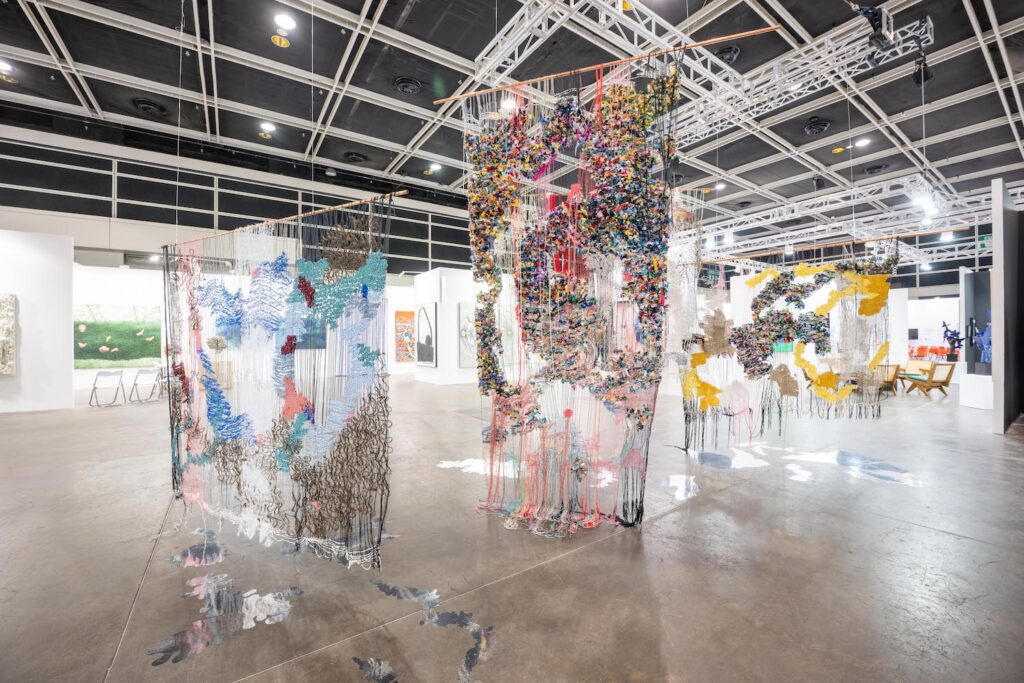 Bev Butkow
reflective connections, 2023
Thread, wool, string, twine, dressmaking scraps, glass and plastic beads, copper rods, time and labour. Produced with the assistance of Thandiswa Maxinyane, Cynthia Maxinyane and Danily Hunga.
Dimensions variable
Presented by Guns & Rain
In her reflective connections, the Johannesburg-based Butkow constructs a dancing installation of locally-sourced materials. How many of which may have originated in Asia? Four large, fabric-net forms of various shapes are suspended, their hand-woven construction suggesting a certain rhythm of use, like a set of giant fishing nets just pulled up from the sea – a salvage trip between Hong Kong and South Africa! Thinking beyond a world connected by capital, information, and labour, we are drawn to the interplay of Butkow's abstract soft sculptures, reflective materials and use of light, which invites viewers to explore their myriad details.
About the Curator, Chris Wan
Chris Wan Feng is a Hong Kong-based writer and independent curator with a research focus on locality and art ecosystem. His recent curated exhibitions include A Collection in Two Acts (2022, Rossi&Rossi), The Dust of a Long Journey (2022, Whitestone), Residual Heat (2021, Axel Vervoordt), among others. In 2023, he initialised "Blue Throat", an ongoing curatorial programme on Chinese diaspora and displacement. Chris has been contributing to many art journals and mass media, e.g., Artforum and Initium Media. He is also the founder and editor of Daoju (www.daoju.art), a not-for-profit art writing project with a focus of Hong Kong contemporary art scene.
2022 Yi Tai Sculpture & Installation Projects
Curatorial Director: Qu Chang
From Marton Nemes's techno light field to Afa Annfa's mysterious portal connecting various worlds; from Louis To Wun's bamboo sculpture of a mythological being to Bing Lee's painted, encoded scripts; from Sueyong Yang's landscape of eternity to Batten and Kamp's anthropogenic field of fantasy, the large-scale installations at Yi Tai 2022 emit a magical charm that isn't completely removed from reality, but deeply entangled with the memories, beliefs, affects, conventions and crises of our time.
The past few years have been an onslaught of lost and grief, isolation and struggle. At a time of trauma, thinking magic is perhaps a quixotic way to suspend reality, manage grief, then seek strength and inspiration. The 'magic' here refers not to a self-indulged escapism, or a childish fantasy, or the commodified 'mindfulness' culture as a part of the emotional capitalism. It is the 'magic hour' in cinematography, a transient moment in dawn and/or dusk where the sunlight is powerfully enchanting, before or after the 'blue hour' of nautical twilight. It is the 'magical thinking' in which writer Joan Didion travels across time, space and memories to resist the death of her husband[1]. At Yi Tai, it is the writing that defies comprehension, the revelry that investigates oppression, the laundromat where people wait for hope, the ethereal creature that transcends cultures, and the landscape that leads to immortality and post-human coexistence.
Like the duration of an art fair, magic can only persist for a short period of time. However fleeting, thinking magic could be a haunting ritual that honours what's lost, and portals abundant memories and a multitude of futures, where we remember, and reawaken.
[1] The Year of Magical Thinking, Joan Didion, 2005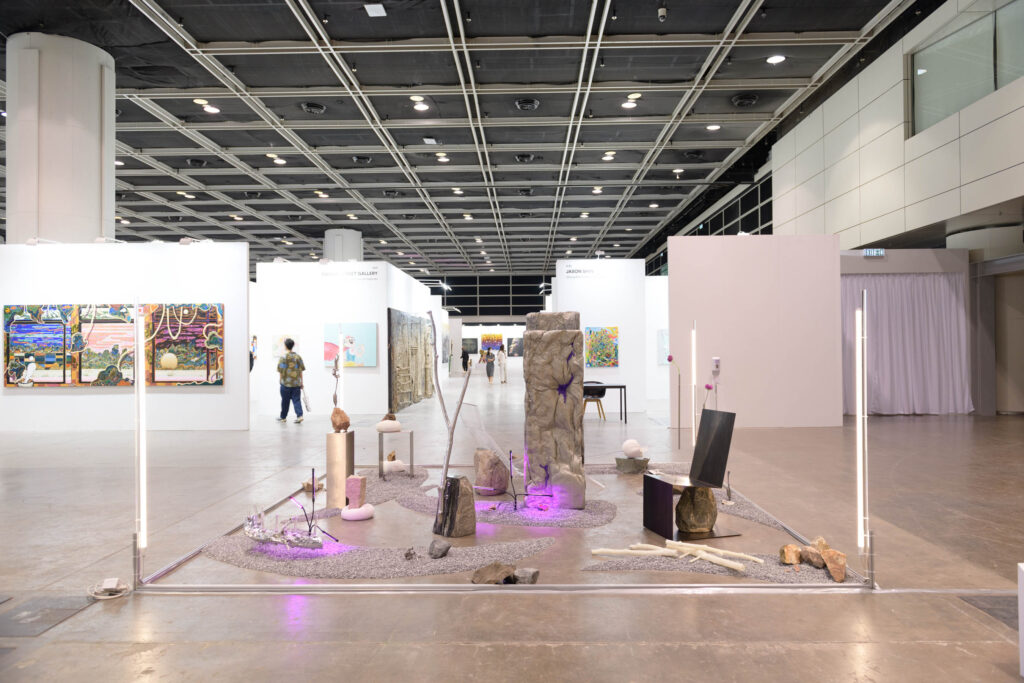 Batten and Kamp
Terra Incognita, 2022
Presented by Jeeum Gallery, Hong Kong
Using granite, aluminium, glass, cement, together with grow lights and plants made of plastic and metal, Hong Kong-based design duo Batten and Kamp presents a fictional field of the anthropocene. The landscape renders an archaeological site of the future in which 3D-printed objects become fossils, while an aluminium tree grows out from rock. Putting together existing sculptural works, work-in-progress materials, and consumer products, the duo rejoices in an ambiguous realm between synthetic and natural materials, artificial and living, process and result.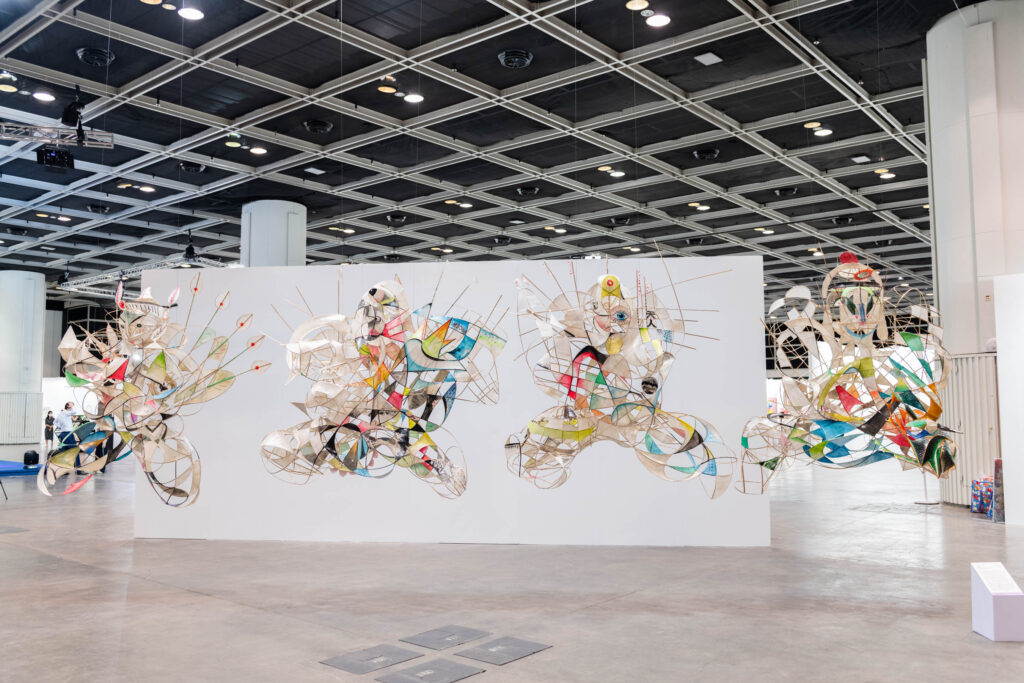 Louis To Wun
神荼鬱壘不在塲 San Syu Wat Leot Are Not Here, 2022
Presented by CWC Art Gallery, Hong Kong
Hong Kong-based artist Louis To's fantastical bamboo sculpture brings to mind the traditional Hong Kong craftsmanship of giant god statues, the geometrical abstraction of the European modernist movements, and the imaginations of gods and mystical animals.  Supported by intricate bamboo structures and fleshed by paper in various shapes, colours and patterns, San Syu Wat Leot Are Not Here presents a whimsical assemblage of cosmic abstraction resembling an ethereal creature. It interacts organically with its surroundings, responding to light and wind with oscillations and changing hues. Through its composition of abundant visual elements, San Syu Wat Leot Are Not Here connects cultures from different time-space while opening a portal to wild imaginations.  Throughout his art career spanning over 30 years, To practised traditional art using contemporary methods, breaking through traditional techniques. To's magical creation reflects his multiple sources of influence, and in this way, queers contemporary sculpture, painterly cannons and religious beliefs with a delicate combination of lightness and liveliness.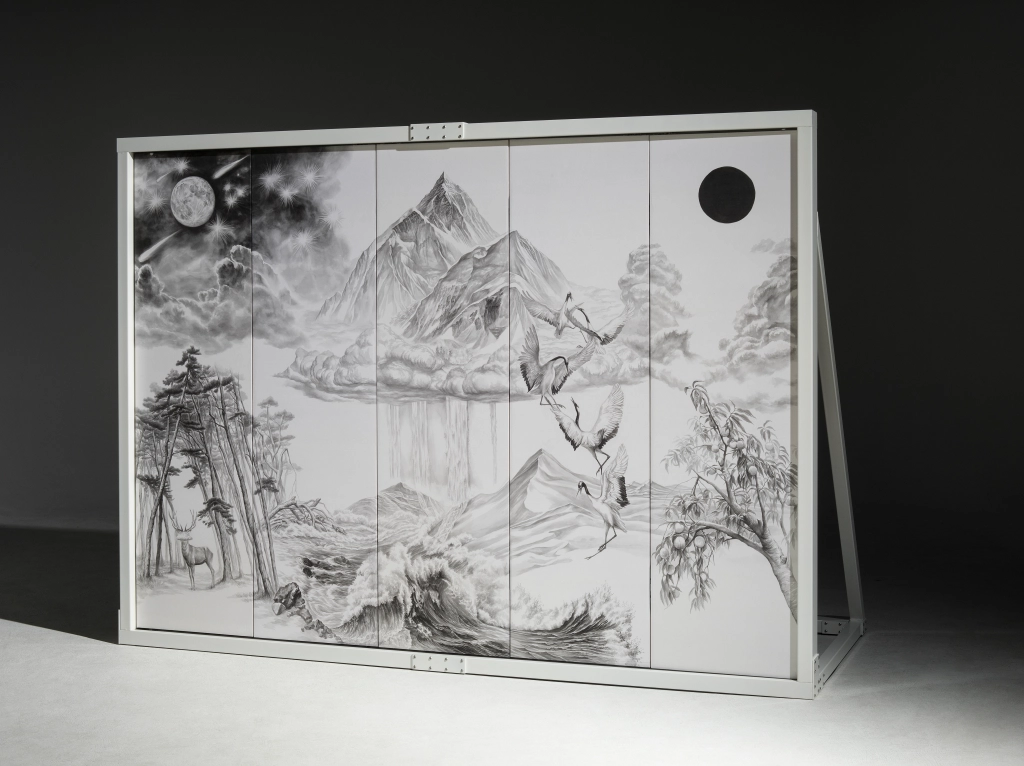 Sueyon Yang

The Journey to the Infinite Circle, 2021
Presented by Art Projects Gallery, Hong Kong
Referencing Ship-jangsaeng (ten symbols of longevity), one of the classic motifs in traditional Korean painting, Sueyon Yang creates a surreal landscape joined by the symbols of longevity, including the sun, the moon, clouds, rocks, mountains, pine trees, bamboo, water, peaches, deer, cranes, tortoise and lingzhi mushrooms. Trained in traditional Korean painting, Yang's artworks present fantastical scenes in fine, exquisite ink lines on delicate silk or hanji (Korean paper). The themes of her paintings centre on the mythological and philosophical imagination of immortality in East Asian cultures, and the futility and stoic beauty behind the contemplation of life and death. In The Journey to the Infinite Cycle, the artist invokes a looped landscape, in which the sea is connected to the trees, the mountains to the clouds, and the beginning to the end – in her quest for a glimpse at eternity.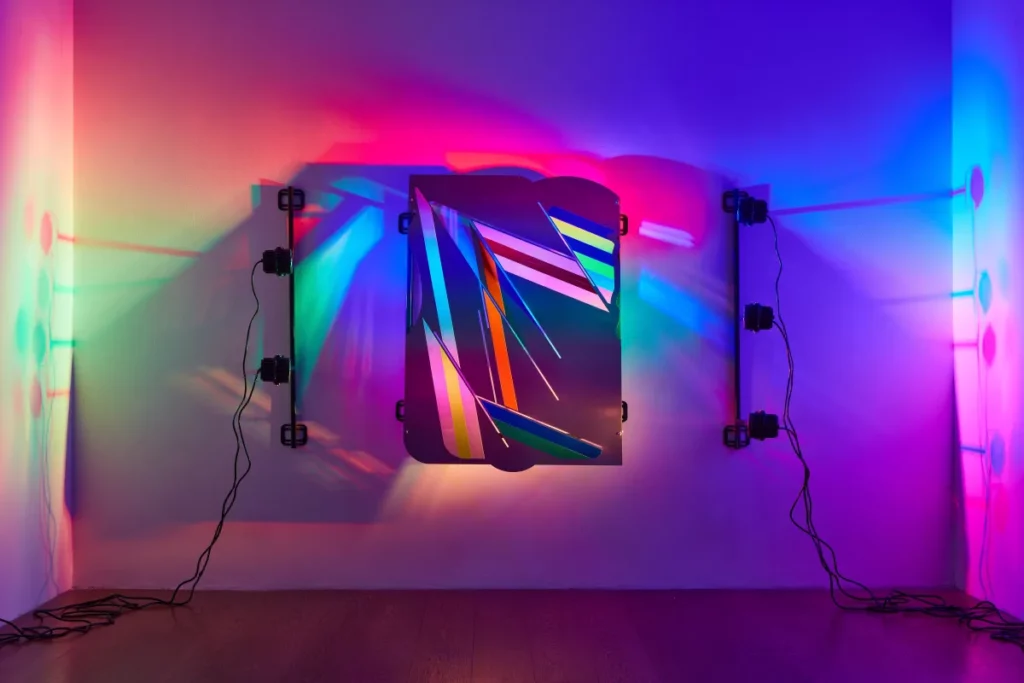 Marton Nemes
Police Party 22, 2022
Presented by Double Q Gallery, Hong Kong
In London-based artist Marton Nemes's new work, Police Party 22, a large panel of stainless steel with rainbow-like vinyl stripes reflects the multicoloured hue from surrounding stage lights, composing a flashy and almost psychedelic colour-field of expansion that is at once reminiscent of the dazzling nightclub scene and of dizzying emergency vehicle lights. Lurking below the panel, a set of loudspeakers intermittently trumpets musical beats, mixing electronic tunes with rhythmic sirens. Police Party 22 plays guilefully with the ambiguity between emancipation and control, revelry and violence. Inspired by techno culture, Nemes applies bright and bold colour abstraction on mirror, wood and metal planes. By employing industrial techniques such as PVC coating and laser cutting, and materials such as cargo straps and metal wires, the artist visualises the unlikely co-existence of sleekness and coarseness, hardness and fragility in a globalised, urban culture.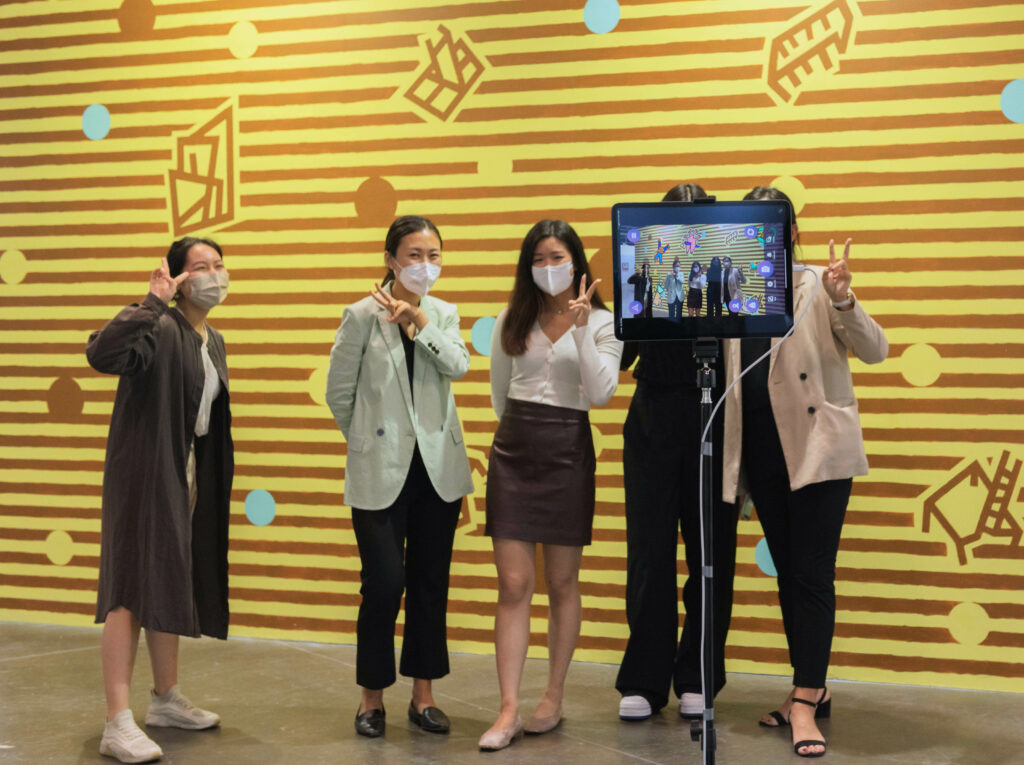 Bing Lee
Travel Log, 2022
Presented by Soluna Fine Art, Hong Kong
Since 1983, Bing Lee has been creating an on-going set of changing visual vocabularies in his Picto Diary series. Via the invention and appropriation of signs, lines, and colours, Lee composes his personal diary in a reservoir of pictorial codes. The hidden scripts created by the artist are full of changeability and flexibility, while the content presented is at once secretive and expressive, possessing the privacy of personal writings and the openness of public graffiti. Not unlike the early histories recorded on cave paintings, or the encrypted language in computer coding, Lee's Picto Diary is described by art critic Eleanor Hartney as "calligraphic automatism", which points to an intuitive release of feelings and memories based on the hieroglyph of Chinese language. The Picto Diary presented here are specific to Hong Kong and were created from 2013 to 2017.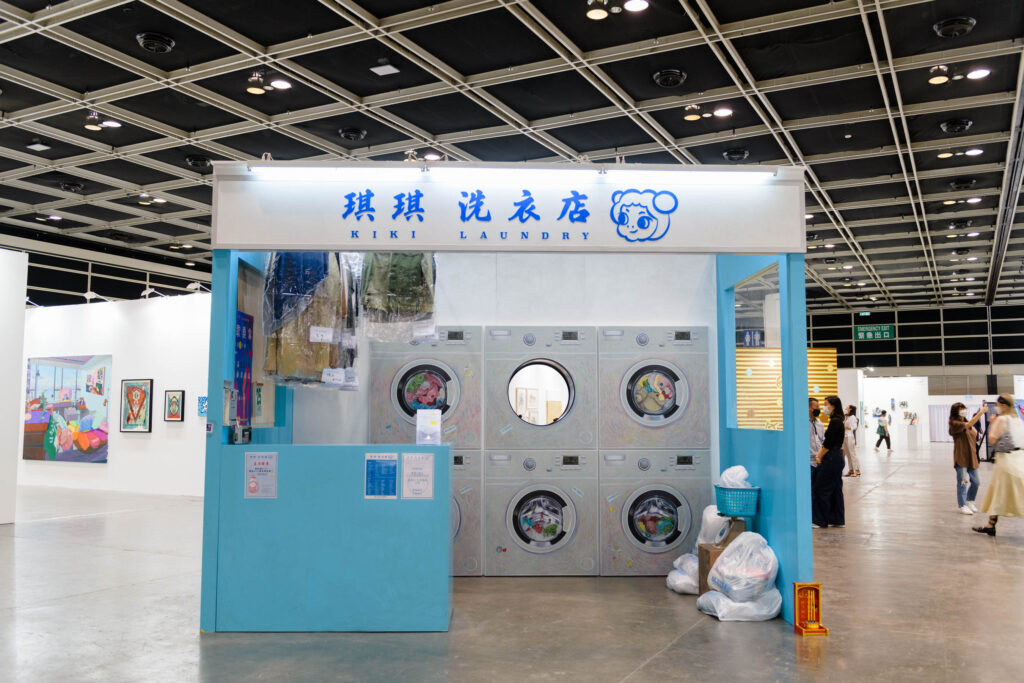 Afa Annfa

The Magical Hoop, 2022
Presented by JPS Art Gallery, Hong Kong

Through a magical porthole, a street-front laundromat in Hong Kong and a living room in Britain become connected and transpassable. Hong Kong-based artist Afa Annfa creates an imaginary scene in which the continuous waiting at the laundromat vibrates with Hong Kong emigrats' sense of longing and fatigue in a foreign land. Under the pressure of high housing prices and unsettling social transformation, both the laundromat and the emigrant's home embody Hong Kong people's longing for glimmers of hope and one day returning home. Within the spatial installation, the artist presents also a series of surreal drawings in which a group of young girls travel across different time-spaces through mysterious circular portals, searching for the hope of a new beginning.
About the Curator, Qu Chang
Qu Chang is an independent curator and writer based in Hong Kong.  Her curatorial projects include Sea Breeze (2019, Jogja Biennale, co-curated with Cosmin Costinas), Cafe do Brasil (2019, Para Site), Doreen Chan: Hard Cream (2019, HB Station), Crush (2018, Para Site), Law Yuk Mui: From whence the waves came (2018, Art Basel Hong Kong),  Adrift (2016, OCAT Shenzhen), among others. Meanwhile, Qu is also a contributing writer to Artforum, Ocula, Spike and other art journals. She is currently a PhD candidate at the Cultural Studies department, Lingnan University. Previously, she served as a curator at Para Site art space, Hong Kong.
2021 Yi Tai Sculpture & Installation Projects
Curatorial Director: Andre Chan
Traditional Western aesthetics is a sort of reflective contemplation with a set of objective values attached; the idea of beauty is related to the ability to give pleasure to the viewer. Since the beginning of Modernism, artists have moved away from making works that cater to the idea of beauty for the public and have rejected conservative values. Contemporary artists go even further, abandoning the idea of objective beauty to concentrate on expressing their own views – with scepticism and critique of universal truths and objective reality.
Immediate Aesthetics is an oxymoron that suggests we need to rethink the meaning of aesthetics in the 21st century, a time when artists use their own experiences as starting points to explore our collective understanding of the world as part of the human race. Chan Wai Lap turned his own personal habit into his artistic research and pursuit. Street art is the epitome of self-expression and Lousy has been tagging his signature 'Lovefaces' around the city for many years. Cindy Ng utilizes technology to reminisce about her hometown while Park Yoon Kyung presents contemporary painting from an Eastern perspective. Michael John Hunter shows us the way technology and the movie industry fool our eyes as a way to remind us to question what we see in the media. Michael Whittle exposes the hidden information in his own DNA as a way to explore the history of migration since the beginning of human history.
Moving away from a singular and utopic vision of modernist thought, Immediate Aesthetics, a survey on contemporary art today, observes the world we are in as better with a diversity of voices.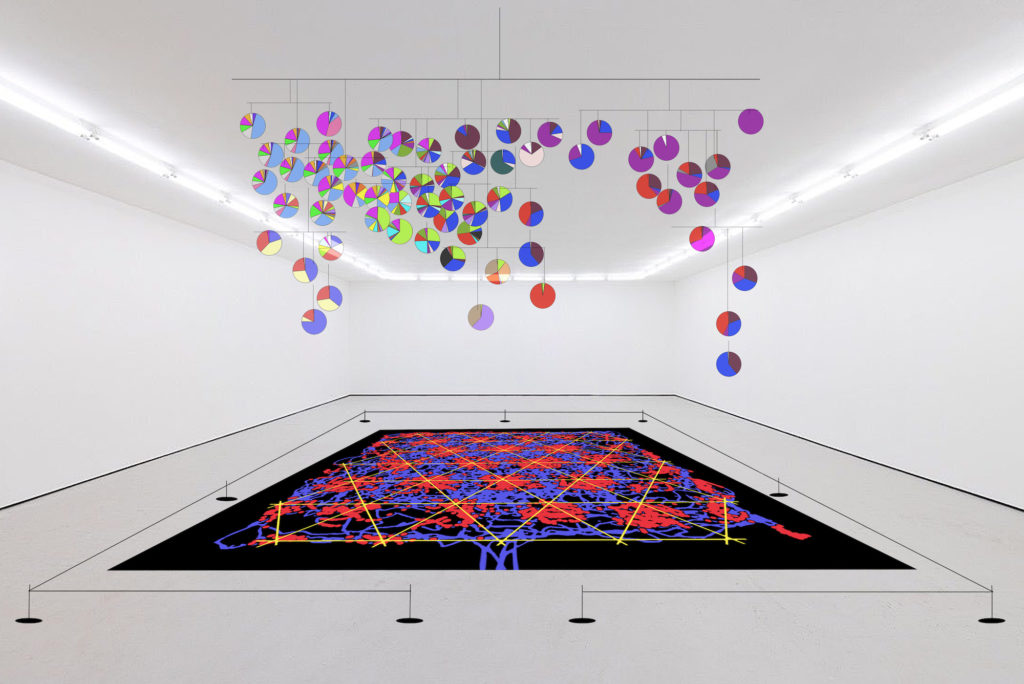 Michael Whittle
Perpetual Motion, presented by Gallery LEE & BAE
Mitochondrial DNA is passed down from a mother to her offspring. Through the process of tracing the lineage of DNA by its subtle mutations, and comparing it to fossil records, scientists can determine the migration of our human ancestors in prehistoric times. Juxtaposing with the glass discs overhead, the installation's carpet graphically shows how the brain works when a person navigates in space. Perpetual Motion reminds us that human migration is inherent in the development of humans as a species and is vital to the success of human survival, even in the present time.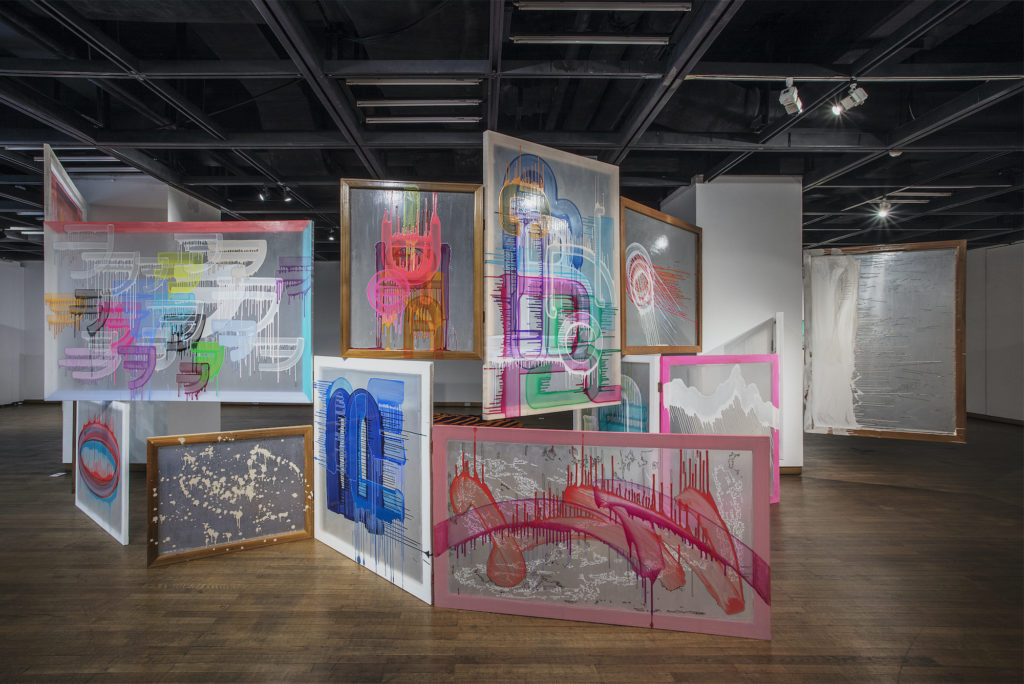 Park Yoon-Kyung
Painting Tower, presented by Soluna Fine Art
Painting Tower is a collection of abstract paintings on stretched chiffon in which the see-through quality of the fabric offsets the weight of the towering installation. Park's technique traces her Eastern cultural lineage, where painting has traditionally been made on lighter fabrics compared to western painting on canvas. Her images draw on grapheme from different languages and the resulting drips of the paint on a vertical surface provide a more fluid sensibility. Park's recent works reference her interest in the environment, human relationships and her position as a female Asian artist.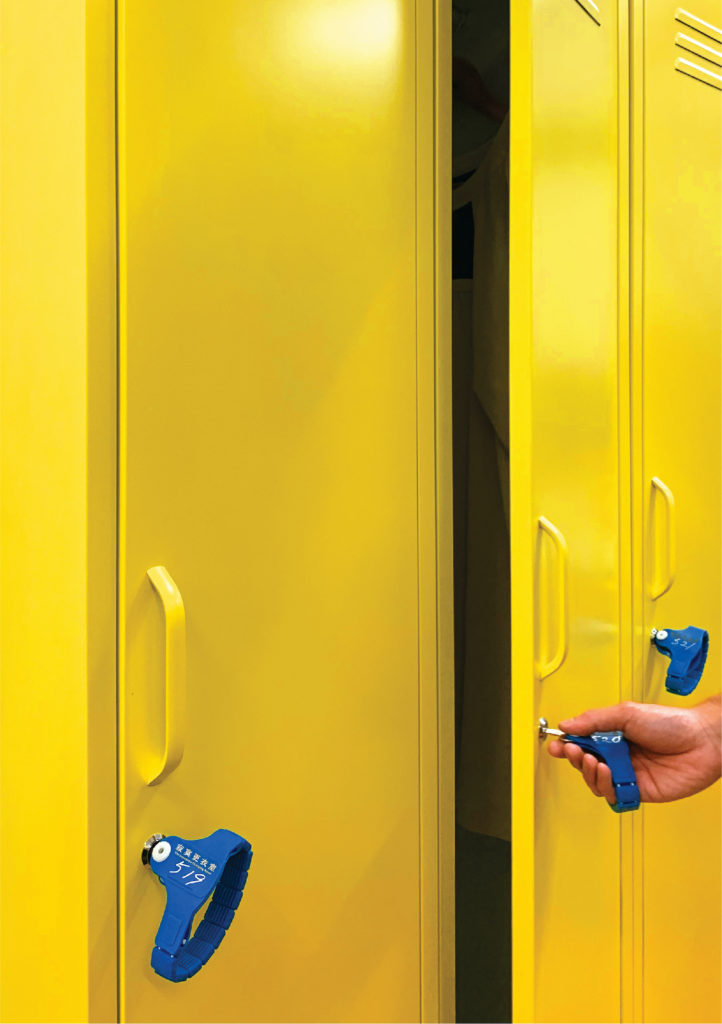 Chan Wai Lap
The Lonesome Changing Room, presented by Contemporary by Angela Li
Chan Wai Lap frequently swims in swimming pools, even when he is travelling. His observation and research focus on these experiences and his relationship with the space itself. The Lonesome Changing Room recreates a swimming pool changing room within the fair to reveal a normally-deemed private space in an utmost public fashion. Dotting the installation are meticulous drawings of various swimming spaces the artist has visited, documenting his experiences with careful observation.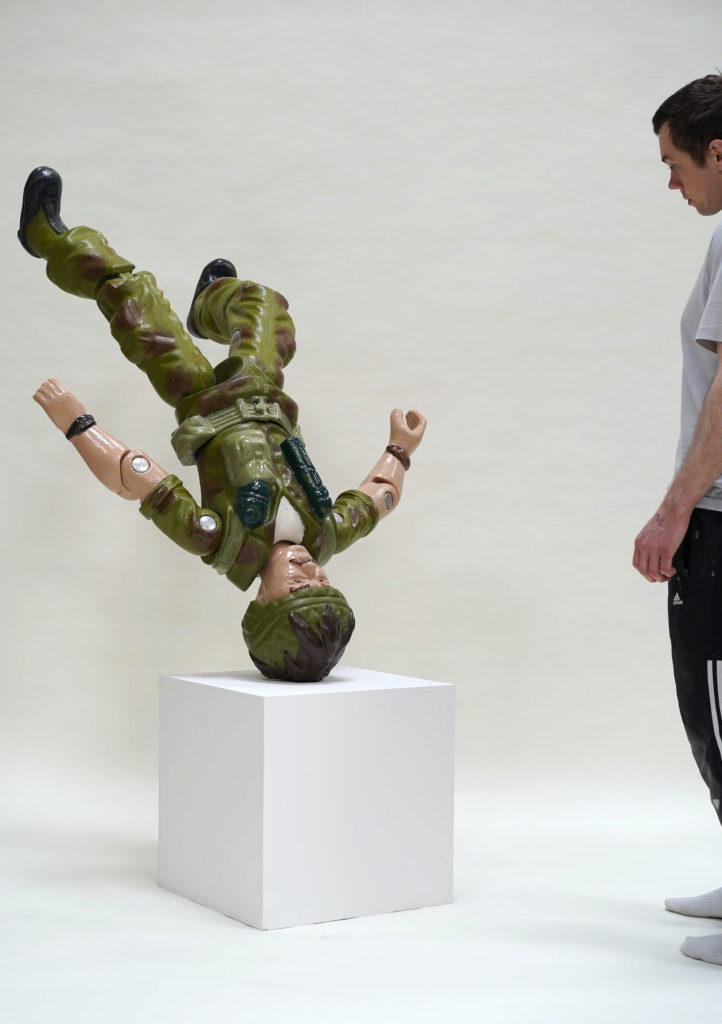 Michael John Hunter
Falling Army Man, presented by JPS Gallery
Michael John Hunter works in the film industry, giving him insight into the ways cameras and practical effects can manipulate the audience. His work often involves making hyperrealistic sculptures of toys, installing them in real-life locations, and photographing them as a way to explore the manipulation process. Falling Army Man Toy successfully creates the illusion of weightlessness and movement by simply tipping the sculpture upside down, supported only by its head.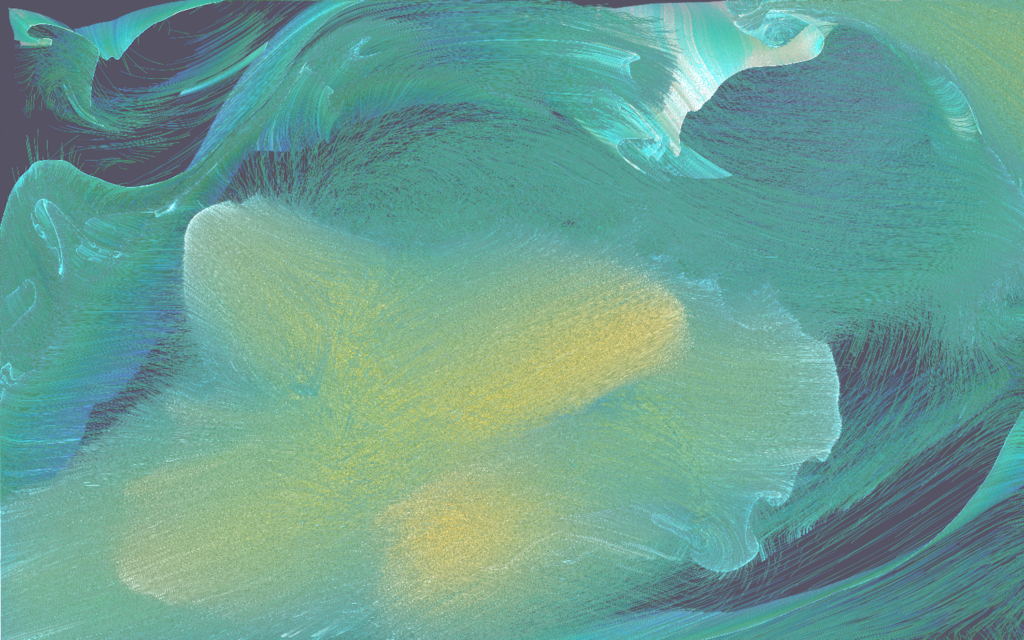 Cindy Ng
Rhythm #2, presented by A Gallery
To create Rhythm #2, the artist converts live weather data of her hometown Hong Kong into an abstract moving image that is akin to her own works in ink. The transformation, using the various software programming, can be seen as a novel way to achieve the same result as traditional painting practice – where the environment is distilled into a graphic realm by the imagination of the artist.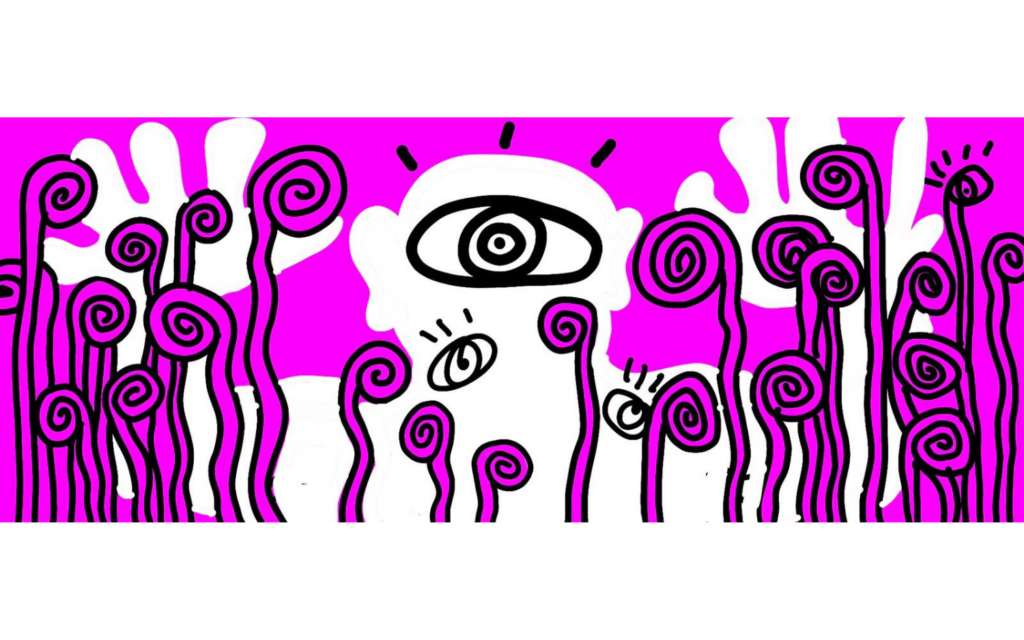 Lousy
Come Together, presented by Gallery HZ
Inspired by the Lucerne cave paintings and Jean Cocteau's line style, Hong Kong artist Lousy stripped down his visual language to simplified, wavy, rhythmic lines with a bright neon palette, forming the basis of his distinctive style. In two large-format panel works the artist reflects on personal experiences of the past year which have prioritised human connections and time in nature.
About the Curator, Andre Chan
André Chan is a Hong Kong-based independent curator and writer. Chan has worked with a number of international galleries and produced exhibitions around the world. He is the co-founder of Arts Collective in Hong Kong; his curatorial work currently focuses on artists' practices and contemporary urban issues.
Chan, together with Chong Chin-yin of Arts Collective, curated Æthereal at the National Taiwan Museum of Arts, Taipei (17 April – 11 July 2021). He served as co-curator, with Erica Yu-Wen Huang, of Post-Anthropocene, a recent exhibition at the 2020 Taiwan Biennial (Zit-Dim Art Space, Tainan). Chan was selected for the Emerging Curator Program 2018 by Shanghai Powerstation of Art and Emerging Curator by Para Site. Other recent exhibitions and performance include Borrowed Scenery (Cattle Depot, Hong Kong, 2019), Flanêur (Tsim Sha Tsui,Hong Kong, 2019), Very Natural Actions (Tai Kwun Contemporary, Hong Kong, 2019), A Tree Fell in the Forest, and No One's There (Power Station of Art, Shanghai, 2018), and Kotodama (Para Site, Hong Kong, 2018).
Curated by Ying Kwok, Projects 2019 provided Art Central with a platform to support the presentation of contemporary art with aspirations of scale and non-traditional approaches.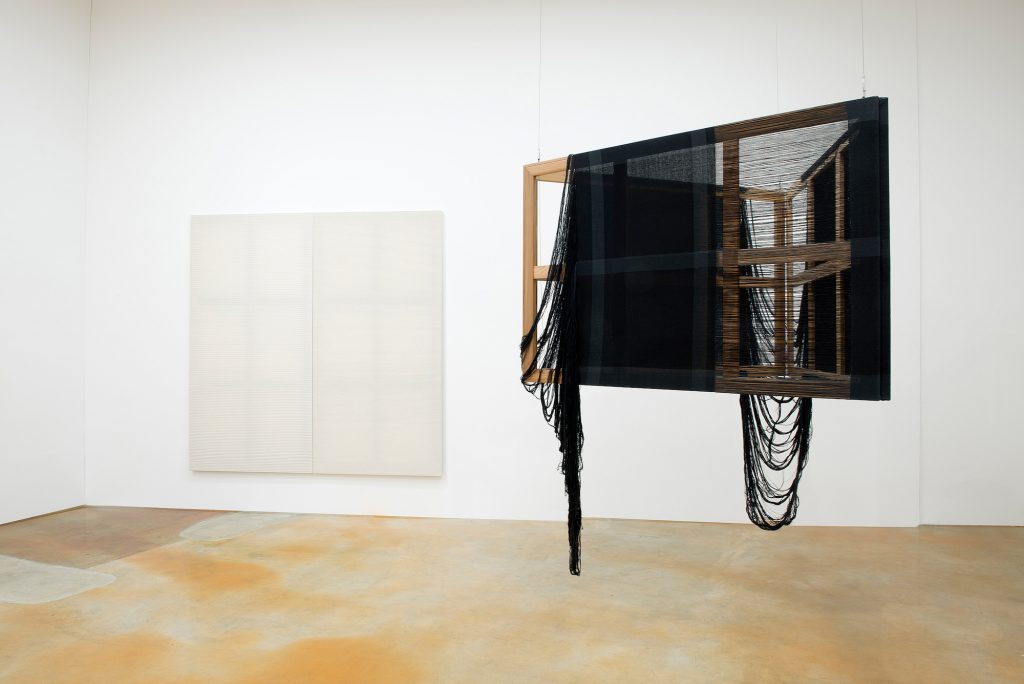 Seungean Cha​ (South Korea)

Triple Twill Triptych, presented by Atelier Aki
Korean artist Seungean Cha creates paintings through a weaving method, in reference to Korean and Western modern abstract work. The newly commissioned work to be shown at Art Central is deeply entwined with the idea of time and progress – through the act of weaving, the theme of 'arranging the time' is realised by the artist, with the next step of the process not able to happen without observing the time needed to complete the previous one. With the features of her work being both textiles and paintings, these contrasting characteristics allow her to contemplate relationships between painting and weaving, visual representation and tactile existence, and ideas and substance. Cha sees her work as an opportunity to rearrange the tangled time and experiences of the past in conjunction with the present.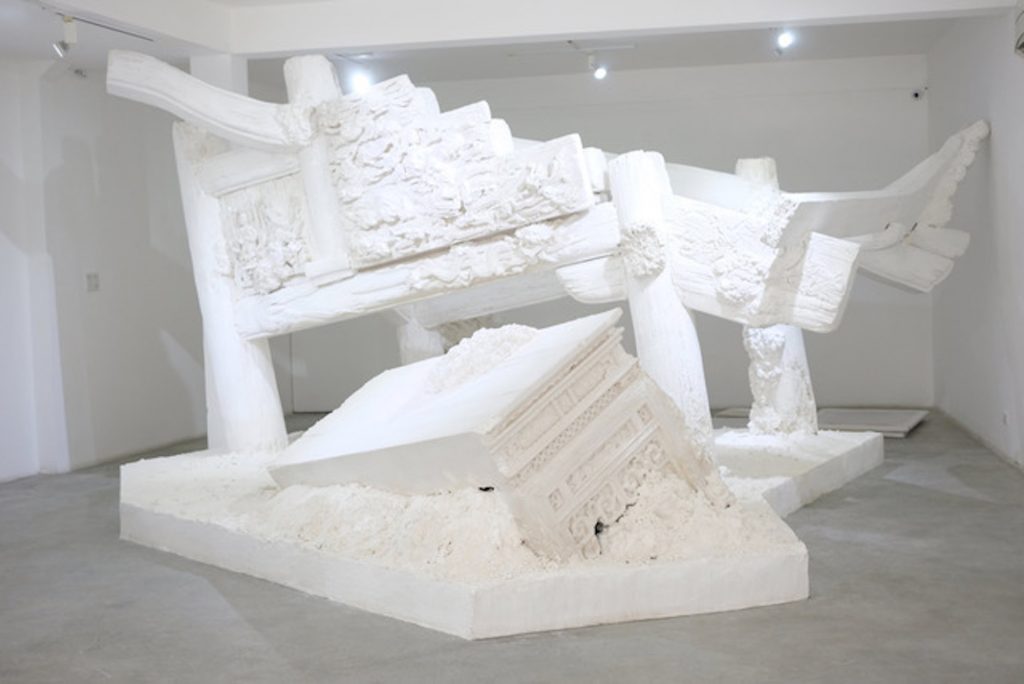 Lê Giang​​ (Vietnam)

Phản Niệm, presented by Vin Gallery
A traditional building from ancient Vietnam, the đình is a public space for worshipping and communal gatherings. Using the same architectural methods as traditional craftsmen, emerging young artist Lê Giang has recreated four sculptural replications, each holding important values from the Lê dynasty. The corner object, decorated with typical đình motifs, evokes a sense of spatiality found particularly in this traditional architecture, while the altar placed in the center embodies the spiritual core of the structure.  The scroll ornament engraved with the words "Phản Niệm" proposes a variety of associations and underlying questions: Is this a reflection of a memory, or a statement against the idea of conceptualism?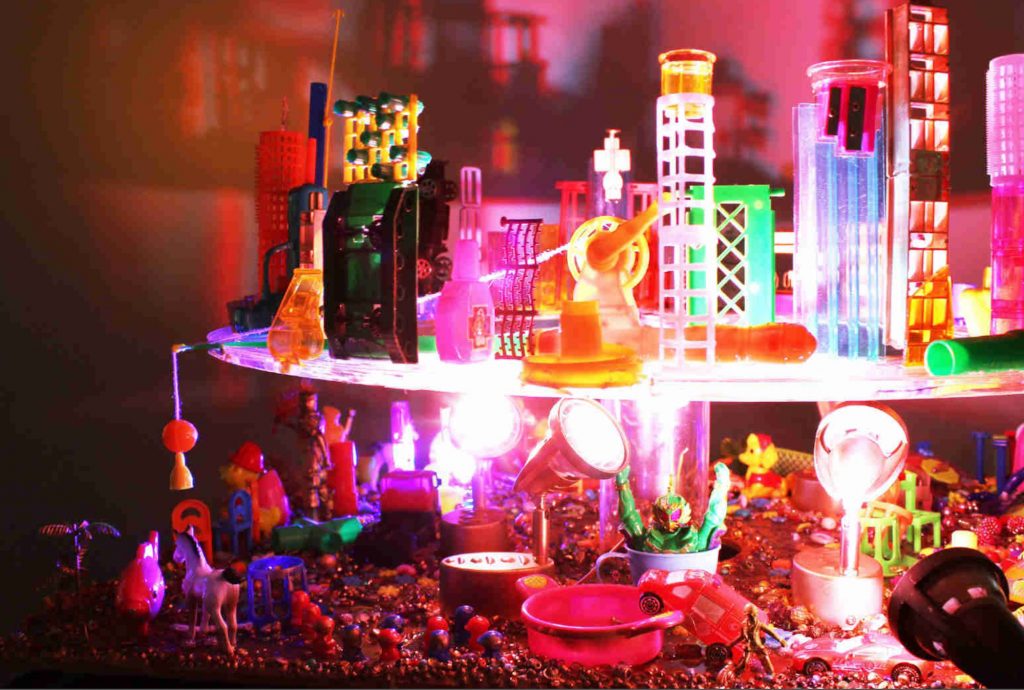 Angela Yuen​ (Hong Kong)

City Rhapsody – Project Roseate, presented by Contemporary by Angela Li
Hong Kong artist Angela Yuen's art practise focuses on urban culture; a tangible expression of the disappearing city's values and the local cityscape. Angela looks to explore the correlation between urban development and the city's value via the mediums of installation and photography. City Rhapsody – Project Roseate is an imaginary skyline made from locally sourced manufacturing objects, each marking a significant era from Hong Kong's manufacturing past in the 1950s and 60s. Using plastic toys, the artist has constructed a series of "dreamscapes" – a fantasy homeland that people from that time may have visualised. The spinning sculpture, meanwhile, resembles the once-endless sprawl, and the motion of spinning is a metaphor of the city's dynamic movement. The closer people engage with the city, the more complex and dynamic it becomes.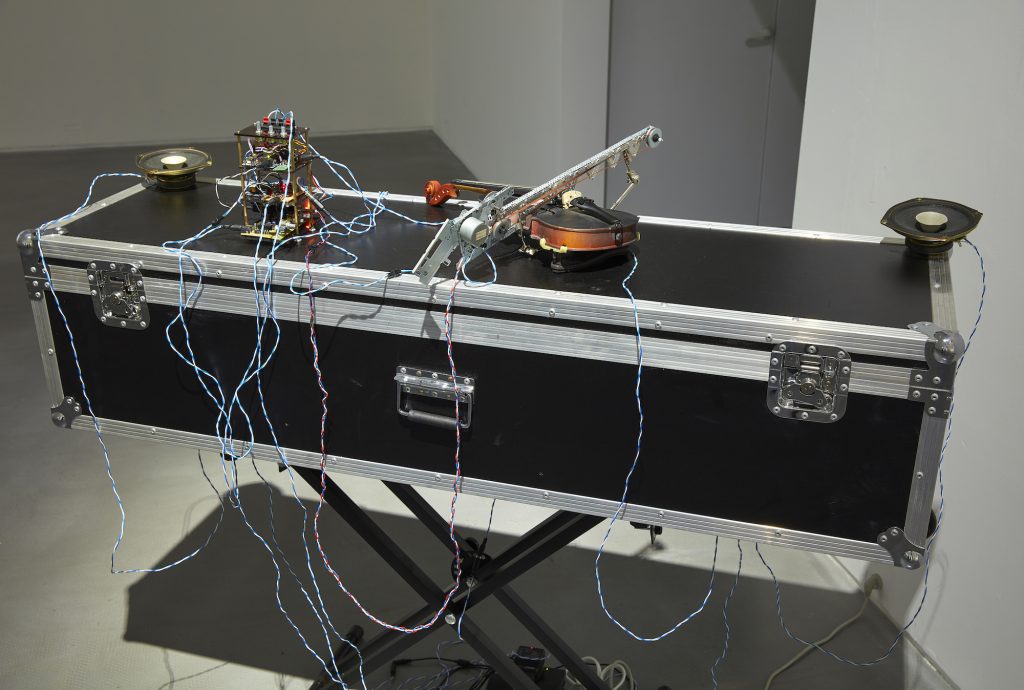 Cheuk Wing Nam​ (Hong Kong)

AK7 shou3, presented by Contemporary by Angela Li
Hong Kong interdisciplinary artist Cheuk Wing Nam incorporates new elements into a site-specific reworking of the audience participatory Ak7 shou3, an installation comprised of a violin, a cello, cassette players and speakers. With sensors attached to the edge of the installation, sound will be emitted as members of the audience approach the work. Each subtle interaction will influence the delicate balance between the string instruments and the tape, revealing the interrelationship between past, present and future. Cheuk Wing Nam is devoted to developing new concepts by mixing sound and other media with modern computer technology in her art, with an interest to demonstrate the relationships between light and shadow, and between sound and space.

HOPE, ROCK, KISS, LIVE, presented by Art Seasons
HOPE, ROCK, KISS, LIVE, presented by Singapore-based contemporary art and design collective PHUNK, aims to evoke positive emotions about the current state of the world, which is filled with uncertainties brought about by technological disruption, climate change, social inequality and political injustice. The artwork is formed by the changing appearance of street posters, where the peeled off layers reveal the impermanence of current events. The aftermath of the paper tears serves as a memorial to the past, and a reminder to embrace change as a renewal of the human spirit.

Heri Dono​ (Indonesia)

Smiling Angels from the Sky, presented by The Collumns Gallery
Smiling Angels from the Sky is an installation by renowned Indonesian artist Heri Dono. Known for his characteristic merging of contemporary influences with traditional and folkloric elements, Heri Dono represented Indonesia in the 56th Venice Biennale in 2015 and his works have been acquired by major institutions such as the Deutsche Guggenheim, the Fukuoka Art Museum, the Singapore Art Museum, the National Gallery of Australia, and the Tropenmuseum, among others. A recurring element of Heri Dono's work, the angels are unrelated to any particular religion but are a symbol of the ethereal spirit. 
In this iconic configuration, Heri Dono's smiling angels represent enthusiasm in facing the future. The angels who come from the sky are a symbol of the discourse of life, where imagination, fantasy, dreams inspire the building a noble life, culture and civilization for humans and the wider universe; bringing 'Chakra' energy from the gods, the fire of life.
About the Curator, Ying Kwok
Ying Kwok is an independent curator based in Hong Kong. She works independently with a diverse range of art and cultural institutions nationally and internationally, from artist's initiatives, art festivals, to public museums and the commercial sector. Her research-based curating often synthesizes different art forms in contemporary visual art, from site specific commissions, performances, to film and video. Kwok has been the curator for Contagious Cities: Far Away, too Close for Tai Kwun Contemporary and Wellcome Trust, the lead curator of LOOK International Photography Festival 2017, and guest curator at M+ for Samson Young: Songs for Disaster Relief as Hong Kong presentation at the 57th Venice Biennale. Before embarking on her independent career, Kwok was the curator at the Centre for Chinese Contemporary Art in Manchester UK, between 2006 and 2012.
Apart from curating, Kwok also founded Art Appraisal Club with a group of local art professionals in 2014, in order to encourage critical thinking and initiating effective art discussions in Hong Kong. The group provides regular exhibition reviews and their articles are published in magazines, various cultural networks and their own bilingual journal, Art Review Hong Kong.
In 2018, PROJECTS featured two important facets of contemporary art practice: progressive mediums such as technology, augmented reality and kinetic art, alongside insightful historical and cultural narratives. Curated by Ying Kwok.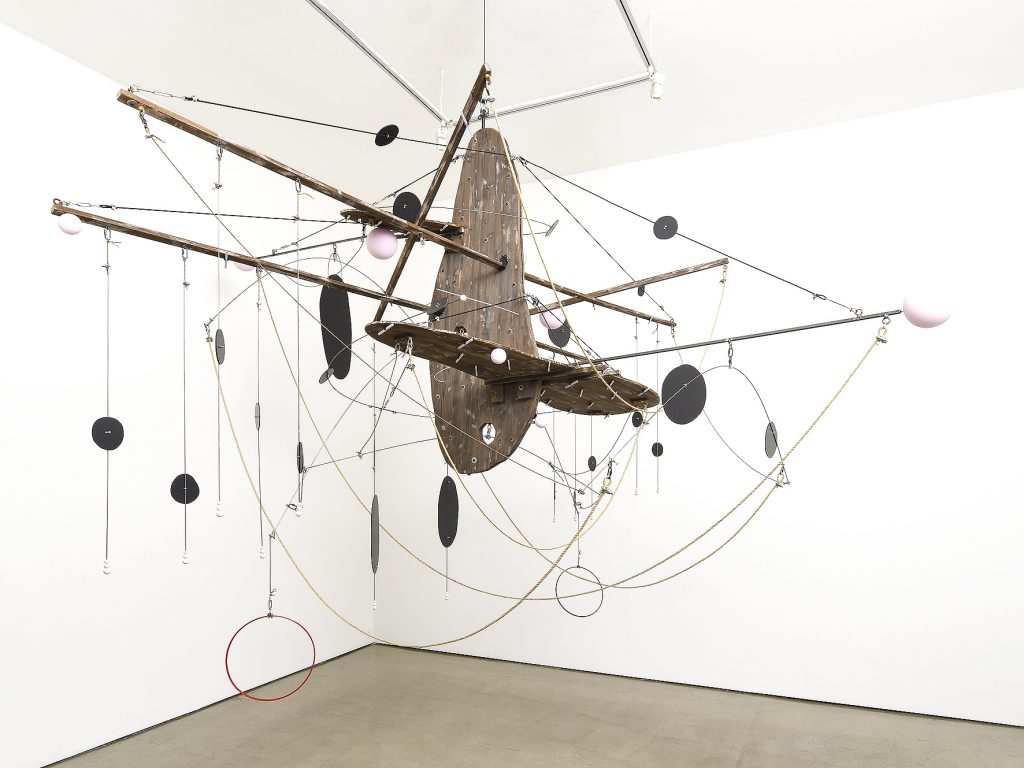 Yang Jung Uk (South Korea)
Scenery of Dialogue, presented by Gallery Hyundai
Yang Jung Uk is primarily recognised for his kinetic sculptures, that seeks to formatively unravel the rhythms and sequences of daily life. Yang's work consists of lyrical texts derived from his personal experiences, which are transformed into kinetic sculptures made of wood, thread and other materials. Repetitive kinetic elements — from motors and LED lights within the sculptures — realise and reflect the narrative texts that accompany each of his works.  Scenery of Dialogue – a special commission for Art Central – is the artist's first ever mobile work, creating kinetic movement without the use of electrical power.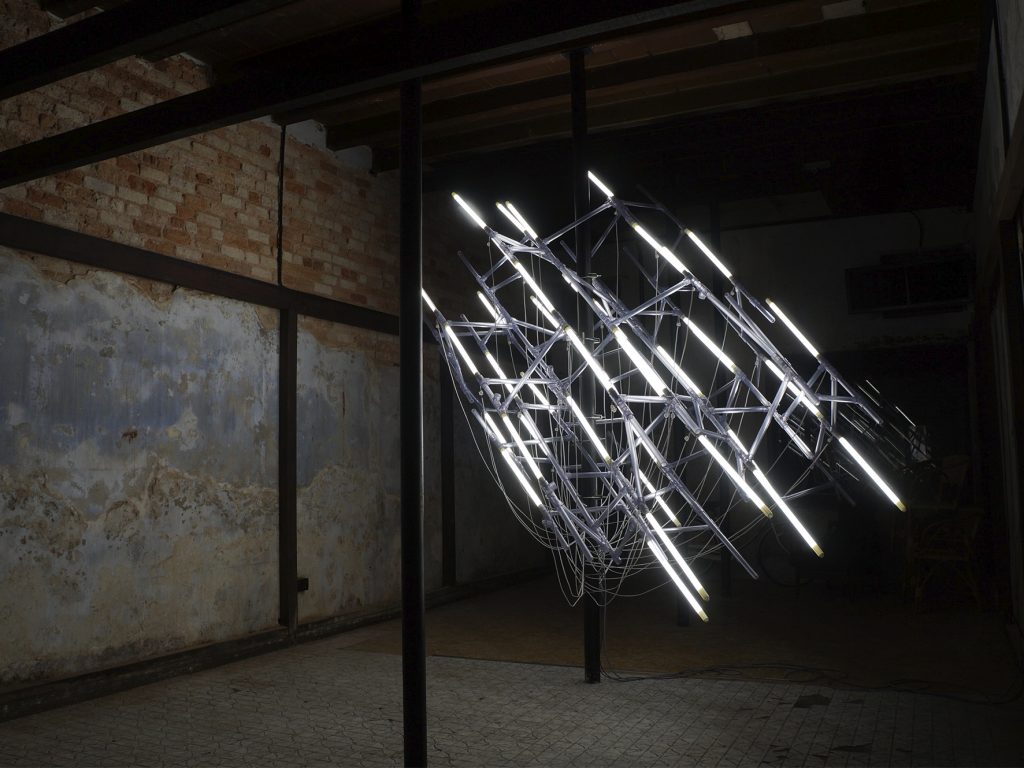 Wong Jun On (Malaysia)
Shanzhai Chandelier, presented by Richard Koh Fine Art
Wong Jun On is an architect and artist, his cross disciplinary practice explores the boundaries of light art. Straddling applied and fine art, he is known for producing large-scale structural light installations that explores the relationships between mass production and human interactions. In this work LED light components come together to echo the classical form of an European chandelier. Where precious stones were once used to reflect candle light, LED pixels now create artificial illumination, a metaphor of the blurring boundaries between luxury and the mass produced.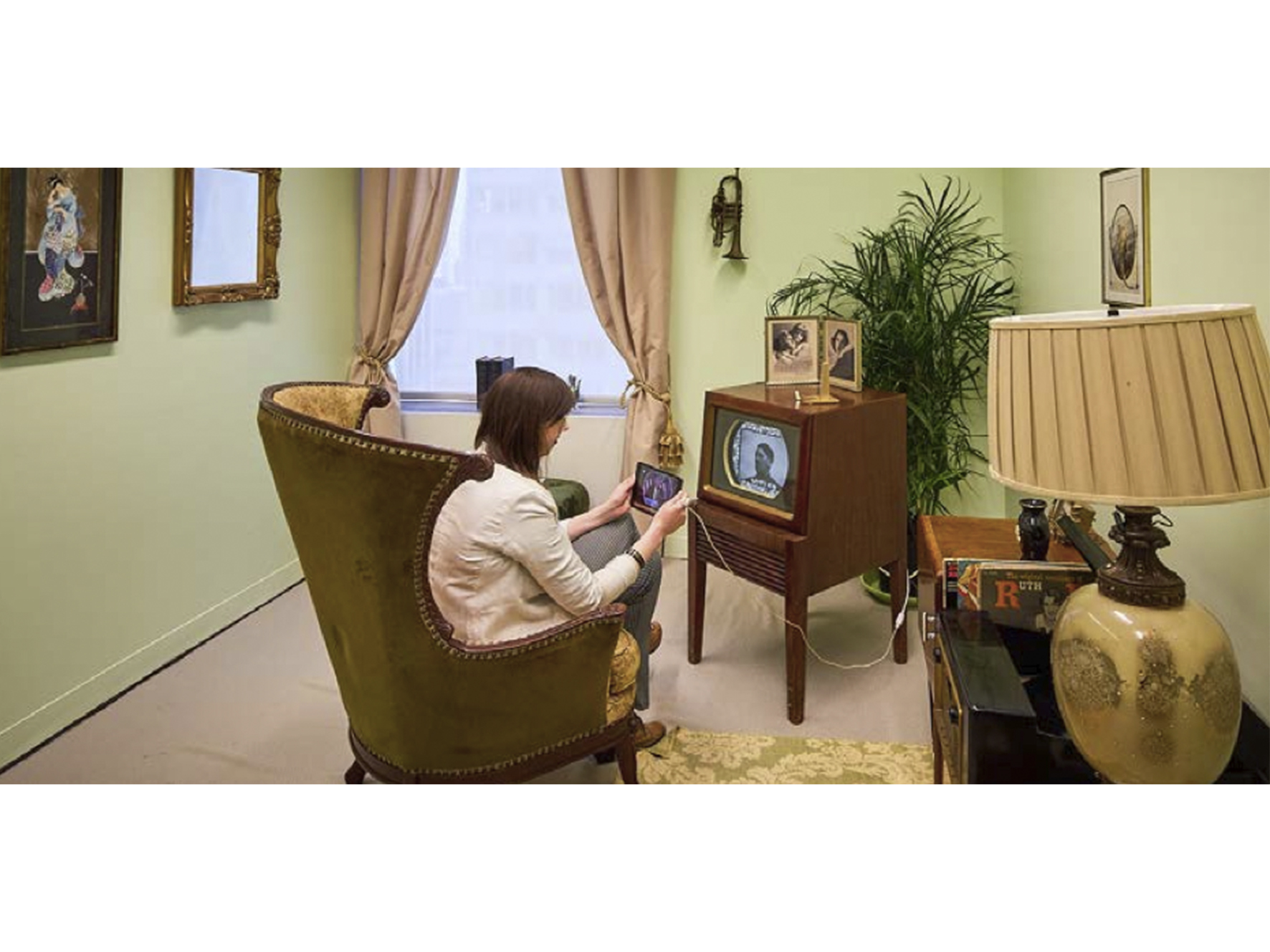 Andrea Wolf (Chilie) and Karolina Ziulkoski (Brazil)
Future Past News, presented by Isabel Croxatto Galerie
This work is a collaborative project by Andrea Wolf and Karolina Ziulkoski, employing augmented reality technology, the work seeks to expose the disturbing parallels between current global affairs and the pre-war turmoil of 1937. The installation situates the viewer in a 1937 living room, where the focal point is a television set playing archive news footage from the period. The newsreel ends with an ominous message of reading "in the hands of these five men rested the destiny of the world: Mikado, Stalin, Hitler, Mussolini and Franklin Delano Roosevelt." Viewers are invited to review the newsreel through an iPad, programmed with an augmented reality app. The news of 1937 is eerily layered and juxtaposed with present day news, striking a disconcerting parallel.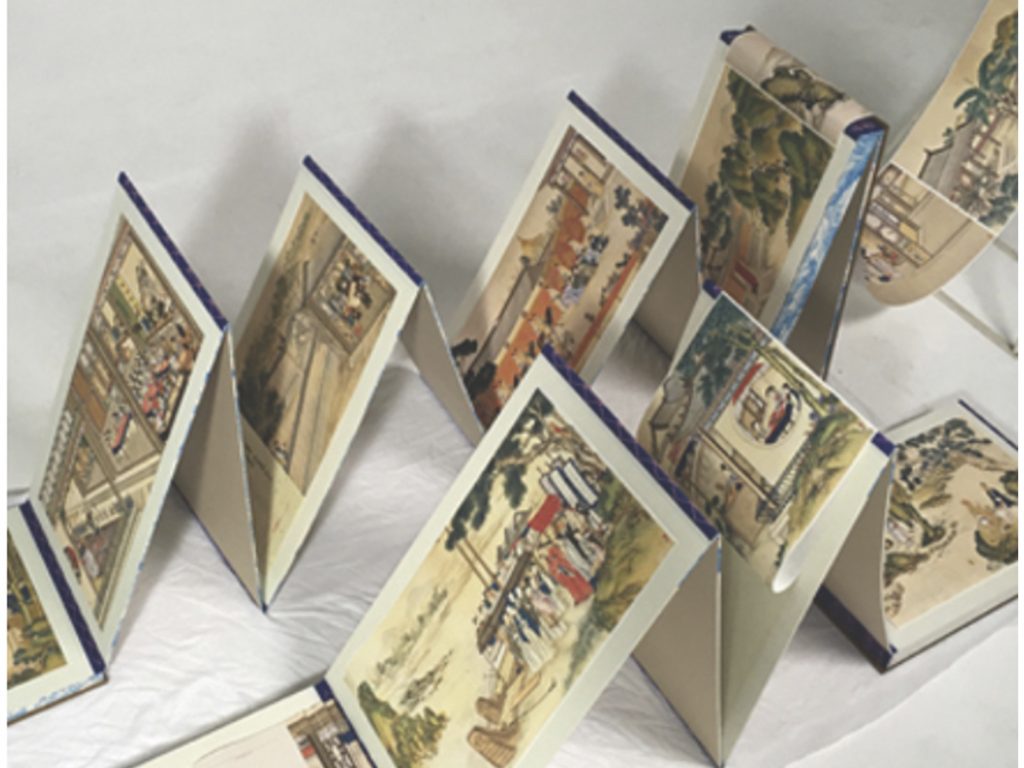 Zhang Xiaodong (China)
Dream of The Red Chamber, presented by Sin Sin Fine Art
Zhang Xiaodong is known for reviving the lost and ancient Chinese technique of Dragon-Scale binding. Zhang is the first individual to revive this intricate method, and will present an exemplary artwork in PROJECTS. Taking over four years to complete the process, Zhang employs his innovative accordion-dragon scale binding technique to present Dream of the Red Chamber, widely recognised as one of the four great novels of classical Chinese literature. Audiences of Art Central are invited to rediscover the cornerstone of Chinese culture, reinterpreted through the contemporary lens.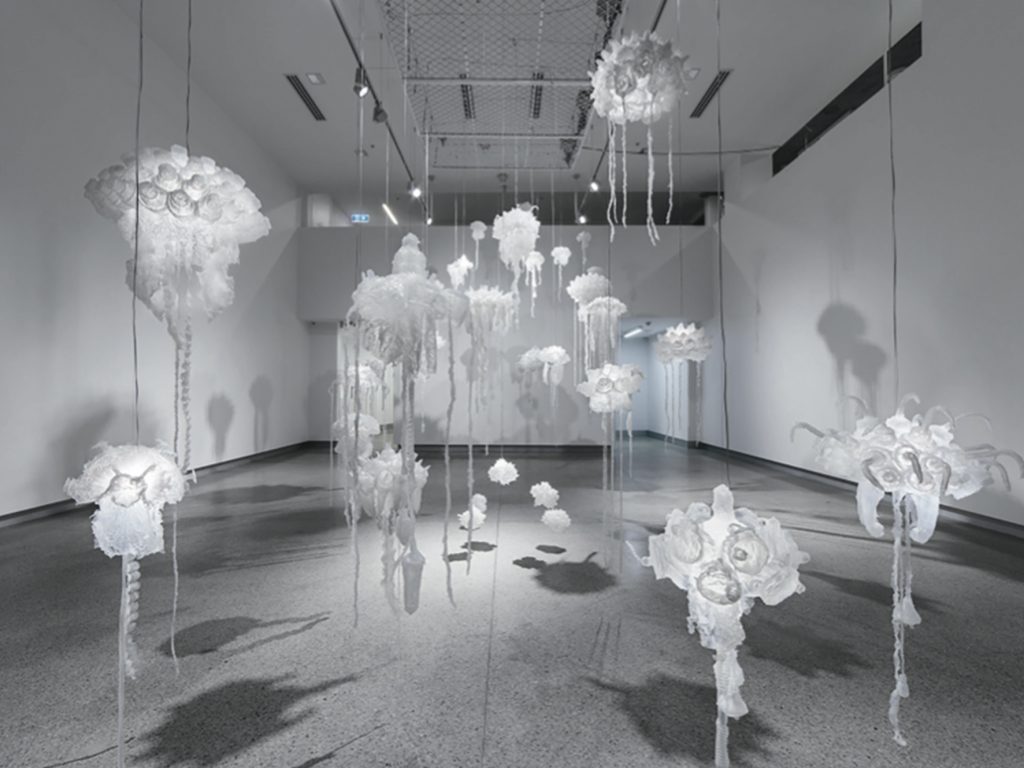 Penelope Davis (Australia)
Sea-Change, presented by MARS Gallery
Penelope Davis uses the detritus of contemporary technologies – including electrical cords, computer parts, packaging scraps, plastic bottles and other waste – combined with organic source materials such as leaves and seaweed to create hybrid forms that resemble plausible but mutant jellyfish. Davis directly entwines references to human consumption in an urban world to natural forms to envision a delicate balance. The work reflects on, and embodies, an intimate attempt to recuperate and draw appreciation for the natural world and our symbiotic relationship to its future.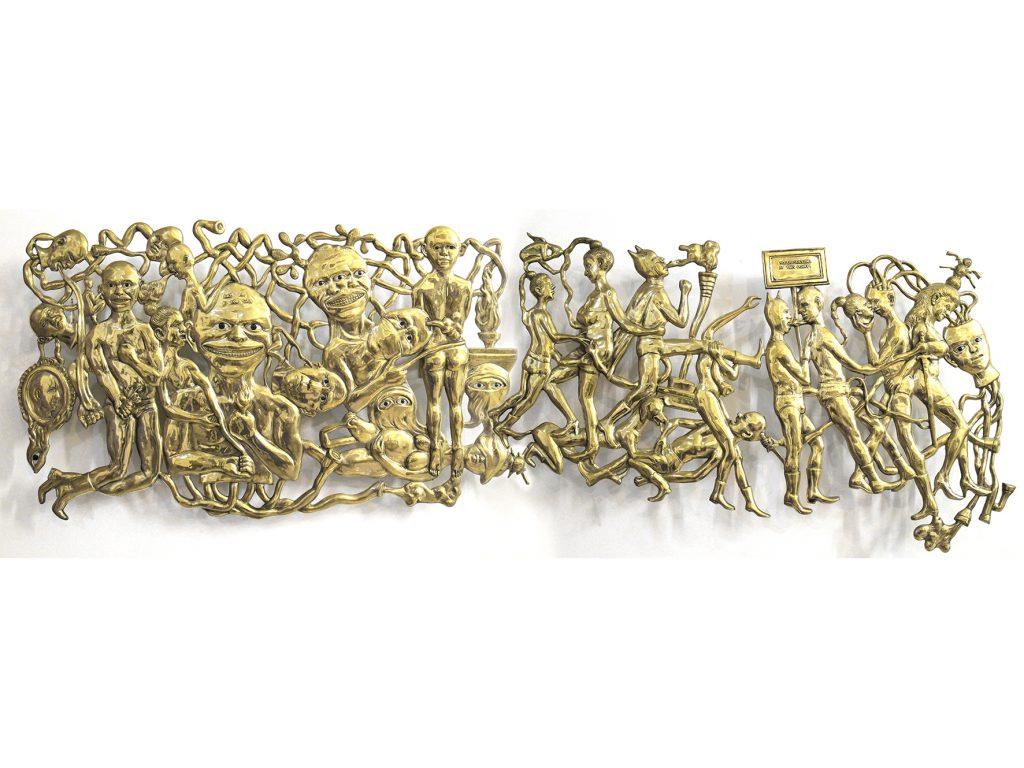 Entang Wiharso (Indonesia)
I want to Live 100 Hundred Years: After Agreement, presented by Marc Straus
I Want to Live 100 Hundred Years: After Agreement is the expressions of Entang Wiharso's dream to create a better and more peaceful future for children. The artist's project is an emotional, personal reflection on mass-shootings in schools, and is a memorial for those innocent children and for all people facing violence. The figures are bound together through an intersecting network, showing the essential but vulnerable connections that exist between parents and children. 
About the Curator, Ying Kwok
Ying Kwok is an independent curator based in Hong Kong. She works independently with a diverse range of art and cultural institutions nationally and internationally, from artist's initiatives, art festivals, to public museums and the commercial sector. Her research-based curating often synthesizes different art forms in contemporary visual art, from site specific commissions, performances, to film and video. Kwok has been the curator for Contagious Cities: Far Away, too Close for Tai Kwun Contemporary and Wellcome Trust, the lead curator of LOOK International Photography Festival 2017, and guest curator at M+ for Samson Young: Songs for Disaster Relief as Hong Kong presentation at the 57th Venice Biennale. Before embarking on her independent career, Kwok was the curator at the Centre for Chinese Contemporary Art in Manchester UK, between 2006 and 2012.
Apart from curating, Kwok also founded Art Appraisal Club with a group of local art professionals in 2014, in order to encourage critical thinking and initiating effective art discussions in Hong Kong. The group provides regular exhibition reviews and their articles are published in magazines, various cultural networks and their own bilingual journal, Art Review Hong Kong.
PROJECTS 2017
Curated by Jims Lam Chi Hang, former associate curator at Para Site, PROJECTS celebrates large-scale contemporary installations and interventions that showcase works made distinctive raw materials.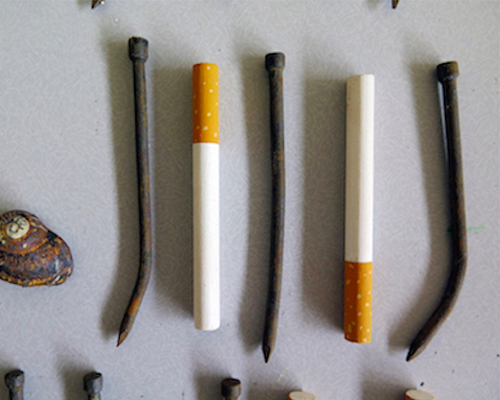 Glen Hayward (New Zealand)
Everyday People, presented by PAULNACHE
Everyday People is a large-scale, site specific installation by New Zealand-born sculptor Glen Hayward, of over 1000+ hand carved rusty nails (created from wood and paint) inserted directly into a feature wall at Art Central. Inspired by the dichotomy of Hong Kong's national identity, the artist plays on the notion of the individual versus the collective. Over a thousand wooden nails scattered across a wall carry their individual marking but are also part of a larger collective. The choice of material contradicts the inherent qualities of the depicted object; questioning the values of one's portrayed identity.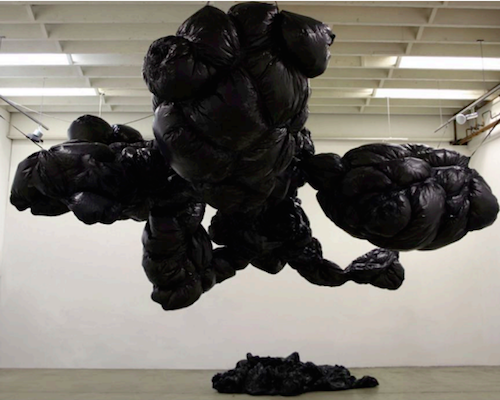 Simon Pericich (Australia)
!!!ALL TOGETHER NOW!!!, presented by MARS Gallery
!!!ALL TOGETHER NOW!!! is a site-specific installation made from melted plastic garbage bags, coated in glitter. Contrary to its inexpensive and hollow material existence, the installation asserts a grandiose and ominous presence. Simon Pericich's practice explores dystopic visions of the future, apocalyptic ideas and what he has described as the "hilariously doomed nature of humanity". Positioned right at the Fair entrance, the installation welcomes visitors with a critique of the commercial art landscape.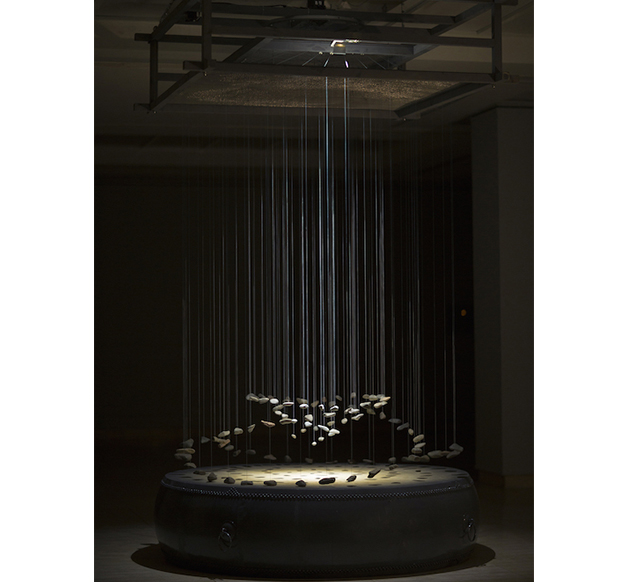 Tang Jie (China)
Stone Story, presented by Line Gallery
Having grown up in the countryside of Hunan Province, the artist yearns for the natural environment in the midst of a buzzing metropolis. He seeks to achieve this dynamic by incorporating natural and industrial elements in his works and the Fair provides a perfect setting. He believes that the object themselves are "story tellers". In Stone Story, he integrates objects of opposing characters to explore the natural principles of life and the universe together with the viewer.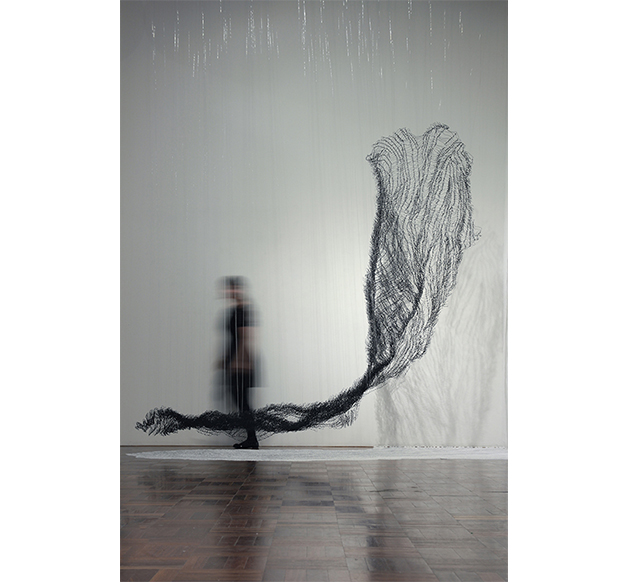 Hannah Quinlivan (Australia)
Estuary, presented by .M Contemporary
Inspired by Henri Lefebvre's Rythmanalysis, Quinlivan will use ephemeral spatial drawing to apprehend and intervene in the rhythms of urban life and capture the dynamism of the Fair. The artist will develop the artwork in two stages where she will first install the mesh of wire and nylon component prior to the Fair opening. She will then spend the duration of the art fair to complete the salt component of the drawing in a manner that responds to the first phase of the installation and to the energy and flux of bodies in motion at Art Central. This dialectical performance approach constitutes a response to the Fair itself, its temporalities, its flows and its spaces.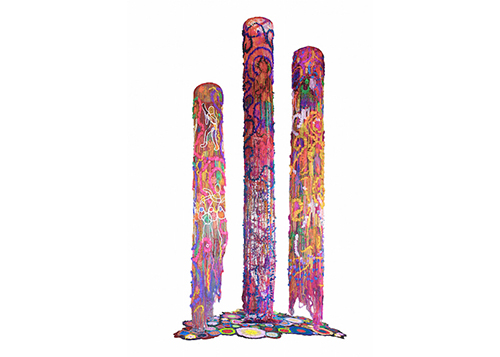 Santi Wangchuan (Singapore)
Auba, presented by Yeo Workshop
Thai artist, Santi Wangchuan introduces elements of his hometown culture and lifestyle in a large-scale installation consisting of three intricately woven "Auba" garlands approximately 10 meters tall. These garlands are monumental structures made by different villages to honour the Buddha during special festivals in Thailand. The installation, using rope, thread and fiber, will reinterpret this unique culture of the E-sarn region.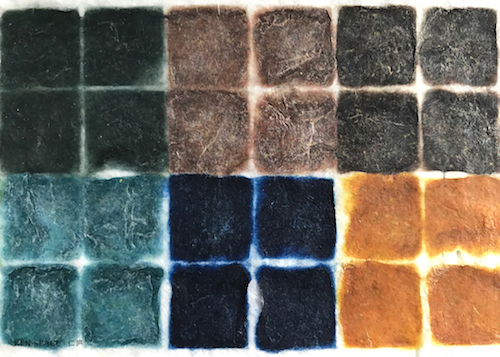 Yu Youhan (China)
Mosaic, presented by Rén Space
For Art Central 2017, Rén Space will showcase a new masterpiece by Yu Youhan. The work is a culmination of his exploration with old materials and new techniques that presents his artistic expression in the largest scale to date. Yu Youhan is a revered and pioneering first generation contemporary Chinese artist who is widely considered as the father of abstract paintings and political pop in China.
About the Curator, Jims Lam Chi Hang
Jims Lam Chi Hang is an artist, curator, producer and former Head of Production and Associate Curator at Para Site, one of the leading independent art institutions in Asia. In 2015, Lam curated an exhibition Imagine there's no country, Above us only our cities which attracted critical acclaim with its inquiry into the notion of individual identity, within the context of nationalism and geographical boundaries. Lam trained at the Academy of Visual Arts, Hong Kong Baptist University and won the prestigious Hong Kong Art Prize in 2013.
In 2016, PROJECTS introduced six large-scale installations and spatial interventions that challenged the confines of the traditional art fair booth.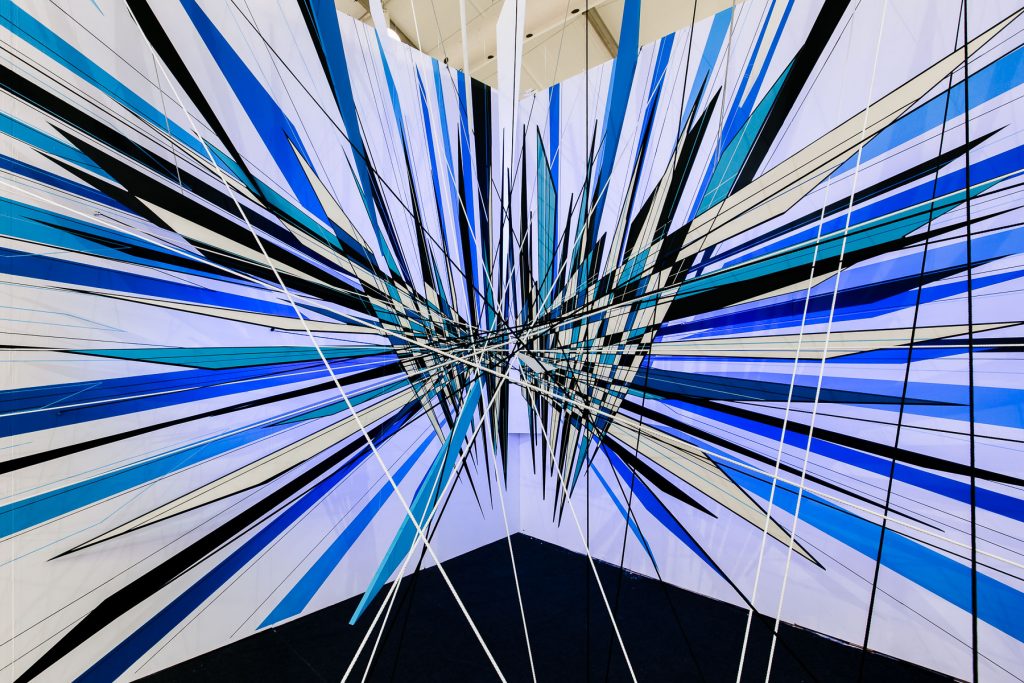 Thomas Canto
Suspended Landscape, presented by Opera Gallery
Suspended Landscape is a site-specific installation that synthesizes Canto's signature graffiti style with radical Constructivism and the kinetic effects of Op Art.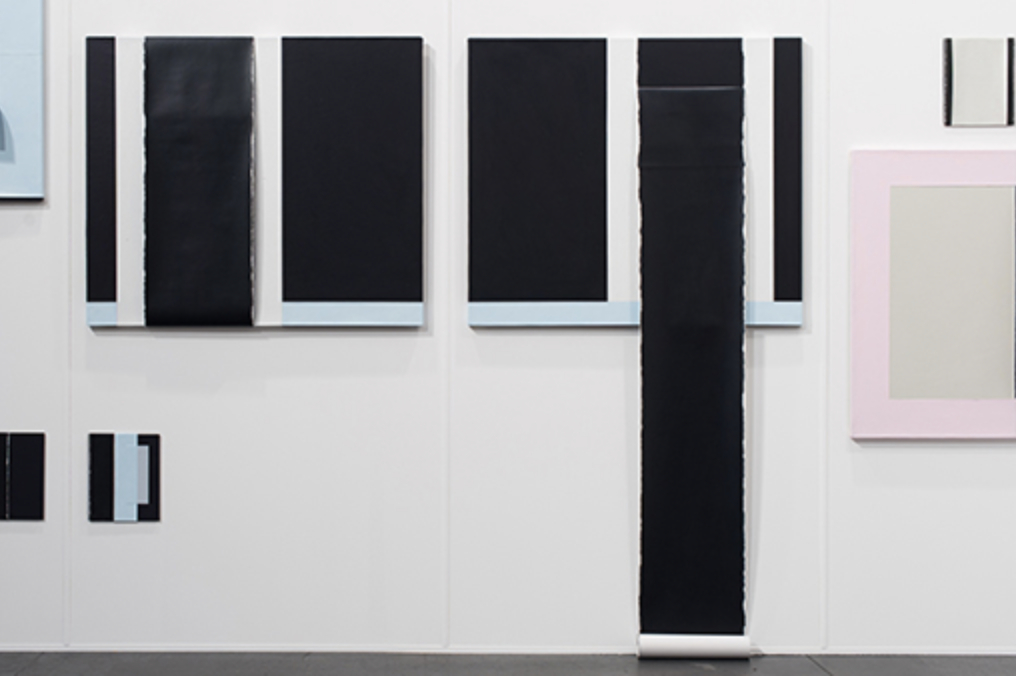 Peter Adsett
Wall Hang, presented by PAULNACHE
Wall hang is a site-specific installation by New Zealand-born artist Peter Adsett, which presents the viewer with a playful meditation on the complicity between abstract painting and architecture. Whilst decorative in its form, Wall hang aims to rejoin shapes and materials within the space in a way that is reminiscent of trompe l'oeil fresco painting.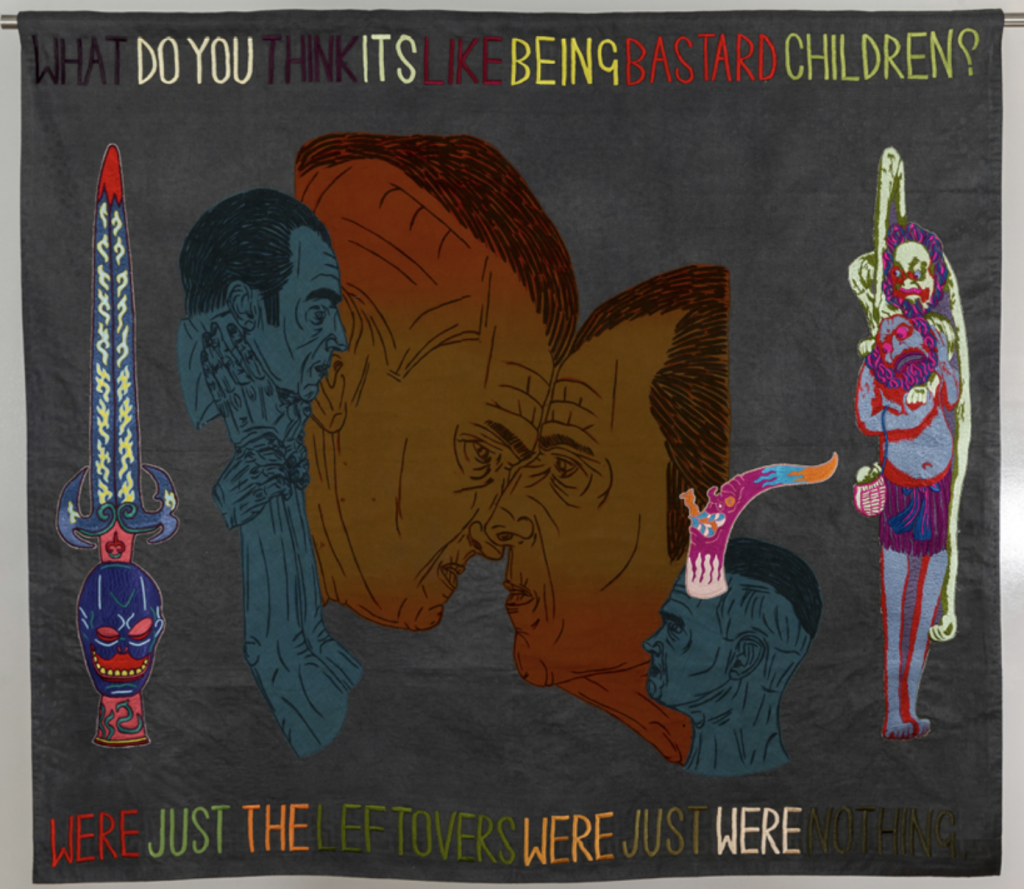 Henry Hussey
Locking Horns (Part of the series of works Reliquaries), presented by Coates and Scarry
This installation is the conclusion of a body of work which Hussey began in 2013,which draws inspiration from Brugel's epic narrative based paintings and centers on taking control of circumstances that have shaped Hussey's life.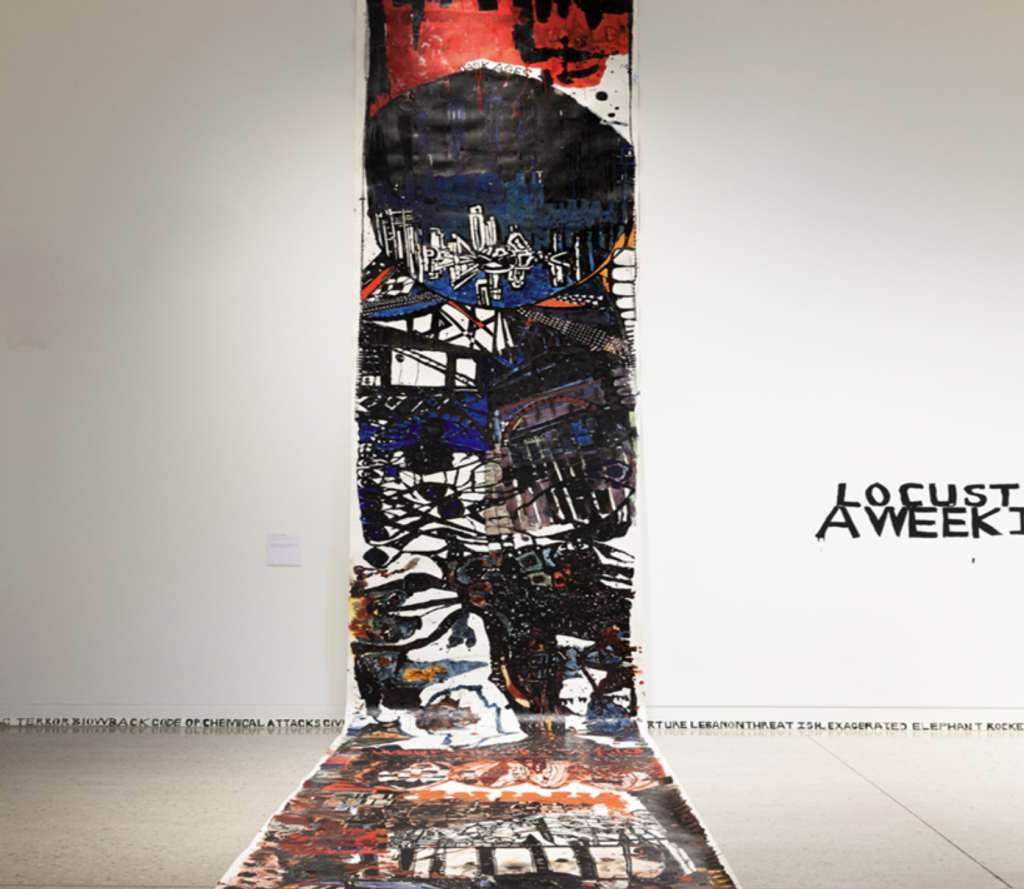 Locust Jones
Back to the Dark Ages, presented by Dominik Mersch Gallery
An ambitious, large scale hanging scroll, the piece investigates issues of contemporary politics through large-scale panoramic sheets of paper with text-based imagery and expressive, scrawled drawings furthering his exploration of the themes in his solo show 'Screenshots' at Dominik Mersch Gallery (Sydney) in 2015.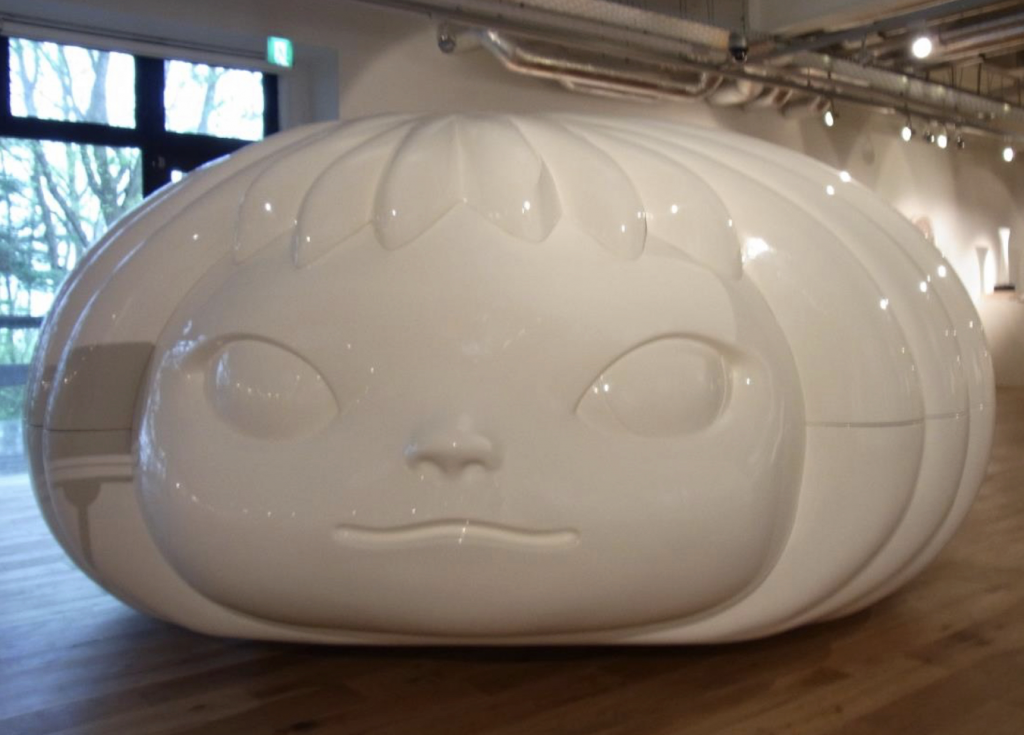 Yoshitomo Nara
Puff Marshie (HIROSAKI VERSION), presented by Whitestone Gallery
Rendered in simple linearity that embodies the arresting sentiment of childhood, Nara's Puff Marshie is a classic example of the artists's three-dimensional works.
The work portrays the head of a girl with the form inspired by that of a cream puff. She is filled of marshmallow sweetness and softness. Her big eyes are wide open but not betraying any of her thoughts. Nara's work challenges the world of grown-ups, and embraces the anxiety and intensity that define existence at any age.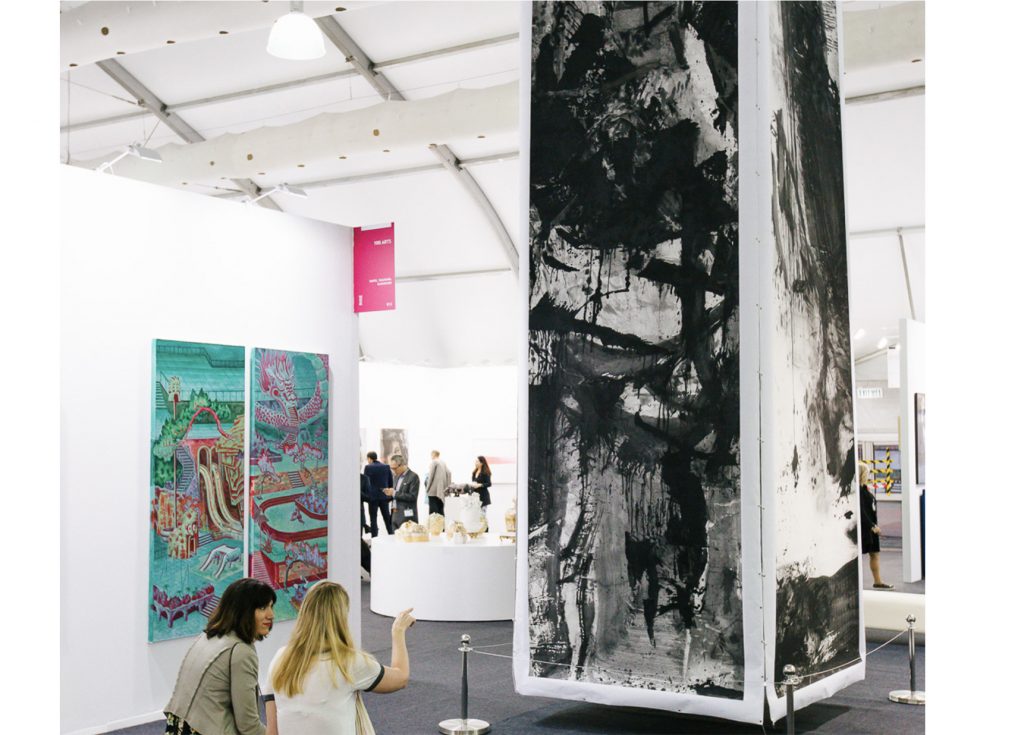 Lan Zhenghui
Ink Monument, presented by Ethan Cohen Fine Arts
Lan Zhenghui, one of China's leading contemporary artists, is renowned for taking the freehand strokes of traditional Chinese painting to electrifying new levels by infusing them with the abstractions and expressiveness found in modern painting. In this monumental installation, Lan translates the challenge of dimension into the necessary sense of space, to then construct a dignified phenomenon of transcending tragedy, representing the mortality we all face. 
Our inaugural edition welcomed five ambitious, large-scale installations.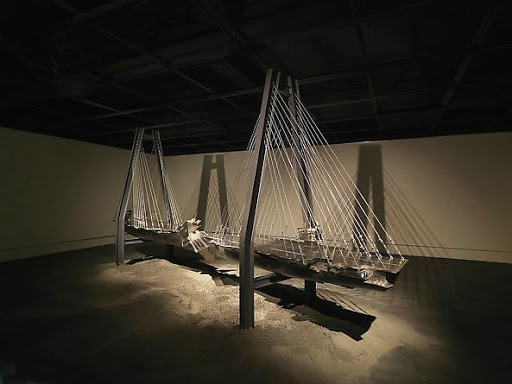 Li Hui
The Bridge, presented by Parkview Art Hong Kong
Chinese art star Li Hui is represented in Art Central's Projects sector with his monumental sculpture, The Bridge. The 13m long and 6.5m high stainless steel work is a commentary on war and peace.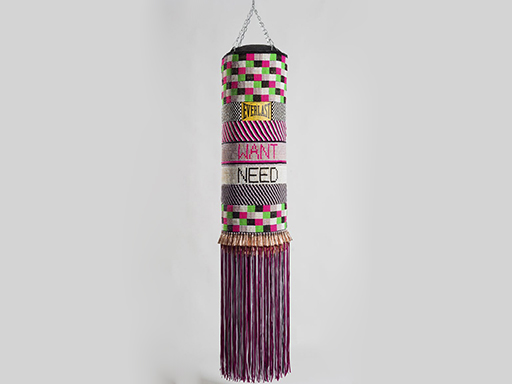 Jeffrey Gibson
What we Want, What we need, presented by Marc Straus
American artist Jeffrey Gibson has created a new body of work for Art Central's Projects sector, continuing the use of his signature intricate beaded work, inspired by his Native American ancestry.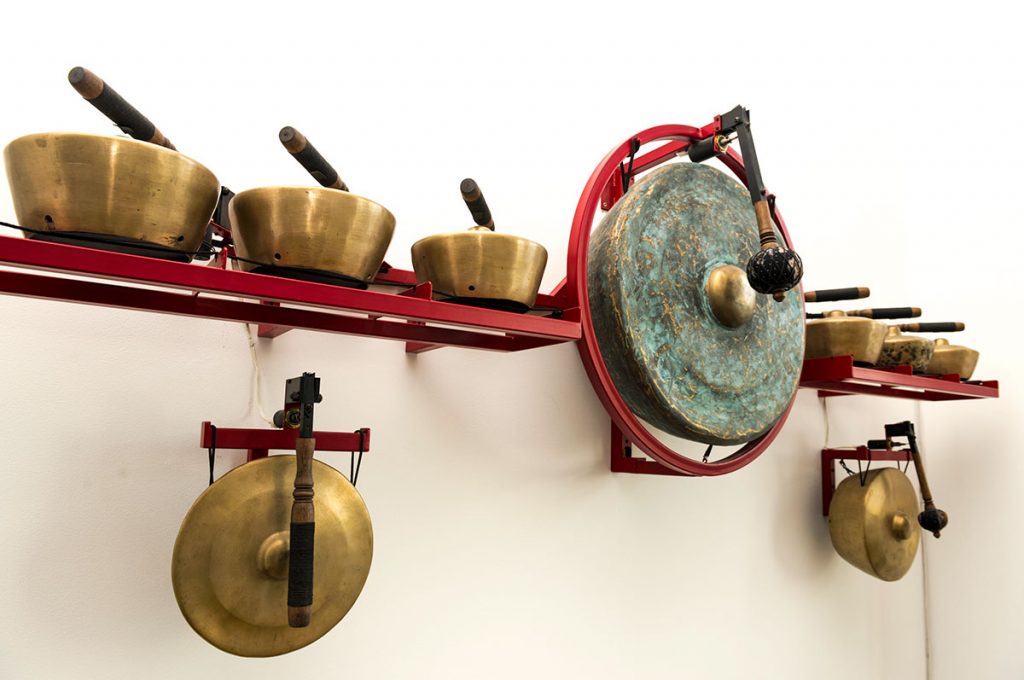 Taylor Kuffner
Kebangkitan (The Red Birds), presented by Sundaram Tagore
American multimedia artist Taylor Kuffner presents a new work in his Gamelatron series entitled Kebangkitan (The Red Birds). The work is made of mechanized Indonesian gongs called gamelons, and shows Kuffner's talent as a composer as well as visual artist. This work will be enjoyed by diners in Art Central's pop-up restaurant and bar, The Continental.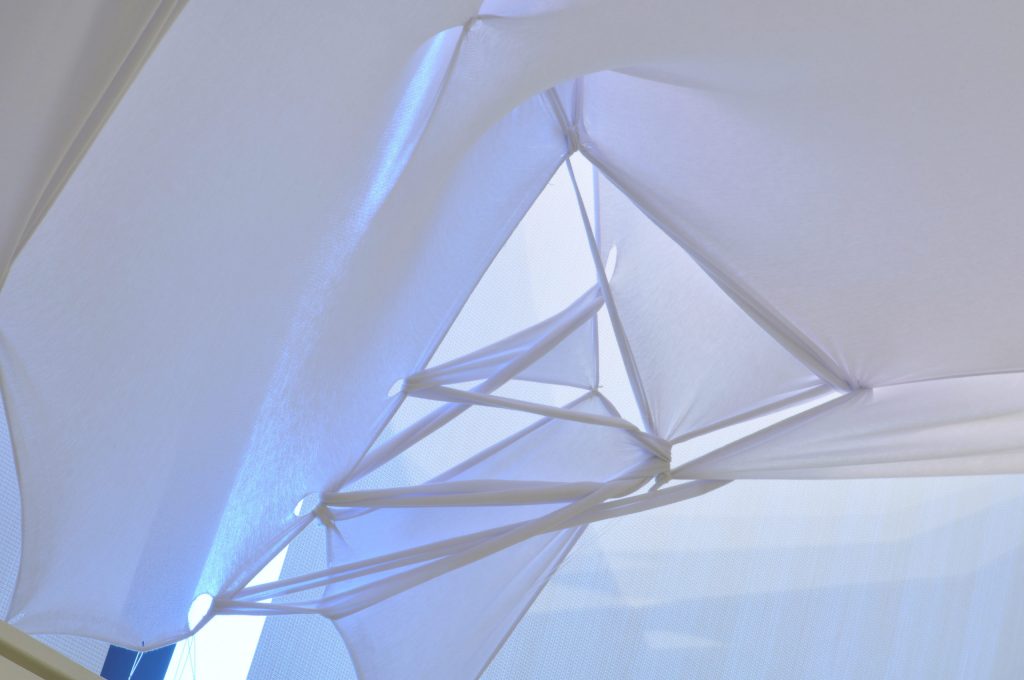 Stella Zhang
0-Viewpoint-6, presented by Galerie Du Monde
Critically acclaimed for her multimedia art, Stella Zhang engages with concepts of femininity, sexuality and the status quo in her practice. Commissioned for the occasion, Zhang will create an allencompassing hand-sewn installation as a major public project at the first edition of Art Central. Zhang was born in China, but now lives and works in the US.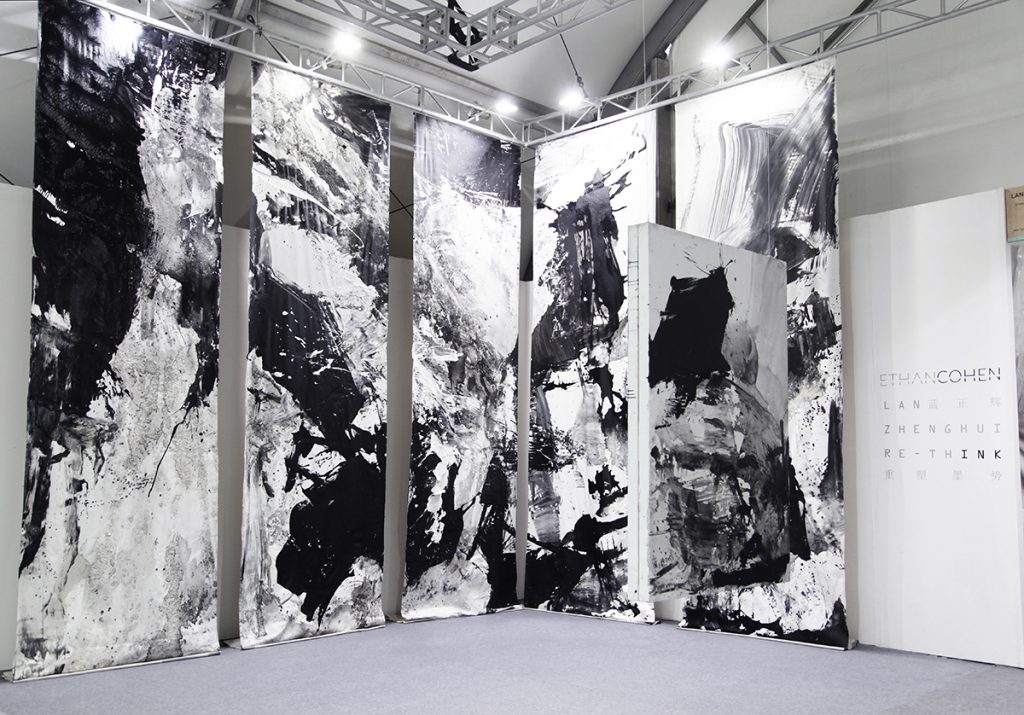 Lan Zhenghui
Re-think, presented by Ethan Cohen New York
Rising Chinese ink painter Lan Zhenghui will debut a new series of monumental ink paintings at Art Central in a sitespecific installation.